Miami Stays Unbeaten in ACC After Dismantling North Carolina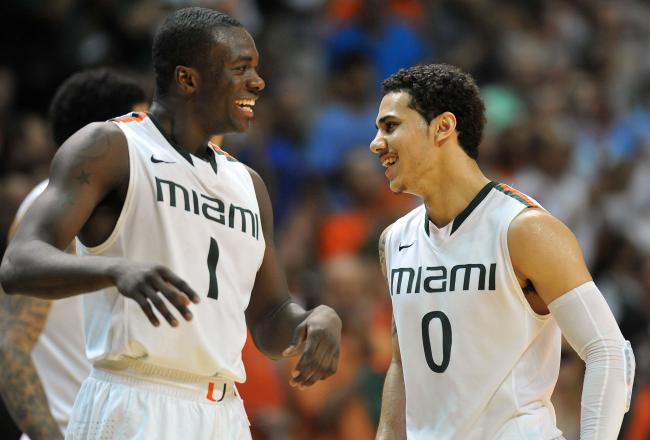 USA TODAY Sports
The Miami Hurricanes simply destroyed the North Carolina Tar Heels this afternoon, 87-61. Roy Williams' crew had no answer for the experience, intensity and high activity of the 'Canes.
Shane Larkin led all scorers with 18 points and eight assists. Durand Scott and Kenny Kadji weren't far behind with 17 apiece.
Team numbers were even more ridiculous, as the Tar Heels allowed the Hurricanes to shoot 53.4 percent from the field, and 57.7 percent behind the arc. Miami finished with 15 threes.
Miami simply out-shot, out-rebounded and out-hustled UNC. This is a team that looks like it will make a deep run in the NCAA tournament.

As for North Carolina, it will be scratching just to get in.
With the win, Miami remains undefeated in ACC play, with an overall record of 19-3 (10-0 ACC). North Carolina falls to 16-7 (6-4 ACC).
Miami 87, UNC 61 (Final)
Well, that chip on Carolina's shoulder from the first game wasn't enough to even challenge Miami. The 'Canes jumped out to a 9-0 start, and UNC was in the rear view the rest of the way.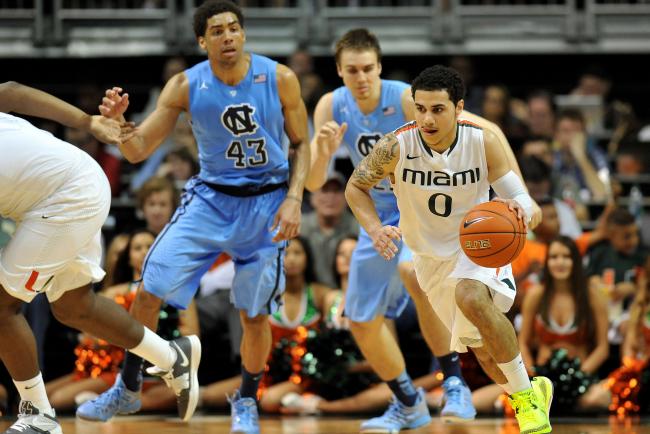 Miami 81, UNC 57 (2:44 2nd Half)
When UNC gets down early, the players have a tendency to get sloppy and desperate. That has been no different today, as Miami has beat on the Tar Heels from the jump.
UNC's first FT attempt of the game comes with 6:48 remaining in 2nd half

— InsideCarolina (@InsideCarolina) February 9, 2013
Miami 70, UNC 48 (7:00 2nd Half)
UNC may not be much of a barometer, as it has folded in the biggest games of the year, but Miami is making a strong case for the No. 1 spot in the AP Top 25.

Miami 70, UNC 46 (7:44 2nd Half)
Oh LAWD! Larkin just put it off the window for a sick alley-oop to the trailing Kadji. There's your exclamation mark on this game.

Miami 66, UNC 46 (8:48 2nd Half)
UNC has cut the lead to 20. Its only shot is to slow it down and not force too much—and perhaps play a little defense. That would help.

Miami 61, UNC 38 (11:50 2nd Half)
The Hurricanes have been able to do whatever they want today against the Tar Heels, and there are no signs of that changing. They are killing UNC on the boards 24-14, and every hustle play is going to Miami.
Carolina's youth is showing.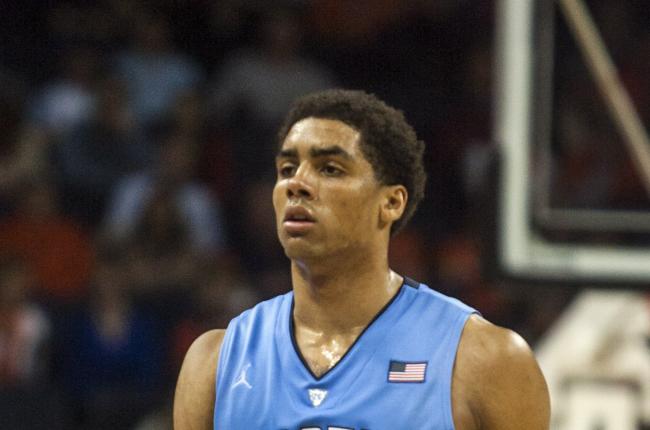 Miami 59, UNC 36 (14:20 2nd Half)
McAdoo's turnover troubles continue. He has three so far in this game, and he leads the team with 2.7 per game.
The ACC's Florida schools are shooting 42.4% from 3 (39-of-92) at home vs. UNC over the past two seasons. Still 20 min left in this one.

— InsideCarolina (@InsideCarolina) February 9, 2013
Miami 52, UNC 33 (16:25 2nd Half)
Miami is absolutely murdering UNC with the three-ball. The Carolina defense looks it is huddling in the paint while Miami has shooting practice from the perimeter.
Miami has already buried 13 treys on 19 attempts.
Miami 47, UNC 29 (19.28 2nd Half)
Carolina is the first team on the board, but Miami answered the call with the three from McKinney Jones.

Halftime
At 9-0, No. 8 Miami Hurricanes are the first team other than Duke or North Carolina to start 9-0 in ACC play since Virginia in 1980-81

— ESPN Stats & Info (@ESPNStatsInfo) February 9, 2013
And it could be on its way to 10-0...
Haltime
28 of 60 field goal attempts were three's and neither team attempted a free throw in the first half.

— Keeping It Heel (@Keeping_It_Heel) February 9, 2013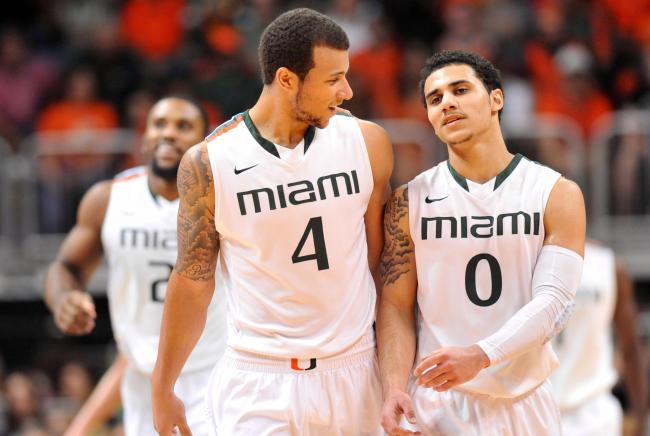 Halftime
Shane Larkin leads all scorers with 14 points on 5-of-7 shooting. He has also dropped four threes in Marcus Paige's face. He's looking unstoppable today.
Then again, so does the rest of the team. Miami is 10-of-16 from three, and is shooting 54.8 percent from the floor.
It's going to be along second half for Carolina if it can't find an answer to this onslaught.
Miami 44, UNC 27 (End of 1st Half)
The half ends mercilessly, with another Miami three from Kenny Kadji.

Miami 39, UNC 25 (1:24 1st Half)
The Tar Heels keep passing up easy open jumpers, putting it on the floor instead for a low-percentage shot. That isn't going to work against this Miami defense. They must take the open looks when they have them.

Miami 33, UNC 21 (3:55 1st Half)
Bullock, Hairston and McDonald are the only Tar Heels on the board. The rest of the team is 0-for-10. Miami has five players in the scoring column, and Larkin is already in double-digits with 11. That's the same amount he scored in the last meeting.
Miami 24, UNC 15 (6:10 1st Half)
As poor as North Carolina is shooting (5-18), the 'Canes should be worried they are only up by nine.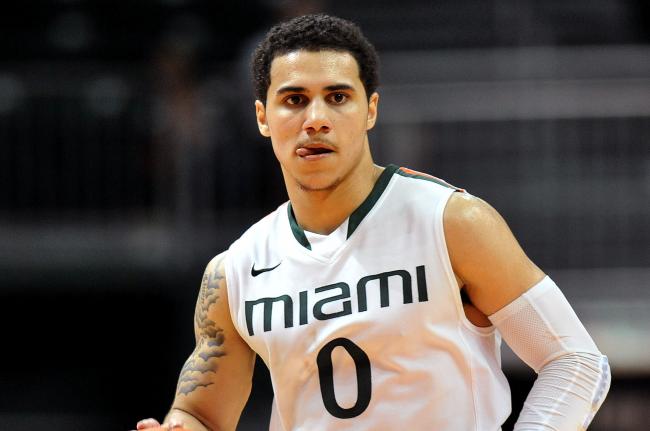 Miami 22, UNC 12 (7:48 1st Half)
Shane Larkin has Marcus Paige's number so far. Larkin leads the way with eight points.

Miami 22, UNC 9 (9:25 1st Half)
Perhaps zone defense isn't the best idea for Carolina.
Miami with back-to-back 3s against UNC's zone.

— InsideCarolina (@InsideCarolina) February 9, 2013
college basketball needs to fix this, WAY too many charges

— Keeping It Heel (@Keeping_It_Heel) February 9, 2013
Miami 16, UNC 5 (12:19 1st Half)
Leslie McDonald just knocked down UNC's first trey of the day. But Larkin was able to answer on the other end.

Miami 9, UNC 2 (15:04 1st Half)
Strickland needs to stay away from those unnecessary fades. He never hits a jumper if he isn't straight up.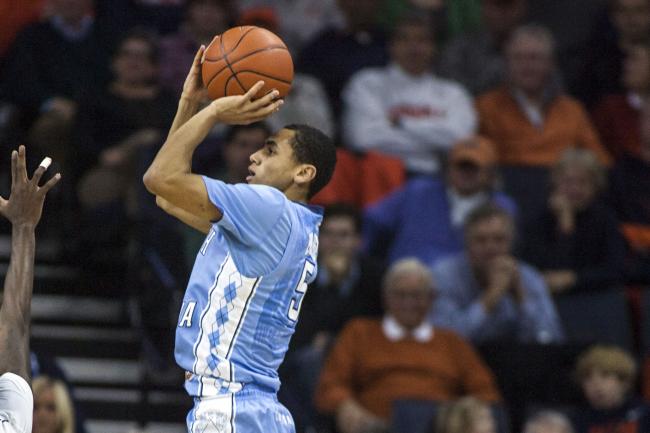 Miami 9, UNC 2 (16:21 1st Half)

UNC has started the game very cold, shooting 1-of-5 from the floor, and 0-4 from three-point range. If it's living or dying by the three, Carolina will be six-feet under by 4 p.m.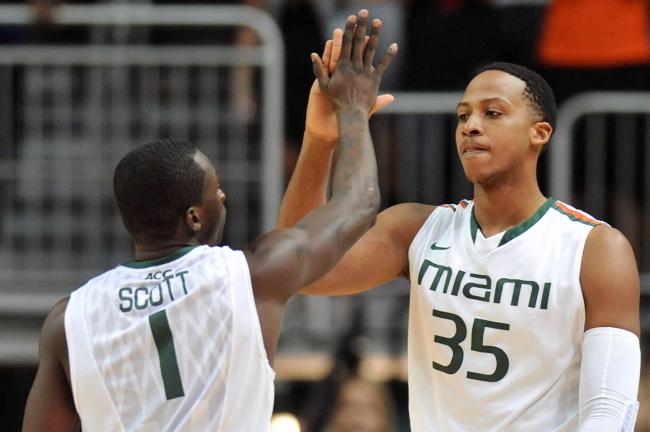 Miami 9, UNC 0 (17:57 1st Half)
Miami has come storming out with a three and some transition points to put Carolina in a hole early.
This article is
What is the duplicate article?
Why is this article offensive?
Where is this article plagiarized from?
Why is this article poorly edited?

UNC Basketball: Like this team?