NHL Power Rankings: How Do the West's Top Teams Stack Up After Week 3?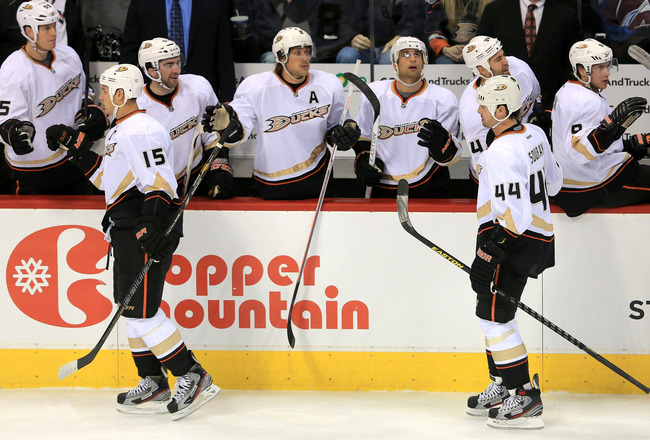 Doug Pensinger/Getty Images
We're another week into the shortened season and yet again there have been oh-so-many surprises. Some teams have turned up the heat and taken the West by storm, while some other teams have faded after hot starts.
One week closer to the playoffs, let's take a look at how the Western Conference teams rank.
15. Columbus Blue Jackets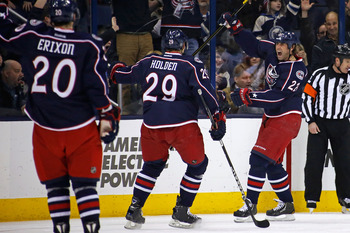 Kirk Irwin/Getty Images
(Last Week: 15)
Oh, the Blue Jackets.
They started the week off good by beating a red-hot Detroit team, and despite the fact that the Red Wings were winded from a close win against St. Louis the previous night, it was still an impressive 4-1 victory.
After what seemed to be a ray of hope, the Jackets dropped their next two home games to lowly Calgary and Los Angeles.
On the bright side (I guess), Columbus is tied for twelfth in the conference. That's not too bad, right?
14. Los Angeles Kings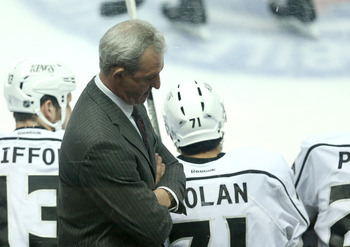 Stephen Dunn/Getty Images
(Last Week: 12)
One has to believe that the Kings will bounce back, but they have not shown any signs of doing that whatsoever.
They sneaked into the eighth seed last year and won the Stanley Cup, but that doesn't mean they will be able to do that again. Los Angeles needs to get some more wins soon, as the Kings appear to be suffering from a Stanley Cup hangover.
13. Colorado Avalanche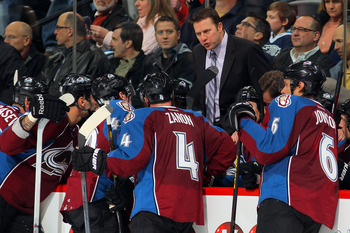 Doug Pensinger/Getty Images
(Last Week: 13)
Colorado is really tough to judge. The Avalanche haven't been good or bad, but they still sit near the cellar.
Yes, Colorado has four regulation/overtime wins, but they also have six regulation losses. They could plausibly be placed higher in the rankings, but for now, the Avalanche sit at thirteen until they get themselves established as either a decent team or a bad team.
12. Minnesota Wild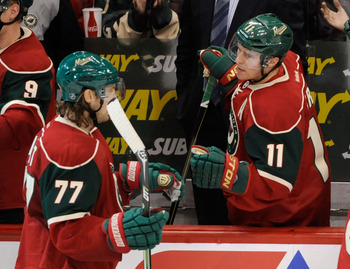 Hannah Foslien/Getty Images
(Last Week: 8)
The Wild appear to be in a little bit of trouble.
Minnesota got off to a decent start, but has now lost three in a row and is on the outside looking in. The team also has yet to win a game on the road, going 0-3-1 in four contests outside of St. Paul.
Early on, the Zach Parise signing still looks like a good move, but the Minnesota brass may be getting slightly concerned about Ryan Suter.
11. Edmonton Oilers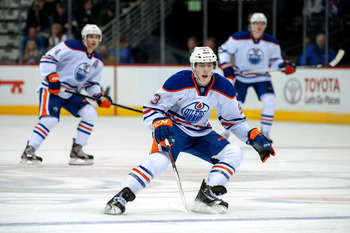 Dustin Bradford/Getty Images
(Last Week: 6)
The Oilers are a curious case. They have lost their last four games, but got a point in three of them. They sit deadlocked with Detroit for the last playoff spot in the conference, but fans who do not agree with the "loser point" for overtime losses would not like that.
Edmonton could go either way; their young stars could blossom and dominate the Western Conference, or their inexperience could prevail again and they could end up in the cellar.
10. Phoenix Coyotes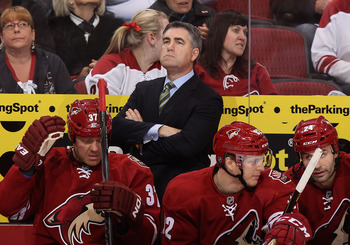 Christian Petersen/Getty Images
(Last Week: 11)
The Coyotes got off to a great start this week, giving up a total of one goal in two games. Then, they met the Chicago Blackhawks.
Phoenix got whacked at home by Chicago, but they have to look past that. The Coyotes showed some signs of improvement after a slow start, but they need to put the Chicago game behind them in order to move on and claw their way towards the playoffs.
They also need to win a game outside of the desert for the first time this season, they can't make the playoffs without winning on the road.
9. Calgary Flames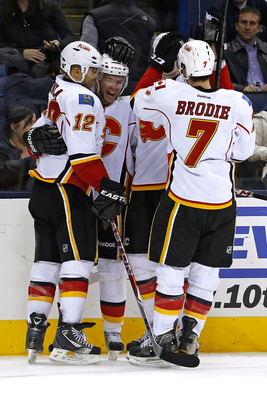 Kirk Irwin/Getty Images
(Last Week: 14)
It has also been tough to judge the Flames this year, but they get to go to eleventh after a good week. Calgary took five of six points against Chicago, Detroit, and Columbus.
The Flames have also looked good on the road, being the only team besides Boston and Chicago to gain a point in every single road contest.
After a bad start, it looks like the Flames may be starting to click a little.
8. St. Louis Blues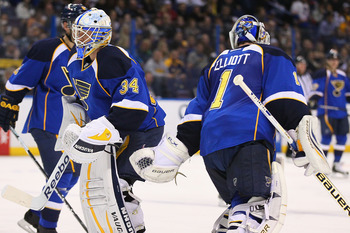 Dilip Vishwanat/Getty Images
(Last Week: 3)
What happened to the Blues? After a great start, they have now lost three in a row and have been outscored 16-5 in those three games. Also, two were against Detroit, who the Blues beat 6-0 on opening night, and two were at home.
Every team hits bumps in the road and the Blues will mostly likely recover and return to the top of the Western Conference, but one has to wonder if the great goaltending that got St. Louis so far last year could be coming back down to earth.
7. Detroit Red Wings
Dilip Vishwanat/Getty Images
(Last Week: 4)
After playing some great hockey for the past few weeks, Detroit was cooled off by Columbus and Calgary earlier in the week. Things weren't looking good with a date in St. Louis on Thursday, just a few weeks after they were blown out 6-0 in the same building.
However, the Red Wings somehow went into the Scottrade Center with a 5-1 win, completely dominating the Blues. Rookie goalie Petr Mrazek was terrific in his NHL debut, and the Red Wings looked great on both sides of the puck.
6. Dallas Stars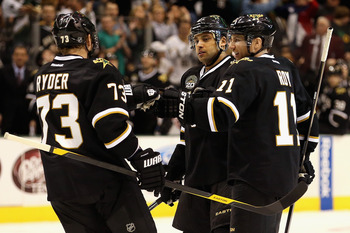 Ronald Martinez/Getty Images
(Last Week: 10)
Talk about up and down.
Dallas was 10th in the rankings last week after losing four games in a row, but the Stars are now on a three-game winning streak and are coming off of a big win against Anaheim on Friday night. All but one of the team's six losses have been by one goal, but only one was in overtime.
After winning three straight, Dallas may have figured out how to win these tight games. It will take at least another week to see what direction the Stars are headed.
5. Nashville Predators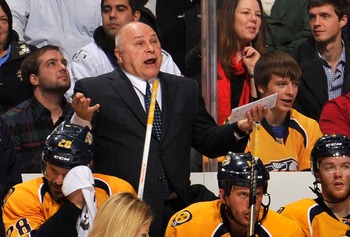 Frederick Breedon/Getty Images
(Last Week: 13)
Where did Nashville come from?
Nashville looked absolutely awful in the first two weeks of the season, but now the Predators have won four straight, including a 6-1 thumping of the Blues in St. Louis.
And Shea Weber's only point is a single assist?
If Weber starts getting his name on the offensive scoresheet, watch out. This team could be very dangerous.
4. Vancouver Canucks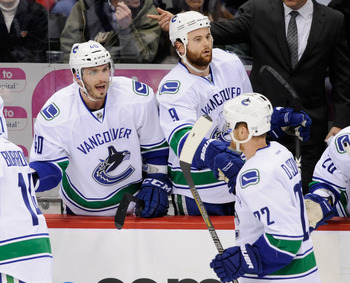 Hannah Foslien/Getty Images
(Last Week: 7)
The Canucks have also quietly won four straight, and look to be in control of the Northwest Division early.
Vancouver has looked solid all around, and it appears that the goaltending dilemma is turning out to be somewhat of a luxury rather than a liability. Roberto Luongo and Cory Schneider have both been pretty effective in keeping the puck out of the net.
3. San Jose Sharks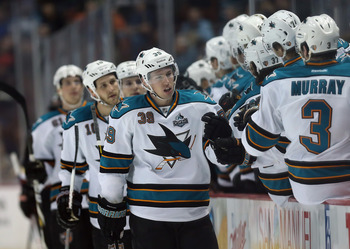 Jeff Gross/Getty Images
(Last Week: 1)
After an unbelievable start, San Jose has lost three in a row. Yes, the two regulation losses were to the two teams that are higher than them on this list, but the Sharks look like they are not invincible after all.
Sure, they may have hit a slight bump in the road, but the Sharks are still looking like one of the best teams in the Western Conference.
2. Anaheim Ducks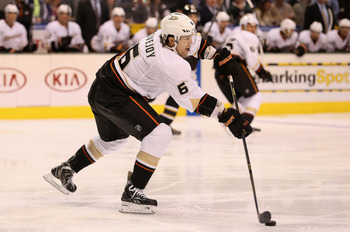 Ronald Martinez/Getty Images
(Last Week:5)
The Ducks have really turned up the heat, and are the surprise of the NHL three weeks into the season. Anaheim has been very tough to beat, knocking off some very good teams in the past week and playing great hockey offensively and defensively.
Rookie goalie Viktor Fasth has also been a huge plus for the Ducks, stopping many pucks on one end while the scorers put in some goals on the other.
Anaheim lost on Friday night to Dallas, but every team loses games. The Ducks have not been showing many weaknesses at all thus far in the season.
1. Chicago Blackhawks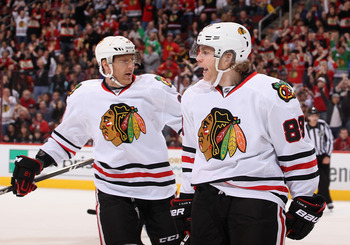 Christian Petersen/Getty Images
(Last Week: 1)
Chicago was a good team last season, but had several glaring problems: defense/goaltending, killing penalties, and winning on the road.
This year, the Blackhawks have the best penalty kill in the league, and are a ridiculous 7-0-2 on the road.
They still haven't lost a game in regulation!
The Blackhawks are off to one of the best starts in NHL history. Nobody can expect them to keep this pace up, but now they can look forward to plenty of games back in sweet home Chicago.
Keep Reading