Mali vs. Ghana: African Cup of Nations Live Score, Analysis and Reaction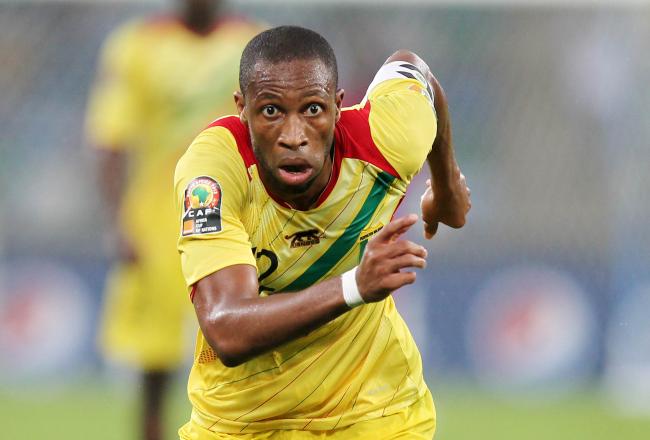 Will Mali's Keita be flying high or can Ghana garner a podium finish?
Steve Haag/Getty Images
2013 African Cup of Nations: 3rd/4th Place Playoff - Nelson Mandela Bay Stadium, Port Elizabeth (South Africa)
MALI 3-1 GHANA (Full-time)
Lineups
Mali: So Diakite, Diawara, Tamboura, A Coulibaly, S Coulibaly, O Coulibaly, K Traore, Keita, M Traore, Diabate, Samassa (S Diarra)
Ghana: Dauda, R Boateng, Awal, Vorsah, Boye (Mensah), Afful, Atsu (Adomah), Asante, Asamoah, Wakaso, Gyan (Clottey)
And so, after 64 goals and 30 games, we're at the climax of the 2013 African Cup of Nations. Well, almost. Before tomorrow's grandstand final—Nigeria versus Burkina Faso, in a matchup few would have foreseen—we have tonight's duel for third place: Mali versus Ghana.
Join me for the next few hours for what promises to be an entertaining battle between two passionate, pacey and prolific teams.
Congratulations team Mali! You made your country proud by coming third in the AFCON tournament! Happy 4 u guys. CHEERS.

— Quincy Savalake (@Savalake) February 9, 2013
Before their respective charges head back to their league clubs, Mali receive a proverbial bronze medal whilst Ghana will seek the virtues in that age-old adage "its the taking part that counts".
Attentions now turns to Johannesburg tomorrow night when the curtain will fall on this entertaining, diverse and emotional tournament for another two years. But only after Nigeria and Burkina Faso have battled it out to be crowned Kings of Africa.
Thanks for your attention, its been a blast!
1 - Mali have never scored more than one goal in their 5 games at the 2013 AFCON. Weak.

— OptaJean (@OptaJean) February 9, 2013
With three well-taken and opportunistic goals, Mali put their previous profligacy behind them to win this tie.
For Wakaso, he will have to hope Alain Traore of Burkina Faso doesn't add to his tally tomorrow: with three goals, Traore could still make off like a bandit with the golden boot.
Cue lots of heart-warming images of the Malian players embracing each other, whilst Patrice Carteron is hugged by his players and coaches alike. The former Rennes, Lyon and Saint-Etienne defender had previously overseen Dijon's promotion to Ligue 1 in 2011. This was his first stint in Africa and it's fair to say he did well. He was missing his linchpin leader Mahamadou Diarra but in Seydou Keita, he had a very worth replacement.
Mali, lead by the determined Seydou Keita, displayed guts, courage and heart to claim that win. They weren't always on top but they took their chances as the the Black Stars failed to shoot with success.
For Ghana, however, it was a very forgettable performance. They say it never rains but it pours and, in the wet conditions, Gyan et al poured forward, only for nothing to materialise.
Peep-peeeep-peeeeeeeeepity-PEEEP! Eric Otogo-Castane brings the second half to a close as Mali win 3-1. For the second year running, the Eagles claim third place.
GOAL! Goodnight Vienna! The ball is speculatively pumped forward -presumably to get the ball away from the attacking Ghanaians - and Sigamary Diarra races on to a knockdown to emphatically strike the ball home. Mali 3 - 1 Ghana. And I think we have our third-place competitors.
Just over one minute left of injury time. It's still Mali 2 - 1 Ghana.
Let's show you those goals then, shall we. First, we have Seydou Keita's effort, scored in the 48th minute, to make it 2-0...
89' - The commentators must know something we don't as they remind the viewing public that if Ghana equalise, the game goes straight to penalties. If it does - and that's a big if as Mali are looking organised and resilient - Ghana will have to be more clinical than they were in their semi-final penalties defeat to Burkina Faso.
Mali, on the other hand, have a penalty success in this competition under their belt, after overcoming the hosts South Africa in the quarters.
Ghana have a free kick, out near the touchline, about 30 yards from goal. Wakaso is remonstrating with the ref, presumably frustrated by the Malian players hoping to run the clock down with some play-acting in the box. It amounts to nothing, both the simulation and the free-kick.
That goal has got the stadium going. The Ghana coach, Kwasi Appiah, and his staff are looking animated, as the boss prowls the touchline. The fans are dancing jubilantly, although that could be to shake off the driving rain. Patrice Carteron in the Malian dugout looks worried. Five minutes to go.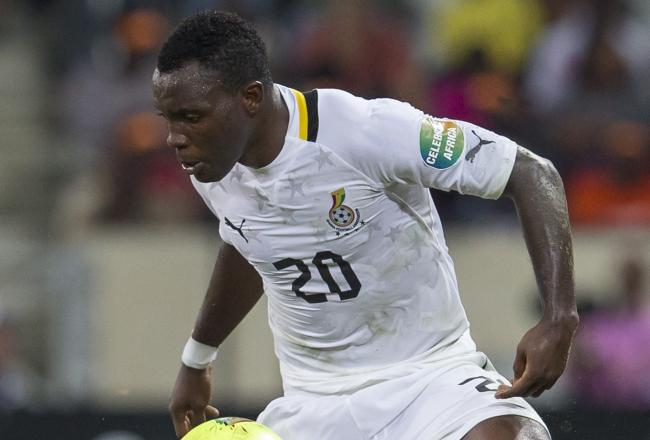 G-O-A-L! And it's to Ghana! Kwadwo Asamoah picks out a plum for a range with a tasty effort from range. The keeper, presumably distracted by his eye-catching pink shirt, can't reach it. With just under 10 minutes left, it's GAME ON!
Hold on, are we watching Brazil? Diabate and Keita show some silky skills, with the former passing it via a slick back-heeled pass, leading to the frontman to casually jinx the ball around. It amounts to nothing, but it looked nice.
Meanwhile, the commentators - Clive Tyldesley and Jim Beglin on ITV4 - are debating which striker they would opt for if they had to choose one "to play for their life". Interesting, and macabre, conversation choice. The play isn't that bad, honest.
CLOTTEY ON, GYAN OFF. Ghana make their third change and it's their showman Gyan who makes way. Sunderland fans won't be too sad to see Gyan not only lose in the semi final, but to also (as it stands) be soundly beaten by Mali. As you will probably remember, Gyan left the Stadium of Light for warmer climes - and larger pay cheques - in the Middle East.
Meanwhile, Adomah misses a gilt-edged chance. Clearly distracted by his impending returning to the Bristolian riviera.
72' - Wam, bam - very almost - thank you ma'am. Mali have the ball in the back of the net for the third time, but Traore is, very rightly, ruled offside by the Kenyan linesman. Was that the kick up the behind that will fire Ghana into life?
CH-CH-CHANGES. Ghana make their second substitution of this half as Christian Atsu trudges off, to be replaced by Albert Adomah, Usually seen in the red of Bristol City, Adomah has just over 20 minutes to replicate the form which fans know, and love, him for at Ashton Gate. John Mensah previously came on at half-time. Mensah has so far provided limited intelligence.
Soumbeyla Diakite, the Malian goalkeeper, does well to get down low-low-low to keep out a Gyan-fired freekick. Looking lovely in pink, Diakite has been a real wall throughout the compo. At the other end, Keita hits a free kick from inbetween the edge of the box and the bi-line: Dauda back-pedals to tip it over.
65' - We've almost reached the halfway point of the second half, and the three-quarter mark of this game, and as it stands, they'll be partying on the streets of Bamako. As dispute and unrest rages on in Mali, a victory here will prove a timely lift to the entire nation.
AND HE BLAZES IT OVER! Way over! Wakaso - Ghana's apparent "penalty specialist", who also scored a penno against Mali in the group stages - fires it way over. As in, Nasa had better send out a shuttle to retrieve it. Justice for a wrongly-awarded penalty? Potentially...
PENALTY TO GHANA! It's a soft one, that's for sure. One of the Coulibalys - you have to remember that there are three on the pitch - seemingly handballs it. In my opinion, and the commentators also, it hit his chest. Anyway. Wakaso steps up...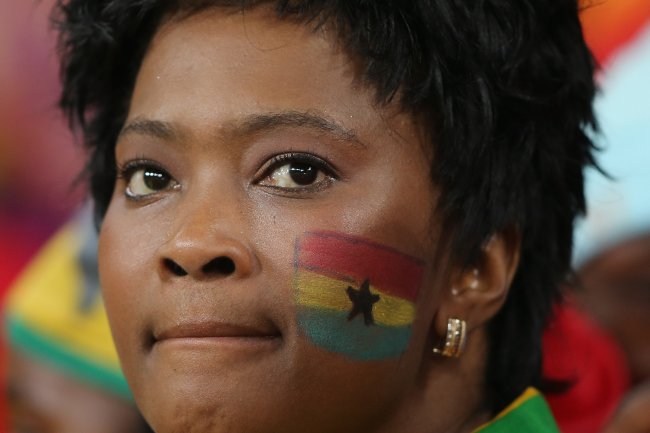 Ian Walton/Getty Images
In Port Elizabeth, meanwhile, Mali seem happy to absorb Ghana's sporadic attacks. The ball seems to be being hoofed around a lot: from goalkeeper, to striker, to winger, to opposite winger. It eventually works itself to Asante who marauds into the opposition penalty area. The covering defender gets back in time to put it out for a corner, which amounts to nothing.
Some disheartening news emerging from the Nigeria camp. It appears as if Victor Moses will miss tomorrow's final against Burkina Faso. The Chelsea winger, who has scored two goals for the Super Eagles, picked up a knock against Mali in the semi finals. At 22, it is almost certain he will experience international success but the lad will be devastated, for sure.
MALI 2 - 0 GHANA! And it's Superman Seydou himself, rampaging in to knock home an easy finish. Boateng is caught in possession as Ousmane Coulibaly pickpockets on the edge of his own area, sliding it across for his captain to clinically finish. Bosh!
PEEP! We're back up and running for the second half. We've barely played twenty seconds and a Ghanaian player has been struck down by an over-zealous tackle. Tamboura is the offending defender and it's Asante who felt the wrath of a slight, sliiiiiiight, kick on the back of the leg. Not malicious, just clumsy. Wakaso fizzes a dangerous ball in from the resulting free kick but Mensha can't finish it.
Ghana needs 2 attack with pace n counter attack if they want to confuse Malian defence ....they are too slow #Afcon 2013

— Innocent (@hustlerinno) February 9, 2013
is this how africa comes out to support the Afcon third place match?

— Diabolic Critic! (@DTsfynest) February 9, 2013
1 - Mali have never scored more than one goal in their 5 games at the 2013 AFCON. Weak.

— OptaJean (@OptaJean) February 9, 2013
There's some interesting tweets floating around. Fair to say that a quick scan of the #AFCON hastag throws up a whole plethora of opinions...
This article is
What is the duplicate article?
Why is this article offensive?
Where is this article plagiarized from?
Why is this article poorly edited?