MMA: Reasons the Sport Needs Legitimate Rivalries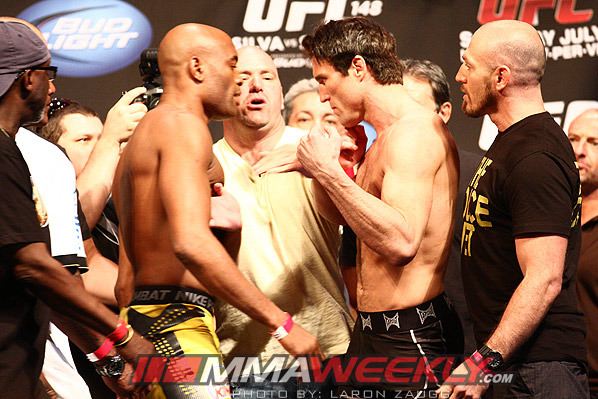 mmaweekly.com
Every fan has a team they like to cheer for. Maybe you're not a die hard fan who bleeds the team colors and likes to cheer from the comfort of your own home, but everyone who has a passion in sports has a team or player they like.
Conversely, most people tend to have a team or player they can't stand. You know when your favorite team plays their rival it's not simply "just another game." The emotions are at an all-time high and it seems like every play or moment that ticks by carries extreme importance.
The same holds true in the fight game. There are certain guys that evoke emotion out of fans, whether be it love or hate. It's hard for anyone to not cheer for guys like Brian Stann or Junior dos Santos, while it's very easy to jeer guys like Michael Bisping and Alistair Overeem.
Rivalries are what help shape the culture of a sport and they've been crucial in the development of MMA into a mainstream sport. Some of the sport's biggest rivalries have become some of the biggest stories and helped to catapult MMA to new levels.
As important as they are, it seems like MMA has phased out the rivalry aspect of the sport. Now it's "just business" to hype a fight. If MMA is to continue to grow, rivalries will need to stay an integral part of the sport.
Begin Slideshow

»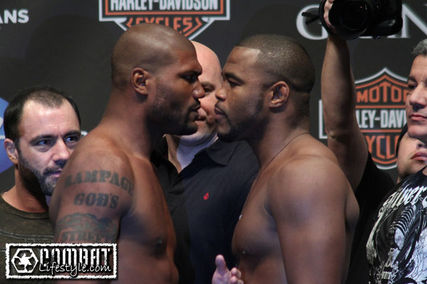 cagepotato.com via combatlifestyle.com
The key to any sport is to get the fan emotionally invested in what's happening. If the fan doesn't care at home, they can very easily just turn the channel and move on to better programming.
The same is true for MMA. Fans need to care about the bout, or else it's simply "just another fight." Whether it's cheering for one side or simply anticipating a classic showdown, revelry fights mean more.
When fights become something special, such as a rivalry bout, they take on a different meaning. How many pay-per-views have you seen come along and replied with "not worth my 50 dollars." That doesn't happen with a big time rivalry fight.
Besides fan wanting to tune in to see some action, Mr. Dana White won't be complaining about the boost in sales caused by a genuine rivalry.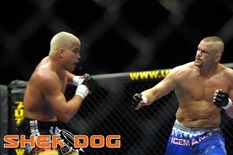 sherdog.com
Look at the history of college sports and the storied rivalries that have shaped the landscape of each sport. Whether it's Duke-North Carolina or Army-Navy, rivalries have created a culture in college sports that either divides or brings together fans from across the world.
The history of MMA has been built upon rivalries that became instant classics. Rivalries like Tito Ortiz and Chuck Liddell or Quinton "Rampage" Jackson and Wanderlei Silva have become stories that will be passed down from generation to generation.
A rivalry also helps to add to the legacy of individual fighters as well. Just look at how much higher we view Anderson Silva after taking a beating from Chael Sonnen and still managing to come out on top. Or how Ortiz's rivalry with Ken Shamrock became symbolic of the old guard making room for the new.
Obviously a rivalry in MMA won't make a legacy like that in team sports due to fighters only being able to compete against one another a handful of times, but they can still certainly be a building block for the future of MMA to be built upon.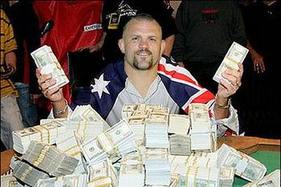 bleacherreport.com via cagetoday.com
It's no secret that most fighters are vastly underpaid in disclosed salaries based on the type of revenue the UFC brings in. It's also no secret that what a lot of fighters make isn't disclosed and as the picture shows, there's good money to be made at the top of the mountain.
Rivalries help generate interest in a given show which in turn leads to more people buying pay-per-views. The trickle down effect is that if the UFC is making more, fighters should be making more as well.
One of the hidden aspects of MMA is just how much of a struggle it is for the guys who aren't headlining a pay-per-view just to make it to the event. There's so much time and money spent on the weeks leading up to a fight that it rarely evens out after the check is cashed.
With people spending more money on the product, it should lead to fighters being taken care of better which in turn should lead to better trained competitors.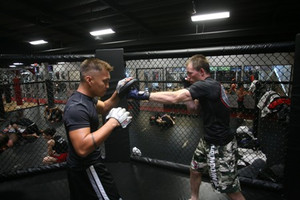 healthnova.org
For me there's nothing worse than having to watch a fighter gas out after a few minutes and have to watch the train wreck unfold.
That tends to not happen when a rivalry fight is in play. The hatred between two fighters becomes a source of motivation for each guy to put in the hours at the gym. When fighters take their upcoming bout seriously and actually train the way they should, the final product is much better.
Or as we've seen in the past, it leads to one fighter being far too confident heading into the contest. Like at UFC 156 when Alistair Overeem made the mistake of looking past Antonio Silva. In that case, fans still win out as watching someone get knocked off their high horse is something people will always tune in to watch.
Either way the final product will be better which in turn creates better events overall.