Formula One Conclusions After Malaysia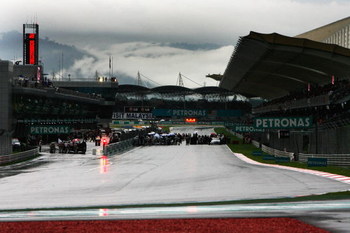 Well after round two of the 2009 Formula One season, there are a few conclusions I have come to: Brawn and Button are dominant but there is a weakness, Ferrari are in real trouble, Red Bull must be cursing the 'diffuser three' and future regulations won't work are what I'll cover over the coming slides.
But before we jump in I just want to raise a quick point: wouldn't it make more sense for the lap counter to count up rather than down on the world TV feed that FOM put out?
I can't be the only one that gets confused as to what lap we are on? Anyway, on with the slideshow!
Malaysia Race Result
01 J. Button Brawn GP 1:10:59.092
02 N. Heidfeld BMW + 22.700
03 T. Glock Toyota + 23.500
04 J. Trulli Toyota + 46.100
05 R. Barrichello Brawn GP + 47.300
06 M. Webber Red Bull + 52.300
07 L. Hamilton McLaren + 1:00.700
08 N. Rosberg Williams + 1:11.500
09 F. Massa Ferrari + 1:16.900
10 S. Bourdais Toro Rosso + 1 laps
11 F. Alonso Renault + 1 laps
12 K. Nakajima Williams + 1 laps
13 N. Piquet Jr. Renault + 1 laps
14 K. Räikkönen Ferrari + 1 laps
15 S. Vettel Red Bull + 1 laps
16 S. Buemi Toro Rosso + 1 laps
17 A. Sutil Force India F1 + 1 laps
18 G. Fisichella Force India F1 + 1 laps
Did not finish
19 R. Kubica BMW +29 laps
20 H. Kovalainen McLaren + 31 laps
Brawn and Button are dominant, but there is a weakness!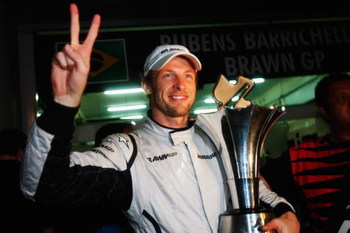 We have seen Jenson Button claim two pole positions out of two and two race wins out of two, but could there could be a problem with the gearbox that could scupper his world championship dreams?
First off, we saw Rubens Barrichello in the sister Brawn have a problem off the start in Australia and pulling away from his pit box after his stops, he then had to change the gearbox in Malaysia, incurring a five-place grid penalty.
Button had a similar problem getting away at the start of the race in Malaysia and was also struggling to pull away after his pit stops.
Brawn GP use McLaren gearboxes and Lewis Hamilton had a problem with his gearbox in Australia that resulted in a change and a penalty for the grid.
Heikki Kovalainen in the other McLaren hasn't been able to complete a race lap yet in 2009, so we don't know if he would have suffered gearbox problems with some more running.
Now it can't be long until Button has a gearbox problem, with luck it would only cost him a five-place penalty on the grid, but it could take him out of a race or ruin qualifying if it occurs early on.
There is also the problem at the start. If they can't improve getting away from the grid, then Brawn are going to struggle later on in the season.
With the other teams now developing their own double diffusers, they will be much closer in lap time and Button and Barrichello will struggle to make up places that they lose at the start.
Now I don't know if it is a fundamental problem with the McLaren gearbox, Force India are yet to have problems and they use McLaren gearboxes, maybe Brawn had to change the casing to make it fit and this has caused problems?
But it is clear that this is a weakness and the component they most need to improve and quickly before the other teams catch up.
Ferrari are in real trouble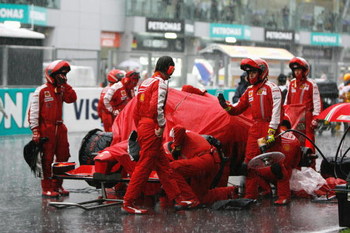 Two races down and no points on the board yet for Ferrari; their worst start to a season since 1992.
It's clear they don't have a race winning car, but they should be able to finish in the top eight regularly if they could stop making mistakes.
In Australia, it was Raikkonen who made the mistake that cost them points, and Massa had reliability problems.
It was the other way round in Malaysia, with Raikkonen suffering reliability issues and a crazy tyre call from the pit wall and Massa making the mistake of not taking to the track to improve his qualifying time.
There was no need for the gamble with Raikkonen's tyre choice and he should have been man enough to make his own choice, Nick Heidfeld did! Now if the Ferrari strategists wanted to gamble, why didn't they do it with Massa?
He wasn't in a points-paying position at the time and making sure Raikkonen was just on the right tyres at the right time would have seen him score points.
Not only are the team and drivers making mistakes, but their KERS is unreliable and apparently causing more problems than its worth.
The size of the system has limited the size of their fuel tank and the weight of it is stopping them being able to rebalance the car to make it handle better under braking and for cornering.
Also the fuel tank is not only smaller, but higher as the batteries are underneath it, this is has raised the centre of gravity and again is hampering the balance.
After all the mistakes Ferrari made in Malaysia, I'm left wondering if there is a management problem at Ferrari; just who is in charge? We keep seeing Michael Schumacher on the pit wall, is he calling the shots?
Whoever is in charge needs to steady the ship and quick before their season gets any worse.
Red Bull must be cursing the 'diffuser three'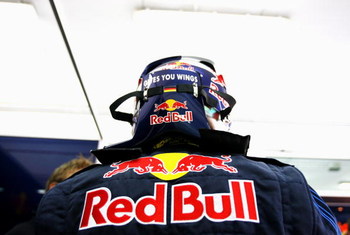 If it wasn't for Brawn GP, Toyota, and Williams having a different view on diffuser regulations, then I have no doubt that Red Bull would currently be the championship leaders.
Adrian Newey has produced a fantastic car that is almost as quick as the 'diffuser three' without the controversial diffuser, so how good would it be with one of those diffusers?
However, their season hangs in the balance of the ruling on Apr. 14 on whether these diffusers are legal or not.
If they're legal, then it's going to be hard to stay at the front as apparently it would be very hard and expensive for them to redesign their diffuser, whilst other teams currently without the controversial diffuser could change theirs quite easily.
If the diffuser is illegal, then Red Bull will have the fastest cars on the grid and could be in the hunt for both world championships.
Future regulations won't work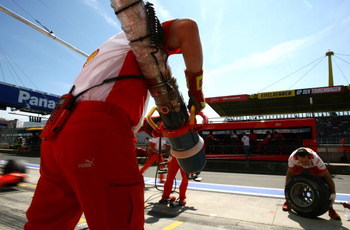 Ferrari have been forced to have a smaller fuel tank to allow room for KERS, but next season refueling will be banned.
How on earth do the FIA expect the teams to be able to find room for KERS and have a large enough fuel tank to run a meaningful race distance, let alone worry about weight distribution?
My final thought is how would Bernie's winner idea of worked in Malaysia? Half a win?
Keep Reading