Michigan vs. Wisconsin: Live Score, Updates and Analysis from B1G Game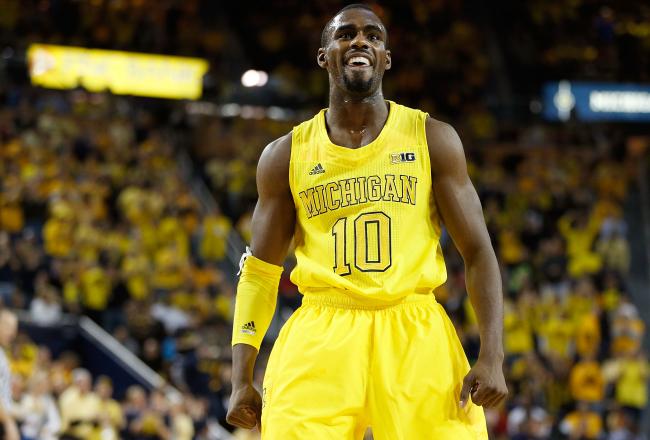 Tim Hardaway Jr. and the Michigan Wolverines need to top the Wisconsin Badgers to keep pace with the Big Ten Conference leaders.
Gregory Shamus/Getty Images
In one of the wildest games anyone has seen this season, the Wisconsin Badgers upset the No. 3 Michigan Wolverines 65-62 thanks to some clutch three-pointers from junior guard Ben Brust.
Neither team was able to pull away from the other for much of the game, but junior shooting guard Tim Hardaway Jr. nailed a three-pointer to give Michigan a lead with less than three seconds to play.
On the ensuing in-bound pass, Brust caught the ball near half-court, put the ball on the deck for a couple of steps and heaved a desperation shot at the basket, which hit nothing but net to send the game to overtime.
Brust, who finished with 14 points, nailed another trey in overtime to put the Badgers up by three points in the final minute of play, and sophomore point guard Trey Burke's attempt to tie the game as time expired rattled out.
Burke led all scorers with 19 points, and Hardaway Jr. chipped in 18 points.
The loss drops Michigan to 8-3 in the Big Ten and 21-3 overall, while Wisconsin improves to 8-3 in league play and 17-7 for the season.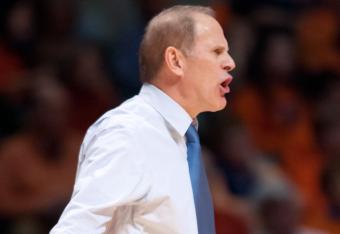 As for Michigan, this loss once again exploited the Wolverines' struggles operating strictly out of the half-court rather than getting out in transition and lighting up the scoreboard.
Michigan's interior defense showed some improvement, but it is still clear the Wolverines need to get Jordan Morgan back from an ankle injury before the issue can be shored up.
The Maize and Blue only knocked down five-of-18 three-pointers and when the Wolverines are not knocking down perimeter jumpers or getting out in transition it is a recipe for disaster, which everyone witnessed today.
Tim Hardaway Jr. impressed once again with 18 points, including the go-ahead three-ball in the closing seconds of regulation.
Trey Burke piled up 19 points, but missed some open looks that could have changed the outcome for the Wolverines. Burke only hit eight-of-21 field goal attempts, and was only two-of-eight from distance.
Michigan simply missed too many shots near the rim to topple the Badgers. The loss means the Wolverines are still winless at the Kohl Center since 1999.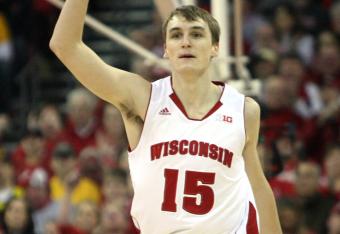 Well, the Big Ten Conference once again proved it is the deepest and most competitive league in college basketball with Wisconsin's win over Michigan this afternoon.
The Badgers were able to hold the Wolverines to 40 percent from the field and only allowed Michigan to knock down five-of-18 attempts from beyond the arc.
These Badgers are stingy on the defensive end and were able to limit Michigan's opportunities in transition, which is the biggest reason why Wisconsin pulled off the upset at the Kohl Center.
Ben Brust's miraculous half-court shot has now put the Badgers in the mix for the Big Ten title, and are now firmly in a tie for third place just one game back of the Michigan State Spartans and Indiana Hoosiers.
Wisc. 65, Mich. 62 - Final Score
Tim Hardaway Jr. missed a pull up in the lane. Michigan looked like it could trap Wisconsin in the backcourt for 10 seconds, but the Badgers were able to break the press.
The Wolverines have to foul now. Hardaway commits it and has fouled out.
Burke's game-tying three-pointer rattles out.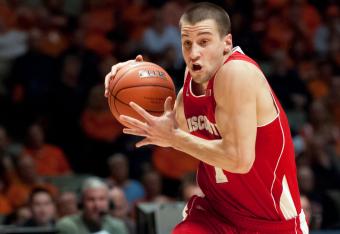 Wisc. 65, Mich. 62 - 36.9 seconds left in OT
Brust has got the hottest hand on the floor right now. The junior just nailed another three-ball right in the face of Caris LeVert. Brust is four-of-seven from beyond the arc this afternoon.
That sums up Michigan's day. McGary comes up with a steal, but can't make the adjustment at the basket on the fast-break to finish the layup.
The Wolverines have missed a lot of opportunities at the tin today.
Mich. 62, Wisc. 62 - 2:17 OT
Bad shot selection in the early goings of overtime for Michigan. Wisconsin got a high percentage look under the basket and that's why it is on top right now.
Nice defensive play by McGary, though. Tied up Berggren underneath to give Michigan the possession. Hardaway Jr. quickly drives to the hole and ties the game.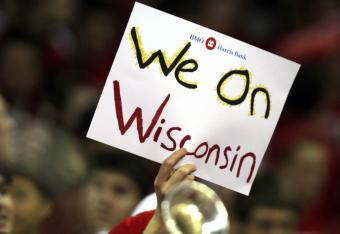 Mich. 60, Wisc. 60 - End of Regulation
WOW! WOW! WOW!
Brust catches the inbound pass near half-court and heaves up the desperation shot that catches nothing but the bottom of the net.
Why did Michigan not foul before the shot? It had two fouls to give there and would have made it tough for Wisconsin to get a play off. Wisconsin made the same mistake on the Wolverines' go-ahead three.
What a game. Overtime is the only fitting ending for this one.
Mich. 60, Wisc. 57 - 2.4 seconds remaining
Unbelievable! Tim Hardaway Jr. comes off of a screen and nails a three-pointer with Mike Bruesewitz in his face.
What a shot by Hardaway.
Mich. 57, Wisc. 57 - 28.3 seconds remaining
Berggren makes the freebie. Michigan will have the last shot.
The Wolverines' go-to play in the final minutes has been Trey Burke's step-back three-pointer. I'd look for something different today, though.
Try to get the ball to Stauskas in the corner, Hardaway in the lane, or something involving Burke driving to the hole with the option to kick out to the wing if the defense collapses around him.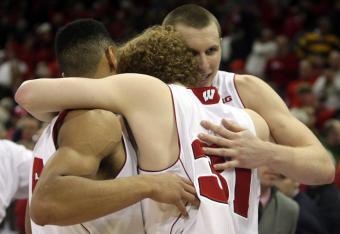 Mich. 57, Wisc. 56 - 0:32 2nd Half
McGary gets beat on the drive by Berggren, who throws down a thunderous one-handed dunk right over Trey Burke. Berggren got the foul call as well and will have a chance to convert the three-point play after a brief media timeout.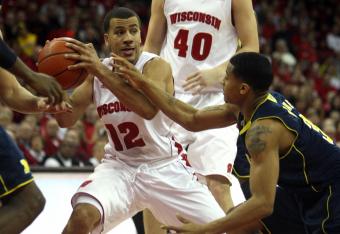 Mich. 57, Wisc. 54 - 0:52 2nd Half
Just when it looked like Michigan was in trouble, Burke comes through with a fadeaway jumper in the lane, and he forced the Badgers to call a timeout by helping on a double team near half-court.
Mich. 55, Wisc. 54 - 2:27 2nd Half
Excellent defense in the post by Max Bielfeldt, but Berggren just made a better move and got his shot to fall off of the glass. Berggren now has 10 points on four-of-10 shooting.
Burke is forced to jack up a desperation three as the shot clock expires, and he can't finish off a layup after a Wisconsin turnover.
Timeout Badgers.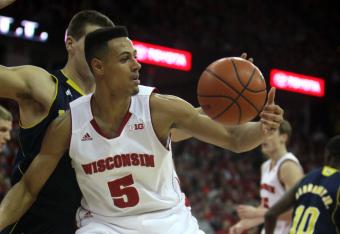 Mich. 55, Wisc. 52 - 4:36 2nd Half
Wisconsin's defense is starting to fluster the Wolverines a bit. Back-to-back possessions in which the shot clock hit zero and Michigan did not have a shot draw iron.
Mich. 55, Wisc. 52 - 5:30 2nd Half
Luckily for McGary, Jared Berggren missed a wide-open three after he got lost defensively.
Hardaway Jr. and Dekker trade three-balls to keep this a one possession game.
Mich. 51, Wisc. 47 - 7:55 2nd Half
Great job by Mitch McGary to come over and take the charge. Bo Ryan was more than a little unhappy with that foul call on Sam Dekker.
Tim Hardaway Jr. silences the crowd momentarily with a floater in the lane.
Head coach John Beilein only played Glenn Robinson III for 11 minutes in the first half, and knows he needs the extra rest:
You watch Robinson on that break -- three weeks ago he's at the rim. Kid is completely wiped.

— Nick Baumgardner (@nickbaumgardner) February 9, 2013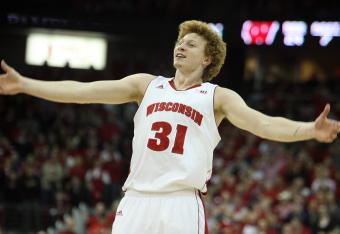 Mich. 47, Wisc. 47 - 9:08 2nd Half
Typical Wisconsin basketball right there. Work the shot clock for 34 seconds and hit an open jumper as the buzzer goes off.
Michigan needs to be careful here and not allow the Badgers to gain some momentum.
Mich. 45, Wisc. 44 - 10:20 2nd Half
Caris LeVert has given Michigan some quality minutes today, but he has missed both of his field goal attempts.
Both teams struggling to find open looks right now.
Mich. 45, Wisc. 44 - 11:42 2nd Half
Bad news for Michigan. Tim Hardaway Jr. just picked up his third foul driving through the lane. He might have to remain on the bench for a few minutes.
It appears to be a milestone game for Burke as well:
Trey Burke's 2nd 3-pointer of the game ties him with Dugan Fife for 17th in career 3-pointers at Michigan (103).

— Michael Rothstein (@mikerothstein) February 9, 2013
McGary and Burke are Michigan's top scorers right now with 10 and 14 points respectively.
Ryan Evans has 11 points for the Badgers.
Mich. 44, Wisc. 42 - 13:50 2nd Half
Unbelievable play by McGary on the offensive end over these past few games. Today, the freshman big man has done a lot of damage with a mid-range jump shot.
Burke is still on fire for Michigan as well.
Look for Wisconsin to slow it down a bit out of the timeout:
Wisconsin can;t handle all the back and forth... calls a timeout for rest

— Mark Snyder (@Mark__Snyder) February 9, 2013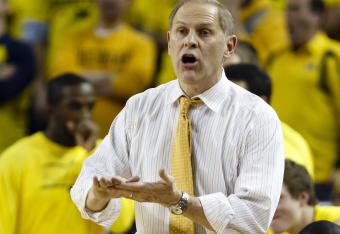 Mich. 40, Wisc. 39 - 14:48 2nd Half
WOW! Awful call there by the officials. Nik Stauskas followed his own miss from the corner and had the ball bounce off of a Wisconsin player on the ground, but the Badgers were awarded the ball.
Nice work in transition by Burke and Co. to answer the bad call. Burke nails an open three-pointer to put Michigan back out in front.
Wisc. 37, Mich. 35 - 16:20 2nd Half
The Badgers are still lighting it up from outside as Ben Brust hits a three, Evans come up with a second-chance dunk after Tim Hardaway Jr. mis-timed his jump.
McGary attempts to shift the momentum a bit with a tip-slam in the face of Mike Bruesewitz.
This article is
What is the duplicate article?
Why is this article offensive?
Where is this article plagiarized from?
Why is this article poorly edited?

Michigan Wolverines Basketball: Like this team?