Miami Dolphins Mock Draft: Predicting All 7 Rounds, Pre-Scouting Combine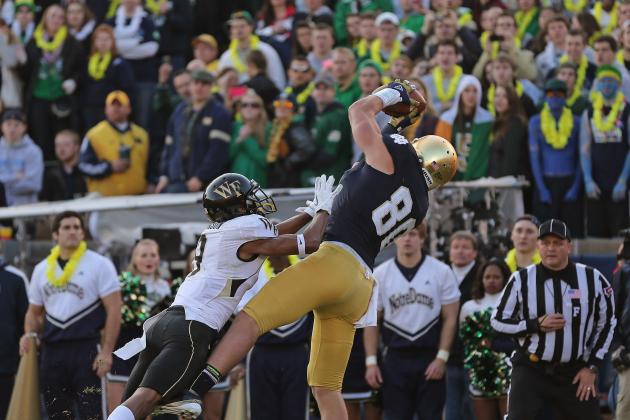 Jonathan Daniel/Getty Images

The Miami Dolphins proved many people wrong when they won seven games last year. They have built a solid foundation with head coach Joe Philbin and Ryan Tannehill. If they are able to bring some free agents to fill some needs and have a solid draft, Miami will be talked about as a playoff team as soon as next year.
With big holes at wide receiver, cornerback, defensive end and the offensive line, it is vital that Miami finds starting-caliber players in these positions. Jeff Ireland has made it clear that he wants to build this team through the draft, but with some quality free agents at wide receiver and cornerback, it will be interesting to see what players he will bring in.
This draft is not as talented as last year's draft, but there are a lot of players that can come in and fill some of Miami's needs. With five picks in the first three rounds, it is important that Miami find at least three starters.
Without knowing what Miami does in free agency, it's not easy making a mock draft. This mock looks at needs for Miami before free agency starts.
Begin Slideshow

»
Measurable
Height: 6'2"
Weight: 185 lbs
With Sean Smith becoming a free agent and Richard Marshall under-performing before having a season-ending injury, Miami has a very big hole at cornerback. They had the 27th-worst pass defense in the league, which really shows the need of a true shutdown cornerback.
DeMarcus Milliner is the best cornerback this year, but it is unlikely that he will be available when Miami picks at No. 12. Johnthan Banks becomes the next option.
Banks possesses a great combination of size, speed and athleticism. He is physical at the line of scrimmage and can be a contributor in the run game. He proved that he can keep up with any wide receiver and is able to beat receivers when the ball is at its highest point.
Not only can Banks defend passes, he can also turn his hips very smoothly and is able to spot the ball rather quickly. He is a threat to intercept a pass nearly every time the ball is thrown his way. This is something the Dolphins desperately need.
Even if Miami is able to re-sign Smith, bringing in Banks would solidify the secondary and give Miami a true No. 1 cornerback.
Measurable
Height: 6'6"
Weight: 251 lbs
Miami has seen close-up what having a real threat at the tight end position can do. Twice a year they face the likes of Rob Gronkowski, Aaron Hernandez, Dustin Keller and Scott Chandler.
Anthony Fasano is a free agent and, even though he has been a consistent player for the Dolphins, he hasn't really proven he can be a threat in the receiving game. There are also some options in free agency at the position like Keller and Jared Cook. If Miami doesn't want to fill this need through free agency, they will most likely pull the trigger on a tight end in the early rounds.
Tyler Eifert and Zach Ertz are the two best tight ends in this year's draft. They are both complete tight ends who can block and catch, but Eifert has the slight edge in the passing game.
He has tremendous leaping ability and strong hands. He can line up on the line as well as out wide. He is a matchup nightmare for any defense that faces him. Not only does he have the speed to beat linebackers, but he has the size to beat cornerbacks and safeties.
He will instantly fill the need for Miami in the red zone. Eifert is also a great route-runner who can give Ryan Tannehill a safety blanket when there are no open receivers. If he's available in the second round, Miami should not think twice about pulling the trigger.
Measurable
Height: 6'5"
Weight: 308 lbs
With Jake Long likely leaving in free agency, Miami will need to add at least one player on the offensive line. It appears that Jonathan Martin is going to take over the left tackle position, but Miami still needs someone to play either right guard or right tackle.
Dallas Thomas brings the best of both worlds. He played left tackle and guard while at Tennessee and can play either position in the NFL. His greatest strength is in pass protection. He has quick feet and a strong core, which make it difficult for defensive linemen to push him around.
He needs to improve his run-blocking, but he has shown improvement in every facet of his game during his career in Knoxville. Adding Thomas would greatly improve the Dolphins offensive line, and would add another young, talented player.
Nate Garner should not be starting at right tackle. With Thomas, Miami has the ability to choose between him and John Jerry for who will be taking over the guard or tackle position.
Measurable
Height: 5'11"
Weight: 182 lbs
Sean Smith is reportedly asking for a five-year contract worth $8 to $10 million. I highly doubt Jeff Ireland is willing to spend over $6 million per year for Smith's services. He has been highly inconsistent throughout his career in Miami and will not be seeing a contract of that magnitude from the Dolphins (or anyone for that matter).
If Miami is unable to re-sign Smith or lure in another free-agent cornerback, they should really consider doubling up in the draft. After having drafted Johnthan Banks in the first round to be their shutdown corner, Jordan Poyer can come in and contribute as the second or even third cornerback on the roster.
Richard Marshall should be back to 100 percent next year and would compete with Poyer for the No. 2 spot.
Poyer is a tremendous athlete who has great coverage skills. He was tied for second in the nation in interceptions with seven. His ball skills are really good, which is something the Dolphins have been lacking in the secondary. He has to improve his run defense, but can still contribute heavily as a rookie.
By adding Banks and Poyer to a secondary that already has Reshad Jones and Chris Clemons, Miami will be a lot better in the passing game.
Measurable
Height: 6'1"
Weight: 182 lbs
In the third round, Miami finally addresses its need for a wide receiver. They can possibly pull the trigger on a receiver in an earlier round, but that all depends on whether they are able to sign one of the coveted wide receivers in free agency.
In Markus Wheaton, Miami is getting someone that can stretch the field and convert a 10-yard catch into an 80-yard touchdown. He has excellent speed, quickness and the ability to separate from defenders out of his break. He has also proven he has strong hands and the willingness to catch passes in traffic before taking a big hit.
The only concern with Wheaton is if he can beat the jam at the line of scrimmage. He may need to add some strength in order to compete against physical cornerbacks. If he's able beat the jam, there are not many cornerbacks that are able to keep up with him.
Wheaton participated in the Senior Bowl and was one of the standout players. He showed his speed, quickness and ability to catch in traffic. He would be a great new weapon for Ryan Tannehill.
Measurable
Height: 6'3"
Weight: 260 lbs
Miami has the luxury of having one of the best pass-rushers in the league in Cameron Wake. However, he is not able to pressure the quarterback by himself on every down. He needs some help.
Since pass-rusher is not Miami's biggest need, they can wait to select a high-value player in the later rounds. They might be able to pull the trigger on someone earlier if they feel they are getting value. There are not many can't-miss prospects at the position and it is unlikely Miami will select one in the first round unless Damontre Moore or Bjoern Werner somehow drop to No. 12.
After addressing four pressing needs, Miami can now focus on drafting someone to help Wake. Brandon Jenkins is a talented pass-rusher who will experience a free fall because of a season-ending injury. Jenkins broke his foot during the first game of the season, but will be available right away.
Jenkins is a pure pass-rusher with great athleticism who has to improve against the run. He's a speed-edge rusher with a handful of moves that make it difficult for offensive linemen to block him.
The combination of Wake and Jenkins off the edge can be deadly. It's hard enough for teams to block Wake, but incorporating Jenkins' ability will make it even harder.
Measurable
Height: 6'0"
Weight: 218 lbs
With speculation that Miami is not interested in re-signing Reggie Bush, and Daniel Thomas under-performing during his first two seasons, it may not be out of the question for Miami to draft a running back in the later rounds.
Lamar Miller appears to be in Miami's future plans as a change-of-pace back, but they still need someone to pound it through the middle and score touchdowns in the red zone. Jonas Gray spent all of last season on the IR after being signed as an undrafted free agent. He's a big back who can give the Dolphins the combination of size and speed when combined with Miller, but we have yet to see him on the field.
Even with Gray on the roster, it wouldn't be a bad idea to bring in Marcus Lattimore with a late-round pick. Lattimore has a lot more upside than Gray and, even though he may spend all of next season on the sidelines, he can be a better complement to the offense.
Considered the best running back in the country before his gruesome season-ending knee injury against Tennessee, Lattimore is a complete back. He has great vision, hits the hole quickly and is able to get to the second level in a hurry. He is very strong, which allows him to break multiple tackles and runs with great pad level. His cutting ability in short spaces allows him to change directions quickly and make people miss. He is not a burner, but is faster than most people give him credit for.
Not only is Lattimore a great runner, but he's also great at catching the ball out of the backfield. He has great hands and has no problem running short, precise routes. Also, Lattimore is as deadly as they come in the red zone. He always finds a way to get into the end zone.
If it weren't for his two season-ending injuries, Lattimore would most likely be a first-round pick. Miami is taking a risk with someone that has two repaired knees, but taking him in the fifth round provides incredible value and would be hard to pass up.
Measurable
Height: 6'2"
Weight: 241lbs
The Dolphins don't necessarily have a pressing need at linebacker. Karlos Dansby had a solid season on the inside while Kevin Burnett also did his part. Koa Misi didn't really have a great season, but he wasn't terrible either. What Miami needs is depth at the position.
Olivier Vernon projects more as an outside linebacker than a defensive end. However, his biggest strength is his pass-rushing ability. This leaves Miami with a need at the other outside linebacker position with actual coverage skills.
Seventh-round prospects are usually developmental players. Nothing is assured with late-round picks, but a team can look really smart if they are able to find a starting-caliber player.
Devonte Holloman needs some polishing in order to be a full-time starter in the NFL. He played his first two seasons at strong safety for the Gamecocks, where he was able to polish his coverage skills. This year, he was moved to the spur linebacker position after the departure of Antonio Allen to the NFL. Holloman did a great job covering tight ends and slot receivers down the middle.
He possesses minimum pass-rushing abilities, but in a league that is placing more importance on the tight end position, a linebacker that can cover has become a big need.
With Vernon already contributing, the addition of Holloman can give the Dolphins two outside linebackers for the future. Vernon would be the pass-rushing specialist, while Holloman will be given coverage duties.
Measurable
Height: 6'1"
Weight: 191 lbs
Miami finishes up the draft with another project. By taking Markus Wheaton with their first pick of the third round, they already have an improved group of wide receivers. Miami will seriously be looking at free agency to add another player at the position, whether it's bringing in someone new, or re-signing Brian Hartline.
By adding Tyler Eifert in the second round, Miami also adds another weapon for Ryan Tannehill, especially in the red zone.
What Tavarres King brings to the Dolphins is somebody who will get behind the defense and allow Ryan Tannehill to showcase his strong arm. It is unlikely that he will see the field right away, but he can eventually become a contributor.