Winners and Losers from This Week in the NBA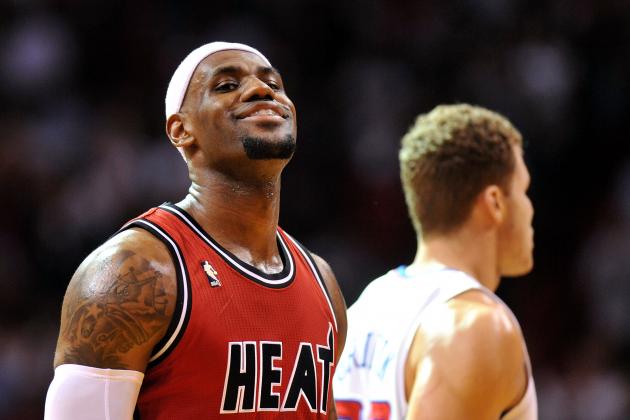 USA TODAY Sports

There was a whole lot of winning in the NBA this week—unless, of course, you're a Charlotte Bobcat. Or you've been rumored in trade talks with the Charlotte Bobcats. Or you've landed on the injury report.
But there were epic performances from some of the league's brightest stars. Statements have been made, and notices have been sent out.
With All-Star Weekend approaching and the NBA trade deadline nearing, players are going all out before the February intermission.
Begin Slideshow

»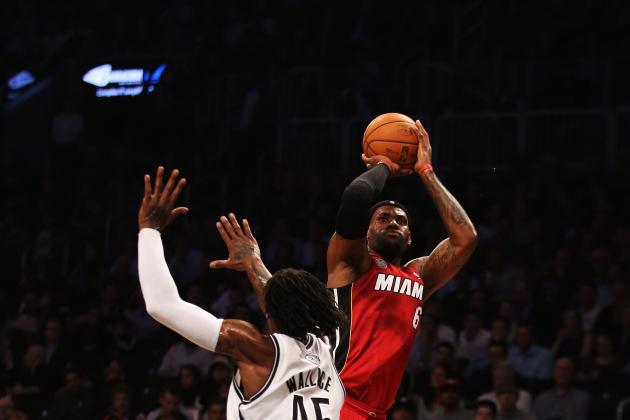 Al Bello/Getty Images

Nobody has ever made it look this easy.
The Miami Heat won four games this week, and LeBron James averaged 30.7 points on 72.8 percent shooting from the floor. He essentially went to the settings menu and changed the difficulty level from Superstar to Beginner.
This is bad news for the rest of the league—LeBron is making jump shots. If that's the case, you might as well tuck your head between your legs and brace for impact.
Miami pulverized the Los Angeles Clippers Friday night, with LeBron picking them apart from start to finish.
He nailed 8-of-13 from downtown this week and was converting in the mid-range. Once the jumper starts working, the rest of the game becomes cake.
LeBron is doing some legendary stuff out there. It would be really hard to imagine an NBA Finals that didn't feature him and Kevin Durant.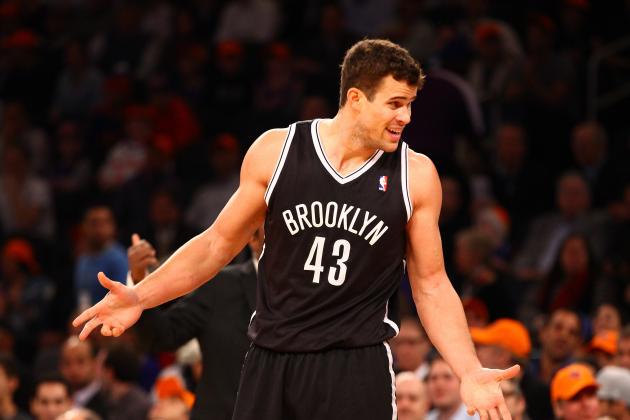 Al Bello/Getty Images

We'll give him this: Kris Humphries' Foot Locker commercial with James Harden is awesome.
But the trade rumors sound pretty serious. It appears the Brooklyn Nets are intent on dealing him, with the Charlotte Bobcats being the most frequently mentioned destination in exchange for Ben Gordon.
Humphries is averaging nine minutes per game over Brooklyn's last five, so it doesn't appear the Nets have any use for him. He'd likely get a much larger role playing for Charlotte (although getting traded from a relevant team like the Nets to the worst team in the league somehow doesn't seem all that appealing).
I can't imagine Humphries thought he'd be on the block after signing a two-year, $24 million contract last summer.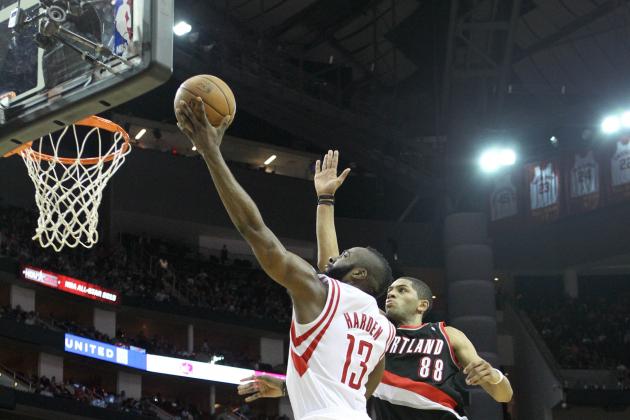 USA TODAY Sports

James Harden is having a week to remember.
He triple-doubled against the Charlotte Bobcats last Saturday, and it wasn't even his best game.
Harden went for 36 points, 12 boards and seven dimes against Miami and 35 points, 11 assists and seven boards against Portland.
He's the ultimate playmaker, which is why coach Kevin McHale has given him the brightest green light in the league.
Harden has reached superstar status in his first year with a featured role.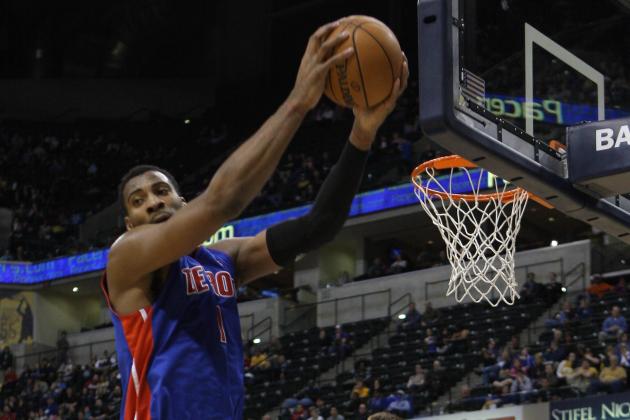 USA TODAY Sports

In the most disappointing news of the week, Detroit Pistons rookie Andre Drummond fractured his vertebrae and will miss the next four to six weeks.
Drummond has been one of the brightest stories in the league, with a 22.57 PER and a knack for throwing it down.
With the way Drummond uses his physical tools, his back sounds like a part of his body he needs fully intact for him to be effective.
Hopefully this is just an isolated incident and Drummond can put this injury behind him once he heals and returns to action.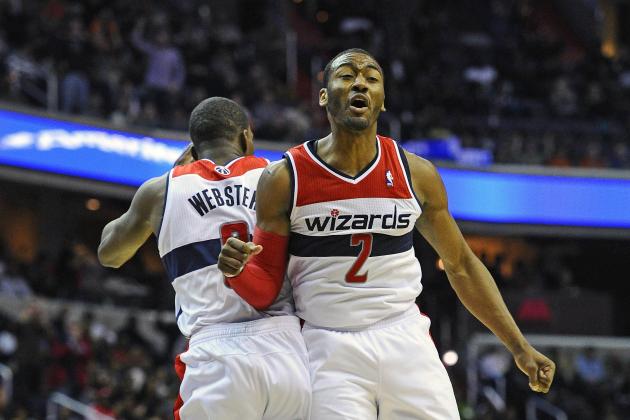 USA TODAY Sports

The Washington Wizards are rolling right now with John Wall in complete control of the offense.
For the first time all year, the Wizards players are actually open. Wall is breaking down defenses with his speed and quickness and creating easy scoring opportunities for teammates in the half court and transition.
This week, the Wizards beat the New York Knicks, Los Angeles Clippers and Brooklyn Nets in three consecutive games, with Wall averaging nearly nine assists during the stretch.
Credit Randy Wittman, who actually has this team playing better defense than its record suggests. The Wizards haven't lost a game where they gave up 100 points since January 4, which is actually an incredible stat when you think about who we're talking about.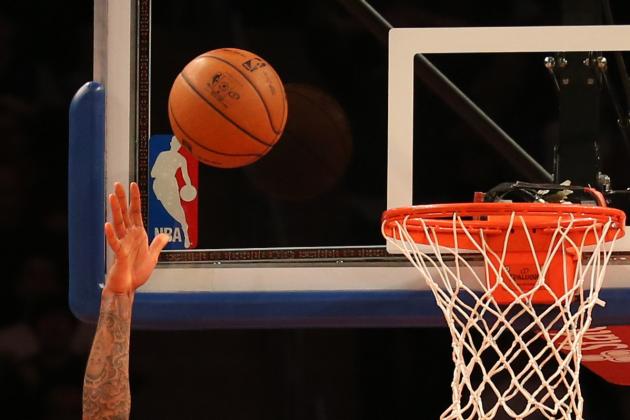 Anthony Gruppuso-USA TODAY Sports

Tyson Chandler tied a Knicks record by bringing in 20 rebounds in three consecutive games.
Though it doesn't seem that crazy when you think about his size and length, Chandler has never been a volume rebounder, so for it to randomly happen three consecutive games is somewhat strange.
If Chandler got credit for his tap-backs to teammates off misses, he'd probably be averaging close to 15 boards a night.
He's proving he's worth every penny of his four-year, $58 million contract.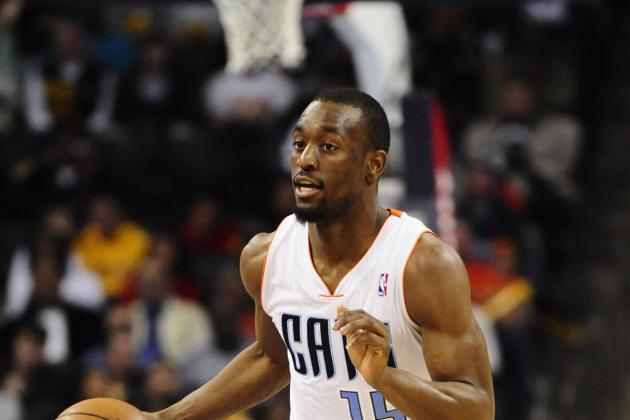 USA TODAY Sports

The Charlotte Bobcats had chances this week, but they just couldn't execute down the stretch.
They lost by five at Miami, and after getting smoked in Cleveland, they blew a 19-point lead against the Lakers.
It must be frustrating to be desperate for a win and then give it away after 40 hard-fought minutes.
Without any game-changing talent on the roster, it's going to be a while before this team can compete. Don't be surprised if the Bobcats shop their eventual lottery pick regardless of where it is.
Kevin Liles-USA TODAY Sports

Jeff Teague picked the right time to turn the corner as a pro.
A restricted free agent this summer, Teague's value has been in question since he entered the league. But his recent play might be changing some minds.
Over the last three games, he's averaging 22 points and 10 assists, with two of those games coming against the Indiana Pacers and Memphis Grizzlies—the top two defensive teams in the NBA.
Atlanta is likely to let the market set Teague's value, but with recent news that the team is taking trade offers for Josh Smith, you'd imagine the Hawks are intent on bringing their guard back at any cost.
Teague's numbers have gradually improved with every year he's been in the league—something executives like to see when looking to invest long term.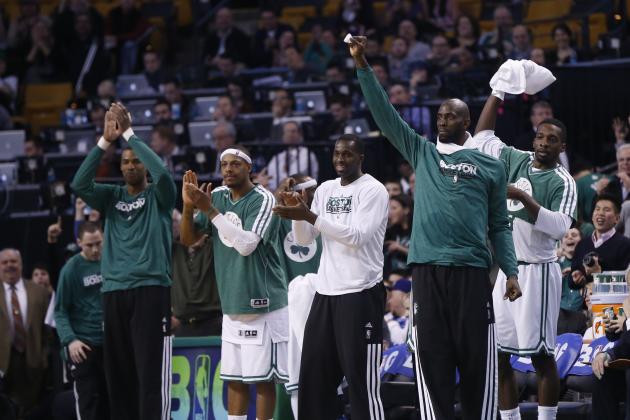 Greg M. Cooper-USA TODAY Sports

It's hard to make sense of it, but the Boston Celtics still haven't lost since Rajon Rondo went down.
Somehow, Kevin Garnett is playing better basketball, averaging 17 points on 59 percent shooting over Boston's last four games. You'd think that without Rondo, Garnett would have trouble getting open looks, but that just hasn't been the case.
Boston's role players and backcourt depth have stepped up and done an admirable job of replacing Rondo's lost production.
The Celtics were last seen waxing the Los Angeles Lakers right off the floor, with Jason Terry and Jeff Green combining for 34 points off the bench.
The loss of Rondo is bound to catch up to the Celtics eventually, but credit this team for keeping the flame lit.