Tyron Woodley vs. Rory MacDonald: Head-to-Toe Breakdown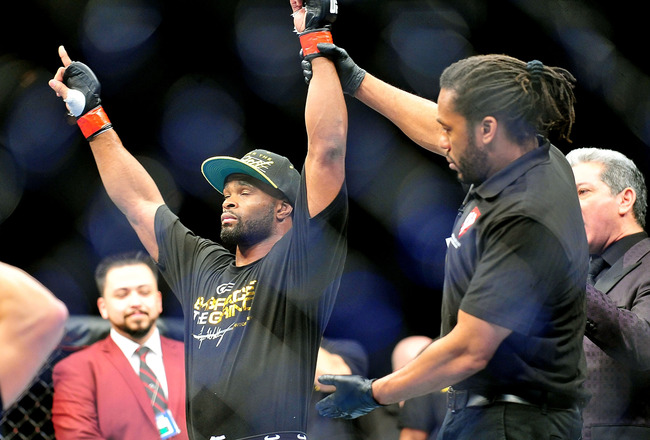 Gary A. Vasquez-USA TODAY Sports
Tyron Woodley made a quick and impressive debut in the Octagon with a 36-second knockout of Jay Hieron at UFC 156.
The former Strikeforce title contender and highly touted prospect is not wasting any time in calling out the welterweight elite under the bright lights of the UFC. In an interview with Sherdog Radio (h/t fighthubtv.com), he specifically called out Rory MacDonald.
MacDonald is currently scheduled to take on Carlos Condit at UFC 158—a rematch of MacDonald's only professional loss.
However, should MacDonald get past Condit and not want to challenge his teammate, and current UFC Welterweight Champion, GSP, then taking on Woodley is a distinct possibility.
This is how that fight breaks down.
Striking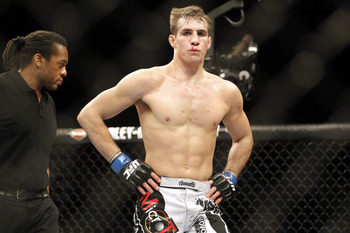 Joe Nicholson-USA TODAY Sports
Woodley showcased his power in his UFC debut against a skilled striker, but technically he is still behind where MacDonald is.
MacDonald is training with the elite of the elite at Tristar and continues to develop as a fighter at only 23 years of age. We see a new version of him every time he enters the Octagon, and his striking continues to look more crisp with every visit.
Woodley is also at a reach disadvantage.
If Woodley can connect, it can alter a fight, but the totality of MacDonald's striking gives him the clear edge in this category.
Edge: MacDonald
Wrestling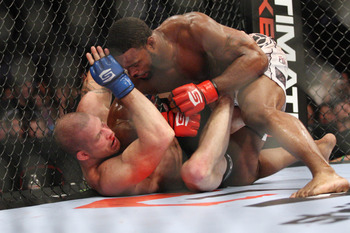 Scott Olmos-USA TODAY Sports
Much like GSP, MacDonald's wrestling continues to evolve. However, Woodley has the clear advantage in this department.
It is the strength of the two-time NCAA All-American at Missouri.
MacDonald is no slouch at defending the takedown either. That will make it difficult for Woodley, but if it ever becomes strictly a wrestling match, MacDonald won't have much say in the matter. Thankfully for him, that is rarely the case in a fight.
Putting MacDonald on his back would be a big plus for Woodley.
Edge: Woodley
Submissions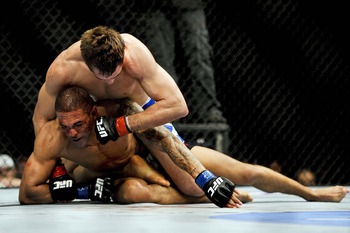 Paul Abell-USA TODAY Sports
Woodley submitted his first five opponents, and MacDonald made his first four tap. Both men have preferred to use their fists since then.
MacDonald's last submission victory came in his UFC debut against Mike Guymon.
Woodley is more likely to be in top position with his wrestling, but MacDonald's more complete game has him holding the advantage in the submission department.
MacDonald simply has more options available to him. It will be more difficult off his back with Woodley trying to utilize his ground and pound, but the lengthy welterweight is more technically proficient and has more options to use.
Edge: MacDonald
X-Factors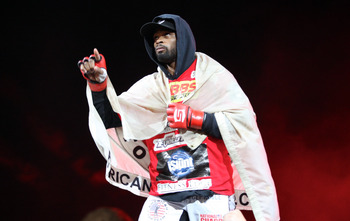 Scott Olmos-USA TODAY Sports
Woodley's X-Factor: Managing the Distance
MacDonald is a welterweight who can create a lot of problems with his stature. He is tall and long, and he knows how to use his physical advantages to compliment his supreme skills.
Woodley must manage the distance.
He either needs to be completely out of range or inside of MacDonald. He cannot stay at the end of his punches and kicks. That would render his offense completely useless and make him a sitting duck for MacDonald.
MacDonald's X-Factor: Defensive Wrestling
Woodley's wrestling has to come into play in this fight for him to defeat MacDonald.
It would both put Woodley in the best position to win, and it would help tire MacDonald out as the fight dragged on. However, if he cannot put MacDonald on his back, then his opportunities to score points decreases significantly.
If MacDonald's defense is on point, then he has a more simple path to victory.
Prediction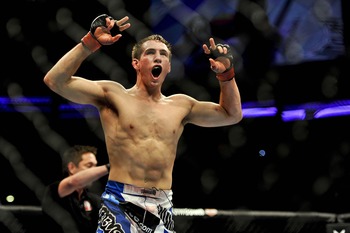 Paul Abell-USA TODAY Sports
Woodley's wrestling and power would make him a live dog in this fight, but a definite underdog nonetheless.
Woodley showed several flaws in his fight against Nate Marquardt, and MacDonald is on a different level. MacDonald is one of the very best welterweights in the world at this time, and it is a tall task for anyone, let alone a prospect who continues to learn.
Credit to Woodley for calling him out, but the matchup is not in his favor.
MacDonald would likely stuff his takedown attempts and begin to touch him up on the feet. Eventually, much the same as the Marquardt fight, Woodley would succumb to the better technical striker and be staring at the lights.
Prediction: MacDonald defeats Woodley by knockout in the second round.
Keep Reading