Why Dortmund's Champions League Form May Run out Against Shakhtar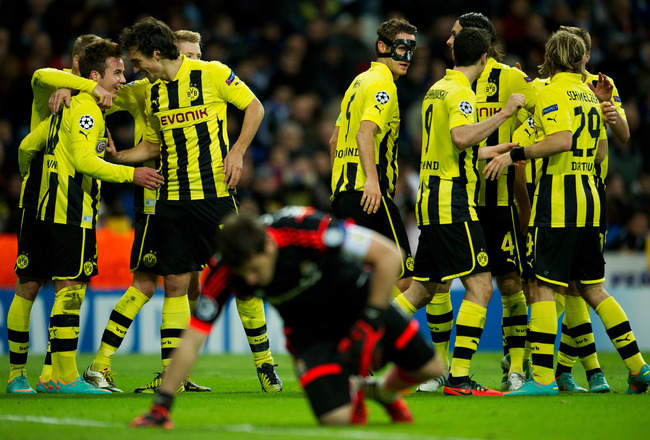 Jasper Juinen/Getty Images
The Champions League resumes this week, and on Wednesday, two up-and-coming European sides meet in the form of Dortmund and Shakhtar Donetsk.
The German side were arguably the most impressive side in Europe's elite-club competition during the group stage, having taken just one point less than PSG's tournament-leading tally of 15, and done so in a group that contained heavyweights Real Madrid, Manchester City and Ajax.
With attractive, aggressive tactics in attack and a fast-paced, swarming defense, BVB did their fans proud and captured the admiration of neutrals. And as they enter the knockout rounds, they appear to be among the favorites to reach the final in May.
Things have changed since the group stage, however, and heading into Wednesday's match there are many reasons to believe Dortmund might show a different face.
Click "begin slideshow" to read more on the factors that could see BVB meet their match on the continental stage.
Fatigue and Injuries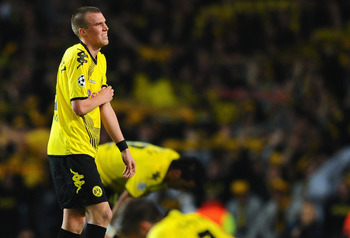 Mike Hewitt/Getty Images
Heading into Saturday's match with Hamburg, Juergen Klopp had a depleted Dortmund squad to choose from.
On Thursday, the official BVB website reported that Marcel Schmelzer (bruised foot and throat infection), Marco Reus (adductor strain) and Mario Goetze (viral infection) had been unable to train all week. Roman Weidenfeller, Lukasz Piszczek and Kevin Grosskreutz returned to training on Wednesday, but were soon sent back home due to illness.
On Saturday, Schmelzer and Grosskreutz were excluded from the BVB squad altogether, but the other doubtfuls were selected in Klopp's starting XI. Given that so many of their players were not at 100 percent, the last thing Dortmund needed was for Robert Lewandowski to be sent off early. But after 31 minutes, and following a late and high challenge on Per Skjelbred, he was.
Already 2-1 behind at the time of Lewandowski's red card, the remaining Dortmund players were forced to run extra for an hour. The match ended in a 4-1 defeat, but not before Goetze and Reus ran for the full 90 minutes. Piszczek only lasted until the 66th minute before being substituted for the first time this season.
The result was not only excessively fatiguing, but woefully demoralizing for BVB, who lost by their largest margin since their 5-1 defeat to Bayern in September of 2009. They now visit Donetsk with no momentum and heavy legs.
Momentum and Morale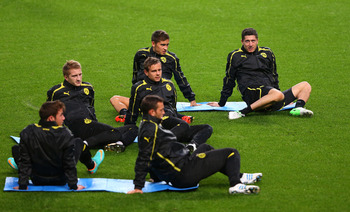 Alex Livesey/Getty Images
Dortmund thrive on consistency and the powerful effect form can have. In each of their title-winning seasons, they went on long winning runs. In the fall of 2010, they won 14 out of 15 Bundesliga games, drawing once. In the second half of the following season, last spring, they went undefeated with wins in 16 out of their final 18 matches.
BVB looked like they were beginning a strong run up until Saturday, having blitzed Bremen, Nuernberg and Leverkusen by a combined 11-2 in their previous three matches of 2013.
But the HSV loss, and especially the magnitude thereof, will be a difficult hurdle to overcome. A loss in Donetsk would be a hammer blow, and would not bode well for Dortmund's morale heading into tricky fixtures against Bayern, Schalke and of course the second leg with Shakhtar on the horizon.
To make matters worse in the coming weeks, BVB will be without Robert Lewandowski in Bundesliga action. Although the DFB has yet to make a verdict, the standard for a straight red card is a three-match ban, which means the striker won't play domestic football until the Ruhr derby against Schalke on March 9.
Dortmund play against Shakhtar this Wednesday and again on March 5, with the DFB-Pokal match against Bayern on Feb. 27 being the only fixture in which Lewandowski will be eligible to play between the two legs of their Champions League tie.
The loss of Lewandowski during a critical period can have a twofold negative effect.
Firstly, the striker cannot expected to be in top form in a given match if he has not played for a spell prior. Secondly, given that he is the only BVB center-forward with a record of having scored regularly and consistently in the last 18 months, the Bundesliga champions face a very difficult task in tactically adjusting to his loss.
The Fan Factor

Dortmund fans in Manchester. Fast forward to 4:10 for a comparison of City and BVB supporters.

Dortmund are famous for their fans, who pack the Signal-Iduna Park to full capacity in almost every match. Indeed, last season they averaged 80,521 supporters in attendance during home games, a figure equal to 99.8 percent of their 80,720 capacity.
BVB's fans are also known for their willingness to travel great distances to cheer on their club. Earlier this season, in Manchester, thousands put on a spectacle outside and inside the Etihad stadium (see video to the left).
Supporters of Dortmund traveled en mass for nearly 1,000 km to Manchester, and over 1,800 km to Madrid in the Champions League group stage. However, whether they are willing to make the 2,500 km trip to Donetsk, located in Eastern Ukraine and close to the Russian border, is uncertain.
There is a precedent for Germans traveling to Ukraine to watch football. During Euro 2012, 30,000 Germans visited L'viv, Ukraine, where die Mannschaft played two of their three group-stage games. However, many came from the eastern German city of Berlin and had just over 900 km to drive to the western Ukrainian city of L'viv.
It's a much more difficult trek from Dortmund to Donetsk, a city that perhaps is not as known for its accommodations as Madrid and where the language poses an extra obstacle for many foreigners not well versed in the Cyrillic script.
Dortmund fans may be renowned for the lengths to which they go to support their team. But this reputation will be put to the test on Wednesday. In all likelihood, BVB will be a bit short of their usual support. And for a team that derives so much of its strength from its fanbase, this could be a huge problem.
Keep Reading