Chelsea 4-1 Wigan: Putting Rafa Benitez Under the Microscope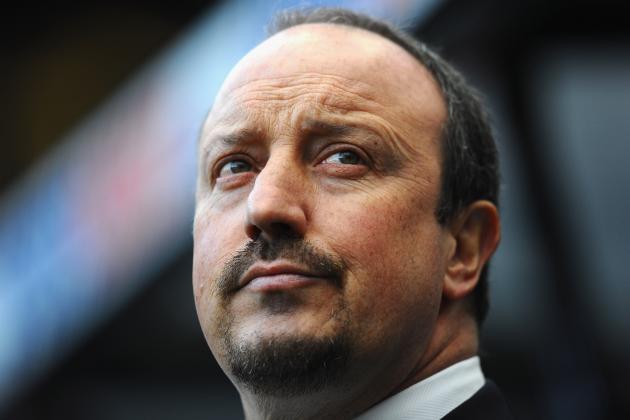 Laurence Griffiths/Getty Images
Rafa watch
After overseeing just one win in Chelsea's last six fixtures, there were reports in this morning's press, via Rob Beasley of The Sun, that Rafa Benitez would be sacked if the Blues failed to beat Wigan Athletic.
In truth, many of the Chelsea fans would love to see the back of him anyway, regardless of an impressive enough 4-1 win over the Latics
Over recent weeks, the Spaniard's team selection, tactics, substitutions and control over team affairs have come under fierce scrutiny from the Chelsea faithful who are unanimously underwhelmed with the former Liverpool boss' impact since taking over from Roberto Di Matteo.
After falling 16 points adrift of Manchester United at the summit of the Premier League and losing out on the World Club Cup and Capital One Cup, Benitez has a lot to answer for.
So, I've ran the rule of Rafa the Gaffer and rated what he did right and wrong in Chelsea's 4-1 win against Wigan.
Begin Slideshow

»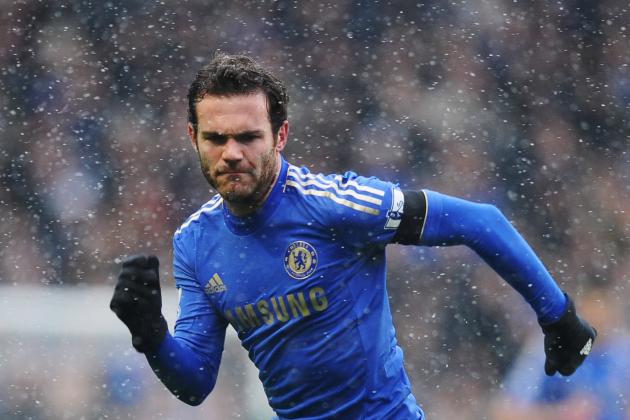 Laurence Griffiths/Getty Images
Where was Juan the man?
Benitez's team selection raised a few early eyebrows around Stamford Bridge, and may have inadvertently contributed to an insipid opening in which Wigan were the more comfortable and composed team
Despite being cup-tied for the midweek Europa League clash with Sparta Prague, Demba Ba started on the bench at the expense of Fernando Torres, who was without a league goal in his last nine outings.
Even more confusing was Benitez's decision to leave Juan Mata on the bench. The former Valencia man has been the Blues' standout performer all season and it's no secret they regularly struggle without their playmaker.
That was the case early on as Chelsea lacked fluidity with Ramires pushed out wide and Oscar given the creative licence behind Torres.
However, it was Torres and Ramires—coming in from the right—who slickly combined for the opening goal to settle nerves and put Chelsea on the front foot.
Elsewhere, David Luiz returned from a three-match absence to put in an energetic shift in the centre of midfield with Eden Hazard also coming back in to score one and create plenty.
All in all, any initial doubts were dispelled, but things could have gone the other way if Chelsea hadn't scored at an opportune moment after initially offering little.
Rating: 4/5 (Eventually)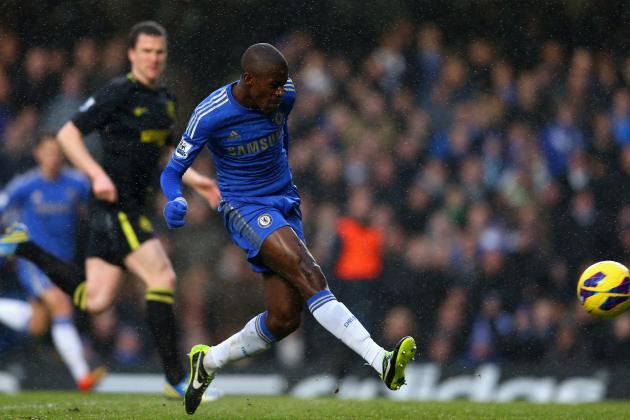 Julian Finney/Getty Images
Right wing Rambo
A visit from a porous Wigan side staring at relegation could have been the perfect opportunity to pair both Demba Ba and Fernando Torres, but predictably, Benitez persevered with the staple 4-2-3-1 formation.
With Juan Mata left on the bench and Victor Moses still away on African Cup of Nations duty, Chelsea lacked wide options and Ramires was ushered down the right with David Luiz and Frank Lampard occupying the centre ground.
The shape immediately looked and felt lopsided during an opening 20 minutes in which Chelsea lacked cohesion.
The outlook of the game was changed when Wigan were naively caught pushing forward to allow Ramires to open up, and from there the hosts settled into a groove with Oscar prominent in a free role.
The Latics' willingness to play meant they saw plenty of the ball and created a number of half chances with Chelsea looking far from rock-solid.
Still an ongoing concern for the Blues is the opposition's ability to find space in between their defence and midfield, and despite fielding Luiz, Lampard and Ramires, Wigan were still able to regularly get at Chelsea's back four.
After the visitors pulled a goal back to make it 2-1, there was no obvious shift in approach, and the home crowd had to endure some nervy moments before late goals eased the tension.
There are still too many square pegs in round holes and flaws with a system which has not convinced all year.
Benitez hasn't sought to change much yet and nor is he likely to.
Rating: 3/5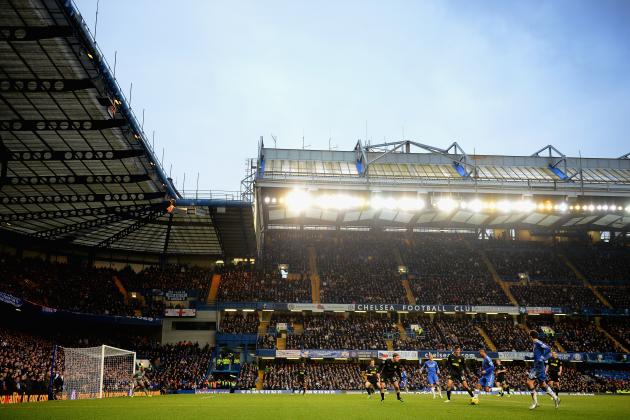 Laurence Griffiths/Getty Images
Many eyes on Benitez
Stamford Bridge is hardly the liveliest of grounds at the best of times, and that's certainly been the case since Rafa Benitez has occupied the dugout.
For the first half of the first half there was an eerie hush around the stadium, with the only break in silence coming with the customary 16th-minute singing in unison of "One Di Matteo."
Wigan were the sharper side during the opening exchanges, with Roberto Martinez haranguing his men from the touchline whilst Chelsea's slovenly play was encapsulated by Benitez shielding himself from the rain in a boiler jacket with the hood pulled up.
A quick counterattack, culminating in Ramires' opener lifted any responsibility off Benitez's shoulders to rally the troops, and from there Chelsea took control.
There was little discernible difference in the team's attitude following the break, with Eden Hazard doubling the lead on 56 minutes; yet, once Wigan pulled one back Benitez seemed blinded by the lights.
The game dangled dangerously with Wigan breaking regularly and the Spaniard let things drift until Lampard's strike from the edge of the box sealed the deal.
Losing late leads to Southampton and Newcastle doesn't appear to have instilled Chelsea with any sense of urgency, and Benitez must take responsibility for that.
Rating: 1/5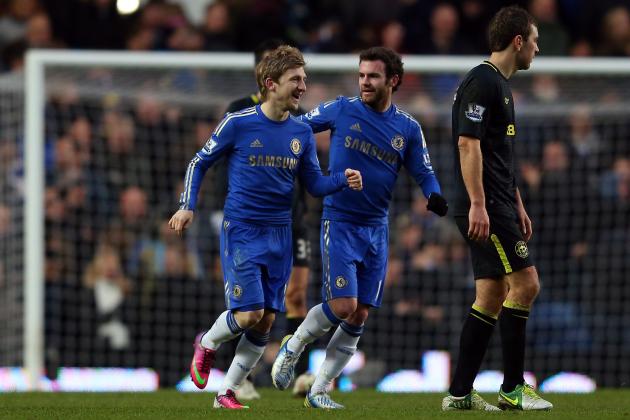 Julian Finney/Getty Images
Marin and Mata came off the bench
Shaun Maloney's strike, straight after Eden Hazard had doubled Chelsea's lead, might have prolonged Benitez's use of his full quota, but the evidence suggests he probably wouldn't have done anything anyway.
The Spaniard is reticent to make changes too early, and although it made no difference here, he's still too ponderous when making substitutions.
Juan Mata eventually arrived for the tiring Oscar, and Marko Marin scored after replacing Hazard in what were essentially two straight swaps.
He was also required to bring Yossi Benayoun on for the injured Gary Cahill—with David Luiz and Ramires shuffling about—but Benitez doesn't give off the impression he can ever change a game from the bench.
At 2-1 with half an hour to play, the match was dangerously poised and some trepidation crept into Chelsea's play.
Teams can pick up on inactivity and indecision and that's what Benitez exudes. Wigan had nothing to lose and were brave in searching out an equaliser as Benitez lay dormant on the side. He chose neither to shore the game up, or go for the throat, and the Blues' third and fatal goal had nothing to do with the manager's input.
When—for example—Sir Alex Ferguson brings on strikers, he doesn't do it because it may or may not work, he does it because it makes a statement. The only statement Benitez makes is that he's indecisive and predictable.
Rating: 1/5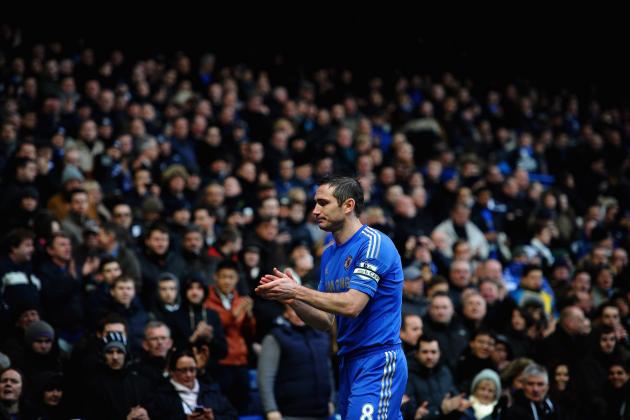 Laurence Griffiths/Getty Images

Eventually this was a comfortable and morale-boosting win for Chelsea, but it didn't start that way and could have gone differently had Frank Lampard not blasted home a third a few minutes from the end.
Benitez's team selection didn't rouse the support and neither did his tactics with Ramires shoved out wide and Demba Ba left out for Fernando Torres.
The Blues were poor for 20 minutes until Wigan's bravado proved their undoing. It was only after Chelsea scored that they found their feet, yet frailties were on show once the Latics pulled a goal back.
Many of the fallacies which have cost Chelsea points were still on display, and it was moments of individual quality rather than a cohesive team performance which brought home the points.
The apathy toward Benitez is evident from the muted crowd, whilst his ponderous substitutions and unwillingness to change anything tactically give off the impression that Chelsea are a rudderless ship—reliant on a few key performers.
This win may have granted Benitez a stay of execution, but there is little to suggest he is the man to lead Chelsea long term.
The atmosphere around the ground is inhibiting the team and that's likely to continue until the man causing it has been removed.
Upcoming fixtures against Sparta Prague (twice), Brentford, Manchester City, Middlesbrough, West Brom, Fulham, West Ham, Southampton and Sunderland offer plenty of opportunity to pick up league points and progress in the cups, but even a top-four finish and silverware cannot hide the fact that Benitez is a dead man walking.
For more, follow me on Twitter @bainesyDiego10