Newcastle: 5 Lessons Learned from the Defeat at Tottenham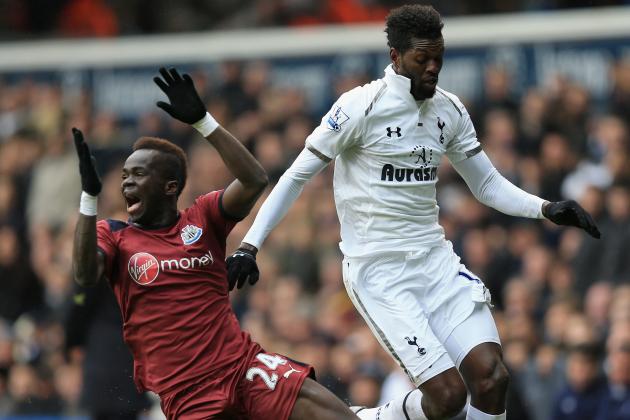 Richard Heathcote/Getty Images

It was bound to happen eventually.
After several weeks of optimism buoyed by exciting new French transfers and back-to-back victories, Newcastle plowed directly into a roadblock named Gareth Bale in their 2-1 defeat to Tottenham Hotspur.
After a very sudden fifth-minute goal in the first half, Bale made Newcastle's central defense look silly on a superb 78th-minute run and score.
The match was no disaster for the Magpies. Goalscorer Yoan Gouffran, in particular, played magnificently until his exit on a stretcher in the 59th minute. In fact, for much of the match, Newcastle looked as if they were a side deserving something from the result.
But the final score is what matters, and the Toon momentum has come to a crashing halt at White Hart Lane.
Begin Slideshow

»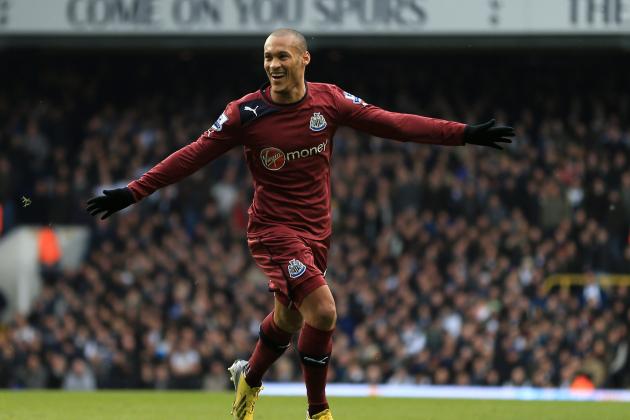 Richard Heathcote/Getty Images

The vast majority of the talk around England has been about the emergence of Moussa Sissoko as a new Premier League star.
It was another Frenchman who had the greater impact on the pitch Saturday.
Yoan Gouffran, originally considered one of the less-exciting signings in the cluster of French players heading Tyneside in January, has made a notable impact on each game in which he has participated.
His goal in the 24th minute brought Newcastle level, and for the next half hour, it looked like they would stay there.
But in the 55th minute, Gouffran suffered what looked to be a relatively harmless kick to his leg that may be something much worse.
He was unable to stand, and after several minutes of lying in pain he had to come off the pitch in a stretcher.
After his removal, the Newcastle offense took a sharp turn for the worse.
Sylvain Marveaux and Papiss Cisse were virtually invisible, and only a surprise chance for substitute Shola Ameobi in stoppage time looked even slightly threatening.
Gouffran's hard work on both sides of the ball is easy to see while he's playing, but his importance to the club became even more evident once he left.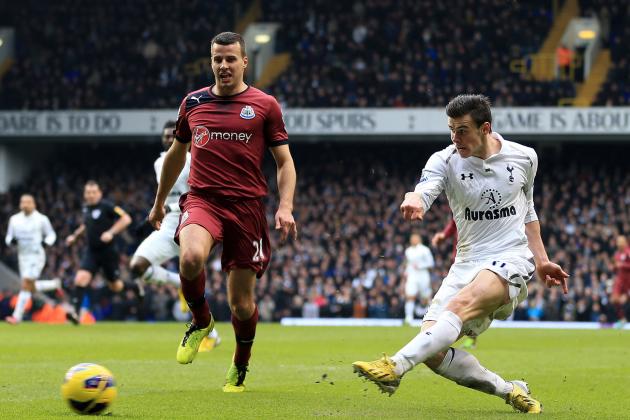 Richard Heathcote/Getty Images

If James Perch had jumped and Steven Taylor hadn't fallen asleep on the pitch, the scoreline may have been very different than it is now.
But easily corrected errors are still irreversible, and each led to a Gareth Bale goal.
A communication breakdown in the fifth minute led to an embarrassing scene where of the four men who made up the wall in defense of a Bale free kick, only Jonas Gutierrez jumped to attempt to meet the ball.
In the 78th minute, the central defense was caught napping, and Bale made them pay, swiping possession from Fabricio Coloccini and blazing past Taylor on his way to slipping the ball right between Tim Krul's legs.
It wasn't a woeful defensive showing, and the defense as a whole has come a long way from where it was a month ago.
But momentary lapses of concentration can erase hours of hard work, and they did just that to Newcastle.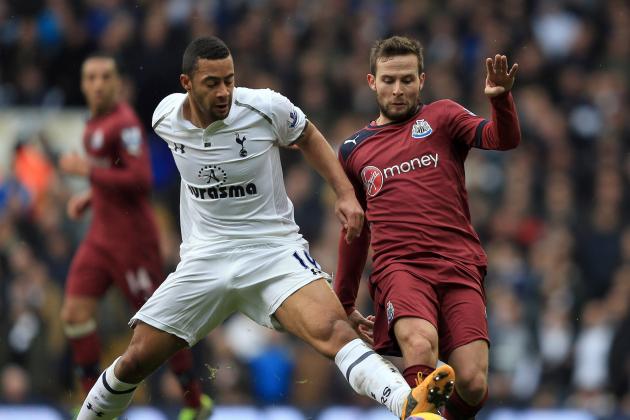 Richard Heathcote/Getty Images

While Newcastle dealt with offensive and defensive issues at different points in the match, the Toon midfield played consistently well throughout the contest.
Yohan Cabaye continues to be a spark for the club, Jonas Gutierrez has regained form after periods of dreadful play earlier in the season, and though he couldn't live up to the display he put on in his home debut last week, Moussa Sissoko didn't crash and burn either.
Back with the club is Cheick Tiote, whose Ivory Coast national team was knocked out of the African Cup of Nations by Nigeria.
Tiote came on to replace James Perch in the 82nd minute, and though he was mostly a non-factor, for a player coming back to a very different squad than the one he left, his performance was at least adequate.
Mistakes were less notable with this group, although Cabaye's foul on Mousa Dembele in stoppage time was unnecessary given the timing of the play.
Overall, though, more of the same should easily lift Newcastle to victories over clubs that aren't Champions League contenders like Tottenham.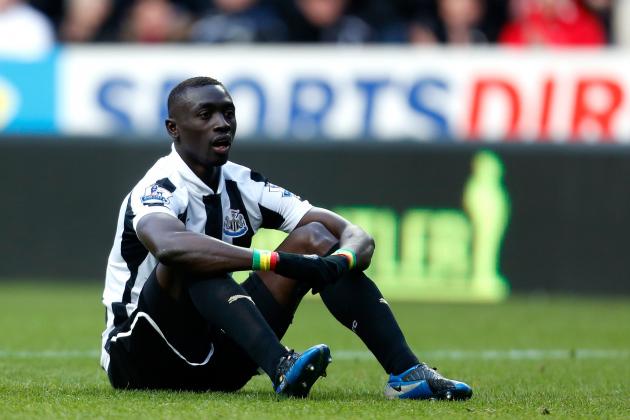 Paul Thomas/Getty Images

While the result may be different for his club, not much has changed from the Chelsea match for Papiss Cisse.
Last year's genius January transfer has lost all recognizable form, producing next to no chances on a team filled with attacking creativity and bungling the chances he did receive from his teammates.
His pass to Yoan Gouffran to set up Newcastle's goal was quality, but all things considered, Cisse's glaring inability to keep possession the entire rest of the match evened out his one shining moment.
A beautiful cross from Fabricio Coloccini in the 21st minute led to nothing as Cisse headed it wide, and in the second half, when the Magpies were desperate for a goal, he might as well have been a ghost.
Demba Ba is gone. The central attacking position belongs to just one man at the moment. There can be no more excuses made.
Much more of the same in the coming weeks and Alan Pardew may be forced to move Gouffran inwards and play a soon-to-be healthy Hatem Ben Arfa on the wing.
Sadly for Cisse, that may be the club's ideal lineup.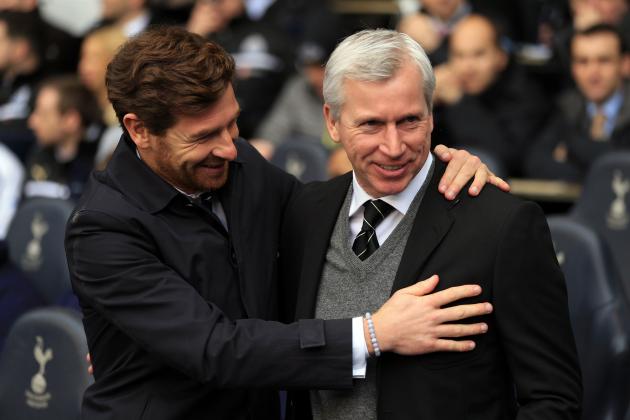 Richard Heathcote/Getty Images

Before Newcastle fans get too grumpy over this loss, it is important to compare this performance to some others the club has endured in recent times.
The Magpies' most recent defeat, a mid-January loss to Reading, was an absolute debacle that could bring a grimace to even the most positive supporter's face.
The club looked out of form, tactically poor and at some points lacking the heart and desire to make a comeback.
Newcastle's performance against Tottenham was very different.
Constructive criticism can be made, but doom and gloom aren't really emotions that come to mind when watching the current squad play.
They were quite competitive against one of the hottest clubs in the Premier League and nearly achieved the result that they may have deserved.
The new signings have all continued to be solid, boosting the confidence of both the manager and the rest of the first team.
There is much more squad depth than there was a month ago, insuring that energy will be high in the final months of the season.
Things will be OK. No need to panic.