Previewing the AL East and Its Newest Faces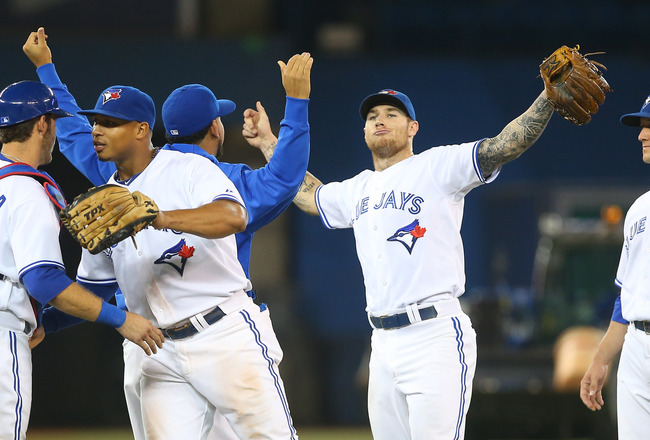 Toronto is one of the favorites to reach the World Series in 2013.
Tom Szczerbowski/Getty Images
The toughest division in baseball will be even more competitive in 2013.
For years, the Boston Red Sox and New York Yankees battled in a two-horse race in the American League East. But the rest of the division has now caught up with—and in some cases has surpassed—the two longtime rivals.
In 2012, the Yankees, Tampa Bay Rays and Baltimore Orioles all reached 90 wins or more. The Toronto Blue Jays and Boston Red Sox endured losing seasons, but were both very active in retooling their roster during the offseason.
So, how will the AL East pan out in 2013? For an early preview on all five teams, read on to find out!
All statistics are from MLB.com, unless otherwise noted.
New York Yankees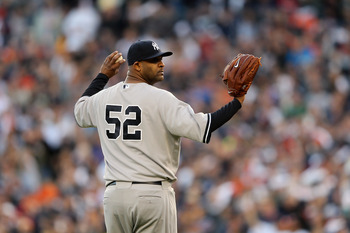 Expect a big season from C.C. Sabathia.
Leon Halip/Getty Images
2012 Record: 95-67
The Yankees won the AL East in 2012 and fell just short of the World Series, as they lost in five games to the Detroit Tigers in the ALCS.
Aside from the PED scandal surrounding Alex Rodriguez this offseason, the Yankees were surprisingly quiet and did not make any major moves.
Pitching
New York's starting rotation remains the same to start 2013, led by C.C. Sabathia and Hiroki Kuroda. Both players threw over 200 innings in 2012.
Phil Hughes and Ivan Nova are decent third and fourth starters, and expect to see David Phelps and the ageless Andy Pettitte split time starting in the fifth spot.
In the bullpen, Rafael Soriano did an excellent job filling in for Mariano Rivera last season with 42 saves after Rivera tore his ACL. With Soriano now in Washington, Rivera is fully healthy and will be the Yankees' closer again this season.
Lineup
The Bronx Bombers certainly lived up to their name in 2012, hitting a major league-leading 245 home runs. Expect them to be a solid offense again in 2013.
The heart of the New York lineup is one of the best units in baseball, led by Robinson Cano, Mark Teixeira and Curtis Granderson. Together, it collected 100 home runs and 274 RBI in 2012.
In the offseason, the Yankees lost some production from the bottom half of their order, as Russell Martin, Raul Ibanez and Nick Swisher will all be playing elsewhere in 2013. Those three players combined for 64 home runs and 208 RBI.
To address these vacancies, Yankees GM Brian Cashman made a couple of minor signings, acquing Kevin Youkilis and Travis Hafner.
Long-Term Outlook
New York is an aging team that must win now. The big question for the Yankees is how their starting pitching and health will both hold up over the course of the season. They should score enough runs to stay in contention, but New York will just miss the playoffs in 2013.
Baltimore Orioles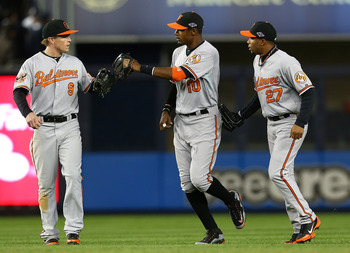 Adam Jones will lead the Orioles offense in 2013.
Elsa/Getty Images
2012 Record: 93-69
Last season was the first time the Baltimore Orioles reached the playoffs since 1997. Baltimore was fueled in large part by its historic record in one-run games at 29-9 (.763).
The Orioles defeated the Texas Rangers in the Wild Card Round and were eliminated in five games by the New York Yankees in the ALDS.
Baltimore was also very quiet in the offseason and will return in 2013 with the same roster largely intact.
Pitching
The Orioles ranked 14th in pitching with a 3.90 ERA in 2012. Their starting rotation will be led by Jason Hammel, Wei-Yin Chen, Chris Tillman, Miguel Gonzalez and Jair Jurrjens.
Tillman and Gonzalez could each have breakout seasons in 2013. In 15 starts for both pitchers last season, Tillman was 9-3 with a 2.93 ERA and Gonzalez was 9-4 with a 3.25 ERA.
Jim Johnson will handle the closing duties for the Orioles again in 2013 after converting 51 saves last season.
Lineup
The Orioles hit the second-most home runs in the majors last season (215), behind only the Yankees. Five different Baltimore players hit 20 or more home runs.
Mark Reynolds is the only major departure from the Baltimore lineup. But Adam Jones, Nick Markakis, Chris Davis, Matt Wieters and J.J. Hardy give the Orioles plenty of remaining firepower.
Baltimore ranked last in the majors with only 58 stolen bases in 2012, so it will be interesting to see if manager Buck Showalter tries to employ the hit-and-run to manufacture runs for the Orioles in addition to their home run power.
Long-Term Forecast
Baltimore only outscored their opponents by a total of seven runs last season and will not replicate a 29-9 record in one-run games.
The Orioles also lack an ace in their starting rotation, which is a necessity to get by the other lineups in the AL East. Baltimore will miss the playoffs in 2013.
Tampa Bay Rays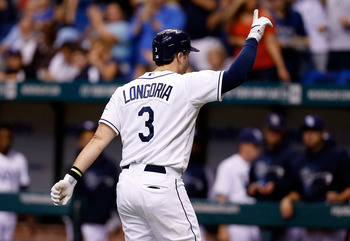 Evan Longoria needs a big year for the Rays to get back into the playoffs.
J. Meric/Getty Images
2012 Record: 90-72
Tampa Bay's 2012 campaign was another success under manager Joe Maddon. Although the Rays fell just short of the playoffs, there were plenty of good stories that unfolded.
Rays ace David Price won his first AL Cy Young Award, and closer Fernando Rodney won A.L. Comeback Player of the Year with 48 saves.
Pitching
Tampa Bay led the majors in 2012 with a 3.19 ERA and ranked second with 15 shutouts. The Rays' pitching also helped place them third with a run-scoring differential of plus-120. Those types of numbers will win a lot of games, and they are all the more important for a team that does not have an explosive offense.
David Price will be doing heavy lifting for the Rays again in 2013. Price was 20-5 last season with a 2.54 ERA.
Although Tampa Bay traded away James Shields, it still has Jeremy Hellickson as a terrific second starter behind Price. The big wild card with the Rays is in the back end of their rotation. It will be interesting to see how Matt Moore and Alex Cobb perform in their second full seasons as starters.
Fernando Rodney remains Tampa Bay's closer and should have another strong year. He still possesses one of the best fastballs in the game and will be counted on to save a lot of close, low-scoring games for the Rays.
Lineup
The Rays ranked 18th in 2012 with 700 runs scored and 27th with a .240 average.
In the offseason, the team lost two of its best offensive players in Carlos Pena and B.J. Upton to free agency. The two players combined for 47 home runs and 139 RBI last season. That is a lot of production to make up for.
Luckily for the Rays, Evan Longoria is at full strength and will be expected to carry Tampa Bay's offense in 2013 with Ben Zobrist and Matt Joyce.
Long-Term Forecast
Joe Maddon is arguably the best manager in baseball and seems to find a way for getting the most out of the Rays every season. He will have them in contention to reach the playoffs again for the fourth time in six seasons, and Tampa will claim one of the two wild-card spots in the American League.
Toronto Blue Jays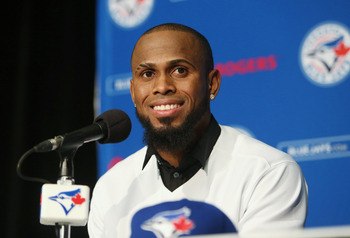 Jose Reyes is one of the many new additions for the 2013 Toronto Blue Jays.
Tom Szczerbowski/Getty Images
2012 Record: 73-89
Clearly, Blue Jays general manager Alex Anthopoulos grew tired of his team's annual fourth-place finishes in the AL East during the offseason.
Two major trades have now placed the Blue Jays as the favorite to not only win their division, but also contend for the 2013 World Series.
Pitching
For a team that finished 26th in the majors in pitching with a 4.64 ERA, the Blue Jays certainly made addressing that issue their top priority.
Mark Buehrle and Josh Johnson were acquired in November through a trade with the Miami Marlins. They and will add depth and experience to Toronto's starting rotation. Just over a month later, the Blue Jays swung a trade with the New York Mets for NL Cy Young winner R.A. Dickey.
Brandon Morrow is poised for a breakout season, and Rickey Romero will be looking to rebound from a difficult 2012 campaign.
At the back end of the bullpen, Casey Janssen will begin the season as the team's closer, with Sergio Santos as a viable backup.
Lineup
Led by Edwin Encarnacion and Jose Bautista, Toronto hit 198 home runs in 2012, which was ranked sixth in the majors.
In the offseason, the Blue Jays signed Melky Cabrera and acquired Jose Reyes in the Marlins trade. Cabrera and Reyes should immediately improve Toronto's 23rd-ranked batting average (.245) and 25th-ranked on-base percentage (.309).
The Jays also have the likes of Brett Lawrie, Colby Rasmus, Adam Lind and J.P. Arencibia in the bottom half of the order, giving them one of the most complete lineups in the American League.
Long-Term Forecast
Toronto's offseason moves have installed the Blue Jays as one of the favorites to win the World Series. History is against the Jays, however, as they have not qualified for the playoffs since they won their second World Series in 1993.
As long as their star players can stay healthy, they will end that trend in 2013 and will win the AL East.
Boston Red Sox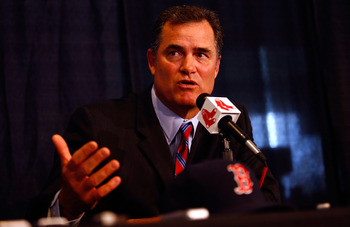 John Farrell is now the new manager for the Red Sox.
Jared Wickerham/Getty Images
2012 Record: 69-93
Just about everything that could go wrong for the Red Sox in 2012 went wrong. From the hiring of manager Bobby Valentine to the soap opera surrounding Josh Beckett, the offseason could not have come soon enough for Boston.
Although the Red Sox endured their worst losing season since 1965, they quietly had a productive offseason and should have a much more competitive team in 2013.
John Farrell is the new manager for the Red Sox and is an immediate upgrade over Valentine. Farrell already has experience within the organization, as he served as pitching coach from 2006-2010.
Pitching
Speaking of pitching, the Red Sox were 27th with a 4.70 ERA in 2012. A number like that guarantees a team will lose games.
Jon Lester will be looking to have a rebound year for the Sox, as he was just 9-14 with a 4.82 ERA last season.
Newly acquired pitcher Ryan Dempster gives Boston a veteran presence in its rotation. Clay Buchholz, Felix Doubront and John Lackey round out the starting staff for the Red Sox.
The Red Sox acquired Koji Uehara and Joel Hanrahan to solidify the back end of their bullpen. Andrew Bailey is also healthy and could split closing duties with Hanrahan.
Lineup
Scoring runs has never been a problem for the Red Sox, and they will have a well-balanced lineup in 2013. New faces added to the mix include Mike Napoli, Shane Victorino, Jonny Gomes and Stephen Drew.
In addition, David Ortiz and Dustin Pedroia will anchor the middle of the Red Sox's order, and Jacoby Ellsbury will be looking to replicate his 2011 season, in which he hit 32 HR and 105 RBI.
Long-Term Forecast
On paper, the Red Sox have done a solid job rebuilding key weaknesses from their team in 2012.
Boston will not win the division, but it will snag the other wild-card spot and will be around the 90-win mark this season.
Keep Reading