Chicago Bulls vs. Utah Jazz: Live Score, Results and Game Highlights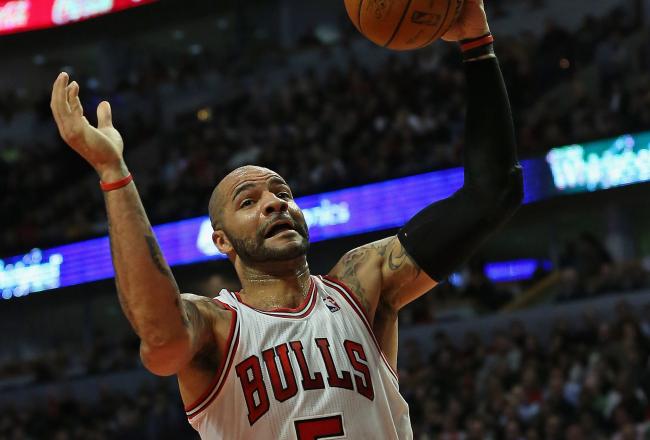 Trade for Bargs?
Jonathan Daniel/Getty Images
Commentary from the Chicago Bulls 93-89 win over the Utah Jazz at Energy Solutions Arena on Feb. 8, 2013.
The Bulls came up with a big road victory over the Jazz despite a monster game from Al Jefferson. Jefferson had 32 points and 13 rebounds in the loss for the Jazz.
4 Keys to the game for the Bulls:
Depth: The Bulls used a tight eight man rotation but got productive minutes from everyone. Jimmy Butler was the only Bull who saw significant court time not to score, and the Bulls put six players in double figures.
Strong rebounding: Chicago out-rebounded Utah 41-38
Low Turnovers (just nine)
Shutting down the Jazz backcourt (6-of-19 shooting between Alec Burks, Jamaal Tinsley and Randy Foye)
BULLS 93, JAZZ 89 — FINAL
The Jazz called their last timeout down four as Deng missed the second free throw. The Jazz need a four point play to do this, so the obvious stance from the Bulls would be to let them shoot the three and just make sure not to foul.
BULLS 93, JAZZ 89 — 8.6 seconds in 4th, Jazz ball
Paul Millsap got a good look at a three pointer from the corner, but missed it. The shot was a little rushed and the Jazz could have likely got a better look. Millsap is also a 38.7 percent three-point shooter, but the Jazz drew the play up for Randy Foye (43 percent from three on the year).
Two made free throws by Luol Deng gave the Bulls a five point lead, before Randy Foye layed it in to cut it back to three.
With just 9.2 seconds in the game and no timeouts, the Jazz will need two missed free throws to have a shot here and Deng made the first. Game, set, match.
BULLS 93, JAZZ 89 — 9.2 seconds in game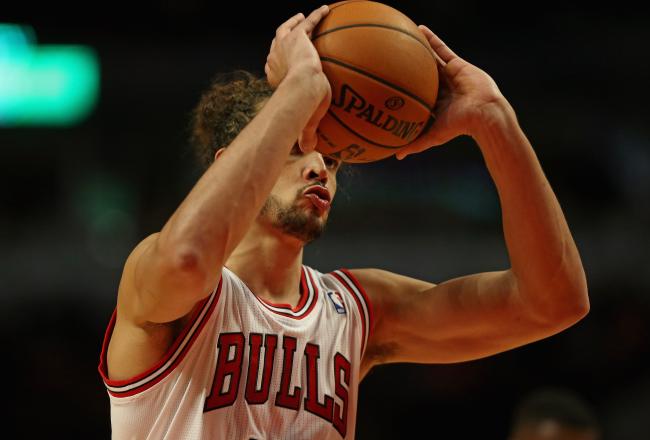 Joakim Noah will step to the line for two crucial free throws. Noah is a 75 percent free throw shooter on the season and has hit 4-of-4 from the line tonight. His shot is among the uglier in the league, but 75 percent is a decent clip and the Bulls chose to leave him on the court for a possession in which they knew they would be fouled on.
Noah hit both free throws.
BULLS 90, JAZZ 87 — 21.6 seconds in 4th; Jazz ball, Jazz timeout
The Jazz went for a quick two pointer with 27 seconds on the clock. It took under five seconds for them to run the play, which resulted in a Randy Foye layup.
The shot clock is under 24 seconds, so the Jazz will likely have to foul but will look to force a turnover before doing so since there is still a decent chunk of time in the game.
BULLS 88, JAZZ 87 — 22.1 seconds in 4th, Bulls ball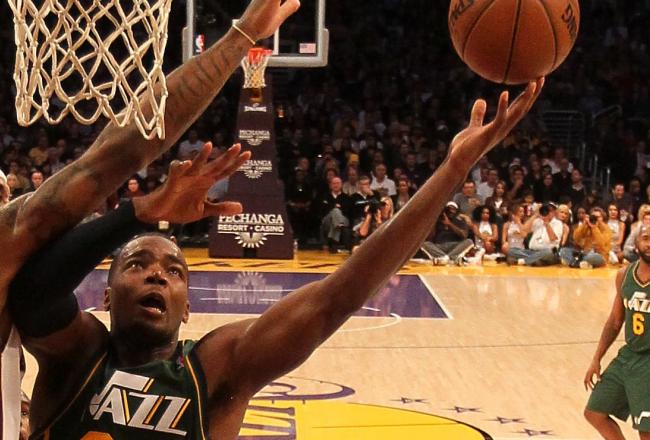 The Jazz went to Paul Millsap for a change on their first possession under the minute mark, and Millsap came through with a big turnaround jumper. As hot as Al Jefferson is, it's hard to go elsewhere, but the offense has to be diversified a little and Millsap is having a pretty nice night for himself too.
Millsap is 8-of-12 from the floor for 21 points. Oddly, however, he has just two rebounds.
Carlos Boozer has shot free throws on the last three Bulls' possessions, and has to be enjoying the chance to close out his former team. Will we see that game winner though? Will we?
Only if the Jazz can answer back here.
BULLS 88, JAZZ 85 — 27.0 in 4th, Jazz ball
Al Jefferson has been drawing double teams some of the time, but the Bulls are continuing to try to play him straight up with Joakim Noah. Jefferson reacts quick to defenses, though, and passes well out of double teams, so it's a losing proposition either way.
Jefferson has not thrown away a pass all game, and is 15-of-22 from the floor now for 32 points.
BULLS 86, JAZZ 83 — 59.9 in 4th, Jazz ball
The perfect ending to this game would be a buzzer beating game winner by Carlos Boozer.
Boozer at the line for two crucial free throws with the game knotted.
JAZZ 83, BULLS 83 — 1:47 4th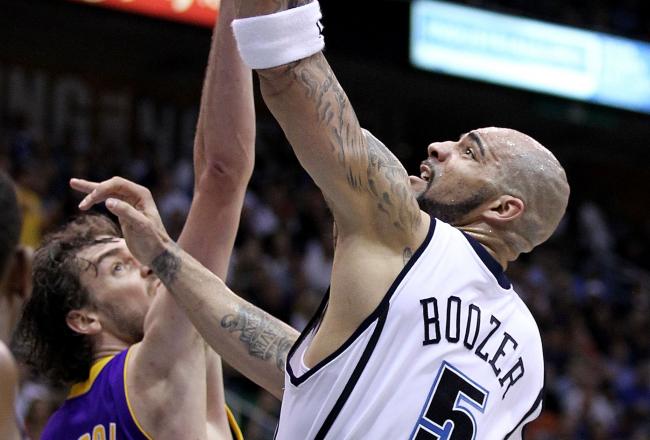 Carlos Boozer has 12 points and three rebounds as the game is winding towards its close. Jazz fans have booed him every step of the way, and they certainly haven't forgot that Booz was a 20/10 stalwart in his days in Salt Lake City.
JAZZ 83, BULLS 81 — 2:36 4th, TV Timeout
The fans at Energy Solutions Arena are loving the technical foul on Carlos Boozer.
JAZZ 81, BULLS 79 — 4:11 4th
Joakim Noah just can't do anything with Al Jefferson. He just picked up his fourth foul on Jefferson as he rolled across the paint for what would have been a hook shot.
Yes, the Jazz have milked Al Jeff for as many field goals as possible, but Noah doesn't typically give up 40-plus points, and he very well may tonight if the Jazz keep feeding the beast.
JAZZ 81, BULLS 79 — 4:20 4th
The Jazz are going to Al Jefferson as much as they can fit it in the offense. He's made his last eight field goals and is 15-of-20 from the floor for 32 points.
Dennis Lindsey's phone is ringing right now. What can he get for Al Jeff?
JAZZ 81, BULLS 77 — 5:25 4th
Somehow, despite the fact he has contributed very little in the box score or intangibly, the Jazz are plus-12 with Marvin Williams on the court. His plus/minus is the highest of all Jazz players tonight.
JAZZ 79, BULLS 75 — 7:13 4th
Jamaal Tinsley is back on the court, and Ty Corbin left Alec Burks to man the 2-spot. Burks had five points and three assists while running the point.
JAZZ 77, BULLS 75 — 7:35 4th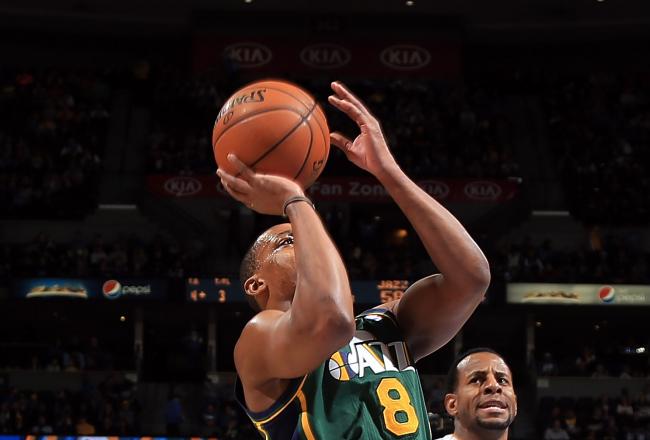 The evolution of Randy Foye as a player has gone from being a combo guard to more of a pure 2-guard (despite what I said earlier). Foye at one point played a lot of point guard duty, but Tyrone Corbin has felt more comfortable with the 6'6" Alec Burks running the show.
Hashtag that "things you contemplate when you have no point guards."
JAZZ 77, BULLS 73 — 8:44 4th
The Bulls have shot a combined 11-of-45 in the third quarter tonight and last night in Denver.
Tonight they lost the quarter by eight points, but last night against the Nuggets it was by 21. The Bulls have to stop coming out flat after the half.
BULLS 71, JAZZ 71 — 10:30 4th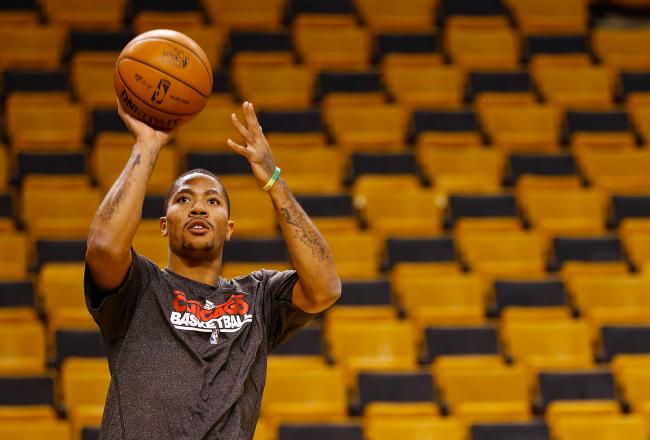 The Bulls need for Derrick Rose shines again in a late-quarter situation that resulted in a turnover. The Bulls isolated Nate Robinson before Marco Belinelli came off a pick and got the ball stripped as he went into his shooting motion.
The scheme with Derrick Rose is a lot easier at the end of quarters: Give it to D-Rose and get out of the way.
Hurry back, Derrick.
BULLS 69, JAZZ 69 — End of 3rd
Utah hasn't led since the second minute of the game, but drew to a tie on a pick and pop jumper by Al Jefferson.
Jefferson has 22 points on 10-of-15 shooting thus far.
BULLS 67, JAZZ 67 — 1:20 3rd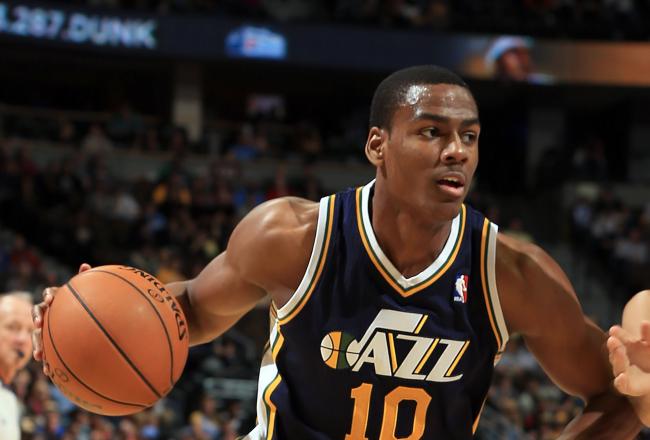 Tyrone Corbin doesn't seem overly pleased with Jamaal Tinsley's defense on Nate Robinson, and Tinsley really isn't creating much offense for the Jazz. Corbin inserted Alec Burks into the lineup and he knocked down his first shot, a three.
Burks was taken No. 12 overall in 2011 out of Colorado and he played pretty well in the few minutes he saw as a rookie last season. Burks averaged 16.3 points, 5.1 rebounds and 2.1 assists per-36 last season, and that kind of per-minute production certainly justifies his draft spot as a late lottery pick.
Utah is very high on Burks and feels the 6'6" guard can be a great combo guard in the future, but right now he's spelling Tinsley at the point.
BULLS 67, JAZZ 65 — 2:30 3rd
Some players can launch threes from five to eight feet behind the arc, but Jamaal Tinsley clearly isn't one of them. Tinsley put up a huge brick at the 4:30 mark of the third quarter that displayed he does not have that type of range.
BULLS 67, JAZZ 61 — 4:00 3rd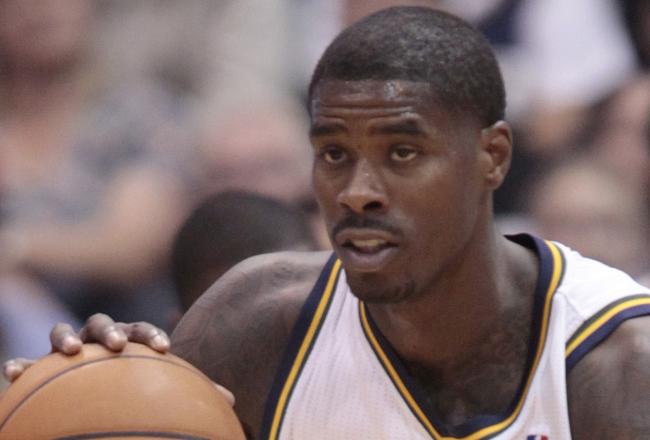 Marvin Williams goes down as one of the more disappointing No. 2 overall selections of the past decade.
Taken second overall by Atlanta in 2005, he just never fulfilled the immense potential he was billed to have coming out of North Carolina as a 19 year old freshman.
Williams has now got past the point as an NBA player where we're still waiting on him to fulfill potential, and at this point he pretty much is what he is: a below replacement level starter for an NBA small forward who averages under nine points per game in 26 minutes a night.
Williams has just three points tonight on 1-of-4 shooting in 18 minutes of play. Non. Factor.
BULLS 64, JAZZ 59 — 5:51 3rd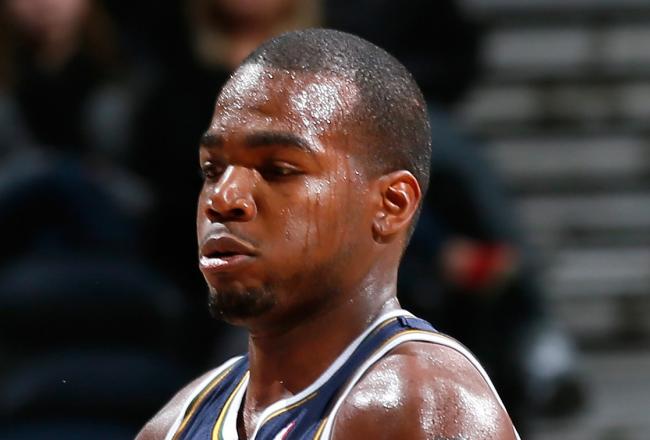 Paul Millsap's quick hands make it difficult for opposing post players to catch it on him on the blocks.
Millsap has deflected the ball from Carlos Boozer's hands several times to disrupt his isolation plays down low. Millsap is undersized for an NBA 4-man, but his quickness and strength enable him to give opposing power forwards of all sizes trouble. It just so happens that his cover tonight is undersized as well.
BULLS 60, JAZZ 59 — 7:46 3rd
The Jazz are managing to get back in the game with offensive rebounding. They've gone on a 7-0 run to start the second half.
BULLS 58m JAZZ 55 — 10:30 3rd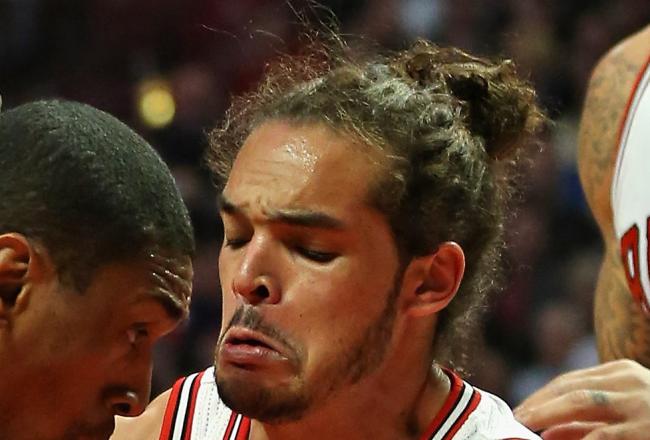 As good as a defender as Joakim Noah is, he's not been able to find an answer for Al Jefferson and the Utah bigs tonight. Jefferson has 16 points and Noah has been mostly helpless against Al Jeff's barrage of inside moves.
The Jazz closed the second quarter strong, but the Bulls have only three turnovers in the game and are out-rebounding the Jazz 18-16.
The Bulls are one of the worst three point shooting teams in the league, getting only 14.6 points off threes per game, but Utah gives up the worst three point percentage in the league, and the Bulls are 4-of-7 from three tonight. So, they're taking full advantage of Utah's slow rotations.
The Jazz also allow opponents to shoot 45.7 percent from the floor (No. 22 in NBA) and the Bulls have hit an astounding 58.5 percent tonight.
Look for the Jazz to go back with their big frontcourt trio as it seemed to be working defensively during the second quarter. The Bulls have some size to counteract with, and Luol Deng is a big small forward who can match up with Millsap when he's at the 3-spot.
BULLS 58, JAZZ 50 — Halftime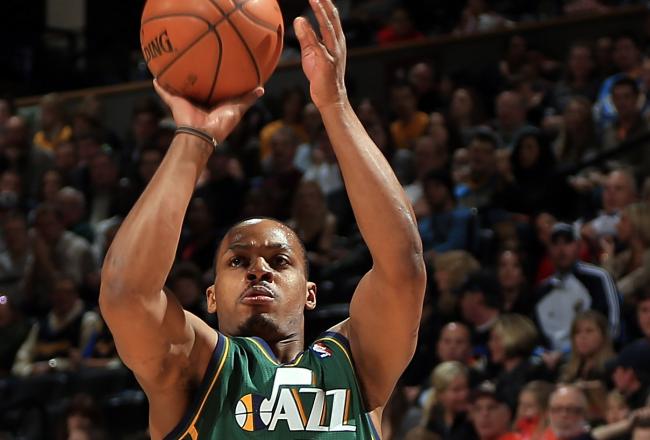 Randy Foye is making 2.3 threes per game at a 43 percent clip and is on pace to break the Utah Jazz record for threes made in a season. He banged a triple to pull the Jazz back within 10.
BULLS 58, JAZZ 48 — 53.6 seconds in half
This article is
What is the duplicate article?
Why is this article offensive?
Where is this article plagiarized from?
Why is this article poorly edited?