Manchester United vs. Real Madrid: 10 Factors That Could Decide UCL Tie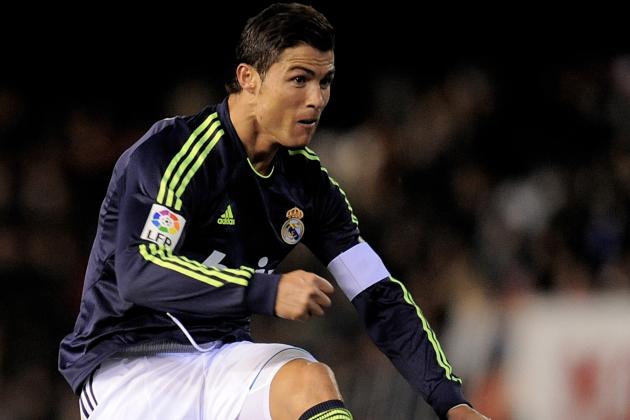 Denis Doyle/Getty Images

The day is almost upon us, football fans.
Next week, Manchester United travel to the Bernabeu for the most eagerly anticipated game of the season so far for the first leg of their Round of 16 Champions League tie.
Real Madrid's poor domestic form of late has been drastically different to that of their opponents—the Red Devils have amassed more Premier League points than at the corresponding stage of any previous campaign.
But Sir Alex Ferguson's side certainly won't be expecting an easy win. Los Blancos are as good a team as any when fully firing.
Here are 10 factors that could decide the matchup.
Begin Slideshow

»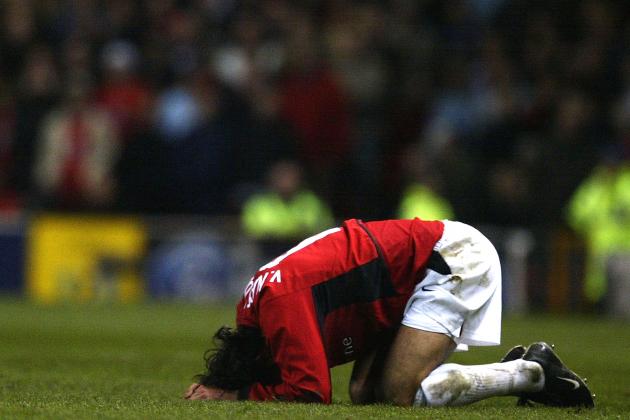 Laurence Griffiths/Getty Images

Let's start at the end, so to speak.
For the Manchester United fans who painfully remember, Francisco Costinha's late equaliser for Porto to send the Red Devils crashing out of the 2003/04 Champions League gave them their first real taste of Jose Mourinho.
With two sides as closely matched as Real and United, it's always possible that things are going to be tight after 180 minutes of action and that a late goal like Costinha's could prove the difference.
The tie may just be decided by which team comes up big in the clutch.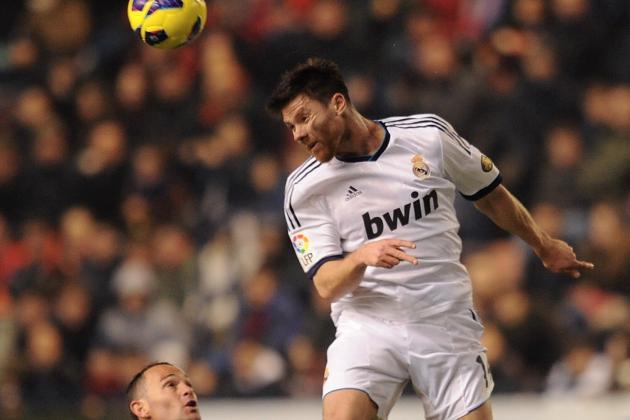 Denis Doyle/Getty Images

Perhaps no battle on the pitch will be as keenly fought as that in central midfield.
Real have Xabi Alonso and Sami Khedira to dictate the flow of the game, while Sir Alex's side is likely to include some sort of Michael Carrick and Tom Cleverley combination, with Anderson and Shinji Kagawa both poised to play the role of the wild card.
Though Carrick has found form at exactly the right time for the Red Devils, he will still have plenty to prove come next week.
Xabi Alonso may not be playing his best football at present, but he remains one of the elite players of his position in Europe.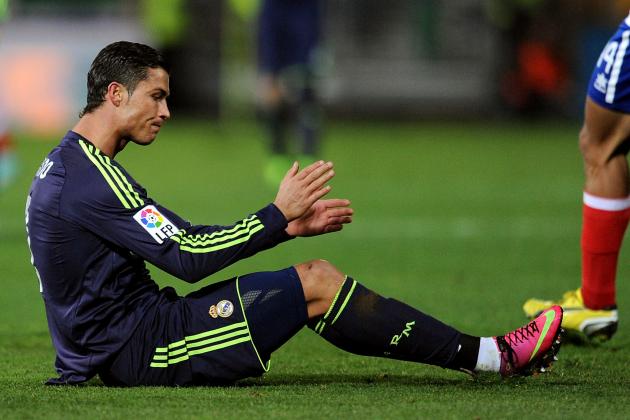 Denis Doyle/Getty Images

It would be a shame for such a glamour tie as this to be settled by a moment of individual error, but don't bet against the possibility.
As Cristiano Ronaldo's own goal against Granada in a recent La Liga game showed, there is no player exempt from the odd blunder.
Wayne Rooney too has found the back of his own net this term.
Of course, the game's referee and linesmen could also be the fallible ones, but let's hope that won't be the case.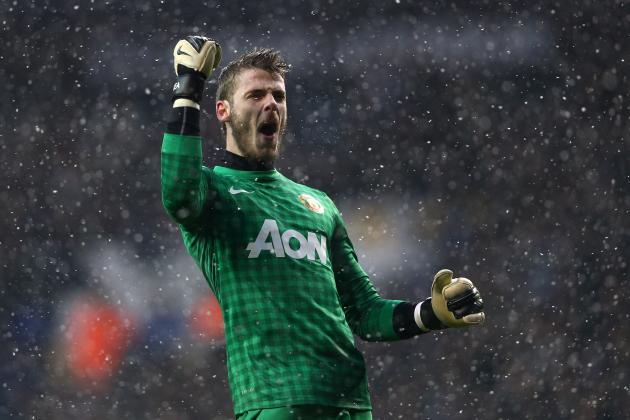 Clive Mason/Getty Images

Manchester United's David de Gea has come in for quite a bit of flack in the press for his supposed mistakes in recent games.
But in reality, the Spaniard has been terrific between the sticks for the Red Devils, at times almost single-handedly keeping them in games.
He could be a genuine difference-maker in goal for United. His sharp reactions and lightening-quick reflexes should be feared by Jose Mourinho's side.
Real will rely on new recruit Diego Lopez, a solid keeper who played for Los Blancos in his youth, to keep out RVP and Co.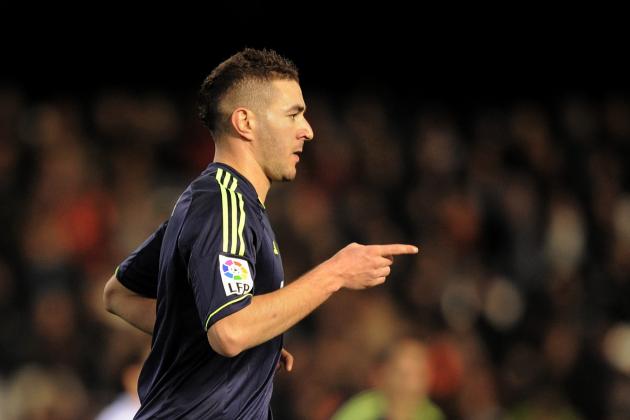 Denis Doyle/Getty Images

Whichever team scores more goals at the other's stadium could prove crucial to deciding the two-leg tie.
The away goal rule has been in effect in the Champions League (or the former European Cup) since the 1960s and has settled countless clashes.
Real Madrid recently won the Spanish Super Cup this way, overturning a 2-3 deficit against Barcelona to win 2-1 in the reverse fixture at the Bernabeu.
With the first meeting between the two sides set to be held in Madrid, the onus will be on United to strike at least once, first up.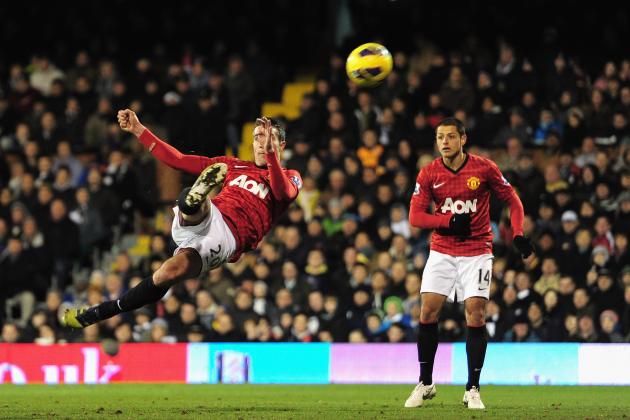 Jamie McDonald/Getty Images

Cristiano Ronaldo and Robin van Persie will be earmarked by both Real Madrid and Manchester United as the respective opposing players to watch.
Both are in the midst of prolific seasons, with the Portuguese superstar having scored 33 times in all competitions, while RVP has struck 22 goals in 28 appearances.
Ruud van Nistelrooy, a striker who has played for both clubs, told Marca, "for me the difference will be the form of Cristiano and Van Persie. I think that one of these two players will make the difference" (h/t Sky Sports).
Whoever is more clinical in front of goal and takes their chances is likely to end up on the winning team.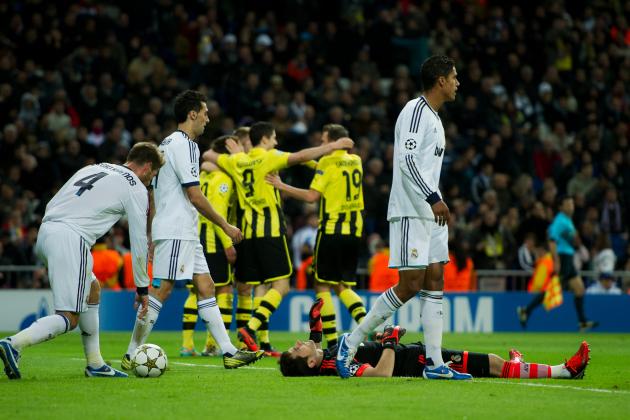 Jasper Juinen/Getty Images

Real Madrid have been the footballing equivalent of Jekyll and Hyde this season.
Their 5-0 drubbing of Valencia in the league last month showcased the side's strengths, while the rather embarrassing 1-0 loss at Granada last weekend highlighted its biggest weaknesses.
If Los Blancos can find a good deal of unity and togetherness in time, they will be difficult to beat, but if the team remains as fractured as it currently is, the Red Devils will capitalize without hesitation.
The onus will fall on boss Jose Mourinho to get his players working as an efficient unit rather than as 11 individuals.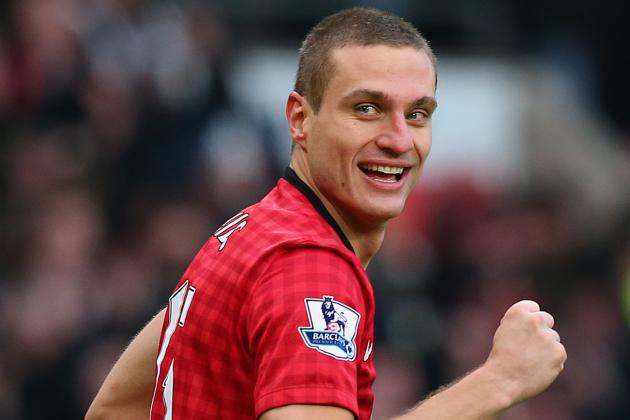 Alex Livesey/Getty Images

If next week's game were to have been played a few months ago, the Red Devils would have struggled to keep Real from scoring a hatful.
But with Captain Fantastic Nemanja Vidic back in the heart of defence, United have looked like a completely different group and are finally finding some form in this area of the pitch.
Sir Alex's side has only conceded six goals in its last nine games, a far cry from shocking displays against Tottenham Hotspur, Reading and Newcastle United earlier this season.
Real too have recently looked sturdy at the back and could welcome back the previously injured Pepe for next week's clash.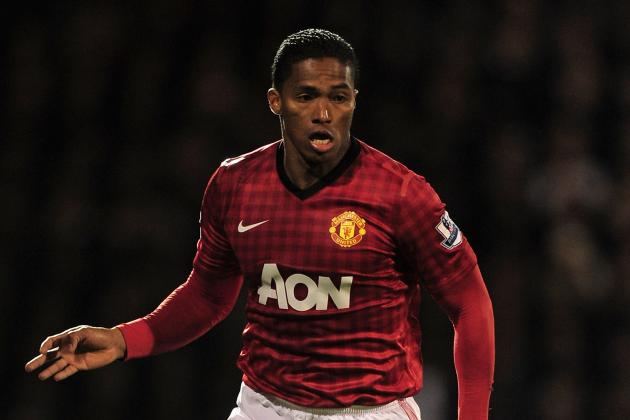 Jamie McDonald/Getty Images

Perhaps the biggest weakness of the Red Devils' game in recent months has been the diminishing form of the side's wingers.
None of Antonio Valencia, Nani or Ashley Young have looked particularly impressive—not that a lack of decent crossing has seriously affected the team's form.
But against a side like Real, efficient width could be crucial to breaking down a side that, like United, prefers to maximise every blade of grass on the pitch in breaking down an opponent.
For Patrice Evra and Rafael, stopping the likes of Marcelo and Angel di Maria will also be crucial to deciding the clash.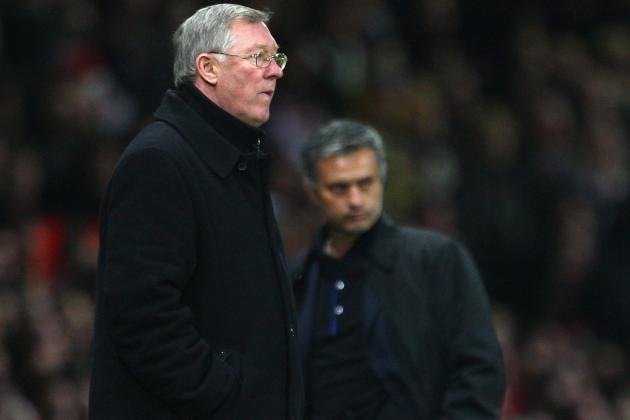 Laurence Griffiths/Getty Images

"He can manage anywhere, absolutely. I'm not going to put any forecasts on what is going to happen at this club. I won't last forever, but Jose can manage anywhere, there is no question about that."
So said Sir Alex Ferguson in a recent interview with ITV4 when asked if Jose Mourinho could one day succeed him at Old Trafford (h/t The Guardian).
The two have locked horns several times before while Mourinho was at Porto, Chelsea and Inter Milan.
Tactically speaking, the two-leg tie could develop into a footballing version of a game of chess.
What other factors do you think will decide the Champions League tie? Who will win?