Odds are that UFC president Dana White did not plan on announcing that Antonio Silva had earned Knockout of the Night accolades following UFC 156, but there he was standing at the podium at the post-fight press conference and revealing that "Bigfoot," with his third-round TKO of Alistair Overeem, had earned himself $50,000 on top of his $70,000 salary for his effort on February 2.
If someone tries to tell you that this fight was intended to be anything more than a glorified sparring session for Overeem on his road to a bout against UFC heavyweight champion Cain Velasquez, don't believe that for a second.
The UFC didn't feature Overeem's mug on the most recent edition of UFC 360 magazine, thinking he was going to do anything but destroy Silva when they met on Super Bowl weekend.
Yet, 10:25 after the fight began, there was Silva, standing over the crumpled body of Overeem screaming God knows what at his unconscious form as referee Herb Dean attempted to hold him back. For anyone who witnessed the fight, it was a moment that will not be forgotten. For the UFC, it should be a moment to be thankful for.
Sure, the promotion lost a guaranteed money maker in Velasquez vs. Overeem, but one thing that we have learned is that no one fighter is bigger than the UFC.
Overeem's loss to Silva is but a minor inconvenience for the UFC, a much more minor inconvenience than what would have faced the promotion had Overeem stood in the center of the Octagon, smirk firmly in place as Dean raised his hand in victory.
An Overeem victory and a scheduled UFC title fight would have brought a lot of attention to Overeem. Attention, judging from some of his UFC 156 fight-week actions, unwanted by the heavyweight fighter.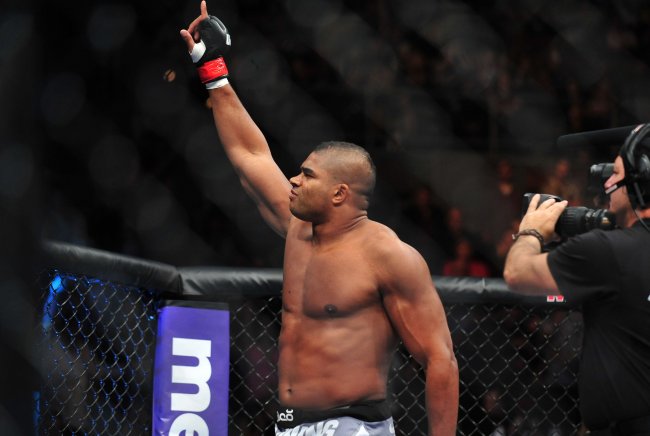 Gary A. Vasquez-USA TODAY Sports
Questions have been floating around for quite some time about how Overeem packed so much muscle onto a once skinny frame. When he was popped for having an unusually high level of testosterone in his system during a random drug test, well, that was all the proof that some needed to point and say, "See, told you so."
Overeem used the old faithful excuse of "I didn't know what was in the injection" when he was questioned by the Nevada State Athletic Commission as to why his testosterone to epitestosterone level was 14-to-1, far higher than the 6-to-1 allowed by the commission. As a result of the test Overeem was denied a license to fight in Nevada for nine months.
When it came time to apply for a license for UFC 156, it was revealed that Overeem had passed several surprise drug tests in the time leading up to his hearing. He also had submitted the results of some random drug tests to the Commission, all of which he passed.
The part that struck me about this was that Overeem had gone above and beyond to prove that he was a clean fighter, submitting to voluntary testing that was not required. A commendable act, however, one that felt a little hollow after he revealed that odds were against him continuing to submit to voluntary testing after he had been licensed.
Things got a little more cloudy during UFC 156 fight week when he gave Melissa Segura of Sports Illustrated a "next interview, please" response when asked if he ever knowingly used performance-enhancing drugs.
That cloud got a little darker when he walked out to weigh-ins sporting a shirt that read "Haters Gonna Hate." It also appeared that the physique underneath, that not-so-subtle jab, was a lot flatter than the one he carried to the last UFC weigh-in he participated in when he sent Brock Lesnar into retirement at UFC 141.
When Overeem spoke to USA Today, according to Ben Fowlkes, and said of his doubters that he was "not in the process of trying to change their minds," that cloud was ominously hanging over the UFC's future.
Silva helped remove that ugliness with his TKO victory, and you better believe things would have gotten ugly around Overeem.
The media, well within their rights, would have never stopped asking Overeem about the failed drug test, about how he was going to assure everyone that he was indeed a clean fighter. For every "next interview please" or mind he didn't care about changing, the line of doubters and those asking the same questions would have increased.
If Overeem had defeated Velasquez and had UFC gold strapped around his waist, what then? What would have that done for the sport?
For now, the UFC doesn't have to worry about those questions. For that, the UFC owes a debt of gratitude to Antonio Silva.