Portland Blazers vs. Houston Rockets: Live Score, Results and Game Highlights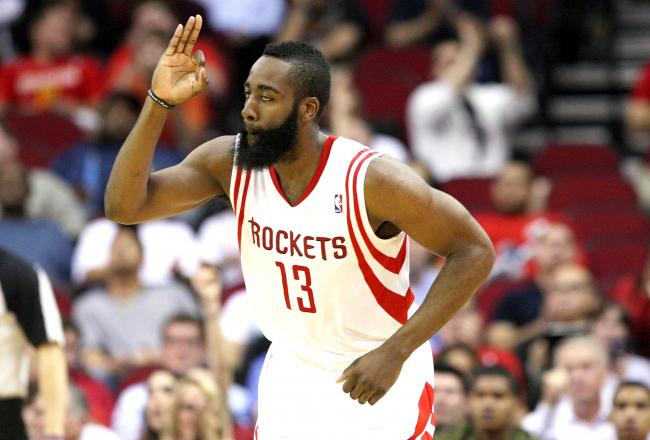 James Harden recorded 35 points, 11 assists, and seven rebounds while shooting 13-of-16 from the floor in an otherworldly performance to lead the Houston Rockets to a 118-103 win over the Portland Trail Blazers on Friday night.
Harden started out 9-of-9 from the floor, making shots from all over the floor and toying with any Blazer who dared try to defend him. He would never cool off as he rode a 20-point first half to another great 24 minutes of play in the second half.
LaMarcus Aldridge was outstanding for the Trail Blazers, finishing with 31 points and 11 rebounds, but it wasn't nearly enough.
Let's examine how the Rockets were able to topple Portland for the first time in three tries this season.
1. James Harden
As if there were any question as to the primary reason why Houston came out on top in this one.
Harden was absolutely sensational, not only scoring the basketball himself, but playing the role of distributor and setting up his teammates for some easy buckets. Harden tallied eight assists in the first half alone, hearkening back to his Oklahoma City Thunder days where he sometimes took on the task of being the floor general.
You knew it was an out-of-body night for Harden when, on his ninth field goal of the night, the ball took an incredibly strange bounce above the rim and somehow fell in.
The scary thing about Harden is that he is only in his fourth year. He is only going to get better.
2. Three-point shooting
Good outside shooting is becoming synonymous with the Rockets name. Two games after dropping 23 trifectas on the Golden State Warriors, Houston came out and buried 12 threes against the Blazers, shooting a fine 46 percent from long range.
Harden went 4-of-5 from distance, Chandler Parsons hit on four of his eight attempts, and Jeremy Lin went 2-for-3.
3. Near flawless execution
Just about every three the Rockets hit in this game was a result of great ball movement, and that ball movement was omnipresent throughout the entire contest.
The evidence? Houston shot 60 percent from the floor overall, a prime indicator of crisp ball movement. No matter who had the ball in their hands, they made smart decisions and would make the extra pass to find the open man.
The Rockets took care of the basketball for the most part, as well, turning the ball over only 11 times.
4. The ability to answer runs
In Houston's first two games against Portland, it had leads of 12 and 15, respectively. It squandered both, losing both contests in overtime.
That didn't happen tonight.
The Rockets built a big lead in the third period and never came close to relinquishing it. Every time the Trail Blazers would score four unanswered points, Houston would respond with four or five-point spurts of their own.
Kevin McHale's club never allowed Portland to get comfortable or gain confidence at any point during the second half, and that was absolutely vital in the victory.
5. Contesting shots at the rim
The Rockets had nine blocks tonight, four of them coming from Omer Asik. Think about that. That's 18 potential points that the Houston defense prevented.
Once again, the Rockets topped the Blazers by a score of 118-103 tonight. Postgame coverage is on the way.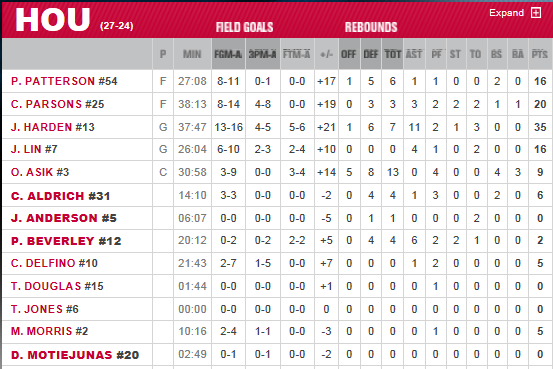 Rockets box score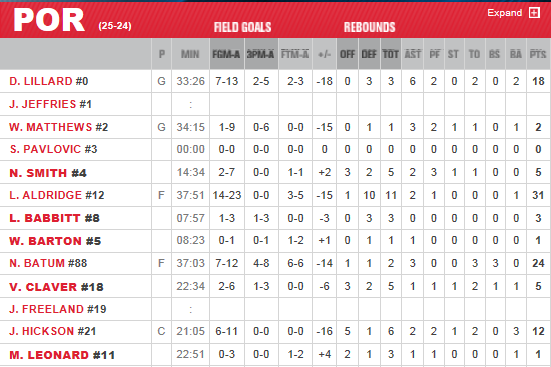 Blazers box score
And that'll do it. The Rockets don't blow the double-digit lead to the Blazers this time. Houston wins by 15
ROCKETS 118, BLAZERS 103 - FINAL
And Harden is done for the night. He finishes with 35 points, 11 assists, and seven rebounds. Shot 13-of-16 from the floor. Just a spectacular performance for the All-Star.
ROCKETS 114, BLAZERS 94 - 2:31 REMAINING IN 4TH QUARTER
Stotts has pulled his starters. Blazers waving the white flag.
Rockets 62.7 % shooting well ahead of their best this season (56.1 % at Chicago), but starters a stunning 36 of 52 (69.2 %).

— Jonathan Feigen (@Jonathan_Feigen) February 9, 2013
Lillard now taking a turn defending Harden. Made him work, but was ultimately unsuccessful. Harden drains a fallaway jumper as the shot clock expires. The guy is merely unstoppable tonight. 35 points.
ROCKETS 112, BLAZERS 93 - 3:54 REMAINING IN 4TH QUARTER
Batum landed on Asik's foot after blocking his shot. Twisted his ankle. Limps to the bench.
ROCKETS 108, BLAZERS 91 - 5:08 REMAINING IN 4TH QUARTER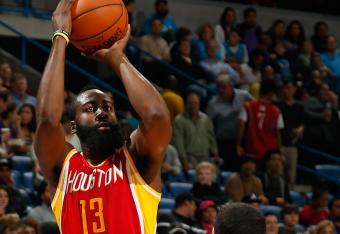 Harden tries another three. This one went halfway down and came out. It really couldn't have been anymore in unless it, well, actually went in.
Harden buries another three. 33 points off 12-of-13 shooting, 11 assists. This is one of the great performances we have seen in the NBA this season.
ROCKETS 107, BLAZERS 89 - 6:22 REMAINING IN 4TH QUARTER
If the Blazers can just get a bench this offseason, they are going to be a force to be reckoned with. Not that hard to do, either. Can certainly sign a couple of productive players to affordable contracts.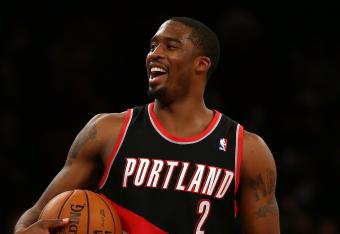 Perhaps the biggest problem for POR tonight is Wesley Matthews. Only has 2 points and has been getting torched defensively. Those 2 points are well below is season average of 15. With the Blazers' lack of bench scoring, they can't afford to have a starter scoring only 2 points.
Batum has caught fire in this second half. Put in 15 points in the third quarter. Now has 24 for the game after that 3. 4-of-8 from three. Obviously the wrist brace is working.
ROCKETS 104, BLAZERS 89 - 8:21 REMAINING IN 4TH QUARTER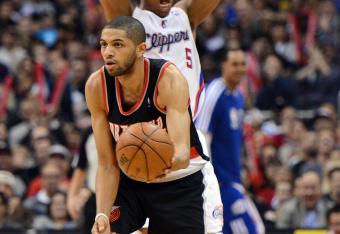 Batum was averaging 8 PPG over his last six. Has 21 tonight.
Beverely scored 11 points in six minutes on Tuesday against Golden State. Might be buying himself some more minutes here. Just makes two FTs.
ROCKETS 100, BLAZERS 83 - 10:23 REMAINING IN 4TH QUARTER
Beverely doing a heck of a job in place of Douglas. Great dribble penetration just now and then finds Parsons in the corner for a 3.
ROCKETS 98, BLAZRERS 80 - 10:38 REMAINING IN 4TH QUARTER
Rockets' FG percentage actually went UP in the third quarter. Shooting 66 percent for the game.
So Batum had another monster 3Q vs Rox (15 points), yet HOU's lead grows anyway thanks to Harden/Patterson show. Rox up 95-80.

— Jason Friedman (@JasonCFriedman) February 9, 2013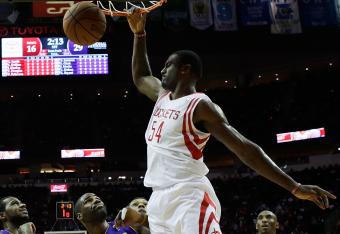 Patterson with a dominant third quarter for the Rockets. Goes for 12 points in the period. Harden puts in 10 of his own, meaning those two scored 22 of HOU's 33 points in the quarter.
Harden now with 30 points and 11 assists. For you triple-double trackers, Harden has five rebounds.
ROCKETS 95, BLAZERS 80 - END OF 3RD QUARTER
Patrick Beverley providing a nice spark for HOU here. Hustles and tracks down a loose ball and then forces a Lillard turnover. Both led to Houston buckets.
ROCKETS 93, BLAZERS 80 - 15.9 SECONDS REMAINING IN 3RD QUARTER
Patterson having himself a quarter. 10 points, 14 for the game.
Batum starting to get going for POR, as well. Quietly has 16 points.
ROCKETS 89, BLAZERS 78 - 1:22 REMAINING IN 3RD QUARTER
Harden almost looked bored tossing in a 3. The way stars are playing, this is like the All Star game early, just w/out as many All Stars.

— Jonathan Feigen (@Jonathan_Feigen) February 9, 2013
Harden now cans a three. He is simply scorching hot. 10-of-11 from the floor, 3-of-3 from downtown. Rockets answering every Blazers mini-run with a mini-run of their own. Had double-digit leads in the first two meetings with Portland, but blew them both. Maybe they hang on tonight.
ROCKETS 87, BLAZERS 71 - 2:53 REMAINING IN 3RD QUARTER
Harden now has 10 assists, by the way. Double-double for The Beard.
This article is
What is the duplicate article?
Why is this article offensive?
Where is this article plagiarized from?
Why is this article poorly edited?

Houston Rockets: Like this team?