Assessing Each Orlando Magic Player's Trade Value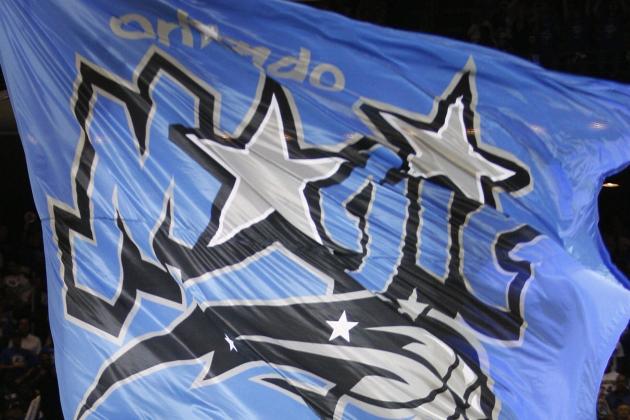 Chris Graythen/Getty Images

With each passing day, the 2013 NBA trade deadline draws closer. For the Orlando Magic, it's a day that could have a profound impact on the future of the franchise.
The arrival of the Feb. 21 deadline means that the Magic will have some major decisions to make in regards to their current roster. Will they ultimately move J.J. Redick? Can they dump Hedo Turkoglu and his huge contract?
With the aforementioned questions—and many others—looming large, it's time to take a look at each player on the roster and assess his trade value as the deadline approaches.
All stats courtesy of Basketball-Reference and all contract information courtesy of HOOPSWORLD

Begin Slideshow

»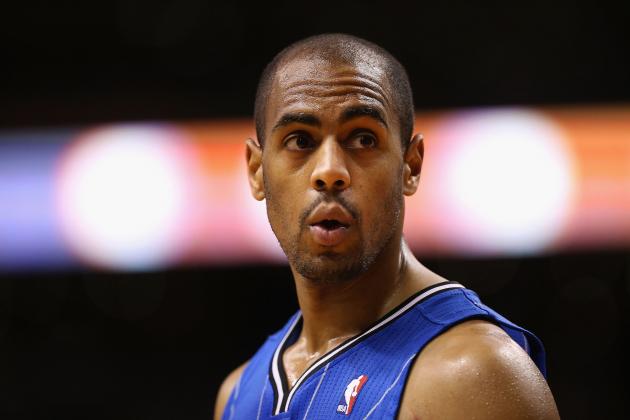 Christian Petersen/Getty Images

Coming to the Magic during the offseason via the four-team Dwight Howard trade, Arron Afflalo has had his ups and downs during the first half of the 2012-13 season.
With the Denver Nuggets, Afflalo was known primarily for his defense. Averaging 16.8 points per game so far this season, he's experiencing a career year on the offensive end.
Despite that success, Afflalo's inconsistent play has been a bit of a concern for a guy who is the team's go-to player on offense. In a Jan. 22 game at Detroit, Afflalo failed to score a single point and took only four shots in the process.
In addition to the bizarre occurrence against the Pistons, Afflalo is shooting just 44.3 percent from the field this season. Not only that, but for a player who is arguably the Magic's best at attacking the rim, he's averaging only 3.4 free-throw attempts per game.
However, Afflalo is still a player who should be a target for many teams prior to the deadline.
With a quick first step, he's shown the ability to get by most defenders and get to the hoop with relative ease. Also—despite a poor showing so far this season—he's a capable three-point shooter who can light things up in a hurry when he's on. These things, in addition to his defensive prowess and reasonable contract, make Afflalo a valuable asset for teams in need of a sixth man or second shooting guard.
Trade Value: B+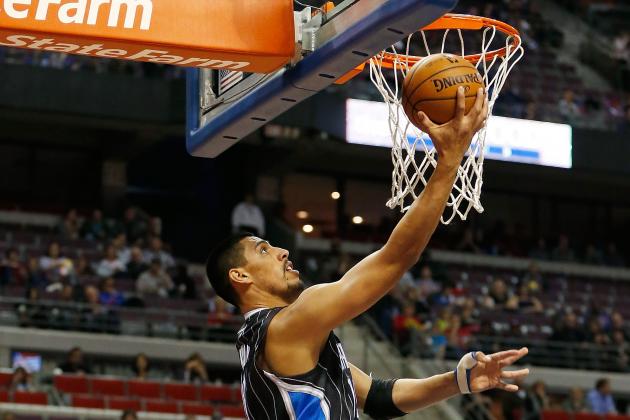 Gregory Shamus/Getty Images

Gustavo Ayon is the definition of an energy player who has decent size.
Unfortunately, that's about where the positives end for the 27-year-old Mexican.
Despite showing signs of being a solid role player when he's on the court, Ayon has struggled to find a consistent spot in Orlando's rotation and more often than not looks lost when he's on the floor. In 13.6 minutes per game, he's averaging 3.6 points to go along with 3.4 rebounds.
And all of that energy? Well, that's not always a good thing.
At times, Ayon plays too hard. This typically comes in the form of silly fouls—he would definitely lead the league for moving screen fouls—that are unnecessary and kill offensive possessions several times each game.
Still, at 6'10" with a solid frame, there might be a team out there willing to take a chance on him.
Trade Value: D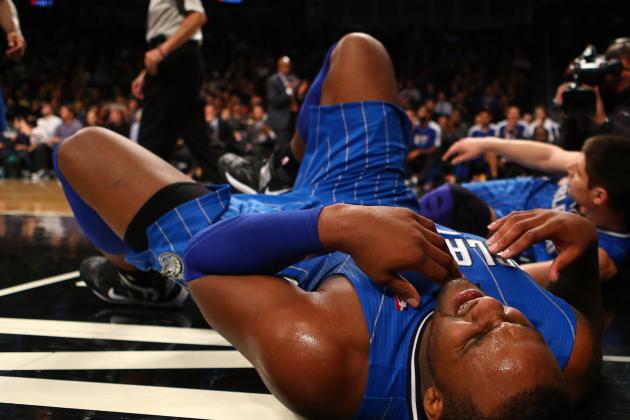 Al Bello/Getty Images

Glen Davis' 2012-13 season will be remembered as one that was plagued by injury.
First, there was the left shoulder strain that forced Davis to miss 11 games for a stretch in December and into January. Davis returned from that injury and played in just nine games before fracturing his left foot against the New York Knicks on Jan. 30, in all likeliness ending his season.
In 34 games this season, Davis was averaging 15.1 points, 7.2 rebounds and 2.1 assists per game while shooting 44.8 percent from the field.
Despite posting career-best numbers in virtually every category, frustration might be the best word to describe Davis' time on the court.
When watching Big Baby play, it's hard not to develop a love-hate relationship with the 6'9", 289-pound power forward. His passion for the game is second to none and no one will deny him that. But lacking quickness, size and low-block skills, Davis' value is quite limited. Not to mention, for a power forward, shooting 44.8 percent—primarily due to settling for jump shots—is horrendous.
Given his current situation and seemingly fragile body, his current trade value is limited.
Trade Value: C-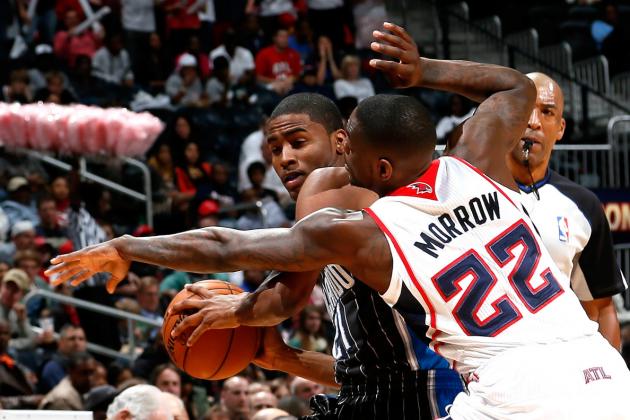 Kevin C. Cox/Getty Images

To say the transition from college to the pros has been rough for Maurice Harkless might be an understatement.
In his first season at the NBA level, the 19-year-old small forward has struggled to find a role for himself on the Magic roster. Despite starting 26 games, Harkless is averaging just 4.8 points and 3.8 rebounds per game in 19.6 minutes.
However, this shouldn't come as much of a surprise.
Harkless relied on his athleticism to blow by inferior defenders during his lone season at St. John's. Now in the NBA, with quicker, longer defenders guarding him, he's having some trouble. All of that being said, he's shown some great promise.
Even though he's still extremely raw offensively, Harkless recently showed what he is capable of doing when he scored 19 points and hauled in 14 rebounds against a solid Milwaukee Bucks squad. An improved mid-range game would greatly add to his offensive arsenal and compliment his athleticism nicely.
On the defensive side of things, Harkless has looked good.
According to Steve Kyler of HOOPSWORLD, the Magic are very high on Harkless and it will likely take "a much better piece" to acquire him via trade.
It's easy to see why, as Harkless has all the potential to be a great player for years to come.
Trade Value: A-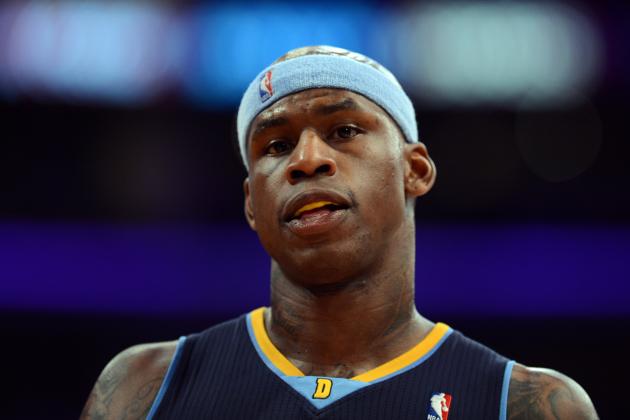 Harry How/Getty Images

Coming off a lockout-shortened season in which he scored 14.2 points and grabbed 6.1 rebounds per game with the Denver Nuggets, Al Harrington hasn't played a single game yet for Orlando.
Harrington had arthroscopic knee surgery after last season and has been battling complications from that surgery ever since.
Still, when he's healthy, Harrington has the potential to contribute valuable minutes and valuable points to a team that's in need of some offense. Standing 6'9", he has the ability to bang a bit down in the post or step out onto the perimeter and knock down threes. For team's with a solid center, a 4 who can stretch the court is always a positive.
It's hard to ignore the fact that Harrington hasn't stepped foot onto the court this season, though. Couple that with his 33rd birthday coming on All-Star Sunday, and it's hard to see many teams being interested in the veteran right now.
Trade Value: C+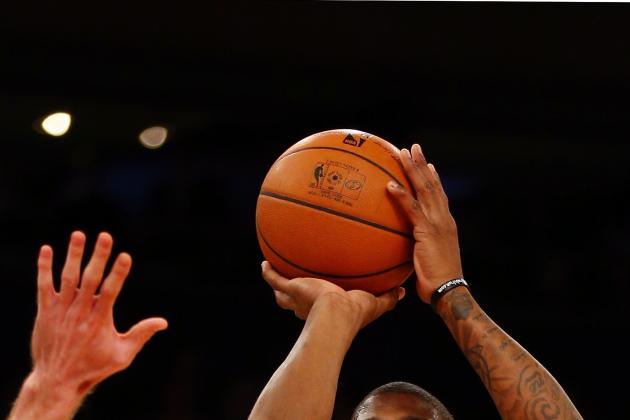 Elsa/Getty Images

One thing is for certain: DeQuan Jones is an athletic freak.
At 6'8", 221 pounds, Jones is capable of playing at either the 2 or 3 in most situations. On top of that, Jones is extremely gifted in terms of his athleticism. He's a leaper with an explosive first step that will get him by a lot of NBA defenders.
However, much like Harkless, Jones is extremely raw offensively and needs a lot of work.
That's nothing new either. Jones was never a premier player at the University of Miami during his four years there and found himself on an NBA roster due solely to his athleticism and energy.
Still, it's not hard to see why the Magic signed him prior to the season. Athleticism isn't something that can be taught, and the risk is worth the reward if Jones' offense ever comes around. Add that to the fact that he's just 22 years old and you have a guy that will garner some interest on the market.
Trade Value: C-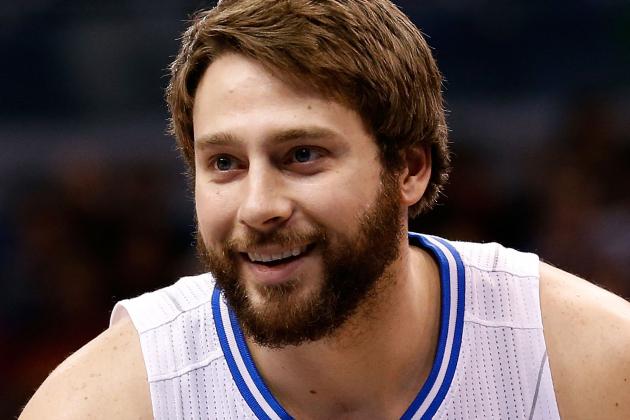 Sam Greenwood/Getty Images

When put into the right situation, Josh McRoberts can be a solid contributor off of the bench.
Take his 2010-11 stint with the Indiana Pacers for example.
Starting 51 games that season, McRoberts averaged 7.4 points, 5.3 rebounds, and 2.1 assists per game in 22.2 minutes.
Despite the way the Pacers used him, McRoberts isn't a starter in the NBA. That's not to say he can't provide a team with value though.
For a guy his size, he handles the ball very well, is an excellent passer and can move around the court better than most at his position. Not to mention, he's very athletic and has the ability to explode to the rim. Need the occasional three? He can knock that down once in a while too.
At just 25, McRoberts still has time to become an even more complete player. However, developing a softer touch around the basket and getting stronger are still concerns that need to be addressed.
That shouldn't stop teams from looking into acquiring him, though. He's a skilled player who can give you solid minutes whenever you need him to.
Trade Value: C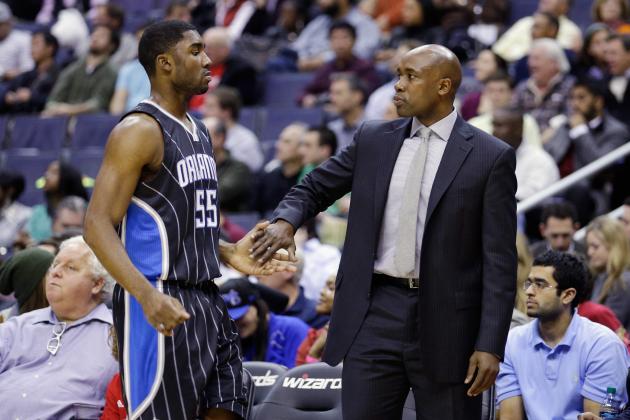 Rob Carr/Getty Images

E'Twaun Moore has been a major bright spot off the bench for the Magic this season, and given the right home, he could flourish even more.
At 6'4", Moore has excellent size for the point guard position. Averaging 8.7 points, 2.7 assists and 2.3 rebounds per game, Moore has done a nice job as a backup. Being in just his second season in the league, he could certainly develop into a starter for many teams if given more minutes.
There are several areas in which Moore needs some work, though. So far in his career, he's shooting 41.4 percent from the field. This number is far too low and is unacceptable considering the size advantage he has against many other players at his position.
For now, Moore has proven that he is a capable backup and teams with little depth at the point guard position would certainly waste no time taking a look at him.
Trade Value: B-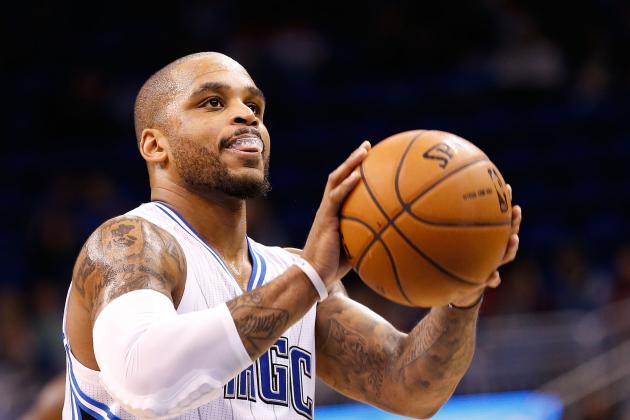 Sam Greenwood/Getty Images

With the All-Star Game approaching, Jameer Nelson won't find himself on the Eastern Conference roster like he did during the 2008-09 season.
That being said, 2012-13 has arguably been Nelson's best season as a pro to this point.
Despite shooting a career low 40.3 percent from the field and only 35.3 percent from three-point land, Nelson is averaging 14.9 points and 7.5 assists per game for the Magic. That assist total is one-and-a-half higher than any of his previous totals and signifies his improvement as a distributor.
Still, at age 31, Nelson isn't getting any younger, and his $8.6 million per year contract doesn't help matters either. He's too expensive for teams to bring in as a backup and the market for starting point guards isn't very large.
He has some good years left in the tank, but his loyalty to the organization means that those years will likely be played in a Magic uniform.
Trade Value: B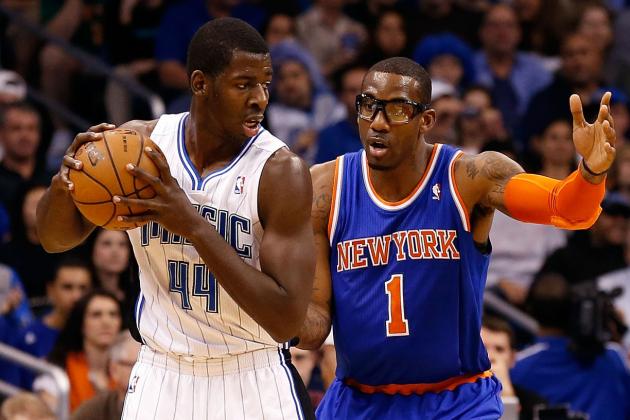 Sam Greenwood/Getty Images

It's cliche, but the sky really is the limit for Andrew Nicholson.
In today's league, it's hard to find a big man with great footwork. Nicholson's game is a stark contrast to guys taken ahead of him in last year's draft. Unlike Thomas Robinson and John Henson—to name a few—his game does not rely on athleticism.
Instead, Nicholson creates open looks with fundamental skills like pivots and pump fakes. Obviously he has a lot to learn, but his game can be likened to that of Tim Duncan.
In addition to his solid fundamentals, Nicholson is a great mid-range shooter, has excellent touch around the rim, is patient and scores with efficiency.
At only 15.5 minutes per game, the sample size is small. If his numbers per 36 minutes (18.0 PPG, 8.1 RPG) are any indicator though, Nicholson has a long career ahead of him.
There are plenty of teams that would pounce on this young talent in a hurry.
Trade Value: A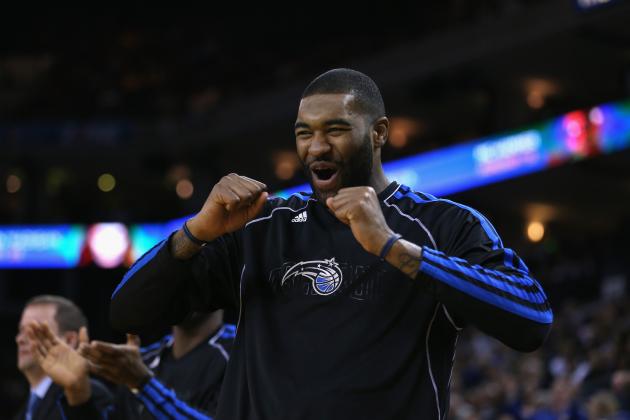 Ezra Shaw/Getty Images

Most people probably remember Kyle O'Quinn from the 2012 NCAA Men's Basketball Tournament when he and his No. 15 seed Norfolk State Spartans upset the No. 2 seed Missouri Tigers.
While that game certainly thrust O'Quinn into the national spotlight—and was likely a major reason he got drafted—his collegiate career was marked by consistency.
O'Quinn was a double-double machine during his junior and senior seasons at Norfolk State, and when you look at his body, it's easy to see why. So far, it doesn't seem like he's been intimidated by the size and speed of the NBA game either.
At 6'10" and a solid 240 pounds, O'Quinn isn't afraid to bang down low and push guys around. In fact, that's probably what he does best. In limited minutes this season, he's shown that he might have a future in the league as a bruiser.
There's no denying that his offensive game needs work, but for a team that has the patience to let him grow as a player he's worth the look.
He's never going to be a star, but O'Quinn could blossom into a valuable role player.
Trade Value: C-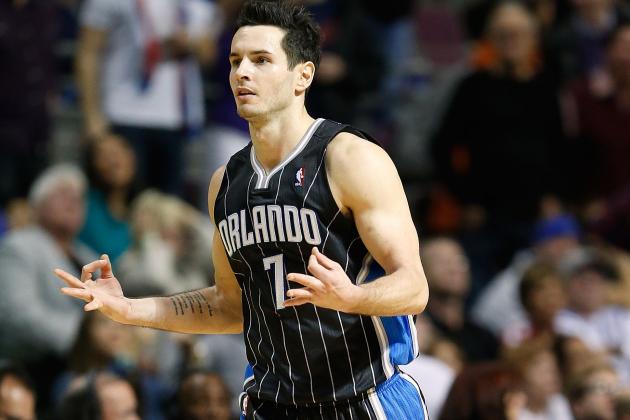 Gregory Shamus/Getty Images

J.J. Redick has certainly come a long way since being taken 11th overall by Orlando in the 2006 NBA Draft.
Now, nearly halfway through his seventh season in the league, Redick has quickly become one of the most sought-after players as the trade deadline approaches. In fact, after Rudy Gay was traded to the Toronto Raptors, it was reported that the Magic had turned down a deal that would have swapped the two players.
That shows how much Orlando is interested in keeping the sharpshooter.
Redick's 15.5 points, 4.5 assists and 2.4 rebounds per game are all career-high numbers, as are his 32 minutes a night. His 45.7 percent shooting from the field is also a career best and at 40.1 percent from behind the three-point line, he's a lethal offensive weapon.
But beyond being a great shooter, Redick's all-around game has improved immensely.
No longer will you find him camping in the corners, waiting for the ball to be kicked out to him. With the ball in his hands much more, he's become a very good passer and his execution on pick-and-rolls gets him a lot of open looks. Not to mention, his constant movement tires defenders in a hurry and helps the flow of the offense.
As a defender, Redick will never find himself as one of the league's best. However, he understands the concept of rotation and rarely is he out of position. To top it off, his willingness to draw a charge can change momentum in the blink of an eye.
For these reasons, Redick is arguably the one Magic player with the highest trade value.
Trade Value: A+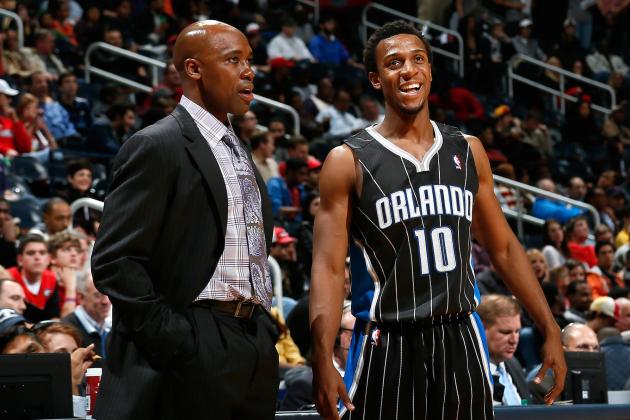 Kevin C. Cox/Getty Images

If the start of his career is any future indicator as to what Ish Smith can expect throughout his NBA career, he might not be too happy with it.
With Orlando being Smith's fourth stop in just his third season in the league, one has to pause and ask why.
At 6'0", he's relatively small for the point guard position, but guys of similar height have gone on to have great success in the league. For Smith, that likely will not be the case. Despite being extremely quick, there's not a lot that he does well on offense.
With a career shooting percentage of 35.5 from the field and 27.8 from behind the three-point line, Smith has a hard time scoring the ball. His quickness allows him to get by a lot of defenders, but once in the lane it seems as if he's in a whole different world.
It wouldn't be fair to Smith to completely label him a failure, though. Having stability is something that young players need and he has not yet had that, as evident by the Magic being his fourth team in three years.
Perhaps if he finds a home and gets consistent minutes he'll develop into a decent backup. But until then, Smith's value isn't very high.
Trade Value: D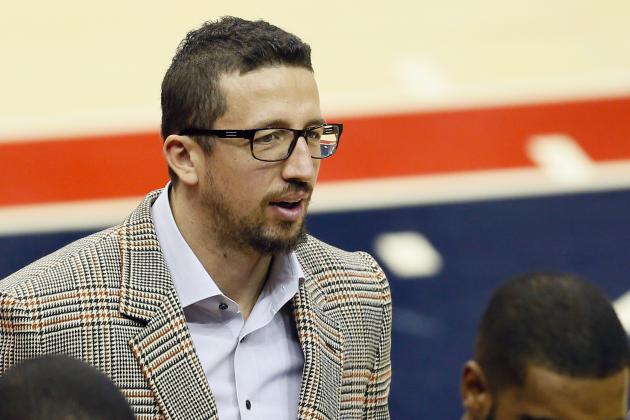 Rob Carr/Getty Images

It's sad to say, but we might all be witnessing the end of Hedo Turkoglu's career.
Plagued by an injured hand all season long, Turkoglu hasn't been able to get into much of a flow this year. In just 11 games, he's averaging 2.9 points, 2.4 rebounds and 2.1 assists per game. Despite the injury though, he hasn't looked like himself at all.
What might be more of a concern is that his injury is to his off-hand. An injury of that nature should not cause him to be shooting 26.4 percent from the field and 0.42 percent from three-point range.
For those who don't watch a lot of Magic basketball, this decline might come as somewhat of a shock. For followers of the franchise, it could be seen coming from a mile away.
Ever since his stint with Toronto during the 2009-10 season, Turkoglu hasn't been the same.
When you combine his inability to stay on the court this season, his outrageous $11.8 million contract and the fact that he turns 34 in March, the likeliness that anyone will want to touch Turkoglu is slim to none.
Trade Value: F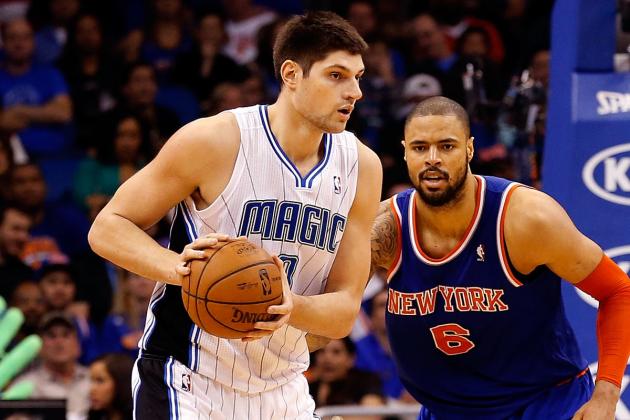 Sam Greenwood/Getty Images

Raise your hand if you thought Nik Vucevic would be the guy making people in Orlando forget about Dwight Howard.
No one?
In what can only be described as something nobody saw coming, Nik Vucevic has given the Magic a legitimate and immediate replacement at the center position. Averaging 12.5 points and 11.6 rebounds per game, Vucevic has filled Howard's void more than admirably.
On the offensive end, Vucevic can play with his back to the basket and attack defenders with a good repertoire of post moves. If nothing's there, he'll face up and knock down a mid-range jumper just as easily. For someone that's only 22 years old, his offensive game is quite established.
Defensively, he's not Dwight Howard. Then again, who is? However, Vucevic is no slouch, averaging just over one block per game.
It's pretty clear that the Magic have found their center of the future, and even though his value is currently through the roof, Orlando would have to get a lot in return in order to deal the guy who set the franchise record for rebounds in a game earlier this season.
Trade Value: A+