Detroit Lions' Best and Worst Draft Picks of the Mayhew Era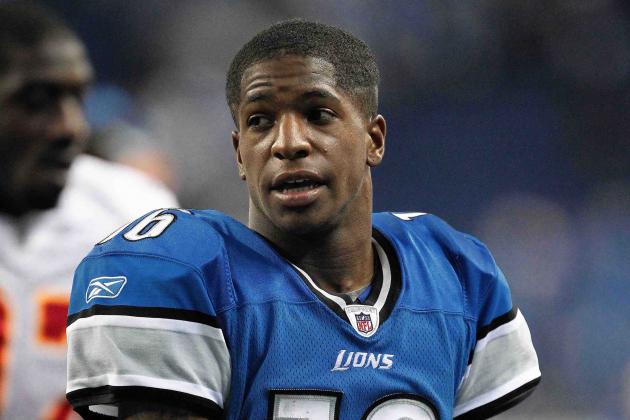 Mike Carter-USA TODAY Sports

At this time last year, Detroit Lions' general manager Martin Mayhew was considered a drafting genius. He became the Lions' savior because he turned them into a playoff contender in just three years, and his decisions on draft day were a big reason for the turnaround.
Then 4-12 happened.
Mayhew's draft record isn't nearly as pristine now. Picks that were viewed favorably are no longer, and his entire draft record has been scrutinized.
He deserves criticism because he's made mistakes, but what GM hasn't? Some picks have worked out, while others haven't.
Others have been hot messes, and you know who I'm talking about.
As the 2013 NFL draft approaches, now is a good time to take stock and review Mayhew's best and worst picks from the past four years.
Here are five picks he'd like everyone to remember and five he'd like to have back.
We'll start with the low lights.
Begin Slideshow

»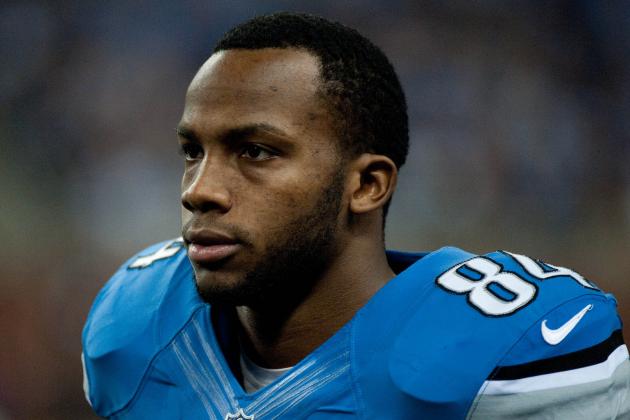 Tim Fuller-USA TODAY Sports

This is not an indictment of Ryan Broyles the player nor is it an indictment of his unfortunate injury history.
Broyles is a very good receiver who performed well for the Lions in the limited time he played last season. If he recovers from his knee injury, he will likely impact the Lions favorably for years to come.
With that said, he was the wrong player for Mayhew to draft in Round 2 last year. The Lions had much more pressing needs than slot receiver at that position in the draft.
Everyone knows that Mayhew drafts the best player available, but that doesn't mean it's the right strategy to take in every situation.
Peter Konz (C), Mike Adams (OT), Lavonte David (LB), Kelechi Osemele (OG), LaMichael James (RB) and Casey Hayward (CB) are all players Mayhew should have targeted, but instead, he left them on the board.
Each one of them represented a bigger need for the Lions, and they all made significantly more of an impact on their teams than Broyles did—with the exception of James.
For those of you who want to debate his impact, please look at his numbers: 310 yards and two touchdowns do not equal a huge impact.
He was simply the wrong pick at the wrong time.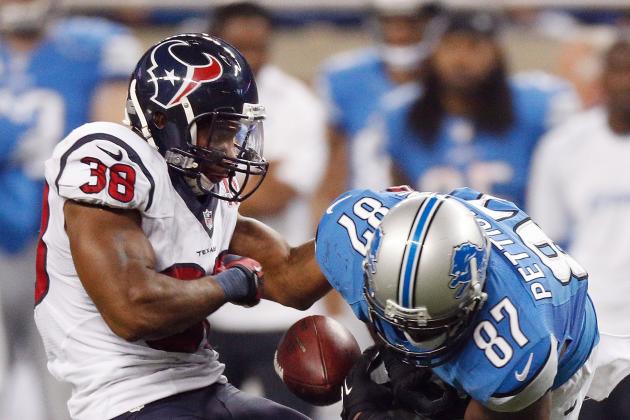 Gregory Shamus/Getty Images

When Brandon Pettigrew isn't dropping or fumbling the football, he's disappearing for long periods of time completely uninvolved in the offense. That's not exactly what Lions' fans were expecting from someone Mayhew used a first-round pick on.
I think it's safe to say that everyone expected more than four touchdowns per year from Pettigrew as well, but it hasn't happened.
Last season, he had four fumbles, but only three touchdowns.
No one should feel guilty about calling Pettigrew a bad pick. He's underperformed, so far, and hasn't developed into an elite tight end, which is what Mayhew expected him to be when he selected him with the 20th overall pick in the draft.
I'll repeat that: Pettigrew was the 20th player selected in the 2009 draft. That seems silly now—especially when players like Percy Harvin, Michael Oher and Clay Matthews were still on the board.
Maybe he has potential for more, but it's been four years. Exactly how long will it take him to reach it?
At this point, he's not the player Mayhew thought he was, and there is serious concern that he's already reached his ceiling.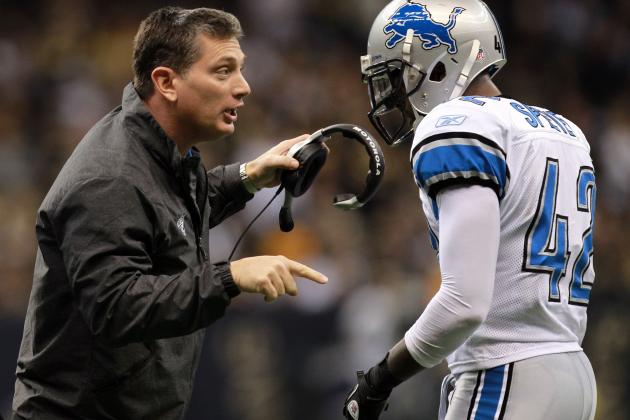 Ronald Martinez/Getty Images

Mayhew drafted Amari Spievey—the cornerback—in the third round of the 2010 NFL draft.
The Lions then decided he was better suited to play safety. They wanted to take advantage of his tackling abilities even though he was one of the top-rated corners in the draft.
That decision calls into question Mayhew's well-documented best-player-available strategy.
How did he conclude that Spievey was the best player on the board at that point when he didn't even plan on using him as a corner?
ESPN's scouting reports on Spievey states, "Active and willing in run support. Doesn't have a lot of ammunition in holster as far as size and strength."
That statement doesn't exactly scream NFL safety.
Maybe that's why the 5'10", 195-pound Spievey suffered two concussions last year and was lost for the season in November due to post-concussion headaches. He's now likely reconsidering his career from the perspective of Jahvid Best.
Actually, Spievey wants to return, but it's questionable whether the Lions will re-sign him. Surprisingly, he hasn't worked out very well at safety!
This one is on Mayhew. Spievey hasn't been successful, but he was set up to fail from the beginning, and now, he might suffer long-term medical issues because the Lions made him play out of position—not to mention they are no better off at the safety position than when they drafted him.
Mayhew: swing and a miss.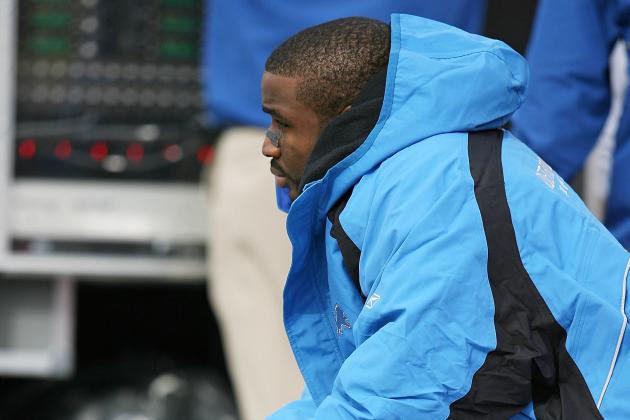 Jonathan Daniel/Getty Images

If you draft someone in the third round, you expect them to make a significant impact on your team. At the very least, you expect them to be on your roster for more than two years.
Derrick Williams didn't last that long with the Lions. He was waived prior to the 2011 season, two years after he was drafted.
He was highly rated coming out of Penn State. Walterfootball.com raved about his physicality and big-play ability. However, they noted that he lacked concentration and his route-running ability was inconsistent. They said the Williams would need to work hard to, "prove that he can be a productive WR at the next level."
He never did, despite having plenty of opportunity to do so. He also never showed any big-play ability
Mayhew completely overvalued Williams, but the ultimate knock against him is that the Pittsburgh Steelers selected Mike Wallace two picks later.
Oy Vey!
Tim Fuller-USA TODAY Sports

Do I really need to write anything here? Probably not, but I will.
Young was brought in to provide a speedy downfield threat opposite Calvin Johnson, and he looked poised to do just that after a productive rookie campaign. There were some bumps in the road in 2011, but nothing that was a deal-breaker.
Then bad-Titus reared his ugly head last summer, and everything changed. He sucker-punched Louis Delmas and was banished from the team. Then, facing Green Bay, Young lined up in the wrong place on purpose—allegedly—and was banished again.
More recently, he went nuts on Twitter, daring the Lions to cut him which they ultimately did.
Young also confided in his high school coach that he believes he is a better player than Calvin Johnson (nfl.com).
Not only is he an immature malcontent but he also suffers from delusions of grandeur.
It wasn't as if he didn't have red flags. He did, but Mayhew decided to roll the dice when he could've selected Randall Cobb or Torrey Smith, two much safer picks.
It was a gamble that ultimately ended up costing the Lions dearly.
Young wasn't the playmaker the Lions needed. He lacked the demeanor to be a consistent producer, and his distractions negatively impacted morale. He was Mayhew's Waterloo, Titanic and Ishtar wrapped up in one little drama-filled package.
Needless to say, Young was a complete waste of a draft pick, and Mayhew deserves the blame for making him Detroit's problem.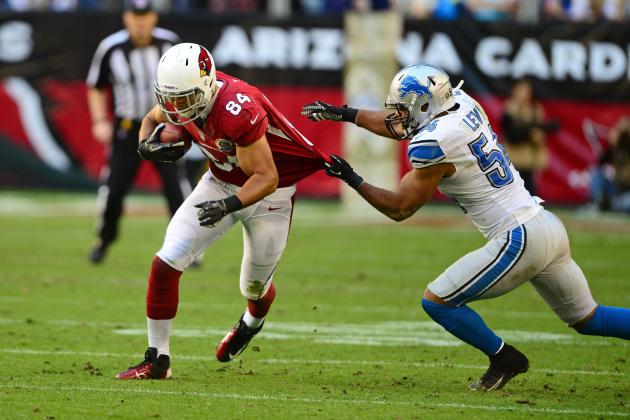 Mark J. Rebilas-USA TODAY Sports

Since DeAndre Levy was drafted in the third round of the 2009 draft, he's done nothing but play consistent football for the Lions.
In fact, he started in 49 of the 57 games he's played, including 10 of 16 games his rookie year.
Getting a player capable of starting from day one in the third round isn't unheard of, but it is a rarity—especially a player who rarely misses any time.
He doesn't get near the attention of some of Detroit's other defensive stars, but Levy's done everything Mayhew and the Lions expected of him. He might struggle at times to cover bigger, faster tight ends, but he's tenacious against the run and averages a turnover or two each season.
One look at the other names drafted with Levy in the third round reveals a long list of players who never amounted to anything. There are also a handful of very good players, and Mayhew managed to get one of the good ones.
Levy's been solid for Detroit, and Mayhew did a solid job drafting him.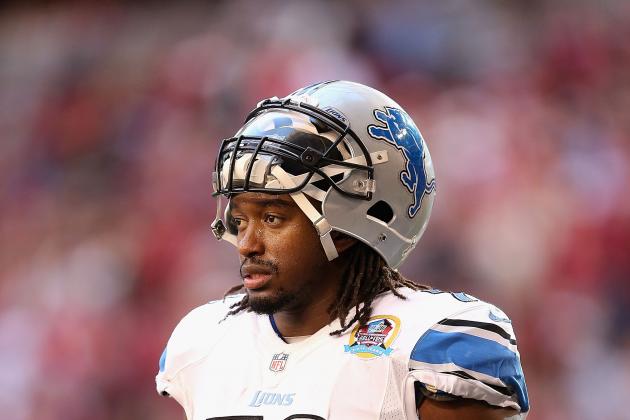 Christian Petersen/Getty Images

In the NFL, players drafted in the seventh round are considered a success if they're still on the roster after two years.
Willie Young not only remained on the Lions' active roster for the past three years, but he's part of the four-man DE rotation. This season, with the departure of Kyle Vanden Bosch and the potential departure of Cliff Avril, he could be more than that.
Mayhew selected a raw talent in 2010. Young had the ideal physical attributes but lacked the technique to be immediately successful in the NFL.
However, he worked hard and improved each year. Last season, the Lions had no choice but to give him more playing time.
Even though he didn't have the breakout year predicted for him, he was productive without stuffing the stat sheet.
It's pretty simple, for a seventh-rounder, he has exceeded all expectations and will be a defensive mainstay in Detroit for years to come.
For seeing his potential and work ethic, Mayhew deserves all the credit.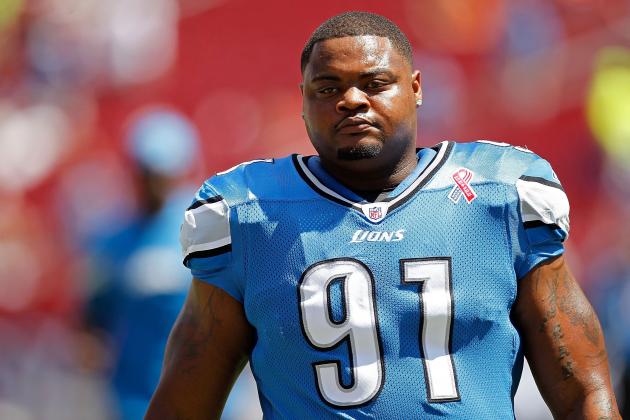 Mike Ehrmann/Getty Images

Mayhew found a diamond in the rough in the fourth round of the 2009 NFL draft—his first as an NFL general manager.
He selected Sammie Lee Hill out of tiny Stillman College.
Hill has turned out to be not only a reliable backup but an effective run-stopping defensive tackle who would start on most NFL teams.
The exceptional pass-rush skills of Suh and Nick Fairley are the only reasons he doesn't start for the Lions.
Hill's ability far exceeds his draft position and his contract for that matter. He's been a huge value for Detroit, and Mayhew deserves high marks for the pick.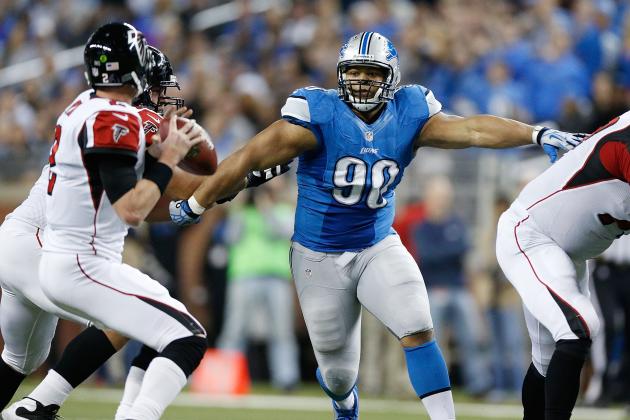 Gregory Shamus/Getty Images

Say what you will about Ndamukong Suh the teammate and the person. He's definitely done things to warrant criticism in those areas.
He's done things on the football field to warrant criticism as well, but who really cares whether he's one of the most disliked players in the NFL. It's not a popularity contest.
He might not be everybody's best friend, but he is a dominating defensive lineman, and every team in the NFL would snatch him up in a second if was available. Two Pro Bowl selections in his first three years is testament to his greatness.
Mayhew clearly made the right choice when he opted to select Suh second overall in 2010 over another highly regarded defensive tackle, Gerald McCoy. McCoy's been solid but not as impactful as Suh, and he's missed 13 games in three years due to injury.
Suh's durability is one of his biggest strengths.
Fans might get frustrated because he doesn't stuff the stat sheet every game. Unfortunately, that frustration is a side effect of Suh's extraordinary rookie year. He set expectations so high that it's impossible to meet them—especially since defenses game plan for him now.
This frees up his teammates to make plays, which is an often-overlooked effect of Suh.
The truth is, he has exceeded expectations. He dislikes quarterbacks, does his best to destroy them and has proven to be exceptionally good at it. That's exactly what Mayhew drafted him for.
What else can you ask for?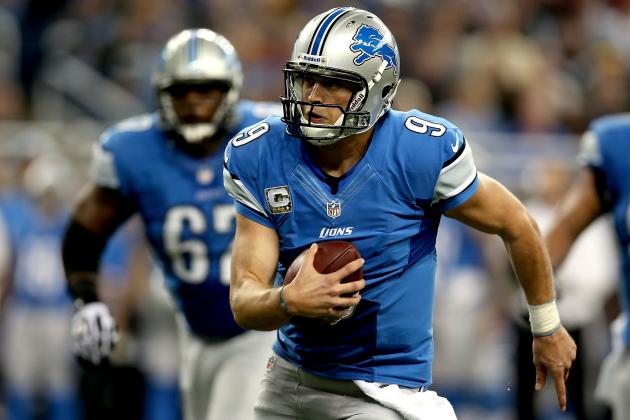 Matthew Stockman/Getty Images

Some folks think that since Matthew Stafford was drafted No. 1 overall in 2009, what he's accomplished in the NFL, so far, is nothing special. He passed for 5,000 yards two years ago, but he also missed 19 games his first two seasons and took a big step back last year.
Those same folks probably think that it was no great feat on Mayhew's part to select the highest-rated quarterback with the first pick. No brainer, right?
Not so fast.
It's important to remember that many people predicted that Aaron Curry, the OLB out of Wake Forest would be the No. 1 pick. In fact, on February 25, 2009, Sports Illustrated's Don Banks did just that in this mock draft.
Not only was Curry the No. 1, Mr. Banks predicted Stafford would go 10th—two picks after Mark Sanchez.
As ridiculous as that sounds now, that opinion was shared by enough people that Stafford wasn't even close to a consensus No. 1 pick.
Mayhew made the right call. He needed a player to lead the Lions out of the darkness that was the Millen Era, and he got one.
It took a couple years, but Stafford did it.
No one in Detroit should ever forget what Mayhew did. NFL franchises spend decades looking for a quarterback with Stafford's talent level, and Lions' fans should know. Detroit had been searching for one since Bobby Layne was traded in 1958.
Stafford gives the Lions a chance to win every time he steps on the field, and he's capable of taking over games like Elway, Montana and all the other great quarterbacks who came before him.
He's the most important player on the field. He's the reason the Lions went 10-6 in 2012, and as long as he's in Detroit, there will never be a quarterback controversy. He is elite, and Mayhew is the one who brought him to the Motor City.
That will be his legacy, as well it should be.