Where These 3 Chargers Stars Must Improve in 2013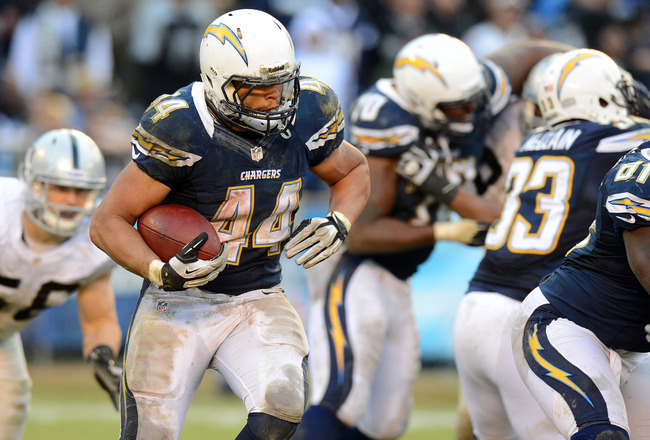 Jake Roth-USA TODAY Sports
A new era has begun, but for now, the roster remains the same.
Mike McCoy and Ken Whisenhunt will develop a new system with the San Diego Chargers to receive the full potential from each player on the roster.
In the past, Whisenhunt has not had an elite quarterback. The best quarterback he's coached in recent years was Kurt Warner at 37 years old.
Philip Rivers is the man in San Diego, and he will be for many more years. He'll be fitted with new, healthy offensive linemen this offseason. His weapons will most likely remain the same as last season, give or take a few.
It's been quite some time since the Chargers went into rebuilding mode, but they find themselves there once again. Some may think it would be crazy to say San Diego has playoff potential next year, but with the changes already made in the organization, with more to come, this team isn't far off from competing with the rest of the league.
Philip Rivers: Decision-Making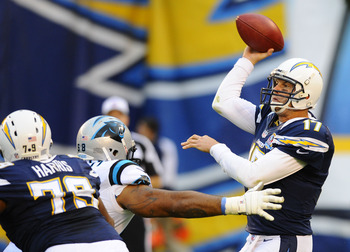 USA TODAY Sports
Let's take a look back at Philip Rivers' worst throw of his career, which came against the Tampa Bay Buccaneers last season.
These are the types of plays that give fans across the country the ability to say Philip Rivers is done and there is no fixing him. Remember two years ago when Rivers was considered an MVP candidate and was leading the Chargers to AFC West titles year after year? That was two years ago. Two.
The offensive line protecting Rivers is awful. It should only get better this season. No. 17 will regain confidence with a decent offensive line.
One game this last season, against the Kansas City Chiefs, Philip Rivers completed 18-of-20 passes. It was the fifth-highest completion percentage in a single game in history. The difference? Time.
When Rivers is given time, his accuracy improves, as it should. It's easy to pin Rivers as "washed up," but that's not looking at the big picture. Rivers simply has no confidence in his offense and offensive line, so he sometimes tries too hard.

With an improved offensive line in a new offensive system under Ken Whisenhunt, Philip Rivers will get back to his 2010 self.
Ryan Mathews: Injury Sustainability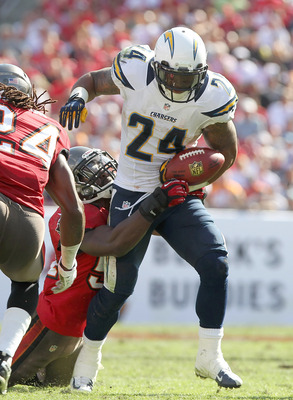 Kim Klement-USA TODAY Sports
in 2012, Ryan Mathews had one touchdown and two broken collarbones. Even a fourth grader can tell you that's bad.
Ryan Mathews' upside is outstanding, which is why the Chargers chose to trade up for him in the 2010 draft. They knew he had injury issues, but decided to take the chance anyways based on his potential. While we've seen flashes of his speed and elusiveness, his inability to stay healthy has disgusted some fans, as well as coaches and players, I assume.
Last season, Mathews came into training camp out of shape. In 2012, he was better prepared, but a broken collarbone kept him sidelined for several weeks.
When he returned, Mathews didn't get as many carries as I thought he deserved, but he then proved why: He broke another collarbone.
Norv Turner never trusted Mathews' durability enough to make him an every-down back.
In 2013, Mathews must figure a way to stay healthy. Otherwise, he will be replaced very soon.
Nick Novak: Overall Consistency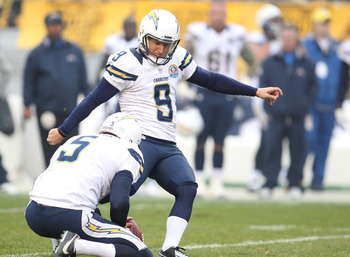 USA TODAY Sports
Nick Novak went 18-of-20 on field goals in 2012.
The reason I say he must improve his overall consistency is the fact that he's taking over Nate Kaeding's spot. Kaeding is the most accurate regular-season kicker in NFL history.
Fans have seen Nate Kaeding make field goal after field goal for a numerous amount of years, so one little chip-shot missed could make Nick Novak public enemy No. 1.
San Diego needs Nick Novak to take the place as the franchise kicker, consistently making field goals. 2013 should be a breakout year for the eight-year veteran. The Chargers will be able to count on Novak anywhere within his distance next season.
Keep Reading

San Diego Chargers: Like this team?