Prime Cut-Candidates for the Steelers This Offseason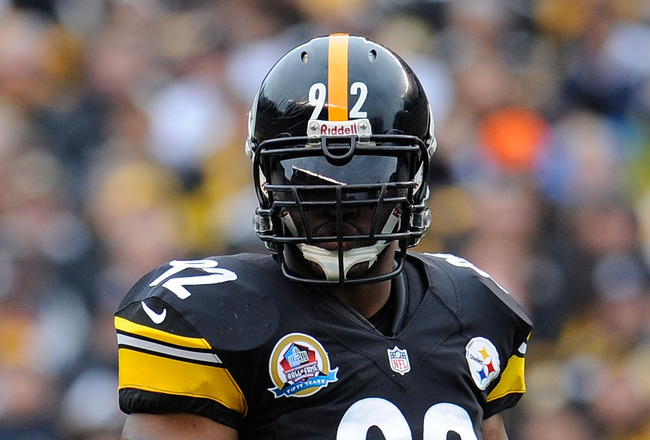 Joe Sargent/Getty Images
Another year and another season of great NFL football is behind us. Now that we've crowned a Super Bowl Champion, it's time for the offseason to begin. And it's already started with a bang.
A few of the league's top teams have already begun the process of trimming the trees if you will, by letting go of some of the league's marquis names. Both the New York teams have blown through their inventory already, and more cuts are expected as we get the offseason rolling.
One team whose season was less than memorable was our very own Pittsburgh Steelers. The team struggled with injuries and inconsistent play on their way to an 8-8 record and watched their playoff hopes fly out the window with a home loss to the Bengals.
Now, as the team enters the offseason well over the salary cap, there're going to be some big moves made and some big names let go. Let's check out some of the guys who could become cap casualties this offseason for the Steelers.
James Harrison / OLB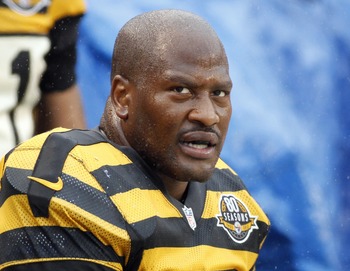 Justin K. Aller/Getty Images
The last two seasons have not been kind to outside linebacker James Harrison.
Last year, the Steelers lost the former NFL Defensive Player of the Year for five weeks with a broken orbital bone, and Harrison posted just nine sacks in his 11 games. But 2012 wasn't any better for the 34-year-old sack artist.
Harrison again missed the first three games due to late, offseason, knee surgery and looked slower throughout most of the year. In 13 games, Harrison recorded only six sacks, his lowest total since becoming a starter in 2007.
Given Harrison's age and his 2013 base salary of $6,570,000, Harrison becomes maybe the biggest target on the Steelers' roster in terms of players that could be cut. Looking at his numbers, one could also see a significant decline in production.
Just take a look at his forced-turnover numbers. According to Pro-Football-Reference, Harrison has forced two fumbles in each of the last two seasons. Since becoming a starter, he had never forced fewer than five in a single season.
Harrison also hasn't intercepted a single pass in the last two season after recording four in the previous four years.
The once-feared Steelers pass rush has fallen off significantly the past two seasons, and a lot of that can be attributed to the lack of production by Harrison and teammate LaMarr Woodley. Harrison may be playing for the Steelers next season, but I can guarantee you this, he won't be making $6.5 million.
Willie Colon / OG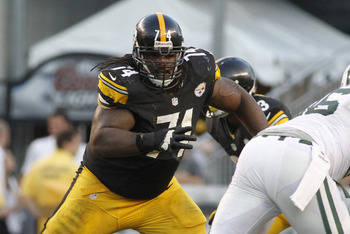 Justin K. Aller/Getty Images
The Steelers offensive line has been among of the league's worst over the last two seasons, and a lot of that can be traced to the lack of production, or more importantly, lack of playing time by Willie Colon.
Colon has played just 13 games over the last three seasons due to various injuries, and despite looking much more comfortable after the move to guard, he still missed four games, and the Steelers running game suffered.
Colon will only be 30 years old by the start of next season, and in offensive line terms, that's still pretty young. But given his injury history and his $5.5 million base salary in 2013, Colon could find himself on the chopping block.
The Steelers are already relatively thin at guard, and besides second-year David DeCastro, both Ramon Foster and Doug Legursky are set to be free agents. But if Pittsburgh could manage to bring back Foster and find someone in the draft, it could be the end for Colon with the Steelers.
Troy Polamalu / SS
Joe Sargent/Getty Images
This move will most likely be more of a restructuring, but there's still a vague possibility that the Steelers could part ways with the 10-year veteran.
Troy Polamalu has missed a lot of time throughout the course of his career, and 2012 was no different. Polamalu missed time early with a strained calf before re-injuring himself and missing a total of nine games.
To his credit, it became apparent at the end of the season that when healthy, Polamalu is still one of the best safeties in the game. But the odds of Troy being healthy for the extent of an entire season are virtually slim to none.
Also working against the 2010 Defensive Player of the Year, like most of the other players in the league, are his age and contract. Polamalu will be 32 by the time the 2013 season starts, and his $7.5 million base salary ranks third on the team.
Those numbers can't be that high for a guy who's going to play only half the season.
Like I said before, it's doubtful the Steelers will part ways with Polamalu this offseason. He's still one of the most popular players in the city, and frankly, Pittsburgh has no way to replace him (see the entire 2012 season). Regardless, the Steelers and Polamalu will have some serious restructuring to do.
Brett Keisel / DE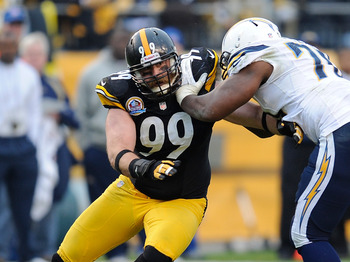 Joe Sargent/Getty Images
The 2012 season could be the last time we see "the Beard" in the Steel City.
Keisel doesn't make a ton of money, but his $2.8 million salary will be enough to garner attention from the front office, especially considering the defensive end will be 35 years old by the start of the season.
But Keisel has other obstacles blocking his path to returning to Pittsburgh.
The Steelers have spent two first round picks on defensive ends in the past few drafts. Both Ziggy Hood and Cameron Heyward were late first rounders and, although Hood is a starter now, Heyward is barely seeing the field.
Personally, I do believe Keisel will be back with the Steelers next season, but he may have to restructure his deal to do so. But the Steelers need to find a way to get some kind of look at the players they've spent picks on.
Shaun Suisham / K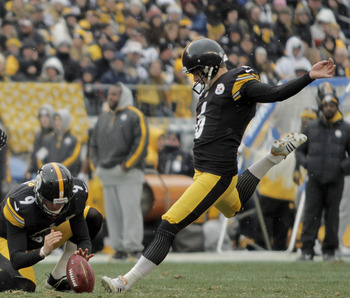 Justin K. Aller/Getty Images
Let's face it, unless you're one of the top kickers in the NFL, you're always going to be a prime candidate for release when your team's in a pinch. And the Steelers are really in a pinch.
Suisham is set to make $1.4 million in 2013. That might not seem like a whole lot of money, but compare that to Ravens kicker Justin Tucker, who was one of the top kickers in 2012 making just $390,000, and it looks awfully high.
To his credit, Suisham did have a really good season in Pittsburgh. He missed only three field goals and hit all of his 12 kicks between 40-49 yards. But money is everything in the league, and the NFL is a business. For the Steelers, money is tight, and Suisham could get the short end of the stick.
Sure-Fire Re-Structures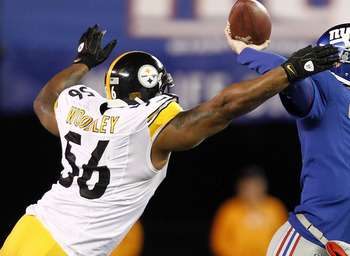 Jeff Zelevansky/Getty Images
LaMarr Woodley / OLB
- Woodley is due to make a ridiculous $9 million next season, and given his history of coming into camp out of shape and injured, his deal will certainly get looked at.
Ben Roethlisberger / QB
- Ben has shown in the past that he's more than willing to restructure his deal, and with a salary of over $11 million, the Steelers need it more than ever.
Heath Miller / TE
- If there's one guy who deserves the money he'll be making in 2013, it's Miller. He had his best season last year, but he'll be entering 2013 making over $5 million and coming off a serious knee injury.
Ike Taylor / CB
- Taylor restructured last season, and he'll most likely have to do the same this year. He won't enter 2013 making $6 million.
Keep Reading

Pittsburgh Steelers: Like this team?