Bold Predictions for Every Boston Red Sox Starting Pitcher
Bob DeChiara-USA TODAY Sports

Pitchers and catchers are starting to report to spring training for the Boston Red Sox, including the likes of John Lackey and Jon Lester.
The Red Sox starting staff is ready to turn over a new leaf after struggling for most, if not all, of the 2012 season. It was a disastrous season in which the Sox finished with the worst record in the AL East.
In 2013, things will be different. With a manager and coaching staff who will actually communicate, the Sox will be able to put together a bounce-back season, and the starting pitching is where it all starts.
Begin Slideshow

»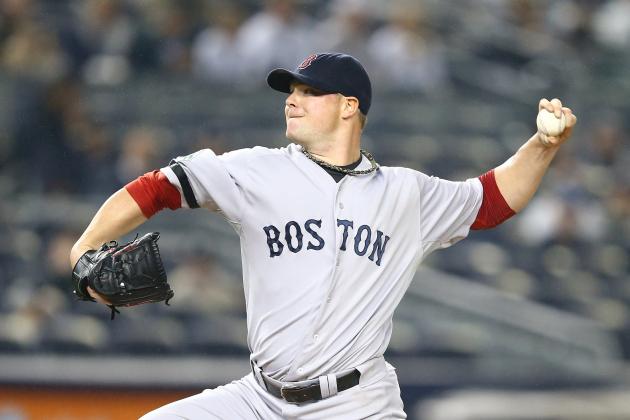 Al Bello/Getty Images

Jon Lester just needs to tweak a few things before the can be the Cy Young Award winner in 2013. He needs to cut down on his walks, which will lower his pitch count, and he needs to work on his cutter control.
In 2012, the lefty struggled with control of that pitch and had to rely on his regular fastball. This had batters waiting for that pitch, and they drove it out of the ballpark many times.
It is very possible Lester could lead this pitching staff in 2013 to the tune of 20 or more wins and an ERA under 3.00.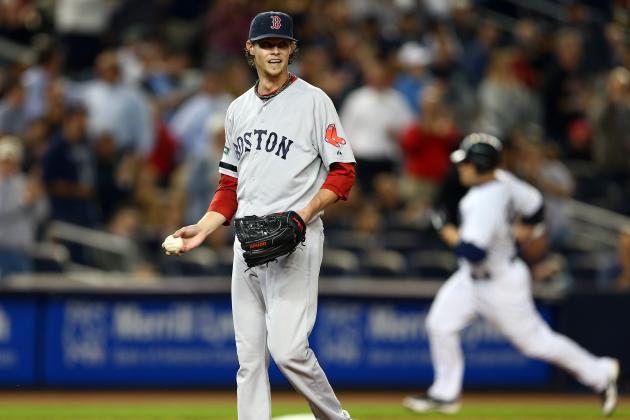 Elsa/Getty Images

Clay Buchholz showed what he can do while healthy in the second half of the 2012 season. He had a stretch where he won seven of his 11 starts and allowed more than three runs only twice from June to mid-August.
Imagine if he started 2013 that healthy?
He would be like a No. 1-A option in this starting rotation. He could compile a season with 18 or more wins and an ERA under 3.25.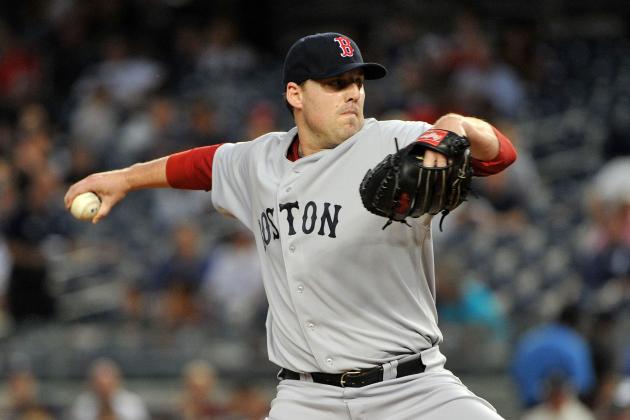 Christopher Pasatieri/Getty Images

John Lackey is coming off of a missed year due to Tommy John surgery. He hopes to be all ready for the starting rotation in 2013 with some weight loss and hopefully a better attitude.
Lackey is one of the most-hated members of the Red Sox due to his struggles and his clubhouse presence. The beer and chicken scandal was centered around him, Josh Beckett and Jon Lester.
However, after a year off, and with a new manager at the helm, Lackey should be able to pitch well enough to be a solid No. 3 in this rotation.
Jim Rogash/Getty Images

Felix Doubront had trouble with arm fatigue in August after pitching great as a full-time starter for the first time in his MLB career. He started lasting only four innings when he hit a wall and finished with 161 innings pitched.
He finished with a team-high 167 strikeouts and should be a great No. 4 starter with double-digit wins and an ERA under 4.00.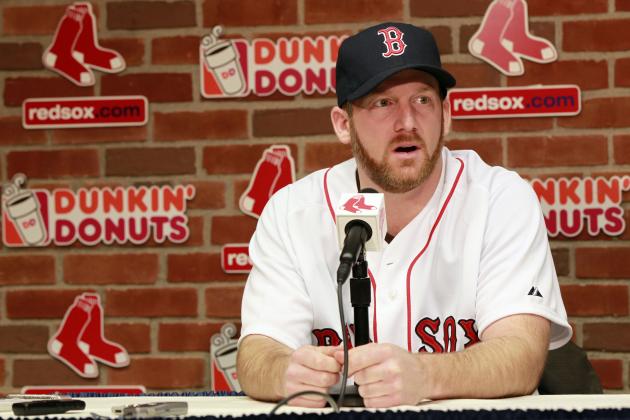 Greg M. Cooper-USA TODAY Sports

Ryan Dempster may have struggled getting used to the American League when he first came over to the Texas Rangers, but he still has the ability to pitch extremely well.
Dempster is a great veteran presence to have on this team, even as the No. 5 starter. What the Sox need to do is prepare him for every start with their own scouting reports, especially against AL East opponents.
If Dempster can prove himself capable against the New York Yankees and Toronto Blue Jays, then it should be a good year for the veteran.