Why Nobody Should Be Counting Out the Boston Celtics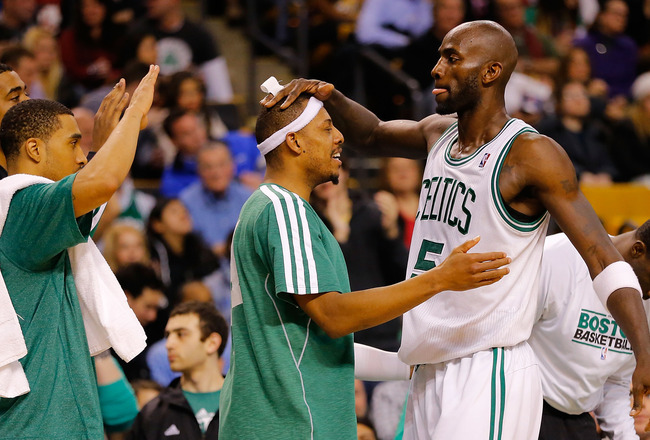 Jared Wickerham/Getty Images
With a recent trouncing of the Los Angeles Lakers, the Boston Celtics have now won six straight games and have climbed into the No. 7 spot in the Eastern Conference.
Six straight. Yes, that is six straight wins without All-Star point guard Rajon Rondo at the helm of the offense.
Sometimes things just don't make a whole lot of sense in the NBA, but at the moment, the Celtics are the hottest team in the conference. What this all means down the road is anybody's guess. One thing seems to be for sure: This team isn't going down quietly.
With Rondo and Jared Sullinger out for the season, the cupboard is still hardly bare. Boston has a strong veteran presence and a few players who are finally getting to stretch their legs a bit. Avery Bradley and Chris Wilcox are improving every day since their returns.
For the time being, if you're using utensils, keep your forks clear of the Celtics. They seem to be far from done.
Veteran Presence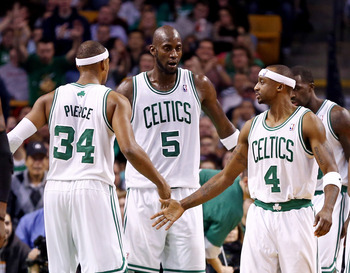 USA TODAY Sports
When Rajon Rondo tore his ACL, the Boston Celtics lost a lot of their big-game firepower.
That doesn't mean they don't have guys who have been there before, though. Paul Pierce is still showing he is capable of winning a game on his own. Same goes for Kevin Garnett, after posting 27 points and 10 boards against the Toronto Raptors.
While on the current six-game streak, Pierce has come up big against both Kobe Bryant and LeBron James. He may not have out-dueled either of them entirely, but the scoreboard doesn't lie. He also hit the clinching three against the Los Angeles Clippers. Pierce can still hit big shots as consistently as anyone, and that is a scary thing in the postseason.
This isn't to say Garnett is as dominant as he once was. He is in the paint less and less, while his turnaround fadeaways are becoming more frequent.
Still, when he is on the court, Boston is one of the best defensive teams in the league. He was voted an All-Star starter this season for a reason. No individual in the league means more to his team defensively than Garnett.
Jason Terry is also starting to figure out his role in the post-Rondo world. It has freed him up to run with the first team in the second half.
This gives Boston's offense a bit more of a perimeter punch late in games. He has scored 12 or more points in six of the last seven contests and has shot 57 percent over that stretch.
These three veterans are healthy and understand better than anyone what has to happen without their star point guard on the floor.
Ability to Take a Punch
Greg M. Cooper-USA TODAY Sports
To win in the NBA, a team has to be able to withstand punches.
The Boston Celtics proved last year that they were that type of team. In the face of Jeff Green, Chris Wilcox, Avery Bradley and Jermaine O'Neal all going down for good, they banded together to advance to Game 7 of the Eastern Conference Finals.
This season's team was a tougher tell until recently. Now that we've seen the C's get knocked down by the Rajon Rondo injury, and kicked while down by Jared Sullinger's back, it is coming into view. This team has gotten back on its feet and reeled off some impressive wins in the face of that adversity.
This is showing us that tanking for a lottery pick is not on the agenda. The Celtics have taken the blows that fate has dealt them and are moving on.
These won't be the last punches they face—not by a long shot. Come playoff time, though, there is no better skill to have than the ability to absorb those hits and keep trucking ahead.
Well-Distributed Scoring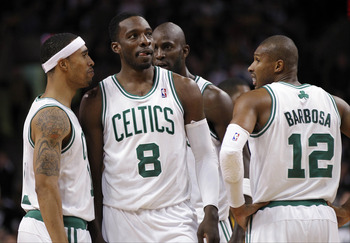 Greg M. Cooper-USA TODAY Sports
In four of the wins during this six-game streak, the Boston Celtics have had six players with double-digit points.
That includes the big win over the Los Angeles Lakers, when Jeff Green and Jason Terry combined to score 34 points off the bench. The night before it was Leandro Barbosa with a monster fourth quarter that helped Boston beat the Toronto Raptors.
Brandon Bass, Courtney Lee, Chris Wilcox, Avery Bradley; all these players have stepped up their offense of late. According to the Boston Globe, eight of the 11 Celtics players have accumulated a positive point increase with Rajon Rondo sidelined.
The biggest leap forward has been Green.
With Rondo's ball-domination and heavy offensive influence off the court, the rest of the Celtics' deep backcourt has been able to find its groove. I'm not sold on them all holding up through the postseason, but for now the concept of six players regularly getting 10-plus points is pretty inspiring.
This is an intelligent team. The players knew what they needed to do to win without their point guard. So they spread the ball around efficiently and have found offense all around them.
Still Have Top-Notch Head Coach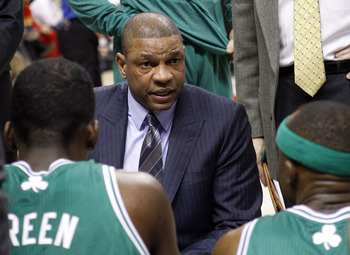 John E. Sokolowski-USA TODAY Sports
The Boston Celtics' other guards aren't the only ones who are now freed up to explore their potential. When Rajon Rondo went down, Doc Rivers was, and will continue to be, looked upon for answers.
Let's not forget that prior to this season, Rivers was considered by NBA GMs to be the league's second-best coach behind Gregg Popovich. A lot of that is his relationship with players and how he manages personalities, but his experience with this roster is also coming in handy.
Rivers knows Paul Pierce and Kevin Garnett like the back of his hand. He has been responsible for a lot of Avery Bradley's development. His biggest challenge was getting to know the games of all the new pieces and how best to utilize them. Nearly 50 games into the 2012-13 season, he is starting figure this stuff out.
Now it is out of necessity, though, as too much time has been wasted while everyone adjusted and got to know the system and teammates.
Rivers is now more free to utilize different lineups, especially late in the game. With Rondo active, does Leandro Barbosa lead the fourth-quarter rally against the Toronto Raptors?
Rivers will get a boatload of credit if his team advances in the postseason, and it probably still won't be enough.
The State of the Eastern Conference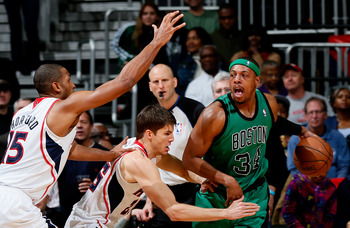 Kevin C. Cox/Getty Images
The state of play in the Eastern Conference right now is not great. Only six teams have a positive point differential, compared to eight in the West.
The Boston Celtics are dead-even, and thus in the No. 7 spot in the standings. However, despite a lackluster first half of the season, they are within striking distance of a mid-to-high-level seed for the postseason.
The Atlanta Hawks are up next on list of teams to surpass. The Hawks suffered their own season-ending injury to Lou Williams, and are players right now in the trade market with Josh Smith set to become a free agent after the season. Boston is just 1.5 games behind them now.
Above them are the Brooklyn Nets and Chicago Bulls—both a surmountable three games ahead in the standings.
Right now, the goal is to avoid the Miami Heat and even the New York Knicks in the opening round, which would likely mean a No. 6 seed is necessary. Given how weak the East is, that is a definite possibility.
What Precedent Is There That They Won't Be Successful?
Jim Rogash/Getty Images
The Toronto Raptors are now 17-32, and Mickael Pietrus cannot crack their rotation. He is racking up "DNP coach's decisions" every night for a lottery team.
Where was he a little under a year ago? Guarding LeBron James in the Eastern Conference Finals. Pietrus averaged 22.7 minutes per game in that series as the Boston Celtics' sixth man. Yet, the Celtics were one win away from making the NBA Finals.
The point here is: What is the precedent for the Celtics losing early in the playoffs?
Since Kevin Garnett's arrival, this team has not gone out in the first round. The C's have been to two NBA Finals, another Eastern Conference Finals and have a pair of second-round exits.
Boston has a 54-39 postseason record during this time.
The core of Garnett, Paul Pierce and Doc Rivers is damaged but not gone. They've won with spare parts before, and Jason Terry, Jeff Green and Avery Bradley are far from spare parts.
Jeff Green, Wild Card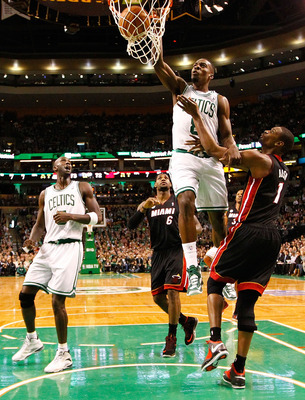 Jared Wickerham/Getty Images
The wild card for the Boston Celtics has not changed with the Rajon Rondo or Jared Sullinger injuries. It hasn't changed with the losing streaks or the winning streaks.
Jeff Green remains the most unpredictable player on the Boston Celtics and maybe in the Eastern Conference. He may be able to elevate this team back to elite status, but he can also leave it as opening-round fodder. That is the potential he has.
When he is playing as well as he has shown during this recent stretch, the Celtics are a very good team. Green is averaging 14 points per game over the last seven, which is what Boston needs from him the rest of the way.
According to the Boston Globe, Green has improved his scoring by 16.58 percent since Rondo's injury. He has likewise upped his assists and rebounding to help make up for the missing production.
Against the Los Angeles Lakers, Green was aggressively attacking the rim all night and scored 19 points. Against the New York Knicks and Miami Heat he guarded Carmelo Anthony and LeBron James very well.
If Green does these things, the Celtics will win when it counts.
Keep Reading

Boston Celtics: Like this team?