Chicago Bulls' Team Formula Will Be Enough This Season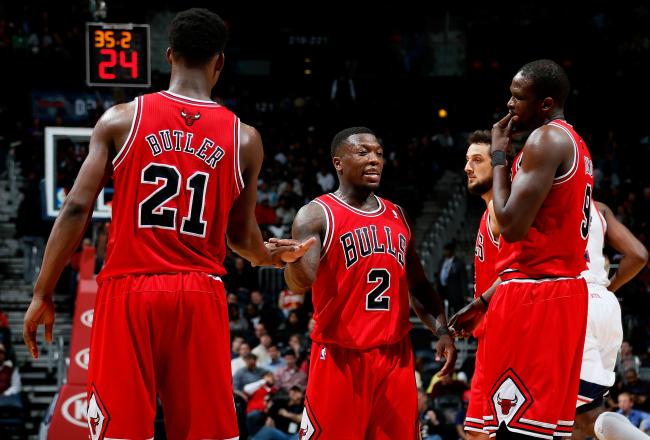 Kevin C. Cox/Getty Images
We have all heard the old adage, "Defense wins championships." Lucky for Chicago Bulls fans, with Coach Thibodeau at the helms, the scrappy defensive mindset of the team will most likely never change. Yet, from the Boston Celtics winning their championship in 2008 to the declarations from earlier in the season of the new-look Los Angeles Lakers aiming to embarrass whomever stepped in their way, the formula looked to have been shaken up a little bit.
Now, defense and at least two superstars (if not three) is the only way to win.
Of course, we were all present when Dirk Nowitizki and his band of merry men robbed from the rich and stopped the Miami Heat, but a lot of that had to do with Coach Erik Spoelstra getting outfoxed by Coach Rick Carlisle as he pushed the tempo up.
What I'm getting at it here is that this season, the Chicago Bulls are more than halfway through a campaign—where many at the beginning thought would be a year that would be "written off"—and have found themselves just a handful of games away from the best record in the Eastern Conference. And they have shown that it is because of teamwork, not a two-man power trip.
What Does This Season's Record Mean?
As evidenced by the last couple seasons, dominating the regular season and being seeded No. 1 does not automatically stamp a team's ticket to the NBA Finals. However, the fact that the Chicago Bulls have the best road record in their conference sans their "lone" superstar speaks volumes about the depth on their team.
In fact, it can argued that the Bulls bench can stand pound-for-pound with ones on championship teams of the past. Squads like the aforementioned Dallas Mavericks, San Antonio Spurs, Detroit Pistons and Houston Rockets won with teamwork and consistency; an art which the Chicago Bulls are quietly mastering.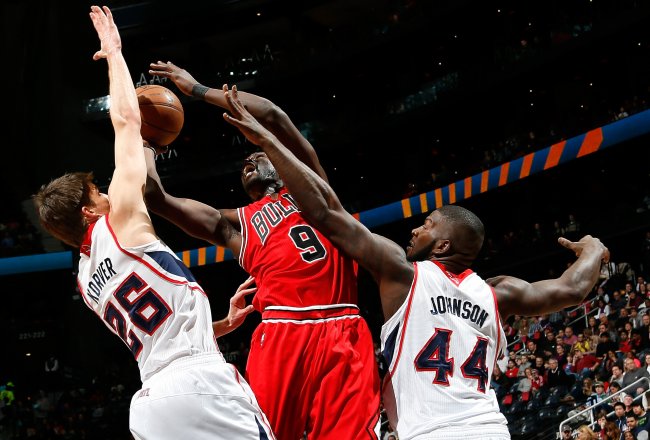 The gritty Luol Deng was voted as an NBA All-Star for the second straight season.
Kevin C. Cox/Getty Images
Yes, Bulls fans were onlookers in the tragedy that was the loss to the Philadelphia 76ers in the first round of the NBA playoffs last season, so a lesson was unfortunately taught the hard way in that the playoffs are a completely different animal. Keep in mind, though, that this year's Bench Mob is a vastly new crew and that the growth of players such as Jimmy Butler has been tremendous.
Bulls fans have only had one year of Derrick Rose and Carlos Boozer together in the playoffs and Rose was only 22 years old at the time. When the superstar point guard comes back to the team, the starting five will have one MVP, two former All-Stars and two others who will be suiting up for the All-Star game in Houston.
Let us not get carried away, though, because Coach Thibodeau and Derrick Rose may experience some growing pains. Thibodeau will need to manage Rose's minutes and tinker with various lineups. Whether Derrick Rose will ever be the Rose of yore or new and improved also needs to be seen. He will be playing with half a dozen new cast mates and will have to psychologically overcome his injury by not doubting his abilities.
Three-Man Bands Are Not the Key to Victory
As alluded to earlier, many sports pundits and officials feel the only way to win it all these days is to have a three-headed monster to spearhead the team. Yet, if we look at history, last season was the only real one where a three-piece team won the NBA championship. Of course Kevin Garnett, Paul Pierce and Ray Allen are legends, but they were much greater before their union in green. With the Lakers' back-to-back titles, Pau Gasol was always very good but was he really ever in the Garnett and Tim Duncan category? Probably not. The point is that neither team really had the multiple-true-superstar team like the Miami Heat managed to obtain.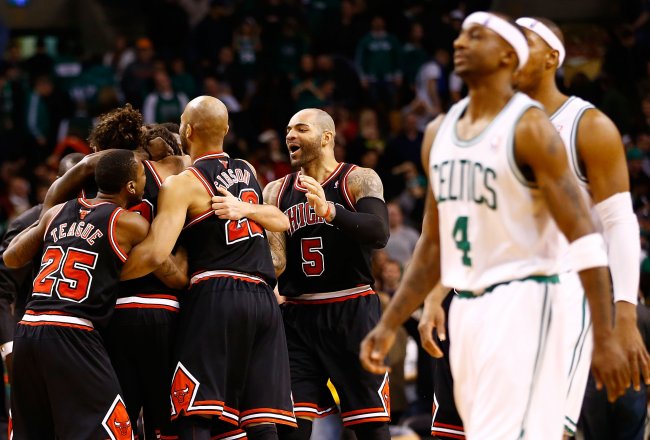 Marco Belinelli, surrounded by his jubiliant teammates, moments after a game winning basket.
Jared Wickerham/Getty Images
In fact, by the logic of the talking heads, after trading James Harden the Oklahoma City Thunder should have plummeted because the team now has only two superstars. The Los Angeles Clippers, with Chris Paul and Blake Griffin, have two big names as well, as does a team like the New York Knicks with Carmelo Anthony and Amar'e Stoudemire.
So how are the Chicago Bulls even managing to compete with teams like these without a "superstar"? Once again, the answer is in the depth of their roster that has no household names. Let us look at the Miami Heat's second and third best players, Chris Bosh and Dwyane Wade. Sure, Chris Bosh may have more raw talent than Carlos Boozer, but Boozer is averaging more rebounds (2.3 more), assists (.5 more), the same number of steals and only 1.8 points fewer than Bosh in less playing time. Even the numbers of a bona fide mega-star like Dwyane Wade is comparable to the likes of Luol Deng. Wade is averaging three more points, but Deng has the edge with 1.9 more rebounds per contest while the difference between the two in blocks (0.4), steals (0.4) and assists (1.5) is close as well.
The entire team matters. Each person on every roster counts. Last year was an exception, not the rule.
Nate Robinson and Marco Belinelli have been blessings in the Windy City. This team, as opposed to last season, has more facets to their game than in previous years. Belinelli also plays better defense than Kyle Korver, creating his own shot and driving to the rim as opposed to Korver's spot-up shooting. Nate Robinson is more consistent than C.J. Watson and John Lucas III with guys like Butler filling in the roles. Furthermore, Kirk Hinrich has been showing that he can still chip in when called upon.
The team, with two 2013 All-Stars in Deng and Joakim Noah, will get the emotional lift from Derrick Rose when he first suits up.
The Chicago Bulls will be locked and loaded and the fans will be psyched. Will the rest of the NBA take notice or will they be caught sleeping?
These Bulls see red and are ready to charge. More importantly, as a team.
This article is
What is the duplicate article?
Why is this article offensive?
Where is this article plagiarized from?
Why is this article poorly edited?

Chicago Bulls: Like this team?