Duke Basketball: 5 Things We Learned from the Win over North Carolina State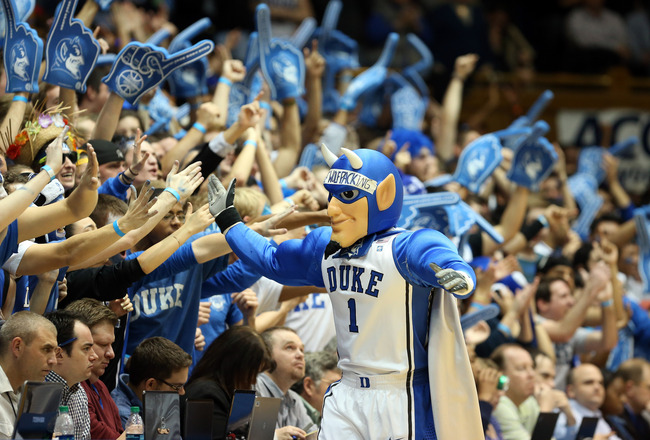 Streeter Lecka/Getty Images
The Duke Blue Devils exacted their revenge against the team that handed them their first loss of the season, North Carolina State, in a 98-85 home victory to improve to 20-2 on the season and 7-2 in the ACC.
It was the Blue Devils' fifth victory out of their last six games dating back to the first meeting between the two schools on January 12.
As Duke had established their largest lead of the game at 22 points with 18:43 left to play, North Carolina State regained their composure and slowly shot themselves out of a double-digit deficit all the way down to eight points.
However, the Blue Devils remained resilient down the stretch as senior Seth Curry converted a pair of free throws late and fellow senior Mason Plumlee slammed the door shut (literally!!) inside 30 seconds left to play.
So, what are the five things we learned following Duke's victory over North Carolina State? Click ahead to find out!
Mason Plumlee Is Undeniably the Frontrunner for Player of the Year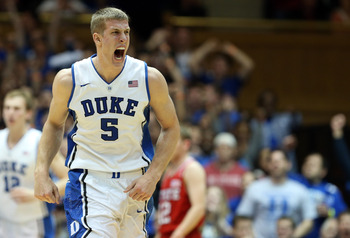 Streeter Lecka/Getty Images
The gap between Mason Plumlee and the rest of the leading candidates for Naismith Player of the Year is ever-growing. In fact, the Duke senior has begun to channel his inner-Usain Bolt and is sprinting away from the competition.
His dominance in the paint on Thursday night in the Blue Devils' victory over North Carolina State was downright imposing.
Plumlee registered a full 40 minutes of playing time while scoring 30 points—two points shy from his career-high—and pulling down nine rebounds. His presence on the inside also left NC State junior and preseason ACC Player of the Year CJ Leslie visibly overmatched.
Thursday's game continued an impressive four-game stretch for Plumlee, as he is currently averaging 22.3 points per contest while shooting an astonishing 81 percent from the field (stat via ESPN game log).
With just nine games remaining in the regular season for the Blue Devils, Plumlee has a tremendous chance of keeping his double-double average intact as he tries to become the eighth different Duke player to capture the Naismith Player of the Year award.
Blue Devils Progressing Without Ryan Kelly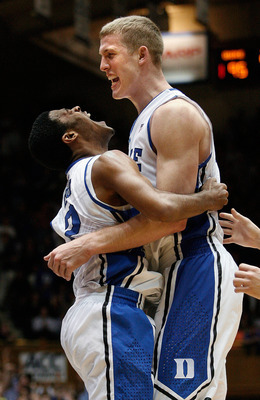 Mark Dolejs-USA TODAY Sports
No Ryan Kelly? No problem.
It's been seven games since we last saw the Duke senior forward on the court for the Blue Devils due to a right foot injury. Up until his injury, Duke was clicking on all cylinders as they began the season with a perfect 15-0 record. And then came their trip to Raleigh for their first meeting with North Carolina State.
The result: loss No. 1
Over the course of the next two games, Duke clearly look vulnerable and seriously flawed. After a slow start against Georgia Tech at home, the Blue Devils prevailed in the end. Then they travelled to Florida for a meeting with the Miami Hurricanes, in which they took a severe beating, resulting in their worst loss since the 1990 National Championship against UNLV.
Since having been dealt with their second loss of the season, Duke quickly got back to winning ways with a 20-point victory over Maryland, followed by two consecutive road victories at Wake Forest and Florida State.
Now, after avenging their first loss of the season by knocking off the Wolfpack, Duke has showed that they have regenerated back into a cohesive group.
Mason Plumlee, Seth Curry and Quinn Cook combined for 77 of the Blue Devils' 98 points. Duke also received great contributions from Rasheed Sulaimon (11 points), Amile Jefferson (four points and five rebounds) and Tyler Thornton (team-high six assists).
While the return of Ryan Kelly still remains in question—not if, but when—Duke sits just two games out of first place in the ACC with nine games left. However, the Blue Devils' newfound success could land them back atop the conference standings culminating in their 20th ACC regular season title.
Quinn Cook Is Arguably a Top Five Point Guard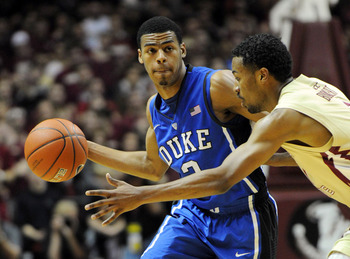 USA TODAY Sports
Just hours prior to Duke's conference clash with North Carolina State, the 12 finalists for the 2013 Bob Cousy Award—the annual honor recognizing the nation's top point guards in the country—were revealed.
Not among the final 12: Duke point guard Quinn Cook.
In the table below, I list the eight main statistics from each of the 12 finalists and then insert Cook's numbers to see how he stacks up. (All stats via StatSheet)
| | | | | | | | | |
| --- | --- | --- | --- | --- | --- | --- | --- | --- |
| Name | PPG | FG% | 3FG% | FT% | RPG | APG | A/T Ratio | SPG |
| Keith Appling | 14.0 | .429 | .356 | .763 | 3.7 | 4.2 | 1.7 | 1.6 |
| Lorenzo Brown | 12.7 | .441 | .342 | .770 | 4.3 | 6.9 | 2.1 | 1.0 |
| Trey Burke | 18.1 | .487 | .379 | .778 | 3.1 | 7.2 | 3.8 | 1.3 |
| Aaron Craft | 9.3 | .385 | .310 | .817 | 3.8 | 4.5 | 2.4 | 2.0 |
| Matthew Dellavadova | 16.3 | .438 | .390 | .885 | 3.0 | 6.5 | 2.6 | 1.2 |
| Pierre Jackson | 19.3 | .419 | .362 | .792 | 3.6 | 6.0 | 1.6 | 1.6 |
| Shane Larkin | 12.8 | .472 | .418 | .721 | 4.2 | 4.1 | 2.0 | 2.3 |
| Phil Pressey | 12.1 | .367 | .302 | .781 | 3.1 | 7.2 | 1.9 | 1.8 |
| Peyton Siva | 10.6 | .439 | .342 | .869 | 2.2 | 6.1 | 2.1 | 2.1 |
| Marcus Smart | 14.2 | .402 | .277 | .771 | 5.9 | 4.7 | 1.5 | 3.0 |
| Michael Carter-Williams | 12.2 | .359 | .280 | .722 | 4.8 | 8.5 | 2.3 | 3.0 |
| Nate Wolters | 20.8 | .466 | .374 | .805 | 5.9 | 5.6 | 2.4 | 1.8 |
| Quinn Cook | 11.9 | .434 | .412 | .841 | 4.1 | 6.1 | 2.9 | 1.6 |
Tenth in scoring
Seventh in field goal percentage
Second in three-point field goal percentage
Third in free throw percentage
Sixth in rebounding
tied for sixth in assists
Second in A/T ratio
tied for eighth in steals
Cook went on to score 21 points on 6-8 shooting while adding four rebounds and four assists in the victory over North Carolina State on Thursday night.
Could his exclusion from being named a finalist for the Bob Cousy Award be a contributing factor to his performance? Possibly. Nevertheless, Cook has been extremely efficient for Duke this season and is one of the main reasons why the Blue Devils are looked upon as potential national title contender.
Duke Will Go Undefeated at Home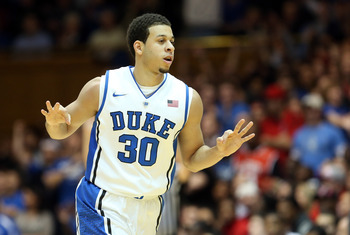 Streeter Lecka/Getty Images
Duke improved to 12-0 at Cameron Indoor Stadium on the season after defeating North Carolina State on Thursday night. Impressively enough, the game was seemingly never in doubt midway through the first half as Duke established a 41-21 lead at the 7:08 mark.
Looking ahead, the Blue Devils have four remaining home games left on the schedule:
February 13 vs. North Carolina
February 24 vs. Boston College
March 2 vs. Miami
March 5 vs. Virginia Tech
Duke should easily defeat Boston College and Virginia Tech as they are both at the bottom of the ACC standings with 2-7 conference records. By North Carolina standards, they are currently experiencing a down season even though they are 6-3 in conference play.
The rematch with Miami will present the Blue Devils with their biggest obstacle in going undefeated at home for a seventh time out of the last 16 seasons.
However, Duke will have an extra incentive heading into their second meeting with the Hurricanes following their 23-point drubbing a couple of weeks ago.
There will be no repeat from the first game. Which means there will not be a 25-1 Miami run, or 13 consecutive missed shots by the Blue Devils or shooting an excruciating 17 percent from three.
What we learned following the win over North Carolina State, is that Duke, at home and hungry, is a dangerous and intimidating combination.
Miami, you have been warned.
Blue Devils' Defense Is Still Vulnerable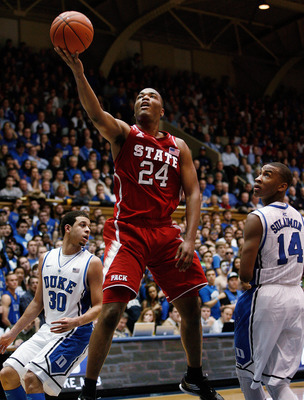 Mark Dolejs-USA TODAY Sports
Duke started off hot and fast in the first half against North Carolina State. With a highly efficient offensive attack, the Blue Devils were essentially shooting the Wolfpack out of the game.
Then as the second half went along and shots weren't falling, Duke had to rely on its defense to contain the fourth-best offensive team in the country.
A daunting task to say the least.
Duke returned to human in the second half as they allowed the Wolfpack to shoot 65 percent from the field as they slowly trimmed a 22-point lead all the way down to eight with just over a minute left to play.
Despite finishing the game off and going on to a 13-point victory, it was evident that the Duke defense is still a work in progress without injured senior Ryan Kelly.
The Blue Devils will travel to Boston College on Sunday and will have a chance to continuously improve upon their ever-evolving defense against the fourth worst offense in the ACC.
Keep Reading

Duke Basketball: Like this team?