Chicago Bulls vs. Denver Nuggets: Postgame Grades and Analysis for Chicago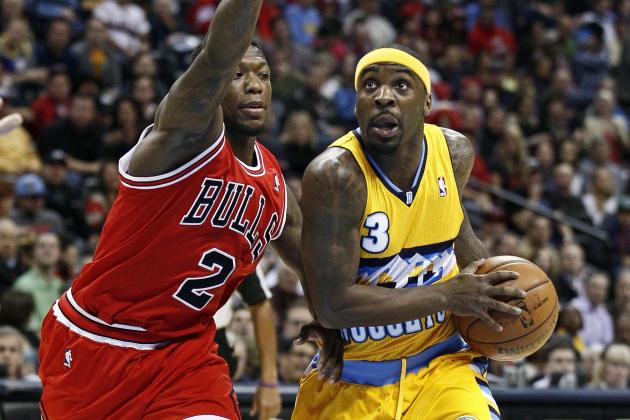 Isaiah J. Downing-USA TODAY Sports

The Chicago Bulls visited the red-hot Denver Nuggets Thursday night, and simply put, things didn't go their way.
Entering the game, the Nuggets were the ones with momentum. They had won seven straight, including 13 of their last 15, and that momentum showed as they took down the Bulls, 128-96.
Chicago has won all year with its defense, but Denver's offense proved to be the better of the two units on this night. The home team shot nearly 67 percent in the first 12 minutes, and they capitalized on nearly every mistake the Bulls made.
Chicago had trouble controlling the ball from start to finish, but the bigger issue was that it couldn't get back on defense to make up for its mistakes. The theme of the game was hustle points, and that category belonged to Denver in landslide fashion.
The Bulls allowed a season-high 63 first-half points, and a big reason for that was the play of Kenneth Faried. He had 17 points on 8-of-8 shooting to go along with eight rebounds by halftime, and all that momentum carried forward into the third quarter.
The second half proved to be even rougher for the Bulls. They were outscored 37-16 in the third, and they found themselves down 100-74 heading into the game's final period.
Too many giveaways and not enough defensive pressure made it impossible for the Bulls to come back. They've played well without Derrick Rose all season, but it's performances like this one that make you realize just how much he'll mean to them when he's laced up and finally ready to go.
Begin Slideshow

»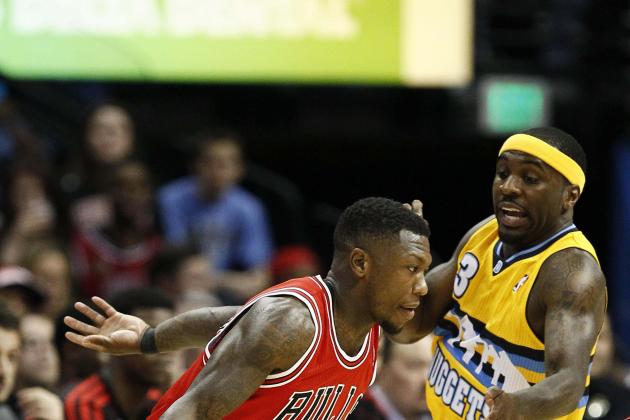 Isaiah J. Downing-USA TODAY Spor

From an offensive perspective, Nate Robinson was one of the most effective players on the Bulls Thursday night.
By halftime, he had put up 14 points on an impressive 5-of-8 shooting as the only player on his team in double digits. The problem is, he wouldn't record another point the rest of the way due to the fact the he never attempted another shot.
Robinson had a great first half, but his disappearing act can't be ignored. The entire Chicago roster is guilty of horrible play in the third, but as one of the only players to shoot well early, you would have liked to see Robinson step up when things were down.
Defensively, Robinson had trouble keeping up with Ty Lawson. The Denver Nuggets point guard was able to get around him from the game's opening minutes, and when he did, good things happened for him and his teammates.
Grade: B-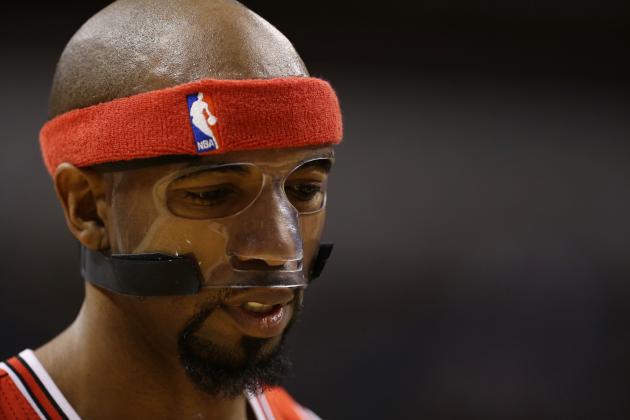 Brian Spurlock-USA TODAY Sports

Richard Hamilton's shooting has been inconsistent throughout the 2012-13 season. He's still as good as any when it comes to playing off screens, but you have to make your shots if you want to remain a threat.
Hamilton has had trouble proving he's a reliable shooter for Chicago, and a 1-of-5 start to this game did little to help his cause. Whether he was wide open or closely guarded, his shot wasn't falling, and he never found his stroke.
Hamilton was limited to just 17 minutes, and it's easy to see why he never got much time. The 2-guard scored just two points on 1-of-7 shooting, and while he did manage to collect three assists, it's tough to claim that his passing negated his awful shooting performance.
Grade: F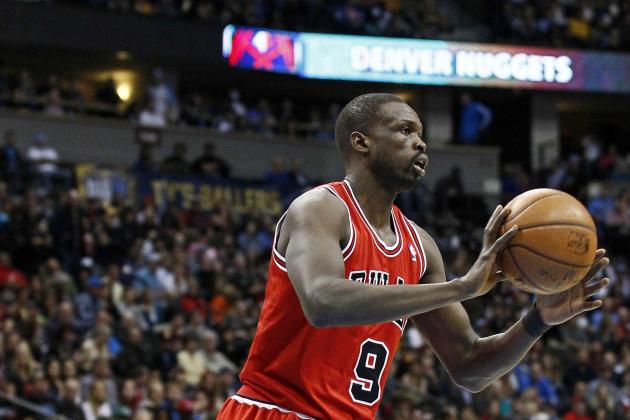 Isaiah J. Downing-USA TODAY Spor

Luol Deng is an All-Star again this season, but he sure didn't look like it in Denver.
Having played the most minutes of any Bulls starter, Deng had a team-worst minus-25 in the plus-minus category. He shot just 4-of-13 from the field, and he finished the game with 11 points.
The worst part overall for Chicago was in the turnovers category. The team finished with 14 on the night, and Deng pitched in a team-high four, which fueled Denver's transition offense.
On the glass is where Deng separated himself in a positive way, as he collected a team-high eight rebounds. But when it's all said and done, that stat is a mere footnote on the disaster that was this showing on the road.
Grade: C-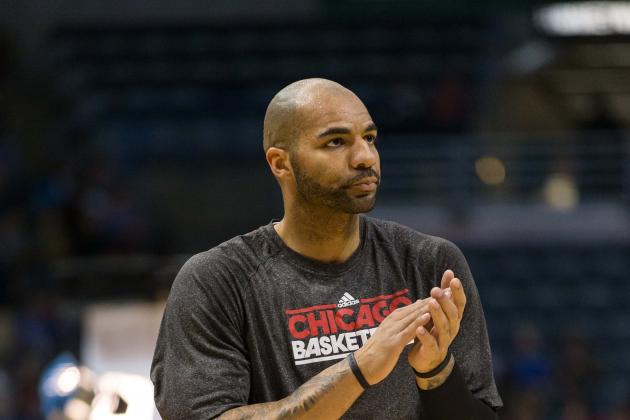 Jeff Hanisch-USA TODAY Sports

Amidst the trade rumors surrounding Carlos Boozer Thursday night (per ESPN's Marc Stein), the veteran power forward came out and played an efficient brand of basketball.
He made five of his first seven shots and he would go on to finish with 18 points on 60 percent shooting (9-of-15).
Putting the numbers aside, Boozer was able to spread the floor with his jump shot. When his shot is on, he keeps defenses honest. And when he forces defenders away from the rim, that's when he can attack the paint.
The problem with Boozer's performance was that he never stepped up in the rebounding department. He's averaging nearly 10 boards per game, yet he only managed to record three this time around.
Grade: B-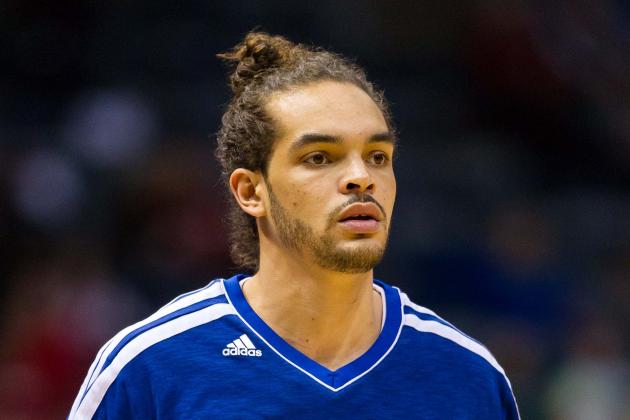 Jeff Hanisch-USA TODAY Sports

Joakim Noah played with the same kind of energy we're accustomed to seeing, but that energy didn't translate into production at any point during the contest.
Making just one of his first five shots, the Bulls center was never an integral part of the offense. He managed to pull down four offensive rebounds, which helped keep plays alive, but when he's a threat to score the ball it adds another level to what he can do on the court.
The bigger problem was that Noah never did a good job of stopping points in the paint. He wasn't getting back in transition, and he allowed too many easy looks at the rim in both up-tempo and isolation situations.
Part of the reason for this is that he was matched up against Kenneth Faried most of this one, who had a complete field day with the up-tempo pace.
Noah finished with two points, five rebounds, three assists and three turnovers in 23 minutes.
Grade: D-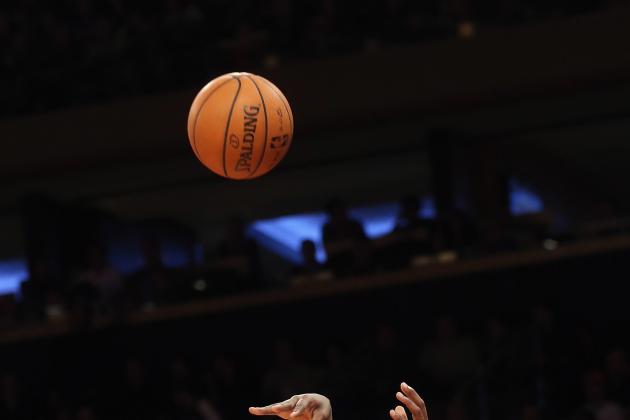 Bruce Bennett/Getty Images

Jimmy Butler played the most minutes off the bench in this one, which is fitting considering how well he's played during his recent stretch as the starting small forward.
Unfortunately for Chicago, he didn't have much of a sixth-man performance, as he was greatly out-shined by Daequan Cook.
Offensively, Butler was quiet. He was never able to establish himself as a go-to option—even when the starters had all exited the game—and he only made two of his six attempts in 32 minutes when this beat-down finally came to an end.
If Butler had impacted any other area of the contest, you could argue that his energy and aggressiveness were enough to make a difference. But in a game where everything was falling for Denver and Chicago was simply giving them opportunities to score, you need points. And Butler didn't give it to them.
Grade: C-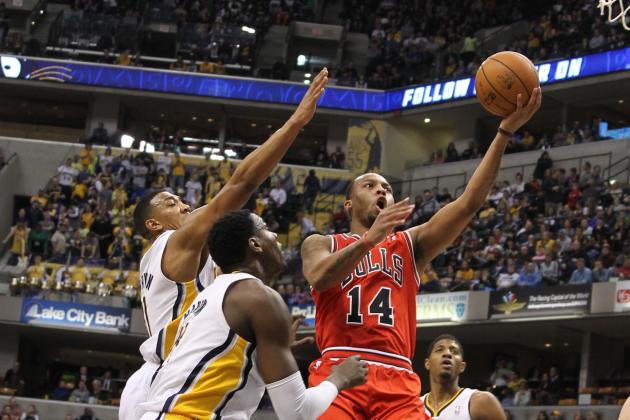 Brian Spurlock-USA TODAY Sports

The Chicago bench played a solid game, and not just in garbage time.
When the Bulls made a slight run toward the end of the first half, it was sparked partly because of the three-point shooting of Daequan Cook. The 2-guard finished the game with 19 points on 4-of-12 shooting from beyond the arc.
The bench as a whole finished with 49 points, outscoring the starters by two.
A majority of the reserve's points came with the game already decided, but they never gave in and kept playing whenever they saw the floor.
That kind of effort hardly makes up for the team's performance as a whole, but it certainly gives the team something to remember other than that awful third quarter.
Grade: B