Oregon Football: 10 Ducks Under the Most Pressure This Spring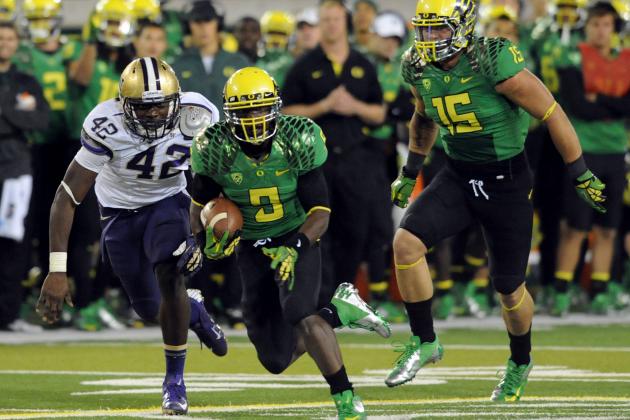 Steve Dykes/Getty Images

Tax season, back to school and tax seasons; the most stressful times of year for the garden-variety American citizen.
College football programs, however, are forced to persevere for the most ecstatic, and sometimes most depressing, day for a high school football player—national signing day.
For the coaching staff, they get to move on from signing day and focus on coaching their players already on campus, the players however, especially the ones who have been afflicted with little playing time, have to have a small voice in the back of their head saying: "Is that the kid that's going to push me down the depth chart?"
It's already happened before at Oregon. Redshirt freshman Lache Seastrunk was pushed down the depth chart by five-star signee, De'Anthony Thomas.
Seastrunk, a five-star recruit himself, transferred before even taking a snap for the Ducks.
Ducks already on campus have only one secret weapon to use against recruits who threaten their opportunities of playing time—spring practice.
Only one Oregon signee, JUCO linebacker Joe Walker, will participate in spring practice after Walker signed back in December during the early signing period.
Spring is normally the time of year when most college students are preparing for their wild escapades during spring break, but several members of the Ducks' football team will be spending spring on the practice field, in the weight room and in the film room.
The following players are under pressure to prove to the coaching staff that they can improve the team for either two reasons: 1) their position is stacked with talent or 2) they need to step up their game to replace a teammate.
Begin Slideshow

»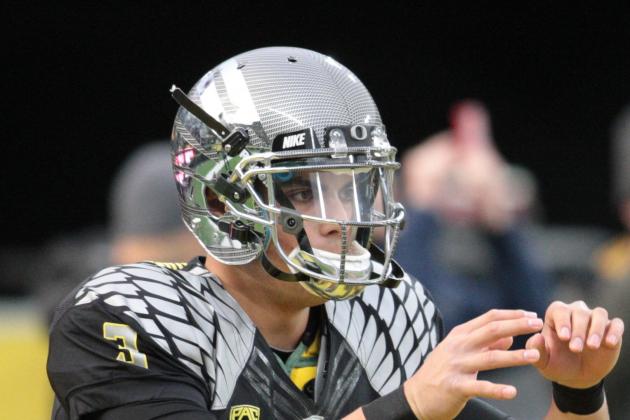 Scott Olmos-USA TODAY Sports

Rodrigues, a four-star for the Ducks a year ago, spent the past season redshirting at quarterback.
After the transfer of Bryan Bennett, a help-wanted sign is hanging on the proverbial backup quarterback "door."
Before signing day, I thought for sure that Rodrigues would be backing up Mariota this season; Rodrigues has after all been with the program for a year now after enrolling early last season.
A turn of events ensuing Oregon making a last minute push, and signing, three-star quarterback Damion Hobbs, an extremely athletic passer from Cedar Hill, TX.
Rodrigues will have to use spring practice to his advantage to certify that he is Mariota's backup.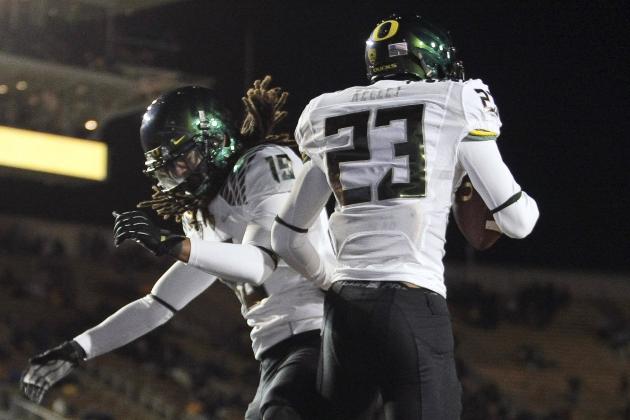 Kelley L Cox-USA TODAY Sports
Eric Dungy (19) and BJ Kelly (23)
The second tier wide receivers is a group of receivers that received, but a mediocre, amount of playing time last season.
The list of second tier wide receivers includes:
Dwayne Stanford: So. 6'5" 225-pounds; 11 receptions for 106 yards in 2012
BJ Kelly: 6'2" 180-pounds; six receptions for 103 yards and two touchdowns in 2012
Eric Dungy: 6'1" 190-pounds; seven receptions for 75 yards and one touchdown in 2011 and 2012
Bralon Addison: 5'10" 180-pounds; 22 receptions for 243 yards and three touchdowns in 2012
Oregon has done a fantastic job at recruiting a plethora of receivers over the year, which has caused a surplus at the position.
Josh Huff, Thomas and Keanon Lowe will be getting plenty of playing this time again this year, while signees Tyree Robinson, Darren Carrington and Devon Allen will also be making a strong push to see playing time in 2013.
The pressure is on for the second tier wide receivers to perform during spring if they want to make an impact in 2013.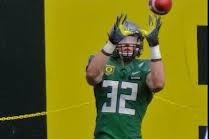 Baylis, another early signee from last year's class, redshirted for the Ducks in 2012.
Colt Lyerla will still be the starting tight end for Oregon in 2013, but his backup is a position that's up for grabs at this point.
Baylis' main completion for playing time will be freshman John Mundt from Modesto, CA.
The Oregon coaches love Mundt, and from watching his film, it's hard to disagree with them on an athlete of Mundt's pedigree.
"Just a stud. Fast, physical, great hands. Very excited about getting him with (tight ends coach Tom Osborne) and the boys."

-Mark Helfrich
Baylis is going to have to prove to Osborne that he deserves playing time ahead of Mundt during spring practices.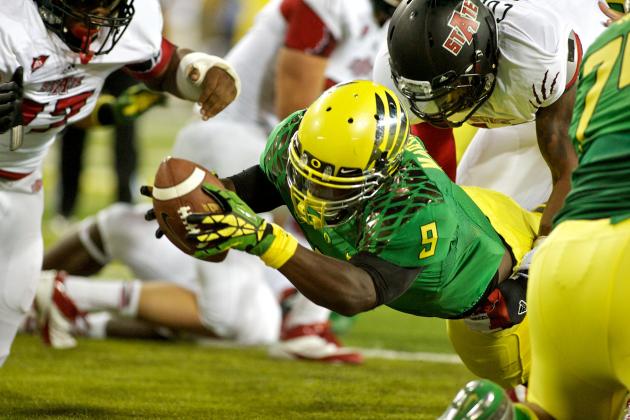 Craig Mitchelldyer/Getty Images

Marshall is one of those guys that are on this list for both of the reasons mentioned in the introduction to this story.
Kenjon Barner is gone after graduating, and Helfrich has said that he'd like to keep Thomas away from being the feature running back in the offense. This leaves Marshall as the heir to the Oregon running back legacy.
But not so fast my friend.
You may not have heard this, but Oregon has a great blue chip recruit coming in next season. He goes by the name of Thomas Tyner.
Marshall will be starting in the opening week against Nicholls State, that's a guarantee I can bet my life on, but Tyner will be making a very robust case every week for why he should be the starting running back.
Spring is the time for Marshall to put in the work to continue to elevate his ability to the standard for an Oregon running back set by Jonathan Stewart, Jeremiah Johnson, LaMichael James and Kenjon Barner.

Photo Courtesy of 247Sports
Walker, a JUCO linebacker from LA Harbor College, is already on campus with the Ducks and has three seasons of eligibility remaining with the Ducks.
Defensive coordinator Nick Allioti loves to rotate and substitute as many players as he can on defense, so having a surplus of linebackers was a key goal for Oregon this recruiting season.
Tyson Coleman and Rahim Cassel, both of whom saw playing time last season, are in the running to replacing Oregon's top two linebackers from last season, Kiko Alonso and Michael Clay, but Walker is definitely a player no one should be sleeping on.
Walker has already been vocal in his short time with the Ducks, and he is a talented linebacker that makes quick reads in both run and pass defense.
"He came in in fantastic shape and did a great job, was vocal, which is not always the case with new guys coming in."
-Mark Helfrich
Doug Pensinger/Getty Images
Yruretagoyena (72)
Yruretagoyena has seen limited playing time at Oregon since being a four-star recruit in 2011.
Yruretagoyena was a member of the scout team in 2011 during his redshirt season and rarely saw the field in 2012.
With Kyle Long, Ryan Clanton and Nick Cody gone after graduating, the Ducks have several holes to fill along the offensive line.
Yruretagoyena is one of those guys that can fill one of those holes, but only if he has a successful spring and continues to show signs of improvement.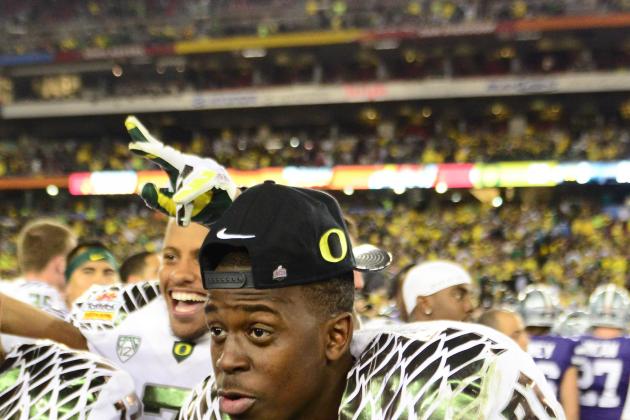 Mark J. Rebilas-USA TODAY Sports

The pressure is on Washington this spring because he has to replace one of the greatest defensive ends in Oregon history, Dion Jordan.
With Dion Jordan missing substantial time with shoulder injuries, Washington was able to see plenty of snaps this past season.
With Jordan, the Ducks' premier pass-rusher, graduating and moving on to the NFL, Washington enters spring training as the apparent replacement to Jordan.
Washington matches Jordan's ability to come off the edge quickly in order to get to the quarterback, and his skill sets will be extremely useful for an Oregon team that wants to rack up as many sacks as it can.
Washington will be working with a new defensive line coach this season, Ron Aiken, after Aiken's predecessor, Jerry Azzinaro, followed Chip Kelly to the Philadelphia Eagles.