Biggest Snubs and Surprises from NBA's Slam Dunk and Three-Point Contest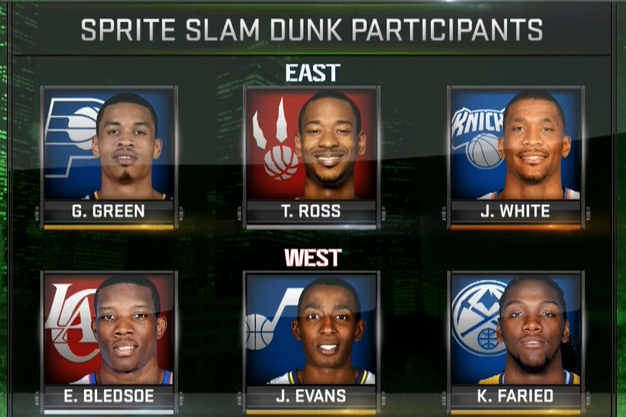 With the participants of the Feb. 16 All-Star Weekend set to be announced Thursday night, DVRs were set, schedules were emptied and prior plans were broken.
No, the superstar presence won't be making a dramatic return to the Sprite Slam Dunk Contest. But the collection of marksmen and high-flyers secured by the league left fans and analysts alike salivating over the possibilities.
For the first time in All-Star history, the events will be made up by two teams, one representing each conference (captained by Dwyane Wade for the Eastern Conference and Chris Paul for the Western Conference).
More than just bragging rights are on the line, as a hefty charitable donation will be made on behalf of the winning team. (And a slightly less hefty contribution will be made on behalf of the losing squad.)
As always, the NBA didn't escape the night without a few glaring omissions. With just six spots available for each event, it's impossible for the league not to leave some deserving players out of the mix.
There will undoubtedly be further snubs and surprises to be argued beyond the players listed here, but these emerged as some of the most striking observations.
Sprite Slam Dunk Contest Participants
Eastern Conference: Gerald Green (Indiana Pacers), Terrence Ross (Toronto Raptors), James White (New York Knicks)
Western Conference: Eric Bledsoe (Los Angeles Clippers), Jeremy Evans (Utah Jazz), Kenneth Faried (Denver Nuggets)
Foot Locker Three-Point Contest Roster
Eastern Conference: Steve Novak (New York Knicks), Paul George (Indiana Pacers), Kyrie Irving (Cleveland Cavaliers)
Western Conference: Stephen Curry (Golden State Warriors), Matt Bonner (San Antonio Spurs), Ryan Anderson (New Orleans Hornets)
Begin Slideshow

»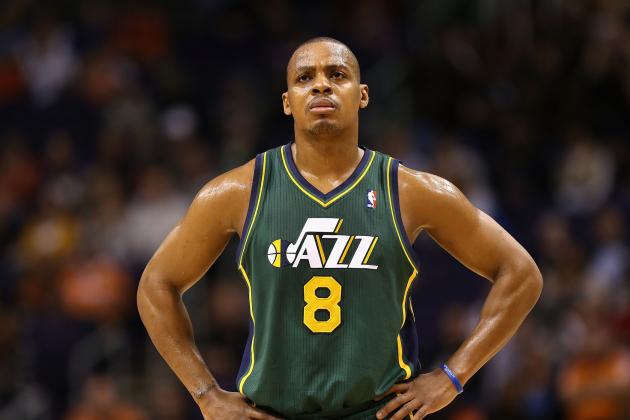 Christian Petersen/Getty Images

Foye has always carried a three-point shot as part of his offensive arsenal (career 37.7 percent), but in past seasons, his perimeter stroke was always of the streaky variety.
But it's tough to call his long-range performance that this season. His 43.3 three-point percentage is more than two points higher than his previous career-best (41.2 in 2007-08), and it's not as if he's dialed back his attempts.
He's actually attempting more this season than he did in any of his first six seasons in the league (5.4 per game).
He ranks fifth in the entire league among players with at least 200 perimeter attempts. Only two of those five players are in the Western Conference (Curry and Kevin Martin).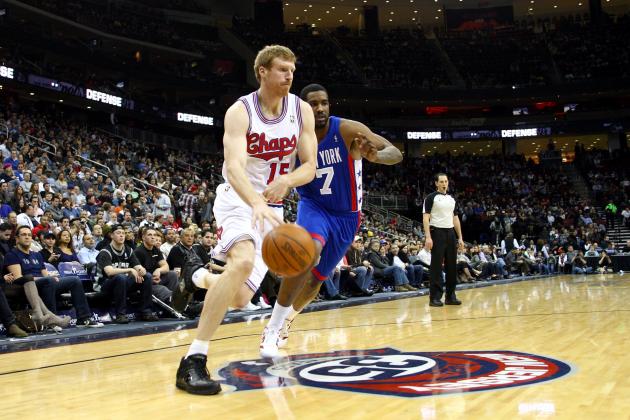 Chris Chambers/Getty Images

If Brian Scalabrine never played an NBA game, it would be Matt Bonner reaching Chuck Norris-like cult status among the league fanbase.
Of course, the league was "Scalabrined," so Bonner's left to stake his 15 minutes of fame on the strength of his own goofy appearance, unorthodox (but effective) shooting form and one of the most appropriate nicknames to ever grace professional sports.
He's carved his NBA niche as a stretch-big in the most extreme sense. The perimeter shot isn't just part of his game, it's all of his game.
He's planted himself among the league leaders in three-point percentage in most of his eight seasons in the league, but his efforts this season make him the most head-scratching All-Star Saturday selection.
His percentage is respectable (42.1), but it is not nearly impressive enough to gloss over the fact that he's taken just 76 shots from beyond the arc this season.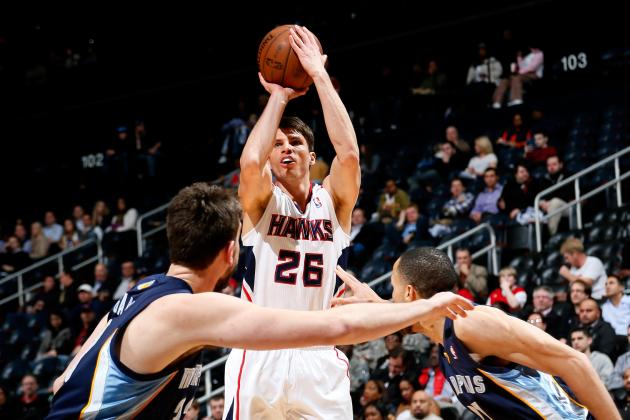 Kevin C. Cox/Getty Images

Maybe it's the simple fact that he's competed previously, but there isn't a great argument for holding the league's leader in three-point shooting (46.4 percent) out of the event.
And Korver's not simply tallying stats through limited exposure. He has attempted the 11th-most threes in the NBA (261). To further his candidacy, he's connected on the fourth-most three-point shots (121).
Just three seasons ago, he set the NBA season record for best three-point percentage, converting an incredible 53.6 percent of his long-range looks. That alone should give him a lifetime spot in the event.
Who would Korver replace on the Eastern Conference team? Obviously he's shooting better than anyone in the league, but why not give Kyrie Irving a day off? Irving's already set to play in both the Rising Stars Challenge on Feb. 15 and the All-Star Game on Feb. 17.
Green burst onto the national scene when he was named the 2007 dunk contest champion. Following a second-place finish in 2008 to Dwight Howard, Green cemented himself as one of the game's elite jammers.
But the fundamental elements of the dunk contest had changed during that runner-up performance, and he wanted no part of future contests. At least, that's what he told CSN's Jessica Camerato back in January.
But his opinion has apparently swayed since then. Maybe it was the chance for Green and James White to relive one of basketball's greatest dunk contests (via Aron Phillips of Dime Magazine), only this time on American soil.
No matter what the reasoning was behind his decision, NBA fans are wildly appreciative to see Green attempt to recapture his crown after six long years.
If this vicious throwdown on Minnesota Timberwolves center Nikola Pekovic was Barnes' only dunk of the year, he'd still deserve to get in.
But the seventh pick of the 2012 draft has been victimizing defenders all season long. Just ask Milwaukee Bucks forward Ersan Ilyasova or Toronto Raptors behemoth Aaron Gray about Barnes' ability to finish above the rim.
Often lost amid the overall team success of his Golden State Warriors (30-19), he's been a valuable piece for coach Mark Jackson's rotation. The Warriors have plenty of scorers and several lockdown defenders, but there isn't another player on the roster who can finish like Barnes.
There are hordes of veterans envious of the film he's put together in his first 48 games.
The league could have even saved on travel costs, as Barnes will already be in Houston as a member of Team Shaq for the Rising Stars Challenge.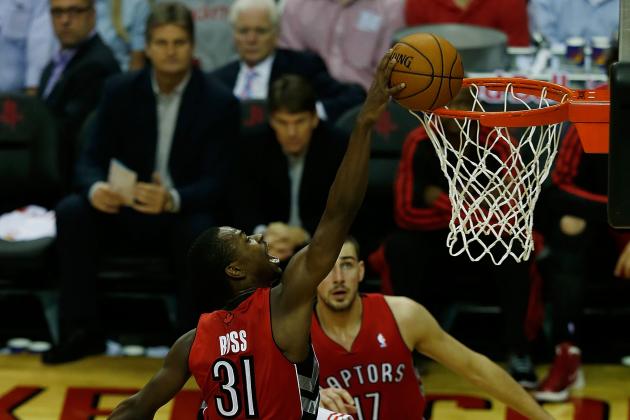 Scott Halleran/Getty Images

Credit the Toronto Raptors and their spirited online campaign for helping to punch Ross' dunk contest ticket.
Ross has put forth one of the more impressive highlight reels of the season, so his selection was quite an easy one for the decision makers.
And that's what made that rampant "Let Ross Dunk" campaign so hard to follow. The eighth overall pick of the 2012 draft, his fans were so ardent in their support, that it seemed like there must be a reason for him to not be selected. Why else would they need to push so hard?
Luckily, for his sake, it appears that the NBA was able to see beyond the desperate pleas and notice that there was indeed a deserving dunker at the source of them.
Pat yourself on the back, Toronto fans. But you might want to dial back that fervor a tad bit next time around.