Grading the Strength of Each Position on Colts' Roster Heading into Free Agency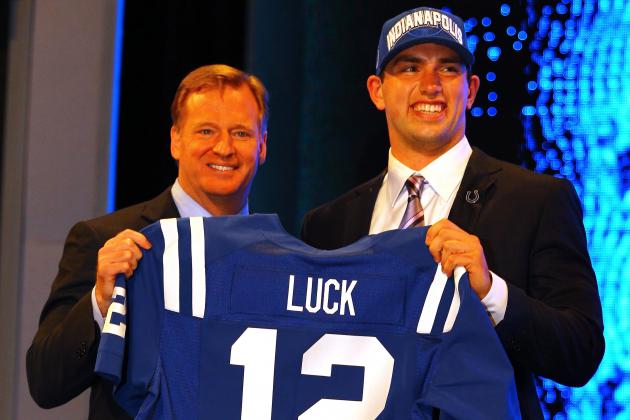 Al Bello/Getty Images
Buying free agents requires less luck than finding talent in the rookie classes.
Indianapolis Colts fans this offseason are like a person who had had an awesome first date with somebody and now can't wait for the second date. Your head is filled with constant thoughts of all of the possibilities and expectations, making the waiting arduous.
After a surprising playoff appearance under a rookie quarterback and coach, Colts fans' expectations are higher than a wind power generator. Until the draft and free agency are finished, and the Colts' roster nearly set, the endless possibilities will continue to torture the fans.
With big money to spend and more than a third of their roster eligible for free agency, the Colts' 2013 roster could look very different from 2012. Since the Colts have only four draft picks much of the turnover will come from signing and re-signing free agents.
In this week's edition of offseason speculation I look at each position and grade the Colts' free agent needs.
Here is the professor's grading scale:
A = No FA signing needed
B = Backup player would be useful, but doesn't have to come from FA
C = Backup player required, use FA to ensure they get the right player
D = Starter needed, but doesn't have to come from FA
F = Starter needed, use FA to ensure they get the right player
There are a couple of positions where the Colts need depth or a specific skill set but they are not looking for it in every starter. Other positions need immediate help and the Colts have to find some starters.
Free agency is the most likely way that the Colts will bring in talent, but they do have four draft picks and they will also bring in a load of undrafted rookie free agents and pan for gold. Drafts and rookie free agents are not reliable sources of talent, so if the Colts need a player desperately they should use NFL free agency to ensure they get exactly the right player. If the need isn't that huge, they can roll the dice with the rookie class.
Drop me a comment if you have some different ideas.
Begin Slideshow

»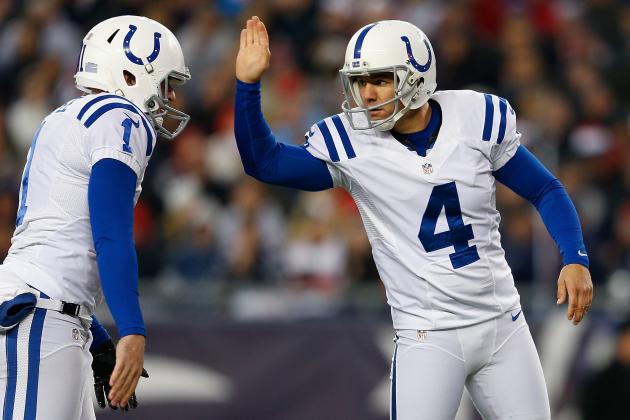 Jim Rogash/Getty Images
Kicking Colts are set.
Pat McAfee is a free agent this year, but he is a steady NFL-caliber punter and the fans love him, so the Colts' front office will give McAfee a nice raise and maybe even use a tag on him.
Adam Vinatieri is 40 years old but he is under contract and, even in a below-average year, he hit 78 percent of his field goals, showed he still has the leg by hitting four of seven from 50-plus yards and didn't miss an extra point.
The Colts will do what every NFL team does and bring a kicker or two into camp just to push the starters, but no upgrade is necessary.
Grade: A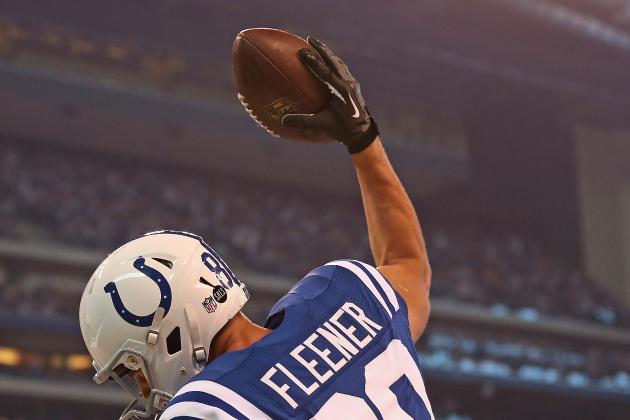 Jonathan Daniel/Getty Images
Fleener has the best hands on the team and Luck trusts him.
The two rookie tight ends were one of the pleasant surprises in 2012. Backup Weslye Saunders didn't see many passes but his 270 pounds give the Colts some blocking beef in short yardage situations.
The Colts don't need a receiving or blocking tight end so they won't waste their money on a free agent.
Grade: A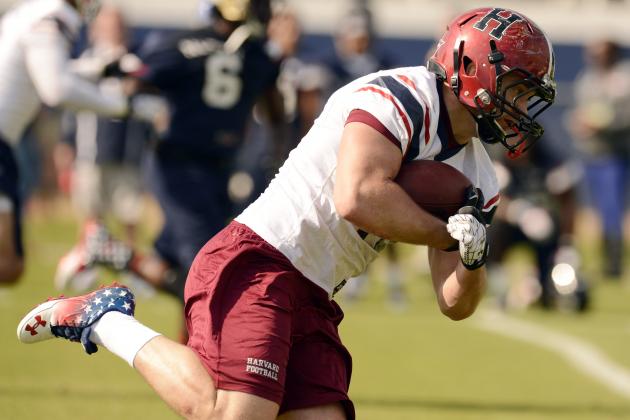 USA TODAY Sports
Kyle Juszczyk is the guy I want to see in the Colts backfield next year.
The Colts have two backs that could be considered "feature" backs insofar as they can run, catch and block. Whether or not they are talented enough to start every game in the NFL is open to debate.
Modern NFL backfields are multi-tools and even teams with a Pro-Bowl caliber rusher will also have a bruiser fullback to lead block, pick up blitzes and catch passes in the flats. Many teams also carry a quicker scatback who is dangerous in space but not large enough to carry the ball between the tackles.
The Colts need a fullback to protect the franchise quarterback, run the hot routes and abuse the opponent's linebackers and defensive backs.
I'd really like to see the Colts get this in the draft and my dream man is Harvard's Kyle Juszczyk. The draft is deep at this position and there are not that many available in free agency.
Grade: B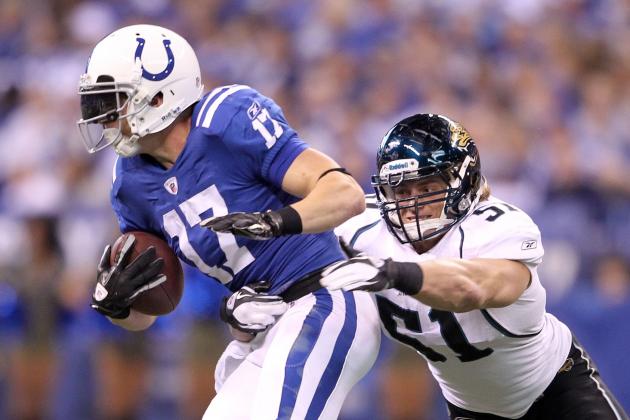 Andy Lyons/Getty Images
If Austin Collie can stay out of the training room the Colts need is less.
This is another position the Colts did well in finding talent in last year's draft, and they have returning veteran and all-around stud Reggie Wayne looking forward to a second year with Andrew Luck.
Donnie Avery will not be back unless the Colts' front office wants the season ticket holders to riot.
Even with the young talent and returning veteran there is a sense that the Colts could use a bigger target that can get the high balls, a deep threat that can stretch the defense, or a slot-man with great hands.
Those are all good things, but I would be surprised if the Colts spent big on this in free agency, and this is one position where the NFL continuously finds talent among the undrafted masses in training camp. While the Colts could use some more depth at wide receiver, they may take their chances looking at rookies.
Grade: B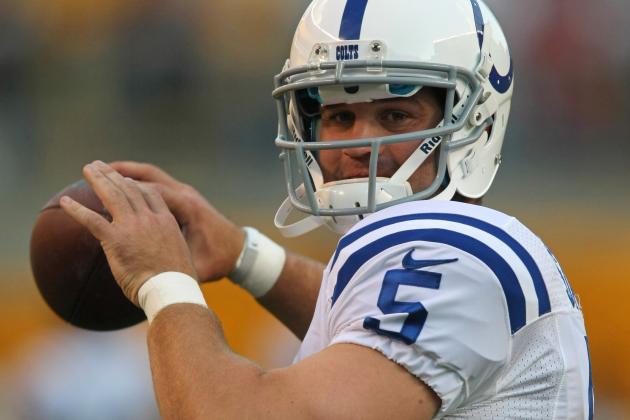 Jason Bridge-USA TODAY Sports
Colts will need to replace Drew Stanton
The Colts have no questions about their starting quarterback, but the only QB on the roster with any experience is a free agent. I predict he will go to a team that offers a chance at the starting spot, something he will not get in Indy.
The Colts have some talented youngsters pitching balls around the training facility, but they lack experience.
An NFL team simply cannot go into a season without an experienced backup quarterback that can win a game or two if the starter is injured. The Colts simply must find an experienced backup for Andrew Luck
Grade: C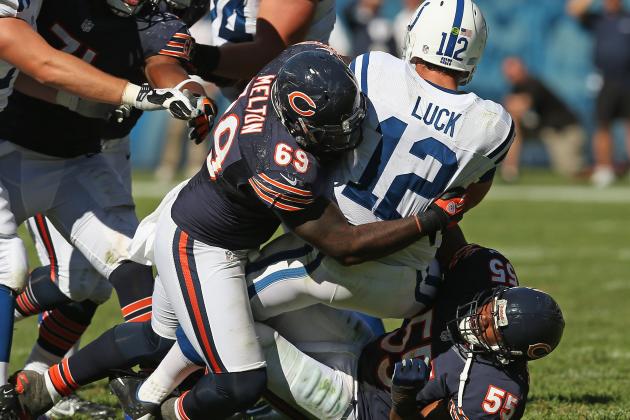 Jonathan Daniel/Getty Images
Somebody help this man.
Andrew Luck was sacked or knocked down far too often in 2012. He had the lowest completion percentage of his career, which is what happens when your quarterback is trying to throw on the run or with defenders draped all over him.
The Colts were also near the bottom of the league in yards per carry.
An underperforming offensive line is largely to blame for the lack of pass protection or rushing production.
Everyone knows the Colts will find a lot of O-line talent in the offseason, both through the draft and free agency. Colts fans will be surprised if the team doesn't spend some big money on a left tackle to protect Luck's blind side.
Grade: F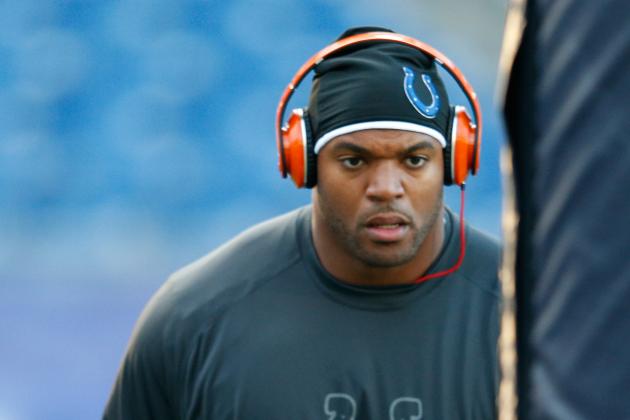 Jim Rogash/Getty Images
Dwight Freeny was never really comfortable in the 3-4 and his price tag is too high to re-sign him so the Colts will bid him adieu.
The Colts converted last year to a 3-4 scheme and, given their anemic pass rush and matador rush defense, many of the players did not take to the scheme too well.
The players who didn't adapt will be allowed to go somewhere else in the offseason.
The Colts do have some talent at this position but they had a lot of injuries last season so, to some extent, the strength of this need depends on who comes back from injury.
There is also some good D-line talent in the draft.
Given these circumstances, I'll be surprised if the Colts spend a wad of cash on a free agent, as they will mostly be looking for depth and players who fit the system.
Grade: C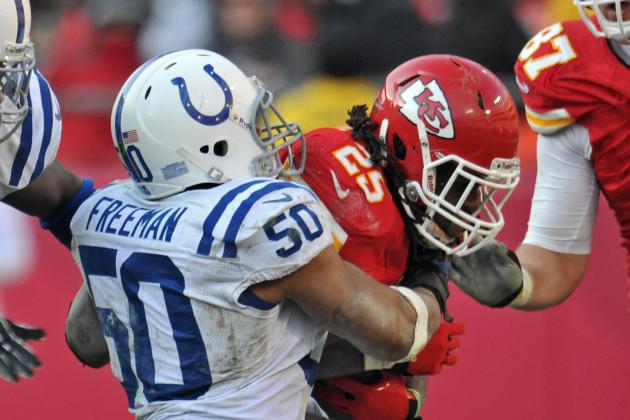 Peter Aiken/Getty Images
Jerrell Freeman is a perfect example of the kind of talent teams can find off the grid.
The linebacking corps is in a similar position to that of the defensive line unit. They were bad at their main functions (stopping the run and rushing the passer), had more than their share of injuries and seemed to have trouble adapting to the new system.
The exception was Jerrell Freeman, who recorded 145 tackles less than a year after signing from the CFL. Freeman is evidence that NFL talent can be found away from the draft or big money free agents.
This position gets the same grade as the D-line because they could go after a big money linebacker, but they may be okay with players returning from the training room and new talent. They need an upgrade, but could do it without blowing big money.
Grade: D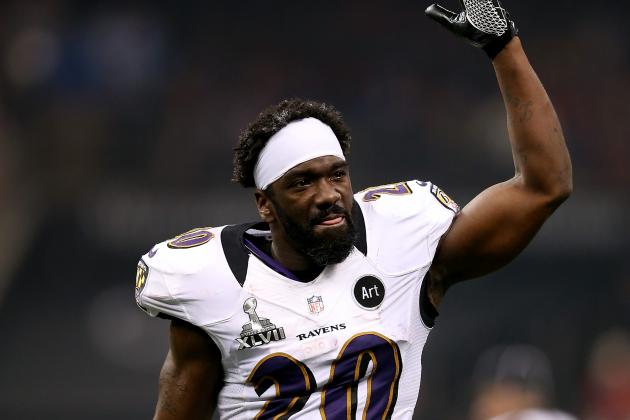 Christian Petersen/Getty Images
Ravens safety Ed Reed is a popular talking point among Colts fans.
The Colts' two starting safeties will be at the top of the depth chart when training camp opens.
Antoine Bethea is a 100 tackles per year player and his wingman Tom Zbikowski was a free agent signing last year, and he's well-known to Chuck Pagano. The Colts won't purchase a starting safety with those two on the depth chart.
They will, however, look for depth possibly in free agency. One name making everyone's "oh, please, please, please" list is Raven's safety Ed Reed, who is also a Pagano student, and may be looking for a place to play out his remaining games as a slot-cover. Even so, this purchase is for depth and not starting talent.
Grade: C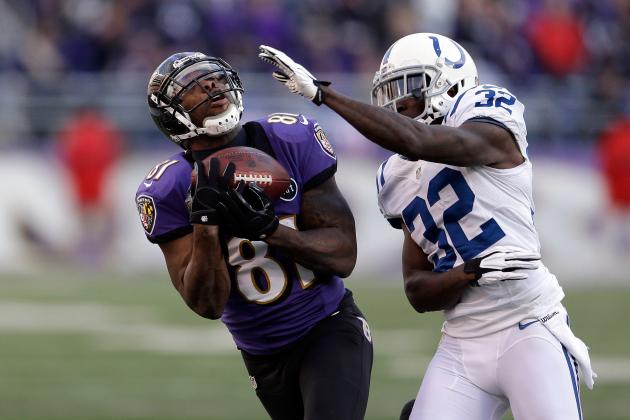 Rob Carr/Getty Images
I thought I saw some potential in Cassius Vaughn, but the data says no.
I saved the cornerbacks for last because I've recently changed my mind about them, and I figured that fewer people are reading by this point and won't hear me say, "I'm wrong."
I am a data head when it comes to sports analysis and one of my colleagues recently amassed compelling data that Colts cornerback Cassius Vaughn is simply not up to snuff. Several of my readers have been insisting on this point, but I wanted to see data.
I've now seen the data and admit I was wrong.
The Colts need to upgrade at corner back and they should go straight to the free agent market to get a starter.
Grade: F