Orlando Magic Basketball: Which Current Players Have a Future with the Franchise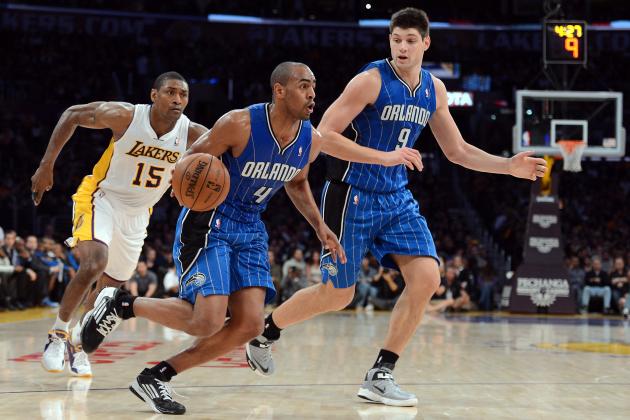 Harry How/Getty Images

Despite all the talk about shooting guard J.J. Redick and where the Orlando Magic should deal him to before the February 21 trade deadline, the franchise still has 14 other players on the roster to evaluate and consider whether or not they will be a part of the team's plans for the future. As the Magic continue to rebuild following the Dwight Howard trade, each player's future with the team is very fluid, especially if Orlando trades Redick, which could ship out current players and bring in new ones. There's even a chance that the Magic decide to hold onto Redick. The possibilities for roster movement are infinite, but we'll break down and analyze each player's (who are currently on the Magic roster) value, role and what the team should do with them.
Begin Slideshow

»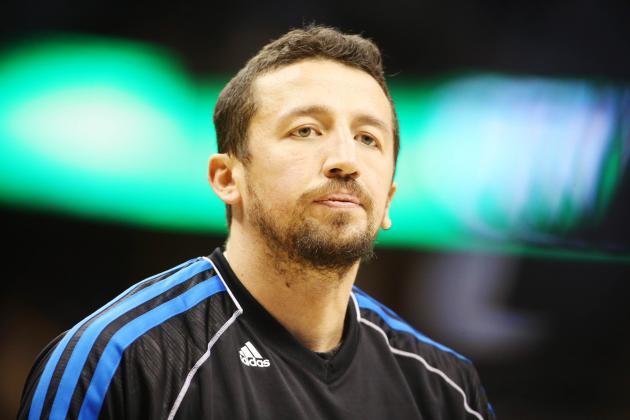 USA TODAY Sports

Small forward Hedo Turkoglu was once of the best players on the Orlando Magic team that shocked the world when they beat LeBron James and the Cleveland Cavaliers to reach the 2009 NBA Finals. Following his successful run in Orlando, he signed a 5-year $52 million dollar contract with the Toronto Raptors prior to the 2009, but never lived up to his big-money deal. The Raptors dealt him to the Phoenix Suns after one season, who then traded him back to the Magic.
Now, Turkoglu is a bench-warmer, best known for his status as a significantly overpaid player with a contract more toxic than nuclear waste. Currently making $11,850,815 for the 2012-2013 season (and slated to earn $12 million next season, although only half is guaranteed), it appears Turkoglu's future with Orlando shall be ending soon.
As I wrote about in detail during a previous article (link provided here), Peter Vescey suggested on the Crossover podcast (h/t SB Nation) that the Brooklyn Nets should look to acquire Turkoglu to open up roster flexibility next season (by waiving or trading him). Ultimately, nobody is going to pay $12 million to a player who can't even start on a team with a 14-35 record. So whether it's the Magic, the Nets or some other team, it's a virtual certainty that they will waive Turkoglu and be happy with the $6 million they save.
The Verdict: Trade him if possible, otherwise, waive him following the season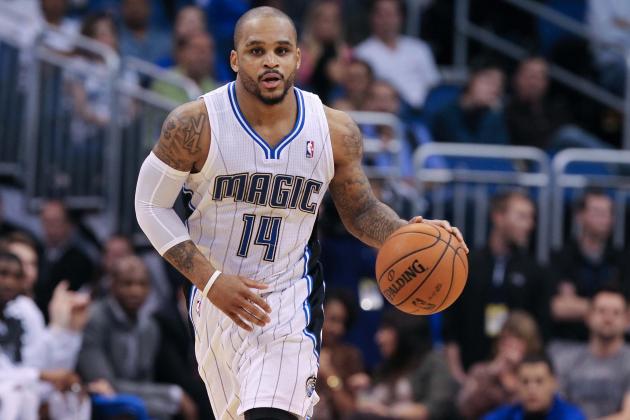 Kim Klement-USA TODAY Sports

This past off-season, the Magic surprisingly agreed to a three-year, $25,200,000 contract extension with veteran point guard Jameer Nelson, who has spent the entirety of his NBA career in Orlando. The reason this deal came as a surprise to many was not because Nelson is a poor player, but at the age of 30 and his recent penchant for getting injured, he doesn't have much upside. The other concern is that careless spending on veterans ended up being the Magic's downfall from championship-contender to basement-dweller.
However, when healthy, Nelson has played at a solid level and been a quality starting point guard. And while he won't likely play at a level like his days as an All-Star, Nelson is a positive influence in the locker-room and can serve as a mentor to any point guard prospects Orlando brings in during the coming years.
The Verdict: Keep him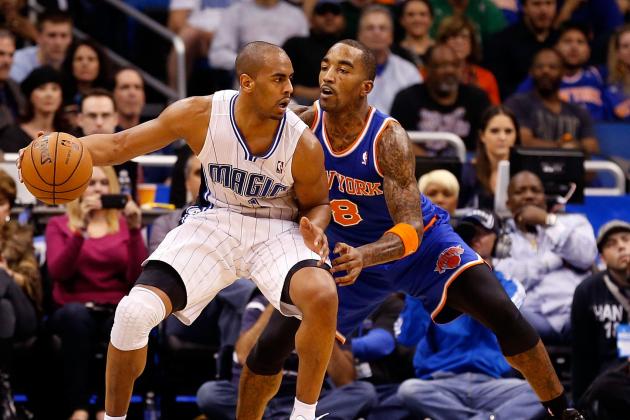 Sam Greenwood/Getty Images

A shooting guard acquired by Orlando from the Denver Nuggets in the Dwight Howard trade, Arron Afflalo has been one of the Magic's best players this season.
He's been inactive lately because of a calf injury, but with a sweet stroke from three, a continually developing offensive game and a reputation as a solid defender, Afflalo has proven to be a very good player for the Magic.
Some people feel that the Magic would be better suited to trade him for more assets, but as a proven player, I believe the Magic should build around him.
The Verdict: Keep him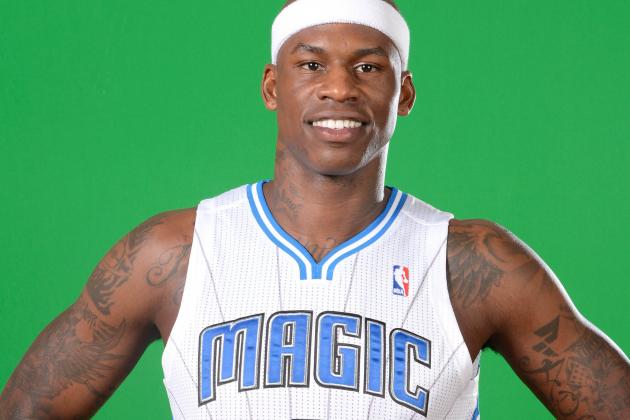 Brad Barr-USA TODAY Sports

Power forward Al Harrington has a dead-weight, 50-percent guaranteed contract beyond this season, much like Hedo Turkoglu. Unfortunately, Harrington hasn't been able to suit up for the Magic for a single game this season because of complications from a knee surgery that resulted in a staph infection.
While Harrington can be a productive offensive player when healthy, unless he shows the Magic he's able to come back and play at a high level, the team is best off using his contract as a bargaining chip in a trade or waive him for salary relief.
The Verdict: Trade him if possible, otherwise, waive him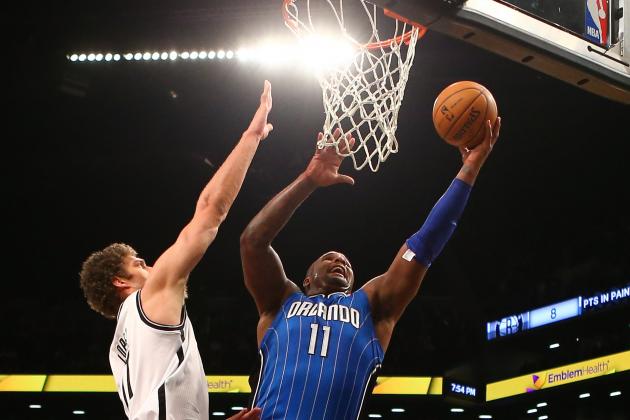 Al Bello/Getty Images

A power forward/center the Magic acquired from the Boston Celtics, Davis has been fairly productive during his time in Orlando, but is clearly not a player the team should build around. He's had various instances of poor conduct which have led to fines and suspensions, and is a liability on the defensive end.
However, Davis is signed for two additional seasons following the 2012-13 season. He will likely be around until his contract expires after which he will either be traded or let go by management.
The Verdict: Get rid of him if possible, otherwise wait it out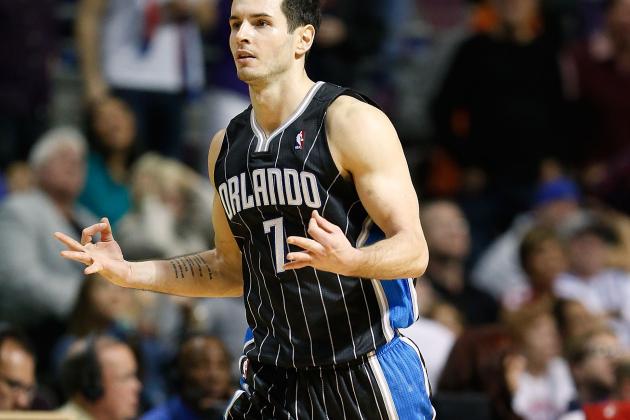 Gregory Shamus/Getty Images

I'll keep this short, because as much as I love Redick, the evolution of his game and all his contributions to the franchise, he needs to go. Redick is considered to be the most likely player to be dealt before the trade deadline as several contending teams covet his outside-shooting and passing ability.
Redick is on an expiring contract, so even if the Magic held on to him, he would become a free-agent this summer. Redick's level of play has likely priced him out of the range the team would be willing to pay for him. It is in the team's best interest to deal Redick now and pick up some assets while it's still a possibility.
The Verdict: Trade him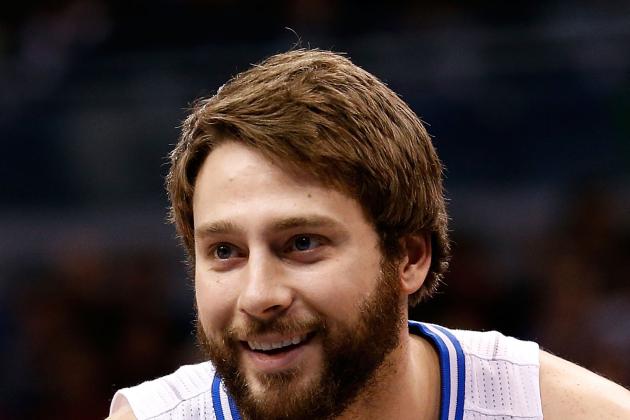 Sam Greenwood/Getty Images

A journeyman power forward, Josh McRoberts was acquired by the Magic as part of the Dwight Howard trade and also has an expiring contract.
While he is a solid player, McRoberts has never made a significant impact any of his NBA stops and his time with Orlando is no different. With plenty of front court players (especially power forwards), it seems highly unlikely the Magic will re-sign McRoberts and instead will let him test free-agency.
The Verdict: Let him walk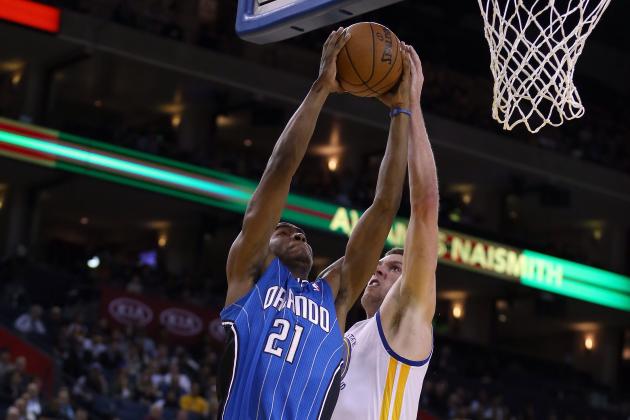 Ezra Shaw/Getty Images

A 19-year-old rookie who was originally drafted 15th overall by the Philadelphia 76ers and sent to the Magic in the Dwight Howard trade, Harkless is a great defender and athletic freak. His offensive game is still very raw, but he could be a star in the league if he can continue to develop his skills.
The Verdict: Keep him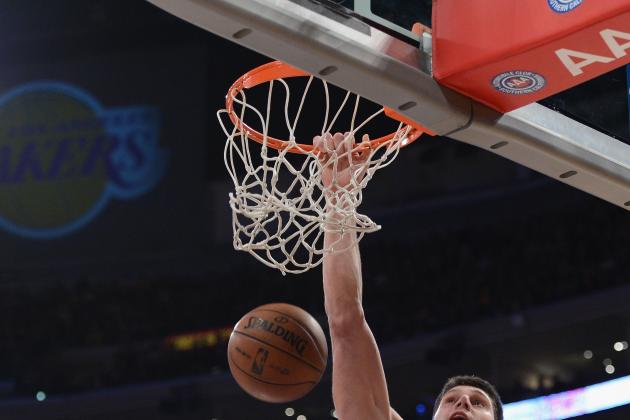 Harry How/Getty Images

Center Nikola Vucevic has been a revelation for the Magic, emerging as a double-double machine who was an absolute steal in the Dwight Howard trade.
Showing significant signs of star-power, Vucevic will likely be one of the cornerstones upon which the Orlando Magic rebuild their franchise around.
He needs to continue to develop his post game and is not an elite defender, but if the Magic can acquire a complementary power forward who can help Vucevic lock down the paint, he can be an All-Star and a top-10 center.
Verdict: Keep him and build around him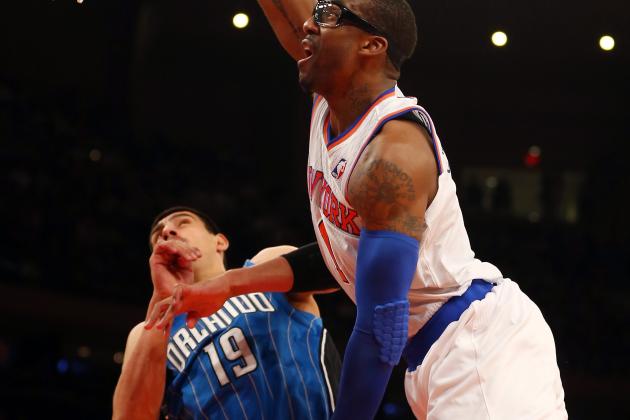 Elsa/Getty Images

A power forward/center who was acquired by the Magic from the New Orleans Hornets in the sign-and-trade deal for power forward Ryan Anderson, Gustavo Ayon is an athletic player, but very raw and not particularly talented. Not to say he doesn't have any potential, but I don't see him being a contributor for the Magic unless his skill level undergoes dramatic changes.
The Verdict: Get rid of him whenever possible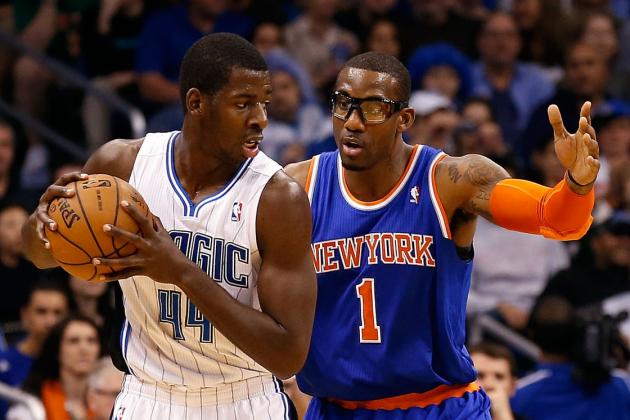 Sam Greenwood/Getty Images

A power forward the Orlando Magic selected with the 19th pick in last year's draft, Nicholson has been a pleasant surprise, emerging as one of the better rookies in the league.
By no means a star, Nicholson has not shown the potential of fellow rookies Damian Lilliard, Anthony Davis, Andre Drummond or Michael Kidd-Gilchrist, but he has shown the ability to be a solid rotation player who can definitely be a part of the Magic's future.
I still believe Orlando should target an athletic, defensive-minded post player who can complement Vucevic, but Nicholson would be an excellent player to have come off the bench.
The Verdict: Keep him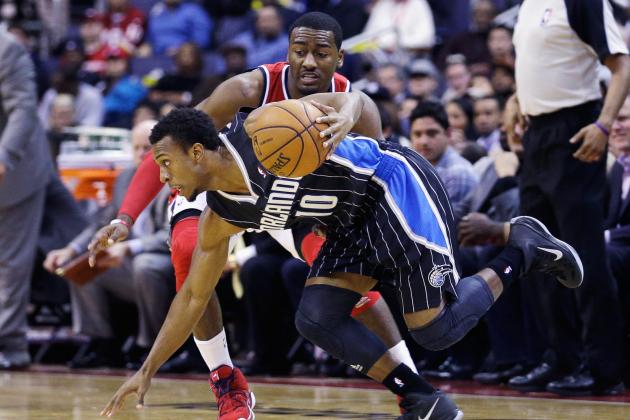 Rob Carr/Getty Images

Point guard Ishmael "Ish" Smith is an athletic and extremely quick player, but is also undersized (graciously listed at six-feet tall), not particularly productive and is the worst shooter on the team. He's currently the number three point guard on the Magic's roster, and while he may not play a big role, the team could clearly upgrade the spot by looking elsewhere.
The Verdict: Get rid of him whenever possible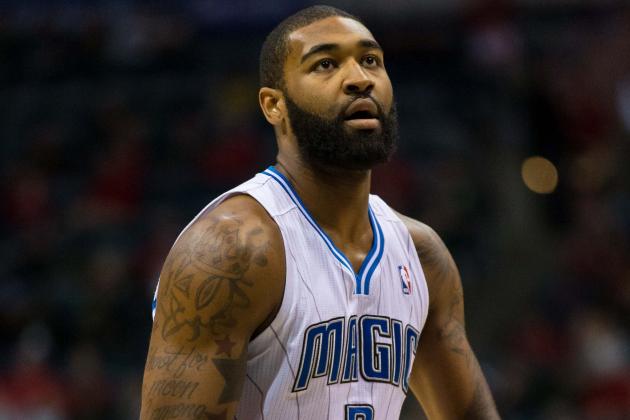 Jeff Hanisch-USA TODAY Sports

Another rookie power forward, selected by the Magic with the 49th overall selection in last year's draft, Kyle O'Quinn is a prospect who barely gets to see the court. He has gotten increased playing time due to the injury to Glen Davis, but he's clearly a project and not an immediate contributor to the team.
Orlando should hold onto O'Quinn to see if he develops into a rotation player, but if he doesn't I don't think the team will have much trouble parting ways with him.
The Verdict: Hold onto him, for now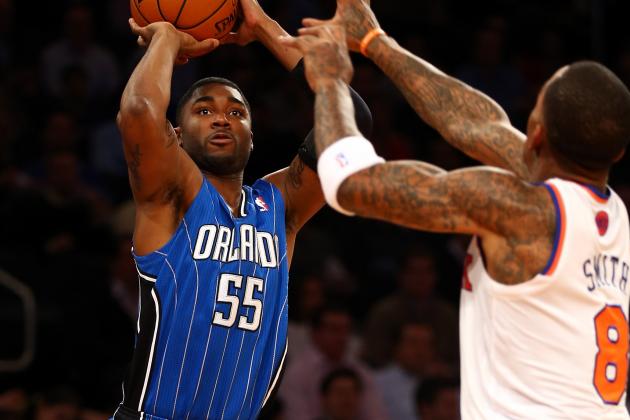 Elsa/Getty Images

A second-year combo guard, E'Twaun Moore has had several instances this season where he stood out as a possible rotation player, and others where the viewer wondered why he was even in the game. Such ups and downs are common in younger players and I think Moore shows enough potential that the Magic should hold onto him and see if he can even out his performances a little more.
The Verdict: Keep him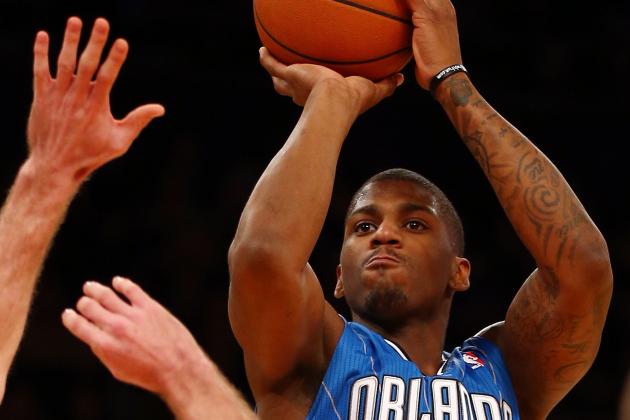 Elsa/Getty Images

An un-drafted free agent the Magic signed last September, small forward DeQuan Jones is an athletic wing, but has not shown that he is capable of being a rotation player and is likely not in the Magic's long-term plans.
The Verdict: Let him walk