Oklahoma Football: 3 Commits Who Will Start as Freshmen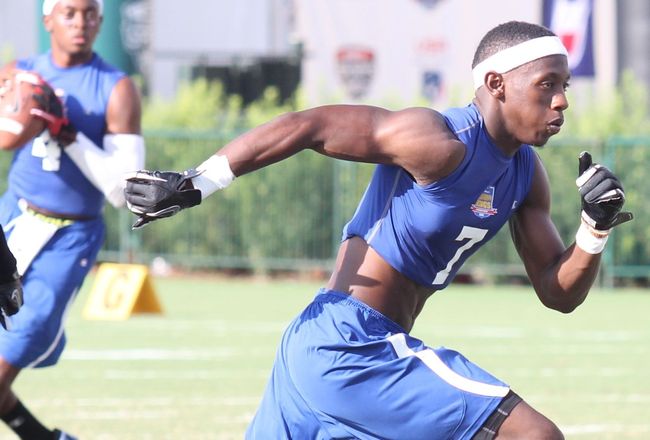 Cornerback Stanvon Taylor is already getting praise from Mike Stoops (photo courtesy of 247sports).

If you asked Oklahoma football fans about the strength of this year's recruiting class, you'd probably get a variety of opinions.
Regardless, national signing day is behind us. Oklahoma ended up with a class of 24 players. The additions cover almost every position area. The Sooners also solidified key areas by adding seven defensive linemen and five defensive backs.
We have yet to see these players in spring camp, but several figure to be immediately relevant. In fact, multiple players appear to be in line for starting jobs come fall.
Of course, a lot can change between now and Oklahoma's season debut against Louisiana-Monroe on Aug. 31. But here are three commits who should be starters when the Sooners open the 2013 season. Additional players could be immediate starters, but the following players appear to have the best prospects.
(Note: Multiple JUCO commits, including Quincy Russell and Jed Barnett, could start immediately. However, since they are not freshmen, this article will not highlight them.)
Hatari Byrd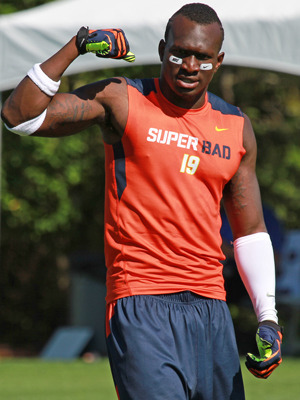 Look for Hatari Byrd to shine at safety (photo courtesy of 247sports).
Hatari Byrd recently qualified his statement about being guaranteed a starting job by the OU coaches. The latest from Byrd is that he can "earn the opportunity" to start, according to Bob Przybylo of ESPN (via SportsDayDFW).
Still, the 4-star prospect seems to be among the leading candidates to earn a starting spot at safety. At 6'1", 195 pounds, he is already among the most physically imposing defensive backs on the team.
At this point, it's logical to assume that he'll be at the top of the depth chart. With 2012 starters Tony Jefferson and Javon Harris departing, the position is wide open.
A more interesting question is which position he'll occupy. Scout.com lauds him for both his hitting skill and coverage ability, so he could be capable of manning either spot.
Regardless of his role in the upcoming season, Byrd figures to have a bright future in Norman.
D.J. Ward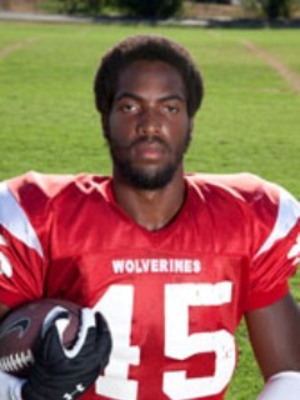 D.J. Ward could be an impact player in 2013 (photo courtesy of 247sports).
As the No. 11 overall defensive end (according to Scout.com), D.J. Ward is one of the most prized prospects in the Sooners' class.
There was always a good chance of Ward being an immediate contributor. But with OU reportedly planning a shift to the 3-4 defense, Ward could move to linebacker (via Soonerscoop.com).
At 6'2", 245 pounds, Ward would be a force at the second level of the defense. According to Scout.com, he was clocked at 4.54 seconds in the 40-yard dash.
Besides Corey Nelson and Frank Shannon, the Sooner linebacking corps is a big question mark. The Sooners did add Dominique Alexander and Jordan Evans—both listed as linebackers. One or both of them could potentially see early playing time.
Other possible starters are Rashod Favors and Aaron Franklin.
It's imperative that the Sooners get better play from their linebackers in 2013. D.J. Ward could be a prime figure in leading a resurgence.
Stanvon Taylor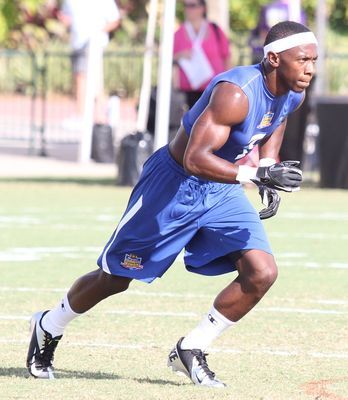 Stavon Taylor could be the next Aaron Colvin (photo courtesy of 247sports).
There's plenty to be excited about in cornerback Stanvon Taylor. For starters, he was ranked as the No. 8 overall athlete by Rivals.com.
More importantly, Sooner defensive coordinator Mike Stoops heaped praise on the Tulsa, Okla. native. According to ESPN, Stoops said the following about Taylor:
"I can't say enough about this guy, he has all the qualities you want in a superstar."
ESPN added that Stoops compared Taylor to Sooner star cornerback Aaron Colvin.
That's certainly reason to be optimistic. It also makes it clear that Stoops intends to use Taylor in the secondary immediately.
It's by no means a certainty the Oklahoma Gatorade Player of the Year will start right away. But there's a good chance he will. Aaron Colvin will certainly start, but the other cornerback spot doesn't have a clear frontrunner after Demontre Hurst's departure.
Other possible starters here include Gabe Lynn and Kass Everett. It's very likely Lynn will start somewhere, but there are multiple possibilities.
Keep Reading

Oklahoma Sooners Football: Like this team?