Grading the Strength of Denver's Roster Heading into Free Agency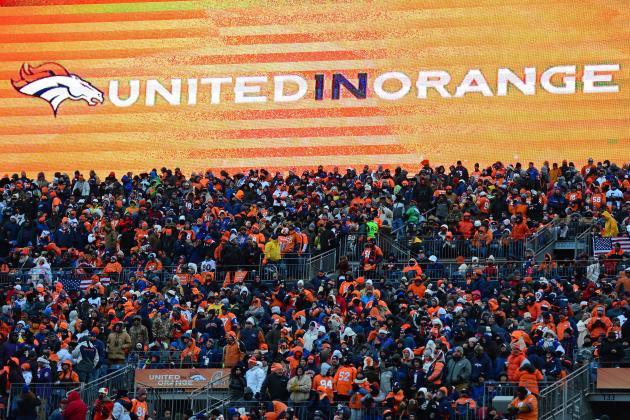 Mark J. Rebilas-USA TODAY Sports

Now that the heartbreak has begun to heal, Denver Bronco fans should remember just how talented the 2012 team was and turn their attention to building on this season's success.
With only a few coaching changes this offseason, the Broncos should be able to use this free agency period to move forward and fill specific needs in order to pick up where they left off in 2012.
The following slides will take a position by position look at the Bronco's roster according to the following grading scale:
A: No FA Signing needed.
B: Minor or Bargain FA Signing.
C: Depth Needed, Low End Starter
D: Starter Needed
F: Highest Priority FA Needed
Begin Slideshow

»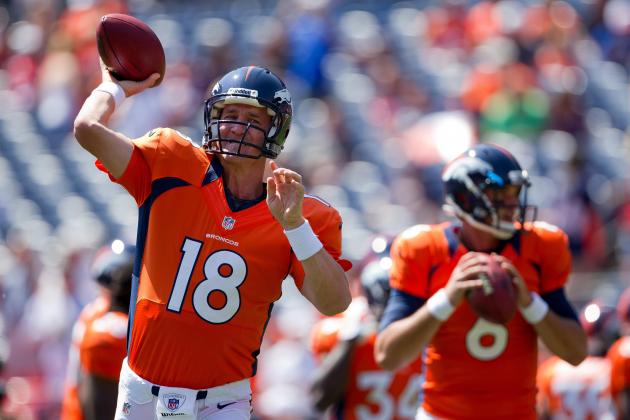 Justin Edmonds/Getty Images

In 2012, the decision to ride with no "Plan B" at the quarterback position worked out well for the Denver Broncos.
As long as Peyton Manning remains healthy next season, Denver doesn't really have a need to acquire another signal caller through free agency. The list of guys testing the market this offseason is lacking anyone that would really impact this Bronco's team enough to warrant the money spent.
After promoting Adam Gase to offensive coordinator, 18-year veteran Greg Knapp was brought in to replace him as the quarterback coach of this Bronco team.
Knapp will probably be the most influential on young backup Brock Osweiler. Knapp has a proven track record of developing young quarterback talent and will also work well with Manning next season.
There's no real need for an upgrade at the quarterback position.
Grade: A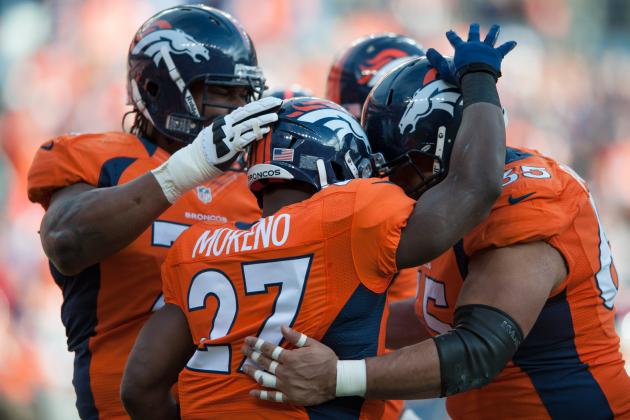 Dustin Bradford/Getty Images

Despite a solid performance from fill-in Knowshon Moreno down the stretch, the Broncos running game was lukewarm in 2012.
Willis McGahee was serviceable and Ronnie Hillman showed flashes of promise when he was actually on the field. However, Denver is lacking that one solid standout rusher.
This offseason it would behoove the Broncos to take a look at some of the guys available through free agency at the running back position. One player who is available and could fit well into a Peyton Manning-run offense is Rams running back Steven Jackson.
Jackson proved this season that he has plenty left in the tank and he deserves a chance to finally make it to the playoffs. He rushed for his eighth straight 1,000-yard season in 2012 and is also a consistent pass blocker who catches balls well under pressure.
Denver certainly has some decisions to make regarding their backfield before training camp starts again for next season. Whether they opt to procure someone new through free agency or the draft, or simply work with who they have, is still unclear.
Either way, the running back position needs to be addressed.
Grade: C-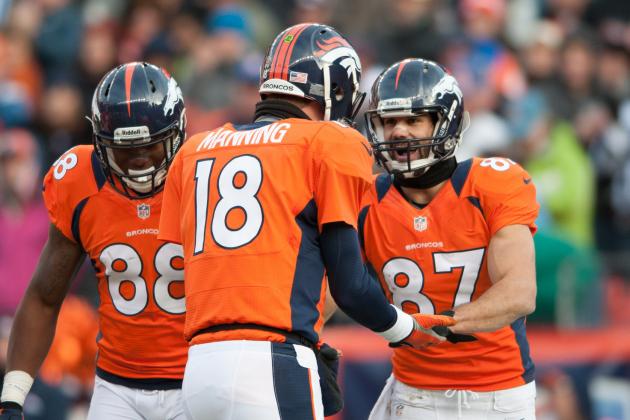 Dustin Bradford/Getty Images

The guys that Peyton Manning threw the rock to this season accounted for 4,671 receiving yards.
At the wideout position, both Demaryius Thomas and Eric Decker had highly successful seasons and will only continue to get better with more time spent as Peyton Manning's teammates. Brandon Stokley was a solid, consistent slot guy whose comfort level with Manning contributed to his commendable performance this season.
Depending on whether Stokley decides to hang up his cleats, Denver may look to procure a younger slot receiver to move forward with the franchise.
The Broncos could also seek out some depth behind Thomas and Decker, as neither Matt Willis nor Andre Caldwell are making a big impact on this Denver squad.
Grade: B-
Along with the wide receivers, both Jacob Tamme and Joel Dreessen enjoyed success in the tight end role this season. Peyton Manning likes to spread the ball around and having depth at tight end is certainly beneficial in Manning's offense.
While it is not a glaring hole that needs to be filled, having some competition at training camp at tight end would be a positive thing for the team.
Grade: C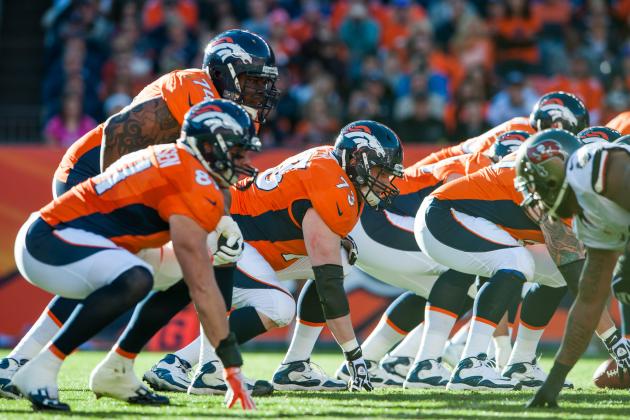 Dustin Bradford/Getty Images

Securing Ryan Clady is arguably the biggest priority for the Denver Broncos this offseason.
Beyond that, some depth on the offensive line would be nice, but is not a desperate need moving forward. They did a solid job of protecting Peyton Manning this year and, with a healthy Chris Kuper at right guard, should continue to do so next season.
If Denver can gain some depth through free agency without giving up too much salary cap space, it would be an added bonus.
Grade: B+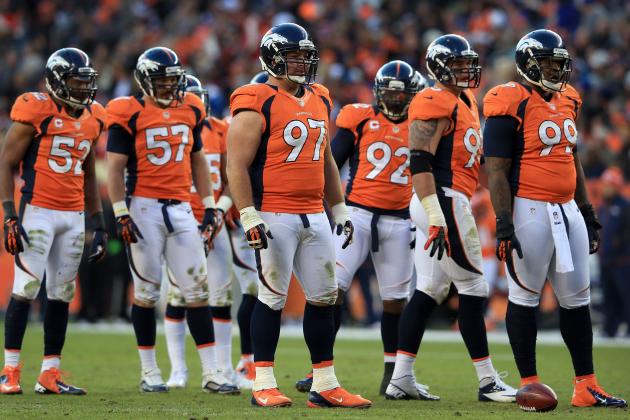 Doug Pensinger/Getty Images

With both Kevin Vickerson and Justin Bannon now free agents with the potential to be in a different uniform next season, the Broncos have a need to fill some spots at tackle.
Depending on how Denver chooses to spend its money, there are solid options on the market, such as Miami's Randy Starks or Chicago's Henry Melton, who will be pricey but potentially worth it to tighten up the defensive line.
Grade: D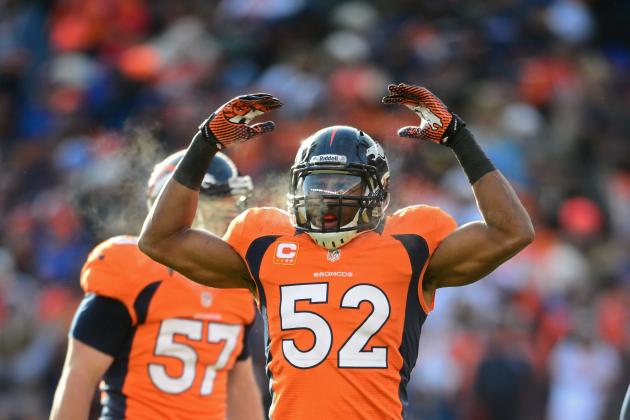 Mark J. Rebilas-USA TODAY Sports

Denver is set at both the strong-side and weak-side linebacker with Von Miller and Wesley Woodyard. Both guys had an incredible season and should continue to improve and make plays in the next.
The middle linebacker is a different story entirely. Denver may decide to part ways with the injured Joe Mays, who wasn't necessarily an impact player for the Broncos to begin with.
Keith Brooking did a decent job filling in but the Broncos need a younger, fresher guy in the MIKE position moving forward. Whether they decide to go the free agent or draft route is not clear, but the need to upgrade in the middle certainly is.
Grade: D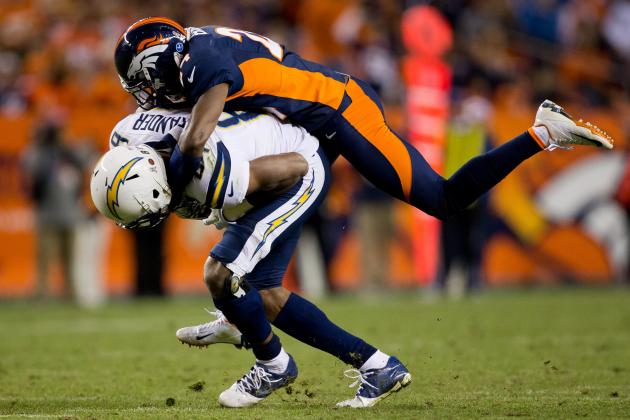 Justin Edmonds/Getty Images

It was pretty apparent in Denver's playoff loss to the Ravens that the cornerback position is anemic and needs to be addressed this offseason.
While Champ Bailey still has some play left in him, it may not be at the corner position in the future. Both Tracy Porter and Tony Carter had contracts that expired at the end of the 2012 season. Denver will probably retain Carter to continue his role as a solid fill-in guy.
Securing solid depth at the corner position should be one of the top priorities for Denver's front office this offseason.
Grade: D-
In the safety department, Jim Leonard is a free agent in 2013. Denver may choose to let Leonard go and seek a younger free agent for the same price in order to gain some depth.
Bringing in some fresh talent to compete with Rahim Moore may light a fire under him to prove his worth in training camp next season.
Grade: C
Dustin Bradford/Getty Images

The Bronco's kicking specialists had a successful 2012 and there is no tangible reason to seek out any free agent replacements this offseason.
It would be surprising to see any major moves to this portion of the roster during free agency.
Grade: A
You can follow Jennifer on twitter @themondaymommy.