MLB Division Power Rankings Heading into Spring Training Camps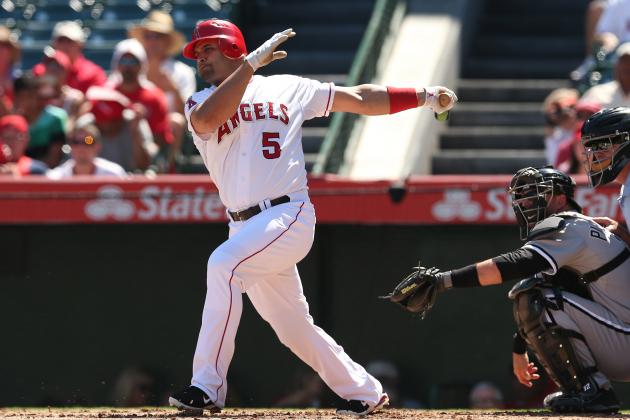 Stephen Dunn/Getty Images

Earlier this week, I wrote an article with my regular season record projections for all 30 MLB teams as I predicted how the 2013 season would shake out.
On Thursday morning, Jayson Stark of ESPN wrote an article power ranking all six MLB divisions, and based on my projected records, I decided to do the same.
So here is how I rank all six MLB divisions from weakest to strongest heading into the 2013 season.
Begin Slideshow

»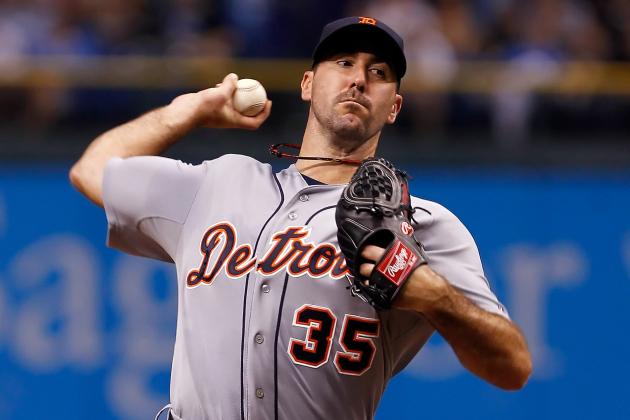 J. Meric/Getty Images

Predicted Standings (postseason team(s) in bold)
1. Detroit Tigers (95-67)
2. Kansas City Royals (82-80)
3. Chicago White Sox (79-83)
4. Cleveland Indians (74-88)
5. Minnesota Twins (65-97)
Division Summary
The reigning AL champion Tigers are among the top teams in baseball, and have arguably the best hitter and pitcher in the game in Miguel Cabrera and Justin Verlander.
The supporting cast of Prince Fielder, Austin Jackson, Victor Martinez, Doug Fister, Max Scherzer, Anibal Sanchez and others should put Detroit right in the thick of things for the AL pennant.
Beyond them, though, the division is incredibly weak, and unless something surprising happens, the Tigers should run away with things.
The Royals' improved pitching staff should be enough for them to make a run at second place, while the White Sox and Indians both have a solid group of veterans to at least be competitive.
The Twins took steps to improve their staff as well, but they are still a long ways from returning to postseason.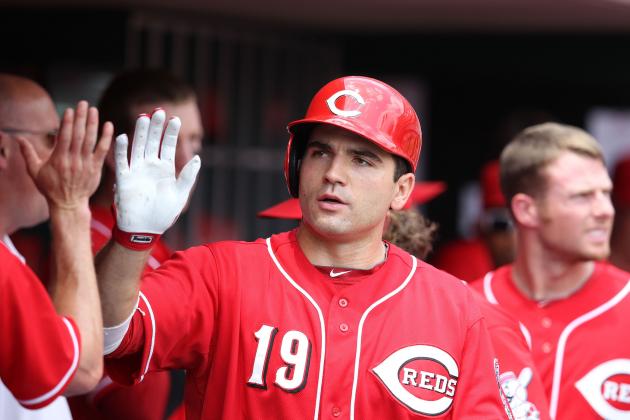 Andy Lyons/Getty Images

Predicted Standings (postseason team(s) in bold)
1. Cincinnati Reds (94-68)
2. St. Louis Cardinals (88-74)
3. Milwaukee Brewers (83-79)
4. Pittsburgh Pirates (77-85)
5. Chicago Cubs (67-95)
Division Summary
The Reds are perhaps the most complete team in the National League on paper, and if the addition of Shin-Soo Choo atop the lineup and Aroldis Chapman to the rotation both work out, they should be able to once again claim the division title.
The Cardinals could once again make a late-season playoff push even with the recent loss of Chris Carpenter and departure of Kyle Lohse in free agency. They have proven time and again to be able to overcome injuries, and I certainly wouldn't bet against them.
The Brewers had the NL's highest-scoring offense last season, while the young Pirates continue to improve, but both of those teams may have trouble getting over the hump in 2013.
Then there are the Cubs, who are still in the process of rebuilding and several years from contention, but could improve on last season with an improved starting rotation.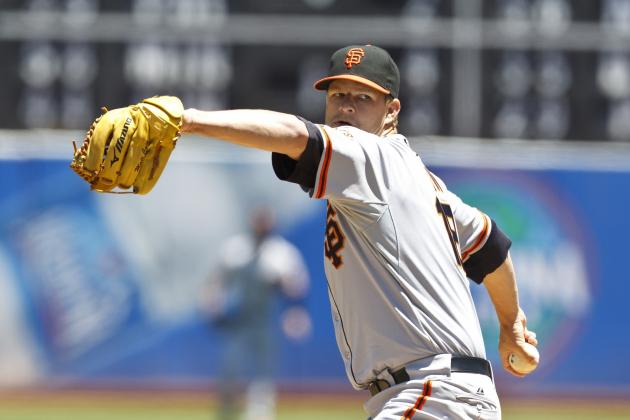 Jason O. Watson/Getty Images

Predicted Standings (postseason team(s) in bold)
1. San Francisco Giants (92-70)
2. Los Angeles Dodgers (89-73)
3. Arizona Diamondbacks (85-77)
4. San Diego Padres (76-86)
5. Colorado Rockies (68-94)
Division Summary
Led by the reigning World Series champs and the free-spending Dodgers, there could be a dog fight atop the NL West standings this coming season.
The Giants return essentially the same team as last season, and they'll once again rely on their terrific pitching staff and the potent bat of Buster Posey.
Meanwhile, the Dodgers are entering their first full season with the likes of Adrian Gonzalez, Josh Beckett, Carl Crawford and Hanley Ramirez on the team, along with marquee free agent signing Zack Greinke.
The Diamondbacks are just two years removed from winning the NL West title, and still have the pieces to contend. The Padres are improving, but they are still at least a year off, while the Rockies have a ways to go until they can get back to winning.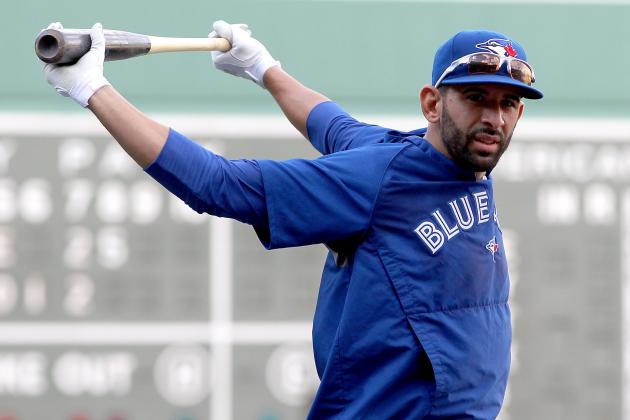 Jim Rogash/Getty Images

Predicted Standings (postseason team(s) in bold)
1. Toronto Blue Jays (91-71)
2. Tampa Bay Rays (89-73)
3. New York Yankees (85-77)
4. Baltimore Orioles (83-79)
5. Boston Red Sox (80-82)
Division Summary
Long the best division in baseball, the AL East promises to be a dog-fight this coming season. While all five teams have a chance to finish the year over .500, there may be no truly dominant team this season capable of winning a title.
If the Blue Jays can come together as a group and stay healthy, all of the pieces are there for them to make a serious run at a title. That's a big if though, just ask the Marlins last season.
The Rays have taken steps to improve their lineup this offseason, and they'll need to score more runs to offset the losses of James Shields and Wade Davis, who were traded to the Royals for Wil Myers.
Meanwhile, the Yankees are another year older and may be headed for a postseason-free year, the Orioles had a lot break their way to make the playoffs last season, and while the Red Sox added a ton of veterans in free agency, it's an average group at best who may have a hard time avoiding the cellar.
Justin Edmonds/Getty Images

Predicted Standings (postseason team(s) in bold)
1. Washington Nationals (97-65)
2. Atlanta Braves (93-69)
3. Philadelphia Phillies (85-77)
4. New York Mets (64-98)
5. Miami Marlins (57-105)
Division Summary
The Mets and Marlins may be among the worst teams in baseball this coming season, and that keeps the NL East out of the top spot here.
The Nationals return roughly the same team that led the majors in wins last season, as they've added Denard Span, Dan Haren and Rafael Soriano while trading Michael Morse and losing Edwin Jackson in free agency. That trade-off, combined with an unleashed Stephen Strasburg, could mean a 100-win season.
The Braves have added the Upton brothers to what was already a terrific young core of players, and if guys like Jason Heyward, Freddie Freeman, Kris Medlen and Julio Teheran can perform, they could give the Nationals a serious run for the division title.
Then there are the Phillies, who still have one of the best pitching trios in baseball in Roy Halladay, Cliff Lee and Cole Hamels, and a solid core of superstar hitters who are now healthy. Age is an issue, but they may have enough for one last run.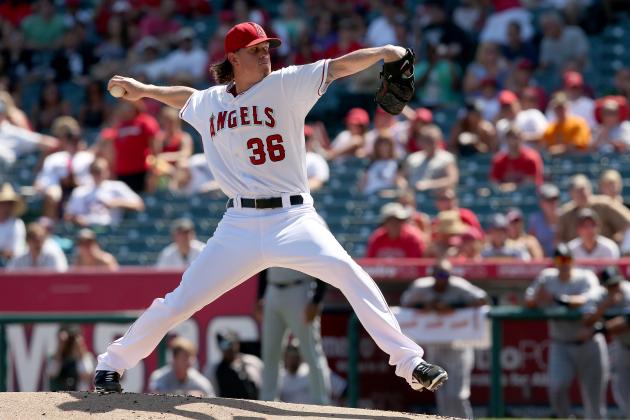 Stephen Dunn/Getty Images

Predicted Standings (postseason team(s) in bold)
1. Los Angeles Angels (90-72)
2. Oakland Athletics (88-74)
3. Texas Rangers (87-75)
4. Seattle Mariners (77-85)
5. Houston Astros (50-112)
Division Summary
The rebuilding Astros are the worst team in baseball entering the 2013 season, but that is not enough to drop the AL West out of the top spot in these rankings.
Last season, the Rangers and A's both made the postseason while the Angels won a solid, albeit disappointing, 89 games.
The Angels spent big again this offseason in adding Josh Hamilton, while also bolstering their bullpen and retooling their starting rotation. After coming up short spending big last season, the Angels could finally play up to their potential in 2013.
Then there are the A's, who managed to win the division last season with a rag-tag group of unproven youngsters and journeyman veterans. All the parts are there for them to return to the postseason again.
The Rangers may take a step back after losing a lot in free agency, including Hamilton, but they still have a strong team and should contend. The Mariners are heading in the other direction, as they have a handful of top tier prospects who should make an impact this season, and could push them closer to contention.