Los Angeles Lakers vs. Boston Celtics: Live Score, Results and Game Highlights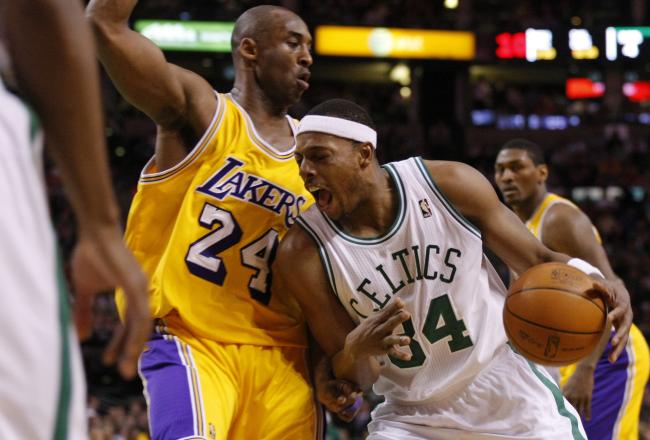 David Butler II-USA TODAY Sports
The Boston Celtics improved 26-23 on the season with a 116-95 victory over the Los Angeles Lakers on Thursday night. The Lakers fall to 23-27 with the loss.
With the win, the Celtics have now won six games in a row, and they have some phenomenal defense and hot shooting to thank for their most recent victory.
A third quarter that saw the Celtics outscore the Lakers 37-25 ultimately netted the Celtics a monster advantage, and they never looked back.
Paul Pierce led the Celtics with 24 points, while Kevin Garnett scrapped and clawed his way to 15 points, five rebounds and four assists despite picking up two fouls within the first three minutes of action.
As for the Lakers, Kobe Bryant led all scorers with 27 points (9-of-15 shooting), but totaled zero assists on a night when his teammates simply couldn't find the bottom of the net.
As a team, the Lakers shot 41.4 percent from the field and 21.7 percent from three-point range. Antawn Jamison (11 points) and Jodie Meeks (13 points) were the only other Lakers to score in double-figures.
Dwight Howard had a poor showing in his return from a shoulder injury, scoring just nine points and grabbing nine rebounds in 28 minutes of work.
Howard was constantly beaten on the glass by an energetic group of Celtics, and looked lethargic as he lumbered up and down the floor.
Next up for a desperate Laker squad is a meeting with the Charlotte Bobcats on Friday evening.
Keep it locked on Bleacher Report as we provide you with postgame coverage of Lakers-Celtics.
BOS 116, LAL 95 - Final
Tomorrow's game against the Charlotte Bobcats should not be overlooked by the Lakers.
I'll be concerned if the team doesn't bring a better effort tomorrow against the 'Cats. Can't have a hangover from this game.

— Darius Soriano (@forumbluegold) February 8, 2013
They're coming off an ugly loss, and historically, the Bobcats have given the Lakers some tough games.
The 'Cats are 8-8 all-time against the Lakers.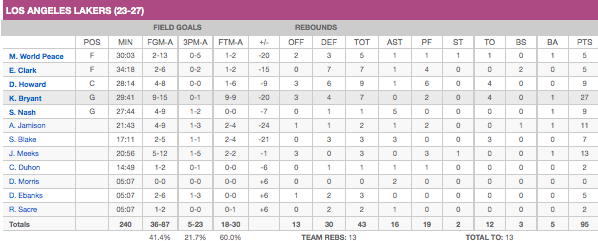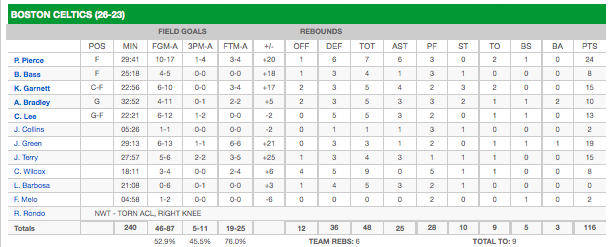 Final Box Scores from tonight's action.
BOS 116, LAL 95 - Final
48 minutes of domination by the Boston Celtics lead to a 21-point victory for Doc Rivers' bunch, who shot 52.9 percent on the night.
The Lakers, on the other hand, shot 41.4 percent from the field and 21.7 percent from the field. Kobe Bryant led the team with 27 points, and was one of just three Lakers to score in double-figures.
Paul Pierce and Kevin Garnett spearheaded a Celtic attack that went unconscious in the game's third quarter, and the aging duo finished with 24 and 15 points respectively.
Jeff Green was a sparkplug off of the bench, netting 19 points and a +21 in the plus/minus column in the 29 minutes of action he saw.
BOS 111, LAL 90 - 1:22 remaining in Q4: Fab Melo records his first NBA bucket. This is what it's come to.
BOS 109, LAL 86 - 2:12 remaining in Q4: With all of the game's stars checked out, here are some notable final stat lines.
Paul Pierce: 24 points, seven rebounds, six assists
Kevin Garnett: 15 points, five rebounds, four assists
Kobe Bryant: 27 points, seven rebounds, zero assists
Dwight Howard: Nine points, nine rebounds, 1-of-6 from the free-throw line
Steve Nash: Nine points, five assists
BOS 107, LAL 84 - 3:18 remaining in Q4: Robert Sacre with authority! Wait, what?
BOS 107, LAL 82 - 3:36 remaining in Q4: Good to see Devin Ebanks getting some run. He found a niche in Mike Brown's rotation last season, but has been in Mike D'Antoni's doghouse all season long.
Hard to see him with this team next year as his contract is set to expire.
BOS 105, LAL 77 - 5:34 remaining in Q4: Jeff Green has 19 points tonight on 50 percent shooting, and he's made some big plays on the defensive end - most notably a chase down block on Antawn Jamison at the end of the third quarter.
You know he's looked good, so: In the 18 games since Jan. 1, Jeff Green is leading the Boston Celtics in +/- and has a blistering 59.3 ts%.

— Celtics Town (@CelticsTown) February 8, 2013
Oh, also, Dwight Howard has fouled out. So that's one way to find the bench and escape injury.
BOS 103, LAL 73 - 7:00 remaining in Q4: It's hard to figure out a reason as to why D'Antoni has left Dwight Howard in a game that's a 30-point blowout.
Seriously? He left Dwight in the game after the timeout?

— John Schuhmann (@johnschuhmann) February 8, 2013
Kobe and Nash are resting, why not Dwight?
BOS 101, LAL 71 - 8:45 remaining in Q4: After tonight, the Lakers will have played 50 games. That leaves them with 32 games to fix this mess, and that's without Pau Gasol.
Given their lack of effort tonight, I wouldn't hesitate to say that their season is over. Houston, Portland and Utah all have shown more continuity than the Lakers.
BOS 99, LAL 71 - 8:56 remaining in Q4: Anyone else think Jeff Green would have been a fun watch in the Slam Dunk Contest?
Perhaps he fits the mold of an 'in-game dunker' more than a contest dunker, but man, can that guy fly.
BOS 97, LAL 71 - 9:46 remaining in Q4:
Lakers: 2 fastbreak points
Celtics: 16 fastbreak points
Lakers: 10 turnovers
Celtics: 5 turnovers
One team is taking care of the ball, the other is not. One is creating chances off of turnovers, the other is carelessly throwing the rock away.
BOS 95, LAL 69 - 11:55 remaining in Q4: Memo to Eastern Conference contenders: The Boston Celtics love a challenge. Beware Doc Rivers' team in a seven-game series.
BOS 95, LAL 69 - End of Q3
Boston blows it wide open in a third quarter in which they scored 37 points. The Lakers managed 25 points of their own, but their lack of defense in the half court and in transition doomed them.
It's tough to imagine a scenario in which Dwight Howard makes a return to the floor in this game, as they won't want to risk further injury to his shoulder.
Paul Pierce leads the Celtics with 24 points while Kevin Garnett has chipped in with 15 points. Jeff Green has 13 points of his own.
Kobe Bryant, the only non-offensively challenge Laker tonight, has a game-high 27 points. No other Laker starter is in double-figures.
Antawn Jamison has 11 points on 4-of-9 shooting.
assistant: "Sir - everything's imploding!" D'Antoni: "Son, we're standing on rubble."

— SBNation NBA (@SBNationNBA) February 8, 2013
BOS 95, LAL 69 - 50 seconds remaining in Q3: Boston has hit 13 of their last 14, the Lakers continue to play no defense and, well, yeah. Your 2012-13 Los Angeles Lakers, everybody!
BOS 87, LAL 67 - 1:38 remaining in Q3: Friendly reminder: The Lakers get the Bobcats tomorrow (which is by no means a gimme), and then the Heat on Sunday.
Perhaps an ugly end to the Grammy roadtrip.
BOS 85, LAL 66 - 2:22 remaining in Q3: So much visible frustration from Kobe after turning the ball over underneath the basket on that inbounds play.
The wheels are really coming off for the Lakers now.
February 8, 2013
BOS 81, LAL 66 - 3:03 remaining in Q3: Jared Dubin of Hardwood Paroxysm has a nice play on words that Laker fans sadly must agree with.
BOS 81, LAL 66 - 3:00 remaining in Q3: Ball movement and a made basket for the Lakers. Who would have thought it was possible?
The Celtics are doing a really nice job of running Mike D'Antoni's "the ball has energy" offense.

— Kurt Helin (@basketballtalk) February 8, 2013
In other news, the Celtics offense has looked electric sans Rondo.
Paul Pierce has scored 8 straight Boston points, on 3 straight possessions, w/LAL getting just 1 Kobe J. Boston up 16, matching its high.

— Mike Trudell (@LakersReporter) February 8, 2013
BOS 79, LAL 63 - 3:35 remaining in Q3: Make that eight straight for Pierce.
BOS 79, LAL 63 - 3:59 remaining in Q3: Oh, hey, Paul Pierce decided to join the party. That's four straight points for The Truth, and the Celtics appear to be close to blowing this one wide open.
BOS 72, LAL 61 - 5:00 remaining in Q3: Not sure if I'm the only one who's noticed this, but Metta World Peace is one of the most stubborn offensive players around.
Once he's got his back to the basket, even if it's in the mid-post, he's taking it to the rack and he's not looking back.
Results vary.
BOS 70, LAL 59 - 5:41 remaining in Q3: At this point, it's really just Kobe and then four other guys. Boston's defense and L.A.'s inability to hit open looks has left Kobe with no alternatives.
He's up to 24 points.
BOS 70, LAL 57 - 5:52 remaining in Q3: You can see a serious contrast in how these two offenses operate just by watching the game, but also by looking at the numbers.
Lakers: 8 assists on 22 made field-goals.
Celtics: 17 assists on 28 made field-goals.
This article is
What is the duplicate article?
Why is this article offensive?
Where is this article plagiarized from?
Why is this article poorly edited?

Los Angeles Lakers: Like this team?