L.A. Lakers vs. Boston Celtics: Postgame Grades and Analysis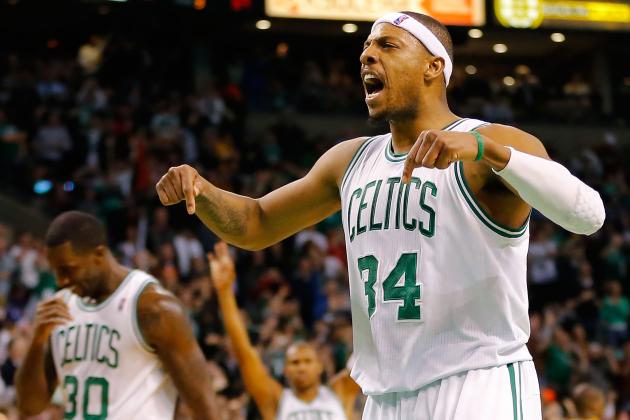 Jared Wickerham/Getty Images

The Los Angeles Lakers were the latest victims of the streaking Boston Celtics, as they were snuffed out 116-95 Thursday night.
This one was over before the final quarter began, thanks to superior ball movement by the Celtics. It was a tale of two very different offenses, as the Lakers ran a whole lot of isolations while the Celtics organically came up with points from everywhere.
The Celtics once again placed six players in double-figures, led by Paul Pierce's 24 points, seven rebounds and six assists. The Captain always enjoys showing up to play against Kobe Bryant and the Lakers.
Bryant wound up being the game's leading scorer with 27 points, but that doesn't mean a whole lot in the standings. He got little help from anyone else in purple and gold. Dwight Howard answered the pleas to play, but didn't look good posting nine points and nine rebounds.
The Celtics elevate to 26-23, hopping them over the Milwaukee Bucks for the No. 7 spot in the Eastern Conference. Another loss further hampers the Lakers' postseason chances, as they fall further out of the playoff race at 23-27.
Let's hit the Bleacher Report classroom to see how everyone graded out in Boston's blowout victory.
Begin Slideshow

»
Avery Bradley, BOS PG: B
Another solid showing out of Avery Bradley was just what the Boston Celtics needed.
Bradley has filled in admirably as Boston's starting point guard over the last two weeks, and his leadership seems to be growing with every game—something that may not have happened with Rajon Rondo on the floor.
Despite a tough night from the floor, he broke into double-digits for the second straight night, scoring 10 points and picking up five rebounds. The defense he played on Steve Nash was also in line with what we have come to expect from Bradley.
Steve Nash, LAL PG: D+
Steve Nash made some nice plays in the game, but just wasn't a factor overall.
He was bothered by Bradley all night long, and despite shaking him for a couple jumpers, had a tough go of it. Nash finished his 28 minutes with nine points and five assists, most of which came early.
Defensively, Nash was nonexistent for stretches. The Lakers defense is entirely out of position and slow to help all too often. It all starts at the point with Nash, though—especially against the Celtics. Boston is a perimeter shooting team. Therefore the defense should work from the outside-in.
Partially because Nash was unable to secure the perimeter, Boston was able to penetrate and earn 58 points in the paint.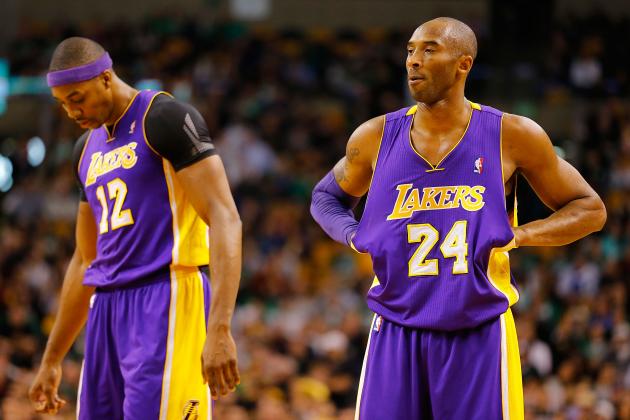 Jared Wickerham/Getty Images

Courtney Lee, BOS SG: B
While a lot came in garbage time, Courtney Lee did post 13 points in 22 minutes.
He connected on 6-of-12 from the field and grabbed five rebounds.
Defensively, Lee did his best and was on Kobe's mind all night. But it just didn't matter. Still, Lee deserves credit for sticking with one of the best scorers in the league for long stretches.
Kobe Bryant, LAL SG: B-
Bryant was hounded all night by the C's but kept hitting shots. With Courtney Lee in his jersey for many of them, the Lakers star still hit 9-of-15 from the field. He finished with a game-high 27 points, out-dueling Paul Pierce in the process.
Unfortunately, as has been the case for much of this season, his teammates really let him down. No other L.A. starter reached double-digits in points. During the third quarter, Bryant scored 12 of the Lakers' 25 points while the Celtics were pulling away, with 37 of their own.
Bryant earns a B-, however, as he didn't register a single assist and finished with a minus-20.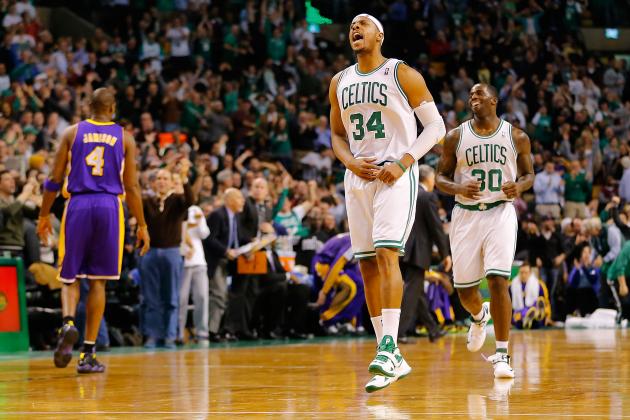 Jared Wickerham/Getty Images

Paul Pierce, BOS SF: A
Paul Pierce brought his A-game for L.A. He finished with 24 points, seven rebounds and six assists, and only two turnovers were committed in his 30 minutes of action.
Pierce went back and forth with Kobe for much of the game and wound up falling in that matchup by three points, but that mattered little.
The Celtics captain registered his 24 points on 10-of-17 shooting—extra impressive, as Pierce was coming off a 2-of-11 night in Toronto. He was relentless in his attack and hit a lot of jumpers as well. He capped off a Boston flurry in the third quarter that blew the doors of the game, with a long trey.
Metta World Peace, LAL SF: D-
In games against the Celtics, Metta World Peace has always been tasked with one job: keep Paul Pierce in check.
Throughout most of these two players' histories, he has done a good job at this, but Thursday night was different. On top of allowing Pierce to go off for 24 points, World Peace did little else to help his team in 30 minutes of action.
MWP finished with only five points and five rebounds while shooting 2-of-13 from the field. He missed all five three-point attempts, and his 13 shots were second-most to Kobe's 15 for L.A.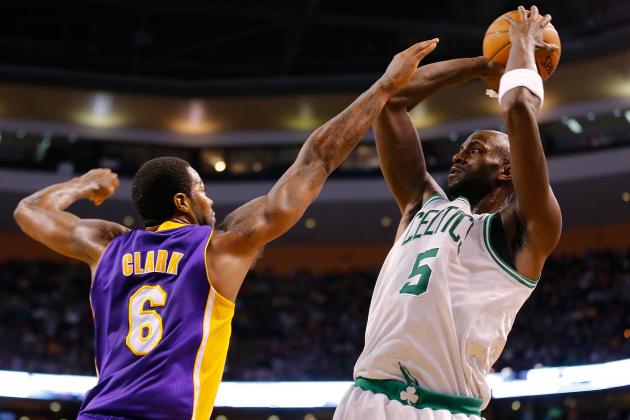 Jared Wickerham/Getty Images

Brandon Bass, BOS PF: B
In a relatively star-studded game, it was the power forward spot that fell out of the limelight.
Brandon Bass was immensely efficient in his 25 minutes, scoring eight points on 4-of-5 shooting. He finished with a solid plus-18 and helped the Celtics keep the Lakers to just 36 points in the paint.
Earl Clark, LAL PF: C
Earl Clark drew even more starters' minutes with Pau Gasol now out for a prolonged period of time.
The Lakers power forward saw minimal usage in his 34 minutes, however. He scored five points on 2-of-6 shooting.
Clark grabbed seven boards and was able to keep the rebounding relatively close in a blowout, as Boston out-rebounded L.A. by just a five-point margin (48-43).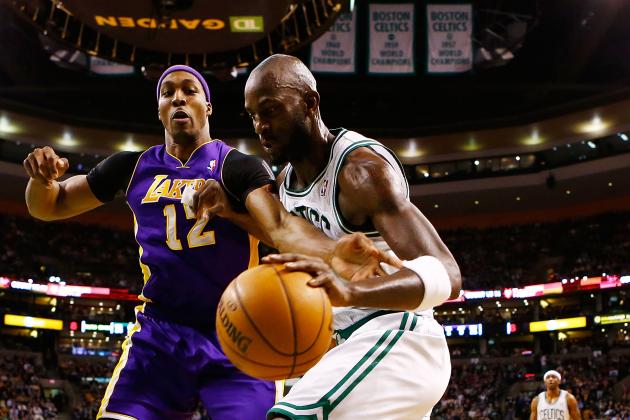 Jared Wickerham/Getty Images

Kevin Garnett, BOS C: B
The Lakers lucked out when Kevin Garnett picked up two quick fouls, thus limiting him to two first-quarter minutes.
Because once he got into a rhythm, KG continued his string of offensive performances. Garnett tossed in 27 points the previous night in Toronto. Against the Lakers, it wasn't as prolific, but the genius of his movements still stood out.
Where he outplayed Dwight Howard wasn't on the glass, or even shooting. It was moving without the ball. Where Howard stayed passive in spots, Garnett was in constant motion, looking to give his distributors an open passing lane.
He rode that play to 15 points in just 23 minutes. He also grabbed five boards and tallied four assists. Also worthy of mention, Garnett became the 16th player in NBA history to reach the 25,000-point milestone in the contest.
Dwight Howard, LAL C: C-
He responded to the heavy media scrutiny of late regarding his ability to play through pain, but Dwight Howard was far from effective.
Howard finished his 28 minutes with nine points and nine rebounds, and fouled out midway through the fourth quarter (though the game was out of reach by that point anywa)y. He also finished just 1-of-6 from the free-throw line.
Howard is not healthy, and looked it. He did a whole lot of standing around offensively, watching Kobe Bryant or Steve Nash set up plays for themselves.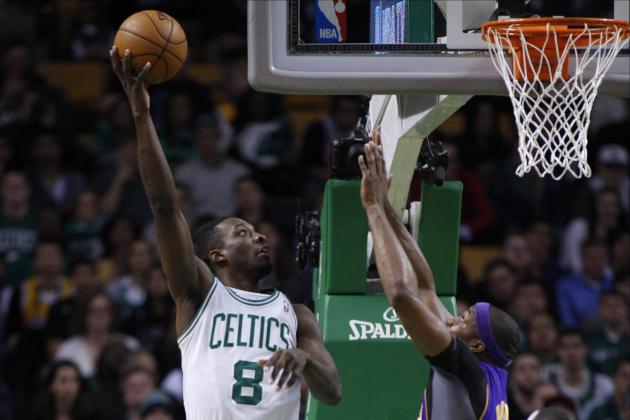 Greg M. Cooper-USA TODAY Sports

Jeff Green, BOS SF: B+
Jeff Green showed some great aggression throughout the game, driving at Antawn Jamison and fearlessly going through Dwight Howard at the rim. Green got to the line six times and hit all of his free throws, tallying a strong 19 points.
Late in the third quarter, with the Celtics pulling away, Green had a sequence that started when he threw down a fast-break dunk. That was followed up by him racing to the other end of the court to reject a Jamison layup.
Antawn Jamison, LAL PF: C
Antawn Jamison's numbers were good. He tallied 11 points on 4-of-9 shooting.
However, the numbers were entirely uninspiring and Jamison finished with a minus-24 for the game. The Celtics wings got by him and into the paint at will.
After grabbing eight boards against the Brooklyn Nets last time out, Jamison was not a factor on the glass in Boston. He came away with just a pair of rebounds.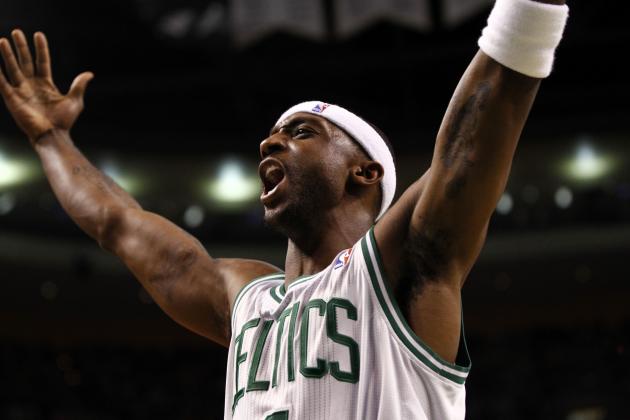 USA TODAY Sports

Boston Celtics Bench: A-
Boston's reserve bigs were called into action early on due to foul trouble. Both Chris Wilcox and Jason Collins saw time after Kevin Garnett picked up a pair of quick fouls. Wilcox held his own, but both were there to simply bother Dwight Howard. They did a good job of it too.
Wilcox wound up with eight points and nine rebounds in an impressive 18 minutes.
Jason Terry enjoyed a nice game off the bench, hitting some shots and running the second unit's offense. He scored 15 points, on 5-of-6 shooting. He also finished with a game-high plus-25 on the night.
Los Angeles Lakers Bench: D
Not a whole lot going on here outside of Antawn Jamison's solid production.
Jodie Meeks had some nice defensive moments, but his only success on offense came in garbage time. Meeks tallied 13 points, but took 12 shots to get there.
Steve Blake saw 17 minutes and finished with seven points.