20 Teams You Almost Feel Sorry for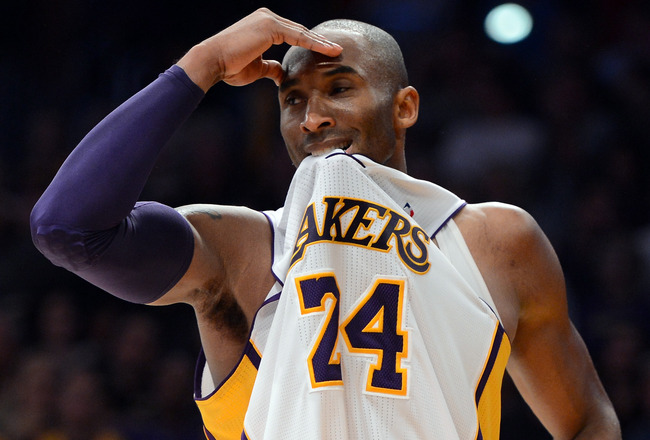 Harry How/Getty Images
Sympathizing with the enemy is not in the DNA of sports.
Fans and players alike are, at their core, haters—even if we let friends from across enemy lines come over to watch the game.
Respect and tolerance are different than sympathy.
This demarcation line is a key element of why sports are awesome and why emotions run so deep that the drama of a game can make a fan's heart stop or spark a massive riot. To wander down that path, where you wish for something other than loss after loss for the opposition, feels almost treacherous.
However, sometimes it's impossible to avoid at least a tiny kernel of sympathy for those teams that are either mired in mediocrity of historic proportions or fallen so far from greatness that each new low is almost too painful to watch...almost.
While may entertain a moment in the shoes of those teams fans, the sports genome is something too powerful to ignore—you may feel sorry for another team, but around the edges is a hint of satisfaction.
It's a shame how that team finds new and cruel ways to lose, but you can't help but feel a lingering sense of justice—even though it isn't fair.
These are 20 teams you can ALMOST feel sorry for—ranked from the least sympathetic to the most.

Dallas Cowboys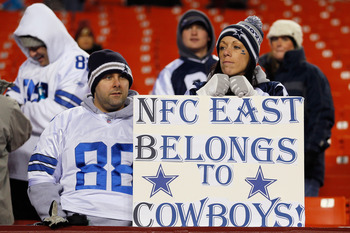 Rob Carr/Getty Images
The phenomenon that is the Dallas Cowboys starting the season as one of the most talented teams, only to fail to meet expectations in crushing fashion, has become as predictable as the changing of the seasons.
Owner and GM Jerry Jones' Hall-of-Fame packed juggernaut of yesterday has transformed into today's disappointing dud, perfectly defined by good guy and perennial choke artist quarterback Tony Romo, a wounded creature we pity but can't help.
But the Cowboys are America's Team.
Why then does that label to invoke more ire from the rest of the country than positive feelings for Dallas?
How can sorry can you feel for a team that gives itself such a presumptuous title?
Jerry Jones brings so much of the Cowboys woes on.
In a decade, the billionaire took the sad sack Cowboys from nothing to one of the most valuable sports franchises on earth.
Why can't the man who built a billion dollar stadium and hosted a Super Bowl recognize that he sucks as a GM?
Boston Red Sox
Jared Wickerham/Getty Images
For almost a century the Red Sox and their fans struggled with the curse of selling Babe Ruth to the Yankees in 1916.
Just when it seemed like they were over that hump for good, the Sox have careened into the abyss ever since blowing a seemingly unblowable lead in AL East over the course of the last month of the 2011 season, missing the playoffs altogether.
The famous beer and chicken scandal that followed forced ownership to clean house and bring in (now former) manager Bobby Valentine. But in 2012, all the Sox accomplished was some backbiting and salary dumping.
And things don't look great for 2013.
But then again, that whole Curse of the Bambino was put to bed in 2004, when the Sox won their first World Series in over 80 years.
Then they won it again three yeas later in 2007.
So despite being forced into rebuilding, the Sox aren't exactly underdogs anymore.
Los Angeles Lakers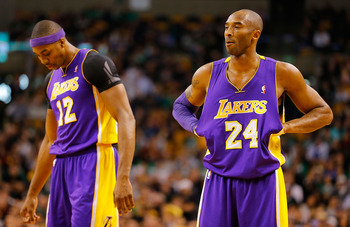 Jared Wickerham/Getty Images
There are going to be plenty of people who feverishly disagree with this just because they absolutely hate the Lakers on principle.
But as an objective NBA observer without a hometown team, I can't help but feel a little sad for the Lakers and all their recent turmoil.
The Dwight Howard experiment is a bust.
Pau Gasol is a sad, hollowed out shell of himself.
Steve Nash needs to retire.
Yet with all that Hall of Fame talent around him, Kobe Bryant might as well be playing alone. .
But They are the Lakers. They've got dozens of conference titles, division titles and championships dating all the way back to 1949.
Many of the game's most recognizable legends have played in Los Angeles; Wilt Chamberlain, Kareem Abdul-Jabbar, Elgin Baylor, Magic Johnson, Shaquille O'Neal and, of course, the Black Mamba.
Things look bleak now, but their past success is enough to drain sympathy from them forever.
Vancouver Canucks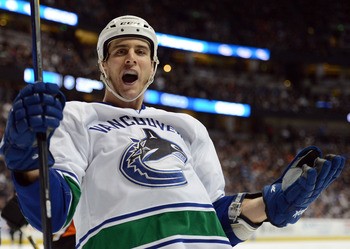 Harry How/Getty Images
There's just something weird about the Canucks.
They have been, hands down, the most successful regular season team since 2008—finishing with over 100 points in the standing each season. Yet three out of four of those seasons, they were knocked out of the playoffs before the conference finals.
The series weren't even close.
The juxtaposition between their play in the regular season and their play in the post season has got to be gut wrenching for the fans in Vancouver. The only year they made it to the Finals, they blew a 2-0 series lead against the Bruins and lost in seven games.
It was brutal.
It's tough to feel bad for a team that earns President's Cup honors as the NHL's top team in the regular season, only to inexplicably wilt in the playoffs.
You do earn your reputation in the playoffs after all.
I wanted to fee bad like Vancouver fans did when their No. 1 seeded Canucks were bumped by the No. 8 seeded Kings in just five games in 2012, but it was impossible to muster any legit sympathy for these regular season warriors.
New York Knicks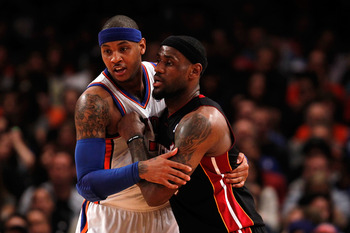 Jeff Zelevansky/Getty Images
The Knicks have made some strides in recent years.
Even losing to the Heat in the first round of the 2012 Playoffs 4-1 was an achievement. At least they made the playoffs and won a game—the first time they managed to do that in over a decade.
The Knicks did enjoy some success during the Patrick Ewing era but never won a championship in the 1990s.
The Bulls were hogging them all.
The Knicks have had some ups and downs, but 2013 marks the 30-year anniversary since the last of their two championships was won in 1973.
They're the New York Knicks however.
Everyone wants to play in New York, which gives them a massive advantage over every team in the NBA—with the possible exception of the Lakers.
The hiring of Isiah Thomas as the President of Basketball Operations, and later as coach, was an abject disaster that the Knicks should have recognized far earlier than they did.
They've made a habit of overpaying losers like Eddy Curry and trading away draft picks for the privilege of doing so.
How can you really feel bad for a team that brings it all on itself?
Oakland Raiders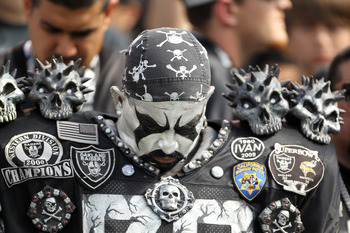 Ezra Shaw/Getty Images
The late Al Davis was an eccentric man whose decisions as owner and self-appointed GM of the Oakland Raiders were often as puzzling as the team's play over the last two decades.
The franchise's contemporary drama and dysfunction shouldn't overshadow the fact Davis is one of the godfathers of the modern NFL we love and helped turn the Raiders into perennial contender in the '70s and '80s.
To see someone who's such an important part of the NFL's history flounder through debacles like epic bust JaMarcus Russell and former coach Lane Kiffin's serpentine antics is just hard to watch.
But it's all-so very Raiders.
Davis and players like Jack "The Assassin" Tatum loved to be hated, a mentality embraced by the raucous fans adorned in silver and black face paint.

Is it any surprise that the architect of the Raider's menacing swagger would eventually be the team's undoing?
New York Mets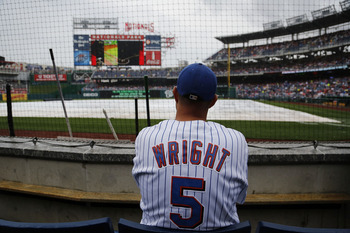 Jonathan Ernst/Getty Images
The Mets are like the Knicks in a lot of ways.
They've got big bloated budgets, a consistent record of organizational failures from the top down, a loyal fan base and only two championships in franchise history.
The team has had sporadic success but always seems to be tearing down and rebuilding.
Despite existing in the sizable shadow of the Yankees, their fans remain some of the most devoted in MLB.
Anyone who hasn't jumped ship by now deserves a hug.
But how can you feel bad for the Mets when their owner is paying off a massive lawsuit over his involvement in the infamous Bernie Madoff Ponzi scheme? It's unclear whether or not Fred Wilpon knew about the scheme to be fair.
If he did know about it, then he's a terrible human being. If he didn't know about it, then he's an even worse businessman than that ridiculous Bobby Bonilla contract suggested. Mostly likely he's a terrible human being and a terrible businessman.
Bad combo.
Washington Capitals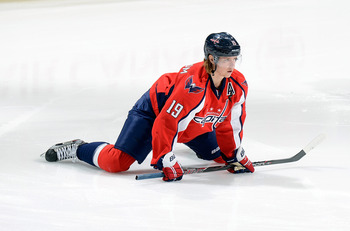 Greg Fiume/Getty Images
The Capitals have been among the top regular season finishers in the NHL for years.
But they somehow, they manage to find away to come up with a more disappointing finish in the playoffs than the year before.
The culprit seems to evolve each season.
Sometimes it's sub par play by the team's stars, other times it's the goaltending or a combination thereof.
They've been through three coaches in the last year.
And in 2013, after a recent 5-2 loss to the rival Penguins, the Caps are currently dead last in the NHL.
It's tough to feel for a team that has never done anything in the playoffs with what was, until recently, considered one of the most talented teams in the league.
They've got a great arena, fan base and a certified (if not slumping) superstar in Alexander Ovechkin.
Pull it together.
Miami Dolphins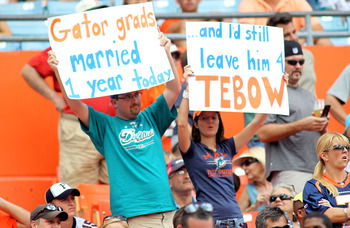 Marc Serota/Getty Images
It's been over a decade since Hall of Fame quarterback Dan Marino retired.
The Dolphins have yet to recover.
They've been through plenty of coaches and quarterbacks in that time but are still looking for that winning formula.
The fact that they're playing in the same division as the most dominant team of the last decade hasn't helped matters.
It's hard to feel for a team that still pops champagne (whether or not they actually do that) to celebrate the defeat of the final unbeaten team each year.
The 1972 Dolphins have the distinction of being the only "perfect" team in NFL history, but it's been 30 years, and the whole thing just reminds us all what a laughingstock the 'Fins have been recently.
Philadelphia 76ers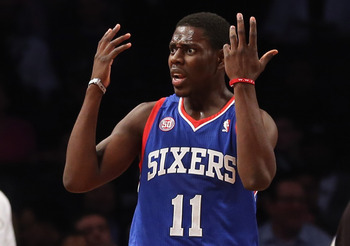 Bruce Bennett/Getty Images
These days it seems every free agent worth getting excited about sets their sights on just three to four teams.
If you're not New York, Miami, Los Angeles or—to a lesser degree—Chicago, good luck trying to land a superstar player.
The Sixers were one of the more successful teams in the league from the early 50s through the early 80s, but their record of success since has been sporadic at best.
It's difficult to feel bad for any team from Philadelphia.
The fans there may be some of the most loyal and rabid fans in the country, but they aren't exactly a welcoming group.
Plus, they've got three championships in franchise history, one more than the Knicks.
Kansas City Chiefs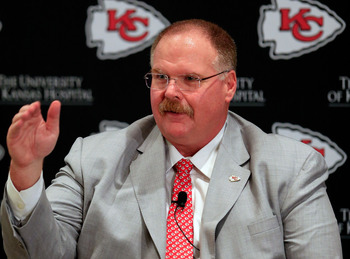 Jamie Squire/Getty Images
At this point, it's hard not to feel for the Chiefs.
They're not exactly a major market, but they've got one of the most loyal (and loud) fan bases in the NFL. But since 2008, the Chiefs have been consistently one of the worst teams in the league, finishing over .500 just once and three times finishing with less than five wins.
And then there was the devastating Jovan Belcher murder-suicide in 2012—which you have to think is rock bottom for this franchise.
Once you reach rock bottom, there's nowhere to go but up—right?
The Chiefs made the decision to clean house after the 2012 season. Romeo Crennel and Scott Pioli were swept out in favor of former Eagles head coach Andy Reid and John Dorsey.
Plus, the Chiefs enjoyed great success in the 1990s and have two championships in franchise history.
Phoenix Coyotes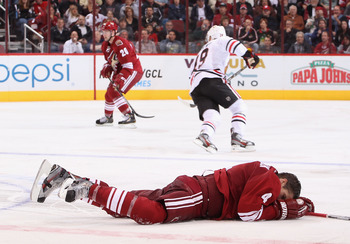 Christian Petersen/Getty Images
Despite being owned and operated by the NHL and being among the lowest spenders on players in the league, the Coyotes managed to get all the way to the Western Conference Finals in 2012 before being defeated by the Kings.
A surprise success that was foreshadowed by almost no one.
In the economically depressed state of Arizona, the Coyotes routinely finish dead last in the NHL in attendance.
It's sad to see a team play in a half-empty building in the playoffs.
In a league that has suffered so much from expansion—why should we feel sorry for a team that can't find an owner? There has been some recent movement on the ownership front, an attempt to keep the team in Arizona, but does the NHL benefit from keeping the team in Arizona?
Maybe this team doesn't need to relocate.
Maybe it just needs to disappear.
And take three other teams with it.
New York Jets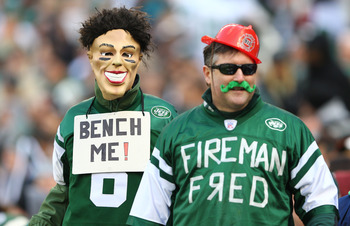 Al Bello/Getty Images
After going to two straight AFC Championships in Rex Ryan's first two years in New York, the Jets have now failed to make the playoffs in two consecutive years.
Their quarterback situation is bleak.
The Tim Tebow experiment was a bust that nobody will take responsibility for.
The team is always sniping at each other anonymously through the media, and Ryan has failed to hit on a single draft pick in the four years.
You have to pity the fans just a little.
It's almost impossible to really feel sorry for the Jets, because they bring all of this on themselves. They've got a terrible owner in Woody Johnson, who cares more about national politics than he does about football.
Their locker room has eroded because of the poor leadership and the "boys will be boys" managerial style of head coach Rex Ryan.
Not to mention, Ryan's icky foot fetish semi-scandal and the tattoo of his wife sporting a Mark Sanchez jersey is just too much.
Chicago Cubs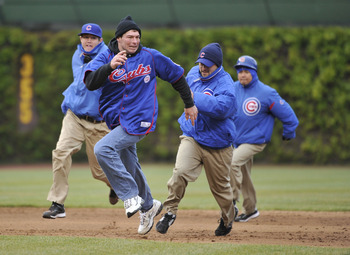 Brian Kersey/Getty Images
Most of us are skeptical of curses and jinxes, because rationally we know that arbitrary occurrences don't have any impact on life down the road.
But you have to admit that if any team in sports can claim to be cursed, it's the Cubs.
The curse of the Billy Goat, the Curse of the Black Cat, the Curse of Steve Bartman (which was more of a curse on Steve Bartman) are all pretty absurd, but so is the fact that the Cubs haven't won a World Series in over a century.
That's a lot to bear for beleaguered Cubbies fans.
The Cubs are routinely among the biggest spender in terms of payroll in all of the MLB.
They're a large market team with an unshakably devoted fan base.
It doesn't matter what level of suck the Cubbies manage to reach, they can always put butts in the seats at Wrigley.
So it's a matter of terrible management and investing heavily in terrible players.
I actually used to really feel bad for the Cubs and their fans, but that was before I saw how ugly they could be in the wake of the whole "Steve Bartman Incident" back in 2003.
Cleveland Indians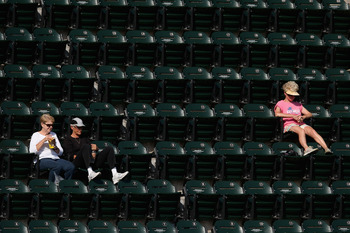 Jonathan Daniel/Getty Images
The Indians have been in an constant state of rebuilding over the last decade.
They've struggled mightily since 2008, going through several managers and GMs over that period.
And remember that time Ohio native LeBron James wore a Yankees cap to an Indians game?
Ouch.
But then again, the Indians actually enjoyed a lot of success in the mid-late 1990s.
They contended for the division in '94 and in '95, actually playing in their first World Series since 1954—losing to the Braves in six games.
They also won their division and made the playoffs in 2007.
Jacksonville Jaguars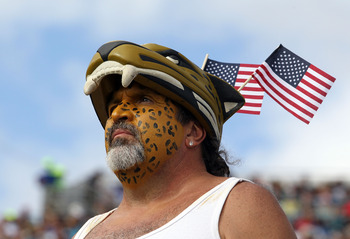 Sam Greenwood/Getty Images
The Jaguars actually had a lot of unexpected success after they entered the league via expansion in 1995. They made the playoffs four straight years from 1996-99 and played in the AFC Championship in '96 and '99, losing both times.
That was then.
Since 2000, the Jags have only made the playoffs twice and have averaged six wins per season over the last 12 years. They've gone through a number of coaches, quarterbacks and a recent change in ownership as well.
Why does Jacksonville even have a professional football team when Los Angeles does not?
The team has resorted to cheap giveaways and other tricks to unload tickets in order to avoid televisions blackouts.
Question: Who wants to pay to see Blaine Gabbert?
Answer: Nobody.
It's becoming clear that the Jacksonville area simply cannot support an NFL franchise. Moving a team is never ideal, but at some point you have to just face the facts.
U.S. Men's Soccer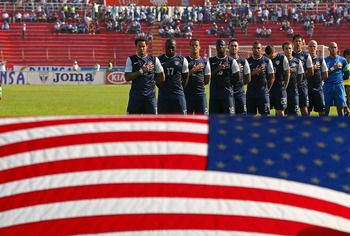 Mike Ehrmann/Getty Images
The U.S. men's soccer team has been trying to get their house in order in recent years.
The hiring of Jurgen Klinsmann in 2011 was supposedly going to change the culture of the game in the states.
But every time the team seems to take a step forward, like defeating Mexico for the fist time on Mexican soil, they immediately take a step back.
It's tough to feel sorry for any American team that doesn't even have enough talent to beat a tiny country like Honduras. The United States boasts a population of just under 315 million people. Honduras? Just fewer than eight million.
That loss to Honduras was ugly, inexcusable really. And it greatly reduces the United States odds of even qualifying for the 2014 World Cup.
Pittsburgh Pirates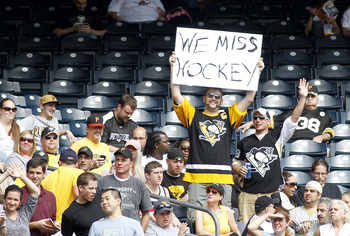 Justin K. Aller/Getty Images
It's hard to believe that the Pittsburgh Pirates of today are the same franchise that won five World Series and nine division titles with players like Willy Stargell, Roberto Clemente, Honus Wagner and Doug Mazeroski.
Since falling to the Atlanta Braves in seven games during the 1992 NL Championship Series, the club has failed to make the playoffs or even finish above .500 for 20 consecutive years.
It's a fall so precipitous that you can't help but wonder if long-suffering Pirates fans will ever claim the "City of Champions" mantle again.
Sadly, as good as the young star Andrew McCutchen is, we all know one man isn't the answer.
However, the team's historic streak of bad baseball falls squarely on the club's cynical approach to the game, as well as its ambivalence to an MLB system that subsidizes failure.
The Pirates operate with one of the lowest payrolls in baseball, spending just over half as much as the 2012 Champion San Francisco Giants.
The reality is that throwing more money at the problem is the answer.
Edmonton Oilers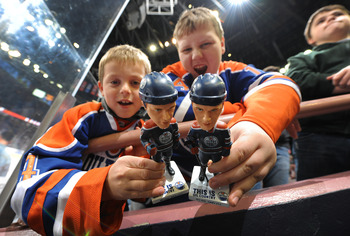 Dale MacMillan/Getty Images
The thing about hockey is that the overall health of the NHL is better when teams in Canada are competitive.
Canadians are passionately dedicated to their national sport, so it was cause for alarm when a poll in December 2012 revealed that most of them didn't care whether or not the lockout was settled.
Their relative indifference likely has a lot to do with once great Canadian teams like the Oilers becoming perennial bottom dwellers. After an unprecedented reign of success in the1980s, the Oilers have spent much of the last two decades hovering at or around last place in their division.
The Oilers do have those five Stanley Cup championships they won between 1983 and 1990. That's run was hot enough to warm fans through those cold Canadian winters for quite awhile.
Plus, they have the memory of the greats like Wayne Gretzky and Mark Messier, who once donned the Oilers sweater.
They didn't have to trade Gretzky away to the Kings or do nothing but dump salary for much of the 90s.
That's just greedy ownership and bad management.
Leveraging the future to pad their healthy bank accounts. You've got to feel for the fans and players but not for the team itself.
Cleveland Browns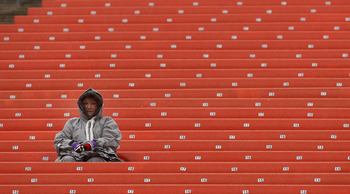 Matt Sullivan/Getty Images
Has there been any ragtag bunch of losers more hapless over the last 50 years than the Browns?
Their fans remain steadfastly committed to their team despite a complete lack of history to suggest they may one day break out of their is funk.
The Browns have never won a championship in their existence—they've never even made it to the Super Bowl. And we all know the story about Art Modell packing up his team and leaving for Baltimore in 1995.
Pretty harsh, to say the least.
But you'll recall that the Browns didn't do anything in Cleveland even before the original team was moved to Baltimore, maybe some marginal success once or twice every decade, but that's about it.
The Browns have been failing on all cylinders for most of their existence.
Which means it's not just bad luck.
It's not like a few things have failed to go their way.
It's more like complete organizational failure.
Just fix it.
Keep Reading