NBA: 5 Reasons LA Lakers Can Make Playoffs in 2013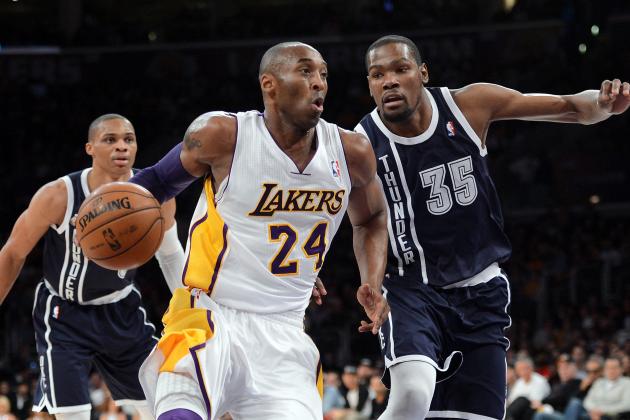 Harry How/Getty Images

The Los Angeles Lakers are not in the position they envisioned when they traded for Dwight Howard and signed Steve Nash in the offseason.
It's been a season of injuries and disappointments. The latest news indicates Pau Gasol will miss at least six weeks with a partial tear of his plantar fascia.
Sitting at 23-26, the Lakers are tenth in the West and three games behind Houston for the eighth seed.
It's time the Lakers started treating each game as if it were a playoff game. Time's running out and every loss digs their hole a little deeper.
Despite the adversity they have faced, the Lakers are on a three game winning streak (all on the road) after playing the second toughest schedule in the NBA in the season's first half.
If they can get to the .500 mark before the All-Star break, they will carry momentum down the stretch. They're going to need all the momentum they can get, as they'll most likely have to win at least three of every four games to reach the postseason.
Showing positive signs of late, here are some ways the Lakers will be playoff bound in 2013.
Begin Slideshow

»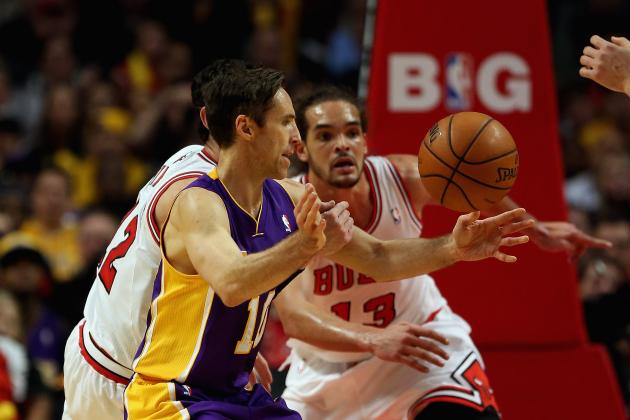 Jonathan Daniel/Getty Images
Steve Nash is a pass first type player.
Kobe Bryant finally realized he can't do it all himself. He's averaging just over nine assists in the last seven games and the Lakers have won six of those. With the double teams he draws, there's always an open man.
With all the injuries, the Lakers have had a variety of different lineups this season. Even though Dwight Howard is in no rush to get back from an aggravated labrum in his shoulder, the team is starting to get comfortable.
The offense will still run through Kobe. But because he is starting to spread the shots out, he's allowing his teammates to gain confidence.
We saw a lot of individual play in the early part of the season, and that was a big reason for their struggles. When the Lakers started to trust each other and share the ball, they have played much better as a team.
There are a lot of shooters on this team, so continuing to make that extra pass is going to be crucial to the ultimate success of the Lakers.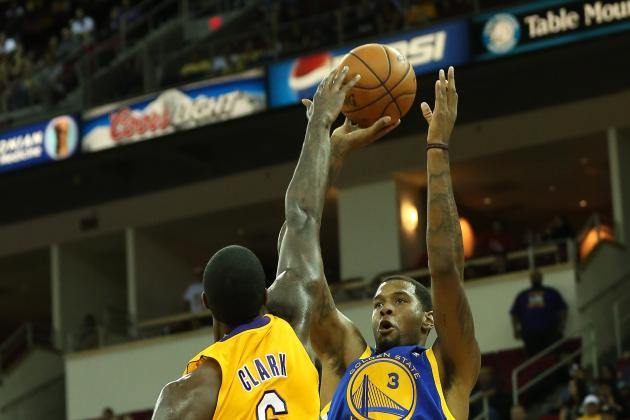 Stephen Dunn/Getty Images
Clark brings defense and offense to this team.
Earl Clark has played a key role in the recent surge of the Lakers. He has four double-doubles in his last five games, including a 20 point, 12 rebound game against New Orleans on January 29.
His minutes have been increasing and his quickness and mobility make him an intriguing option at power forward.
He is beginning to get respect from his teammates as a result of his efforts. From Dave McMenamin of ESPNLosAngeles.com, Kobe Bryant commented on the play of Clark,
He's just been consistently playing well. When that happens, you just have to say the player is good. He's good. He does it on a nightly basis with rebounds and knocking down jumpers and handling the ball and defending. He's just a really good player.
Clark came to Los Angeles in the Howard trade and has had to earn his court time this year. With the injuries to Howard and Gasol, Clark will be called on to fill the void.
His presence on the boards shows he can be a valuable asset to this team. He's grabbed 52 rebounds in the past five games.
He's played great so far. With his increased role, he will break out and help guide the Lakers to the postseason.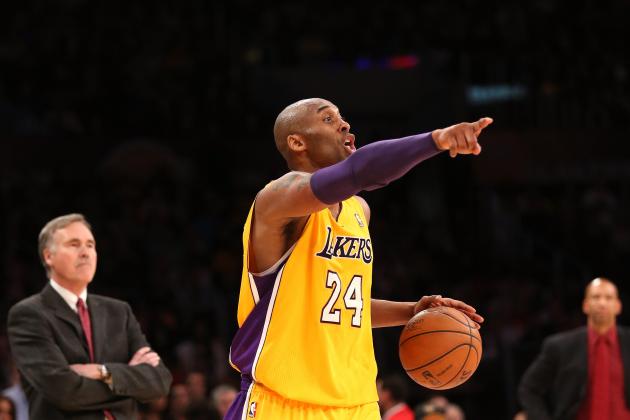 Stephen Dunn/Getty Images
Bryant has become the Lakers facilitator on offense.
The Lakers aren't the Lakers without Kobe Bryant. He has proven time and time again why he is one of the best players in the league.
He is now the facilitator of this team. He draws the defense to him and he finds the open man. He's becoming a team player and that has really been beneficial for the Lakers.
Kobe has never had to pass the ball before. He passed when he wanted, not when he needed to.
Now, the shooter is adapting to the best interests of the team. He's still going to get a good amount of shot attempts, but having the state of mind to share the ball and get his teammates involved is what has started to turn this season around.
He knows how to win and understands he has to play a certain role for this team to achieve success.
Showing his versatility can be scary for opponents. He's too good of a shooter to ease up on for a second and now he's shown he's just as good a passer.
He can exploit the weaknesses of a defense and use that to his advantage any given game.
He's embraced the situation. At this point in his career, Kobe just wants to win. He's been stepping up on defense and grabbing key rebounds.
Kobe can single-handedly guide the Lakers to the postseason. For that to happen, he has to stay focused on the goal and not resort back to isolation offense.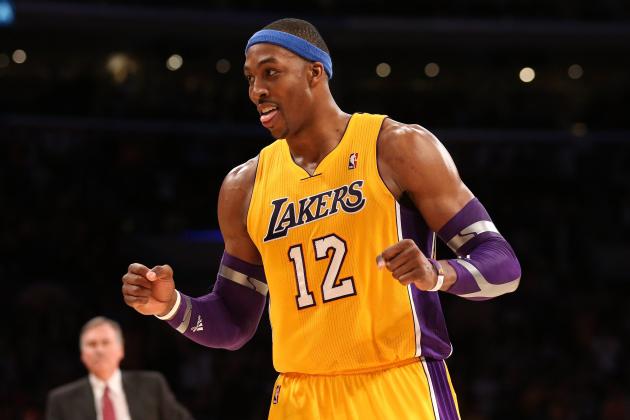 Stephen Dunn/Getty Images
Howard will become more important with the loss of Pau Gasol.
Dwight Howard has struggled to find an identity in Los Angeles. He hasn't been 100 percent since his back surgery last year and it's clear he wasn't comfortable on the floor with Pau Gasol.
Though his shoulder is giving him some problems, Kobe is urging Howard to play through the pain. (via ESPNLosAngeles.com) With the loss of Gasol, they need Howard more than ever.
I think with Gasol sidelined, Howard will go back to being the dominant player he was in Orlando. He has given the Lakers a glimpse of the player they traded for, but he's been inconsistent overall.
He won't have to share the paint and can move around and get good positioning. On defense, he limits the amount of points in the paint because he clogs the lane with his size.
First, Howard needs to find a way to get on the court and have an impact.
When he returns, I think he'll provide a spark and show he is still a force to be reckoned with in the middle.
In an interview with Stephen A. Smith, Howard told him,
Right now, my only focus is to get us into the playoffs and win the championship. Nothing else matters at this point.
Howard is in a contract year. If teams think he's going to be plagued by injuries the rest of his career, then he needs to show them (especially the Lakers) he can still compete.
I expect to see him back soon and contributing right away. A healthy and productive Dwight Howard can only help the Lakers. A big second half from Howard will propel the Lakers into the playoffs.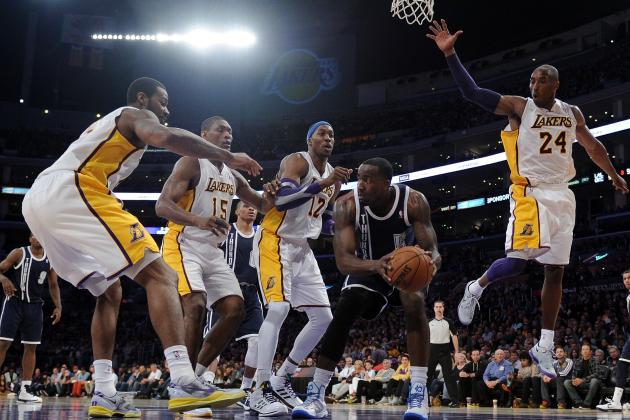 Harry How/Getty Images
Defense will be key to the Lakers success down the stretch.
The Lakers have struggled on defense the entire year. With an aging team, their legs aren't what they used to be and the defense has shown that weakness. Plus, Mike D'Antoni is an offensive-minded coach who doesn't put much emphasis on defense.
While they are on a good run, to completely right the ship they're going to need good defense for 48 minutes. We've seen them play quality defense when they have to, but it's come too late in games.
Earl Clark has given the defense a boost. He knows the most important thing for this team is to overcome its defensive woes. In an interview with Alex Kennedy of HoopWorld.com, Clark remarked,
We have to stay ready on the defensive end–stay engaged and just play defense. We have so many offensive weapons and it's easy for us to score 100 to 110 points per game. But it takes dedication and constant will to stop the opponent because there are so many great players in the NBA.
Dedication to defense is going to be the major factor in determining whether or not the Lakers make the playoffs. If they can overcome their struggles and improve just slightly on defense (they're giving up 100.5 points per game), we may see the Lakers reach the playoffs.
They have been able to rebound well all year, but we need to see more lockdown defense and steals that lead to points. This veteran team knows what to do to get the job done.
It's a long road, but if the Lakers manage to sneak into the playoffs, they'll be a tough opponent for any team. For now, it's up to the players to overcome adversity and let their play do the talking.