Philadelphia Flyers Did Not Deserve Vincent Lecavalier's 'Retribution' Fight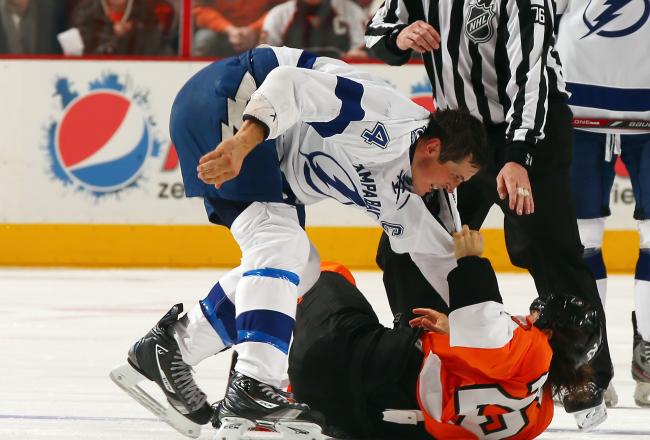 If Vinny Lecavalier wants to be a tough guy, he should not bully non-fighters.
Elsa/Getty Images
Quite a bit came out of Tuesday night's matchup between the Philadelphia Flyers and the high-octane Tampa Bay Lightning.
Of course, most important to the Flyers was the 2-1 win, punctuated by a stifling defense and two goals from a very unlikely source, that being "tough guy" Tom Sestito.
However, anyone who saw this game would be remiss if they did not mention the fight between the Flyers' Zac Rinaldo and the Lightning's B.J. Crombeen.
This fight, incidentally instigated by Crombeen, has been shown quite extensively over the last couple of days.
Rinaldo caught Crombeen with a right hand to the chin, essentially putting Crombeen "out on his feet" before following up with two rights to the side of Crombeen's head while he was on his way down.
Rinaldo came out at the opening of the second period to ask the referee if he had hit Crombeen when he was down, to which, the ref replied that he had not. The ref confirmed that Crombeen was on his way down but not down.
Apparently, the Lightning did not agree.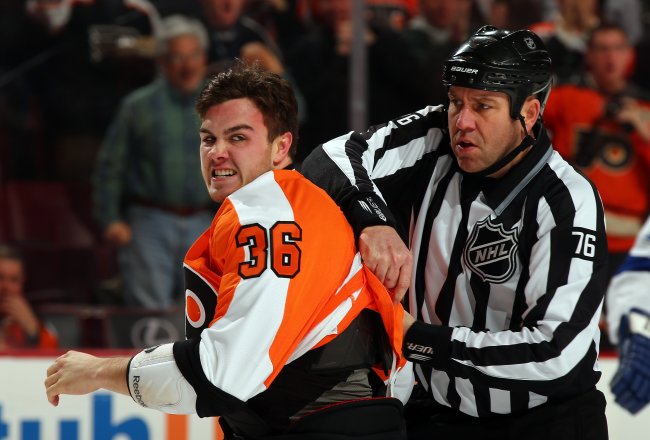 Raise your hand if you'd like to see Lecavalier run into this guy
Elsa/Getty Images
I remember saying at the time of the fight, that somebody on the Lightning, most likely Vincent Lecavalier, would pick a fight with a Flyer later in the game...and it probably wasn't going to be a Flyer known for his fighting prowess.
Sure enough, the 6'4" Lecavalier did not go after Rinaldo, Sestito or even Tye McGinn. Who did he go after?
Max Talbot.
Max Talbot, who give away five inches and over 20 pounds to Lecavalier.
Max Talbot, who has a high of 66 penalty minutes for a full season, and, though tough, is most certainly not a fighter.
Is it me, or is this a pretty cheap, bully-type move by someone trying for a "safe retribution"?
Not only did Lecavalier pick a fight with a non-fighter, but he also did hit Talbot when he was down on the ice.
I certainly can understand why the Lightning were upset about the Rinaldo fight. I can even understand wanting to even the score.
However, if Lecavalier wants to play the role of the protector, then he should not be a "selective tough guy," and maybe, just maybe, take it out on one of the Flyers' tough guys, if not Rinaldo himself.
Could it be that Lecavalier wanted no part of a fight with Rinaldo?
You decide.
This article is
What is the duplicate article?
Why is this article offensive?
Where is this article plagiarized from?
Why is this article poorly edited?

Philadelphia Flyers: Like this team?