2013 NFL Draft: 10 Prospects Who Were Born to Play for the Philadelphia Eagles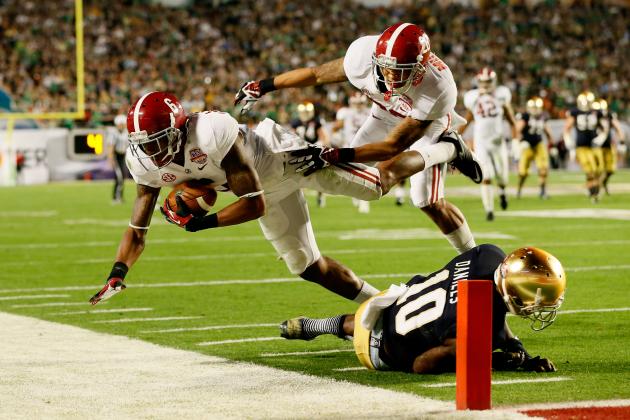 Kevin C. Cox/Getty Images

The identity of the Philadelphia Eagles heading into next season is anything but clear.
The Birds can no longer hang their hat on Jim Johnson's defense, they can't out-smart their opponents with screens and draw plays and they aren't going to beat you with the deep ball. For all intents and purposes, the Eagles are a team in transition that is looking for an identity.
In the past, being a Philadelphia Eagle meant being a loser—until Andy Reid became the team's head coach. At the beginning of his tenure, Reid and his coaches changed the culture of the team and developed a perennial 10-win franchise. Being an Eagle then meant being a hard-worker with skills. However, it also meant being an underachiever.
We know that the Eagles' new head coach, Chip Kelly, is going to run some semblance of the offense he ran while he was the head coach at Oregon: a fast-paced, quick, all-out offensive attack. There's no better proof of this than reports that Kelly has been looking into acquiring Dennis Dixon (h/t CSN Philly), who was one of his quarterbacks at Oregon, as a backup quarterback.
So, what will it mean to be a Philadelphia Eagle in the future?
Undoubtedly, the city will want hard workers who accept responsibility for their shortcomings. The city always appreciates sports figures who "leave it all on the field" and play as hard as they can with the time that they have.
Chip Kelly's approach to the game is one that requires a lot of hard work. Going up and down the field offensively at the pace Kelly is most likely going to want will require his players to be in peak physical condition. Defensively, you will have to be a hard worker to play, and we saw what happened when players gave up last season.
All of this considered, what it means to be a Philadelphia Eagle in the future could change dramatically. Being an Eagle could mean being a fast, powerful, quick-thinking dynamo who leaves it all on the field.
The following slideshow will outline 10 players that will be availabe in the upcoming NFL draft who exemplify these traits exceptionally well.
Begin Slideshow

»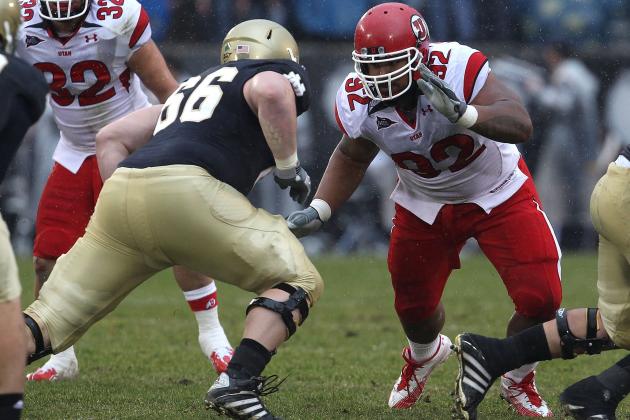 Jonathan Daniel/Getty Images

Star Lotulelei's skill set affords him the kind of versatility that would make him a fantastic Philadelphia Eagle. No matter whether the Eagles run a 3-4 or a 4-3, Lotulelei would be great because he can conceivably thrive in either style.
He's strong, fast and explosive off the snap. Though his inconsistency could prove to be an issue, Star Lotulelei would exemplify what it means to be an Eagle because of the way he plays the game.
He's like a cut-throat that does what it takes to get the job done, and he's good at it.
Lotulelei exudes the kind of ability and ferocity that embodies what Eagles fans want to see in their players.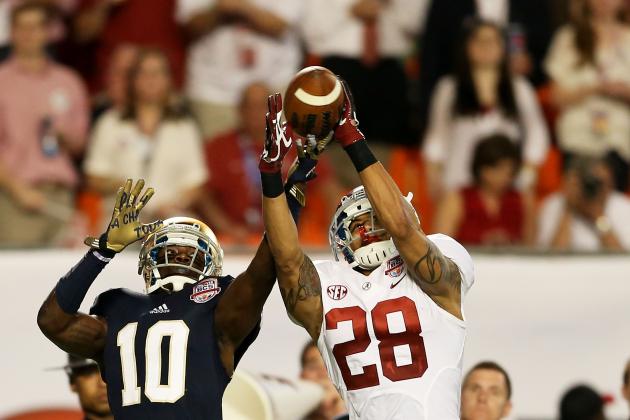 Streeter Lecka/Getty Images

Although the Birds can't have both Lotulelei and Milliner, the latter of the two would be just as good because he isn't a quitter.
Milliner is a physical specimen who is only going to get better. He doesn't run his mouth, he plays hard and he has exceptional work ethic.
Oh, yeah, he's also skilled in coverage, he doesn't miss tackles and he's aggressive.
The problem with Milliner is that he's not fast enough to play as aggressively as he does. But in time, there's no reason he won't learn his limits and adjust accordingly.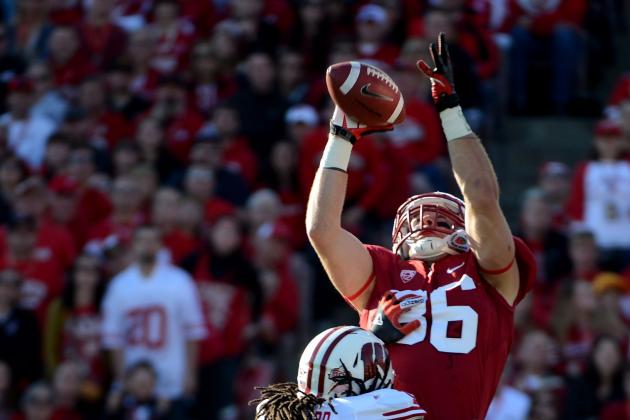 Harry How/Getty Images

We know Zach Ertz is a big, gifted athlete who can get open, catch like a receiver and block like a lineman, but what about his intangibles?
Apparently, Ertz is a great teammate and has a willingness to help those around him at all costs. He simply does not give up.
One day, Ertz could be a great leader for the Birds who would not only exemplify what it means to be an Eagle, but also what it means to be a great teammate.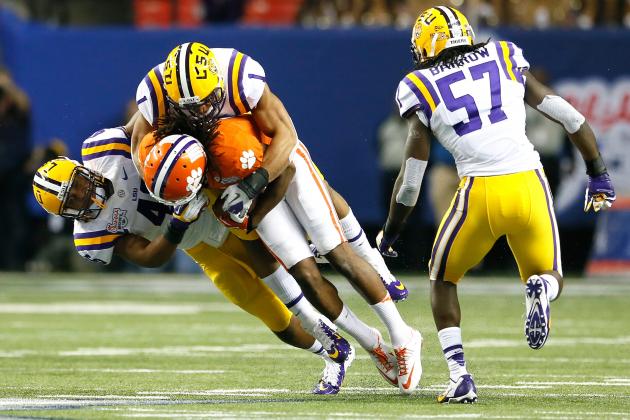 Kevin C. Cox/Getty Images

LSU linebacker Kevin Minter always finds himself in the right place at the right time.
The Eagles used to have great linebackers. What happened?
Perhaps Minter could be that first player to rebuild the Birds' linebacking corps and make them formidable again.
He's not the most athletic, but he can stop a ball-carrier in his tracks and his anticipatory skills are outstanding, along with his aggressiveness.
Being an Eagles linebacker means being a hard-working player who will be where he needs to be when he needs to be there. That's Minter, all right.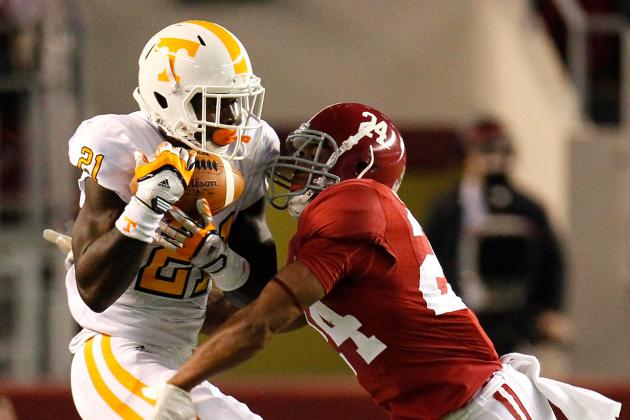 Kevin C. Cox/Getty Images

Da'Rick Rogers out of Tennessee is a big wide receiver who can catch and is fast and strong. He's also as tough as nails.
Rogers is the kind of player who is too strong to press and too fast take your eyes away from.
Rogers seemingly eats big hits for breakfast, lunch and dinner and then asks for seconds.
Rogers has character issues, but there's no reason to believe he can't clean those up and be a shining example of what it means to be an Eagle for his toughness, if for nothing else.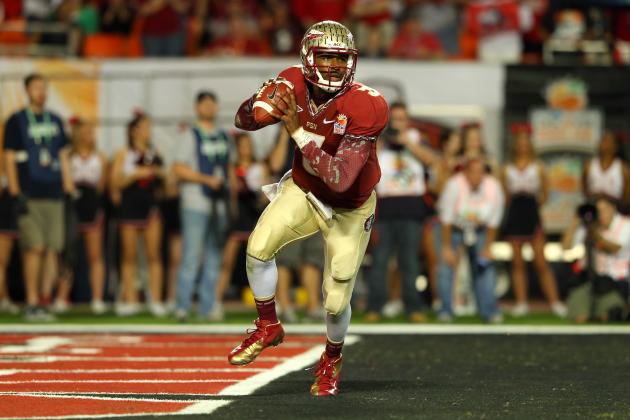 Mike Ehrmann/Getty Images

E.J. Manuel already has several characteristics that make him a prototypical Philadelphia Eagles quarterback—he makes quick decisions (even thought they aren't always good decisions) and can make plays with his feet.
He's also got a strong arm. If he can improve upon his decision-making and he ends up in green, could Manuel be the quarterback we wanted McNabb and Vick to be?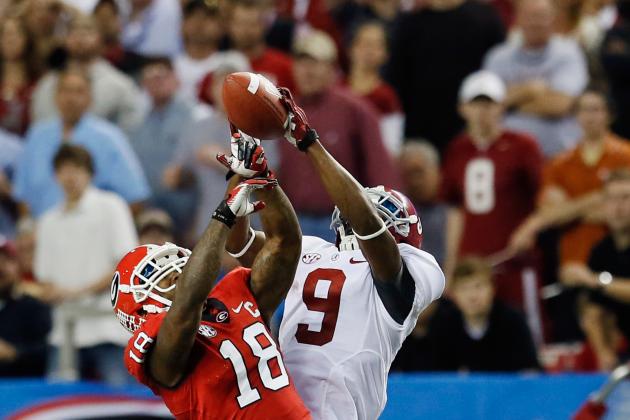 Kevin C. Cox/Getty Images

Could Bacarri Rambo be a throwback for the Eagles at the safety position?
He takes the ball away, he's a great tackler and he's aggressive. Does he remind you of anyone in particular?
Rambo would exemplify what it means to be an Eagle because he brings to the safety position the skill, determination and ferocity that has been missing at the position since Lewis and Dawkins donned Eagle green.
Dave Reginek/Getty Images

Kent State's offensive guard Kevin Winters is a monster in one-on-one matchups.
He would embody what an Eagles lineman should be because of his physicality, strength, work ethic and athleticism. Don't be surprised if Kelly sticks around for a while and his offensive linemen resemble Kevin Winters.
Winters could exemplify what it means to be an Eagle henceforth because he could be a Chip Kelly offensive lineman template.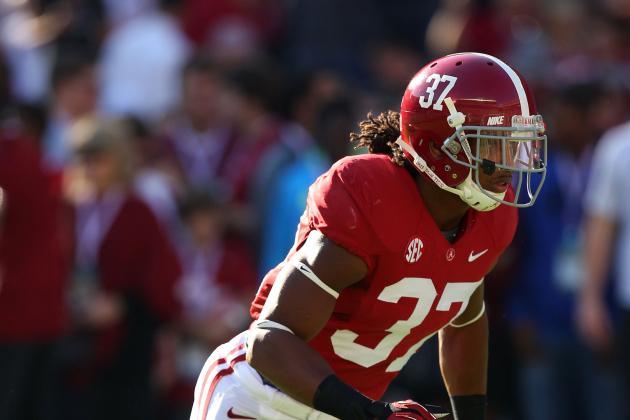 Mike Zarrilli/Getty Images

Alabama strong safety Robert Lester is the disruptive kind of safety that opposing offenses hate.
Lester isn't athletic enough to play close to the line of scrimmage, but he picks up receivers and disrupts them. What he lacks in athleticism he compensates for with hard work, which pays dividends for him.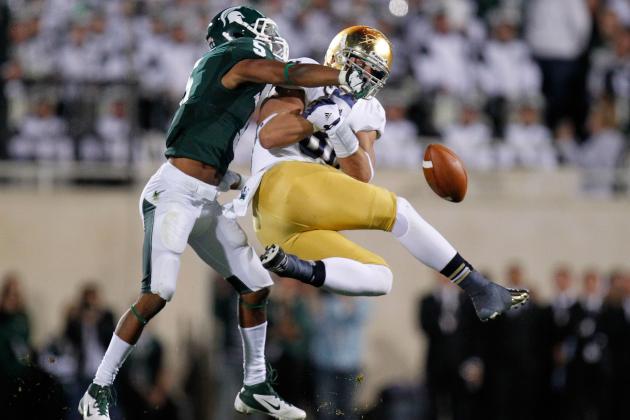 Gregory Shamus/Getty Images

Michigan State cornerback Johnny Adams used to be a wide receiver.
He's not the strongest, but he's athletic enough and has the intelligence to be what we think of when we think of past Eagle cornerbacks.
When he steals the ball, Adams can turn it into a score. When receivers catch the ball, he can tackle them.
He won't be laying anyone out the way Sheldon Brown did Reggie Bush, but his skills are reminiscent of the past and could make him a steal.