San Diego Charger's Impact Players for 2009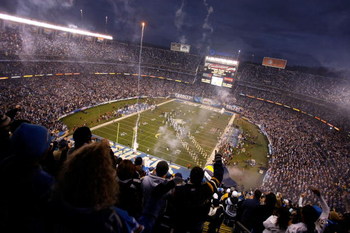 Just like 2007 and 2008, the San Diego Chargers enter the 2009 season with high expectations. As a franchise, the teams' door of opportunity is beginning to close and there is no better time to win a championship than the present.
Of course all championship teams have "difference makers" that can really turn each game to your favor. In my opinion, there are five Chargers that are going to lead us to a Super Bowl in 2009. Go Chargers!
5. Antonio Cromartie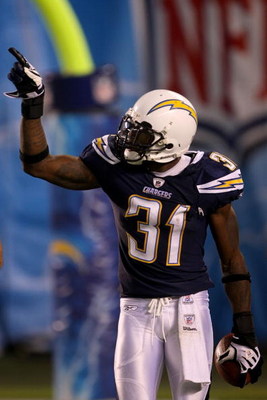 The 2008 Chargers team finished 31st in passing defense by allowing 247 passing yards per game. If the Chargers are going to win a Super Bowl in 2009, they need Antonio Cromartie to rebound next year. The Pro Bowl cornerback had a down year in 2008 and saw his interceptions drop from ten in 2007 to two in 2008. His leadership will be much needed on the field and I believe that Cromartie will set the pace for the secondary in 2009.
4. Darren Sproles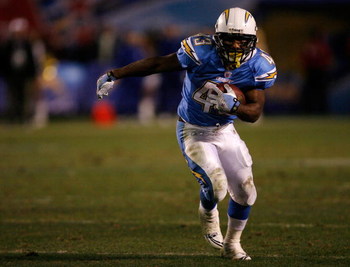 All it took was 328 all-purpose yards in a Wild Card Playoff game to convince me that Darren Sproles is one of the most important pieces to San Diego's success. His athletic ability is beyond that of any player close to his size in the NFL. Sproles is a running, receiving, and returning threat to every team that the Chargers play against. You can bet that we will see much more of Sproles in 2009. Darren's ability will provide LT with much needed rest during games. This will not only change the pace in games, but it will also raise Tomlinson's chances of staying healthy for the entire season. Sproles will prove that he is an impact player in the 2009 season.
3. Shawne Merriman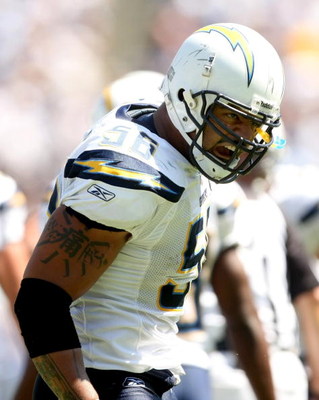 Any time you take 68 tackles and 12.5 sacks away from a defense, they are not going to be as successful. 68 tackles and 12.5 sacks is only half of what Shawne Merriman brings to the table when he is on the field for the Chargers. Merriman is a proven leader, and arguably, the heart and soul of the San Diego defense. 2008 was supposed to be Merriman's year, but as we all know, injury cut Shawne's season short. Look for Merriman to rebound this year. I have a feeling that he is going to break his old personal bests with ease. Shawne Merriman's improvement and return means a whole new San Diego defense in 2009. There is no question that Shawne Merriman is a difference maker when he is on the field.
2. LaDainian Tomlinson
If 1,110 yards is the worst that LT can do, then 2009 is going to be a big year for LaDainian Tomlinson. Fighting through injury for most of last season, many people took Tomlinson's drop in numbers to mean that LT was down for the count. However, many of those doubters failed to take into account the fact that Tomlinson was injured and that his run attempts dropped from 348 in 2006 to 292 in 2008. And luckily for us, Tomlinson agreed to a 3 year contract about a month ago.
"For me, it's good because I get to prove what I'm worth again. I get to prove to people, and that's the way it's always been for me. I've always enjoyed doing that. I get to do it once again. I think I will continue to be a very explosive player. You guys saw me last year where I was banged up all year, played with a hurt toe and obviously with the groin injury. I'll be back to full strength and to being the LT that you guys are used to seeing."
This quote is very encouraging to me, and it should be for the entire Charger Nation. I can't wait to see LT play uninjured and with heart. This year Tomlinson DOES have something to prove, and I have a good feeling he will. I'm not saying that he is going to put up numbers similar to those in 2006, but whatever he does accomplish, it is going to have a huge impact on the fate of the San Diego Chargers.
1. Philip Rivers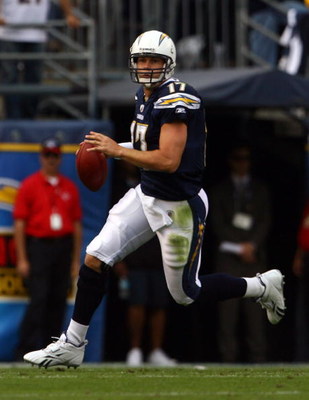 Philip Rivers proved his worth in 2008, and was a foundation that the entire team could look to when things looked bleak at 4-8. Rivers carried the team throughout the season and although his 105.5 QB rating did not earn him an invitation to the Pro Bowl, it did earn him a place on the Chargers' squad. Rivers will once again try to earn the respect he deserves in 2009. And he will surely get that respect if he can lead his team to a Super Bowl victory. Go Bolts!
Here is my long analysis of Rivers' impact on the team:
http://bleacherreport.com/articles/115842-philip-riversthe-key-to-san-diegos-success
Keep Reading