Wisconsin Football Recruiting: 4 2013 Commits Who Will Start as Freshmen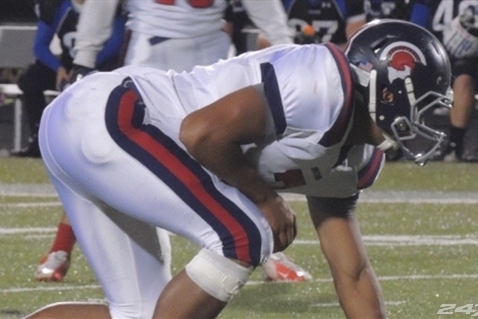 Photo courtesy of 247sports
The Wisconsin Badgers rarely make headlines when it comes to national signing day, and as far as head coach Gary Andersen is concerned, that's fine by him.
According to ESPN, the Badgers had the No. 33 recruiting class of 2013, the fifth-best class in the Big Ten. It's typically where Wisconsin tends to fall in the recruiting ranks. That may surprise some people considering the Badgers have won three straight B1G championships.
In all, Andersen will bring in 17 scholarship players and two walk-ons, including a couple of junior college transfers. He also noted in his press conference that there is still the possibility to add more names to that list after Feb. 6.
Following the 2012 season, Wisconsin had some glaring needs, and Andersen hopes he has filled those weaknesses with his first-ever class at Madison. Let's see the 4 commits who will start in their first seasons as Badgers.
Begin Slideshow

»
Perhaps Andersen's biggest splash on the recruiting front was convincing junior college quarterback Tanner McEvoy to commit to Wisconsin just two days before national signing day.
McEvoy, who has three years of eligibility remaining, immediately enters the starting quarterback discussion, which already includes names such as sophomore Joel Stave, highly regarded redshirt freshman Bart Houston and sixth-year senior Curt Phillips.
Stave, Houston and Phillips have all dealt with injuries during their time in Madison, and Andersen wants to make sure there is someone at the ready every week who can compete at a high level if the the injury bug bites yet again next season.
In McEvoy's lone season at Arizona Western College, the 4-star recruit and No. 1 rated JUCO dual-threat QB (via 247sports) threw for 1,943 yards and 25 touchdowns while throwing just six interceptions. He also did damage with his legs, rushing for 414 yards and six touchdowns.
It's going to be a dog fight for who eventually gets the nod under center, but the reason McEvoy will win out in the end is his dual-threat ability and 4.5 speed. He is also the only quarterback now on the roster recruited by Andersen. And playing in McEvoy's favor is that new offensive coordinator Andy Ludwig would like to use some spread-option looks.
Alec James, rated as the No. 1 recruit out of the state of Wisconsin by ESPN, was recruited as a defensive end, but he can also expect to play standing up in Madison.
That's because new defensive coordinator Dave Aranda has a history of using a 3-4 defensive formation, and Andersen noted in his NSD press conference that both James and fellow defensive end recruit Chikwe Obasih have the ability to play with a hand down as well as in coverage, hinting that both could be transformed into outside linebackers.
The Badgers certainly have their fair share of defensive ends on the roster already, but James is a great talent. He will compete in track, showing off his excellent speed, and he recorded 12 sacks alone in his senior year at Brookfield East High School. The fact that he is versatile enough to play standing up or in a three-point stance means he'll get plenty of opportunities to contribute if not start in his freshman season.
Wisconsin was No. 35 in sacks last season. Aranda would like to incorporate more blitzing, and James coming off the edge will give the Badgers a more threatening front seven.
As an early enrollment student, Sojourn Shelton is already on campus, and he clearly means business as he eagerly awaits for his football career at Wisconsin to begin. With two open spots at cornerback following the departure of Marcus Cromartie and Devin Smith, Shelton should expect to jump right in and compete for a key role in the secondary.
He has already put on over 20 pounds since the beginning of his senior season and was a 4-star recruit according to ESPN. As with James at defensive end, there will be plenty of competition for Shelton with Peniel Jean, Darius Hillary, Hugs Etienne and Devin Gaulden, but with three openings in the secondary, some of those players may end up competing for a starting safety spot rather than the cornerback position.
Shelton could also see a role in the return game after returning three punts to the house his senior season; he also intercepted a pass and recorded 16 pass breakups. He may have originally been recruited by Bret Bielema, but that hasn't affected Shelton's excitement towards the program and a chance to compete for a starting gig right away.
As with McEvoy, safety Donnell Vercher was recruited solely by Andersen and is also a junior college transfer. It's a route Andersen isn't afraid to go being a former JUCO player himself, and he's hoping the chip on Vercher's shoulder will translate into a successful career at Wisconsin.
He was a JUCO All-American last season at Fresno City College after recording eight interceptions and has two years of eligibility remaining. By playing two years at a junior college, Vercher's experience gives him a leg-up over the rest of the 2013 class, and the Badgers also have an opening at the safety position opposite Dezmen Southward.
Of course, it can't even be guaranteed that Southward will start his senior season with an overhaul taking place on the coaching staff. Anything and everything is up for grabs beginning this spring, and Vercher's junior status and connection to Andersen should give him a great opportunity to start in his first year at Wisconsin.