15 NBA Players Emerging out of Nowhere to Become Key Pieces in 2013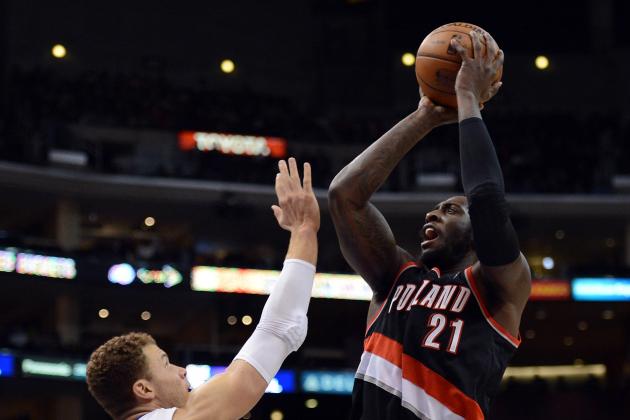 Harry How/Getty Images

Every year there are a handful of seemingly unknown players who burst on the scene, veterans who looked to be out to pasture, and European guys who come over and don't necessarily light the world on fire, but instead step in and fill an important role with a team.
For every Jeremy Lin there is, there are a dozen guys who step up from deep off the bench and fill a role that they've never really showed that they could fill before.
That could be stepping into the starting lineup, or just taking on more minutes off the bench.
Now we're not talking about guys like Jrue Holiday, who has shown natural progression to get to an All-Star level; or James Harden, who was obviously full of potential, just never got the minutes necessary to blow up as much as possible.
We're talking about guys who make an early jump, who come out of obscurity, or who just stop bouncing around from team to team and find themselves a role to fill with a new team.
There are always guys rotating in and out of teams' rotations, so the names on these lists are constantly changing. But there are a few who stand out above the rest who have either out-performed their expectations or have come out of nowhere to make a positive impact for their team.
Begin Slideshow

»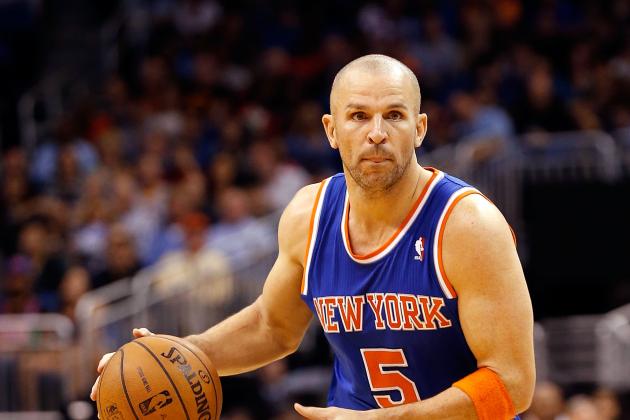 Sam Greenwood/Getty Images

2012 Stats: 6.2 points, 4.1 rebounds, 5.5 assists, 1.7 steals, 36.3 FG%, 35.4 3PT%
2013 Stats: 7.7 points, 4.1 rebounds, 3.7 assists, 1.7 steals, 40.6 FG%, 39.5 3PT%
We all laughed when the Knicks thought they were going to make a reliable starter out of Jason Kidd.
I mean, we were talking about a guy who looked five steps slower than he's ever been last season, he was missing shots left and right, and he was running the point for a Dallas Mavericks team that was having a terribly lackluster season defending their championship.
The thought that he would be able to come in and even stay on the court long enough to help the Knicks to a meaningful playoff spot seemed asinine.
Now he's suddenly running faster, he's scoring more efficiently, and he's even playing shooting guard on a good defensive team and not completely screwing it up.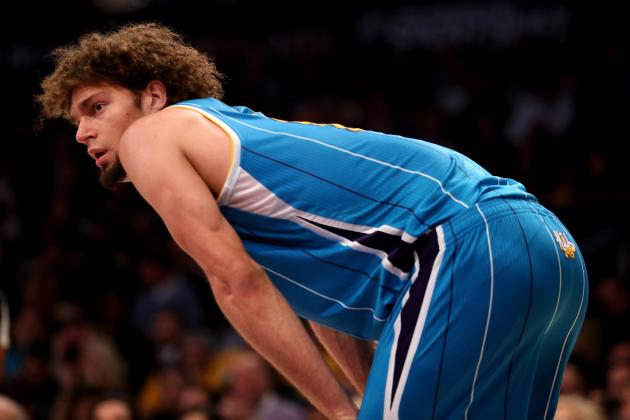 Stephen Dunn/Getty Images

2012 Stats: 5.4 points, 3.3 rebounds, 0.9 blocks, 46.1 FG%
2013 Stats: 11.3 points, 5.4 rebounds, 1.6 blocks, 55.7 FG%
It seemed as if Robin Lopez was set in what he was going to be as an NBA center. He was a low-scoring, slightly inefficient center who could hang his hat on being a big dude who was a pretty good defender.
Suddenly when he's starting with the New Orleans Hornets, Lopez is blocking shots more frequently, rebounding moderately well (although he's about on the same page with his brother Brook as a light rebounder for his height), and scoring efficiently.
He's not going to turn into a magnificent all-around center in the next few months, but his shocking improvement has been something of a pleasant surprise.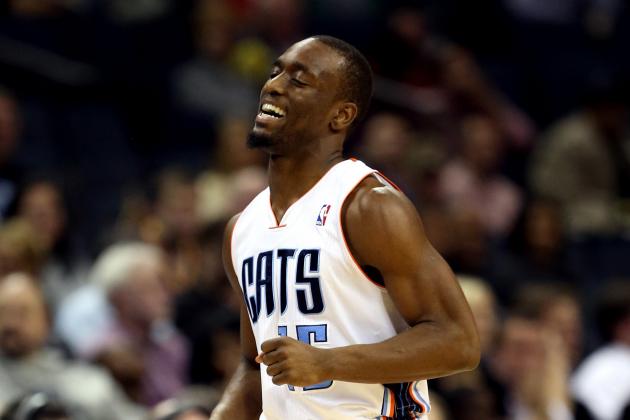 Streeter Lecka/Getty Images

2012 Stats: 12.1 points, 3.5 rebounds, 4.4 assists, 0.9 steals, 36.6 FG%, 30.5 3PT%
2013 Stats: 17.8 points, 3.5 rebounds, 5.6 assists, 1.9 steals, 43.2 FG%, 34.6 3PT%
Kemba Walker was always going to turn into a solid basketball player, but the fact that he's become such an impactful player so quickly is downright stunning.
After looking like the inefficient scorer in his rookie season that everybody thought he would be coming out of college, Walker has completely turned the corner in only his second season in the NBA and become one of Charlotte's two most important players.
Not only that, but he's making better decisions, shooting the long ball better and becoming an absolute hound dog on defense.
Not bad for a guy who always seemed too short to make that much of an impact in the NBA.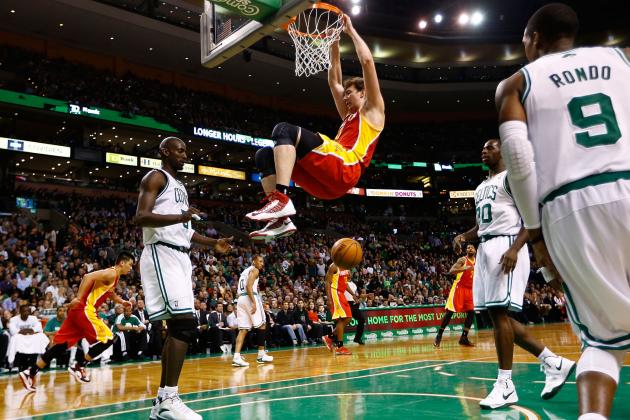 Jared Wickerham/Getty Images

2012 Stats: 3.1 points, 5.3 rebounds, 0.5 assists, 50.6 FG%
2013 Stats: 10.3 points, 11.5 rebounds, 1.0 assists, 53.2 FG%
Obviously there was going to be some improvement from Omer Asik with him going from averaging 14 minutes with the Chicago Bulls to getting the starting role with the Houston Rockets. But seeing him improve this much is quite the shocker.
Asik was averaging 13 rebounds per 36 minutes last season, so it's no surprise that he's come out to average 11.5 rebounds in 30 minutes per game with the Rockets.
However, what he's turned into offensively is something nobody expected.
James Harden has spent the year penetrating and forcing the ball into Asik's hands and seeing what happens.
He's gone from being a stone-handed nincompoop to a dude who can catch the ball and almost look competent in the post.
He's only improved by a few percentage points from the field, but when he was scoring last season, it was a lot of alley-oops and situations where he would just catch and dunk. Now he's actually scoring after moving with the ball.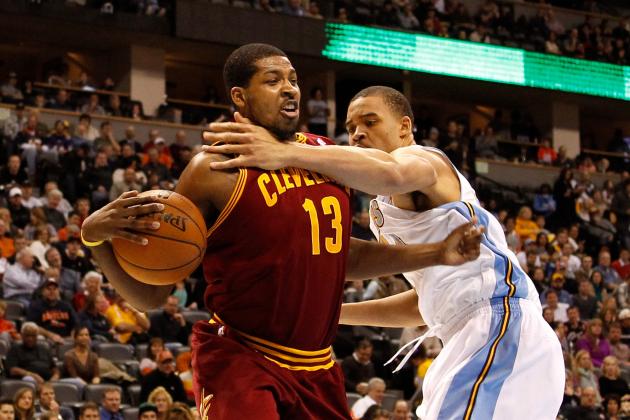 Chris Chambers/Getty Images

2012 Stats: 8.2 points, 6.5 rebounds, 0.5 assists, 43.9 FG%
2013 Stats: 11.1 points, 9.3 rebounds, 1.3 assists, 49.7 FG%
Tristan Thompson's improvement can definitely be chalked up to natural progression if it's taken just statistically.
Thompson has improved month after month, and has looked every bit like a capable power forward in every sense of the position.
Watching Thompson play last season was like watching a baby learning to crawl, only to see him running the 100-meter dash 10 months later.
He's confident, more sure-handed, and even developing a pseudo jump shot, a jump hook and rocking rims every time he's in the post.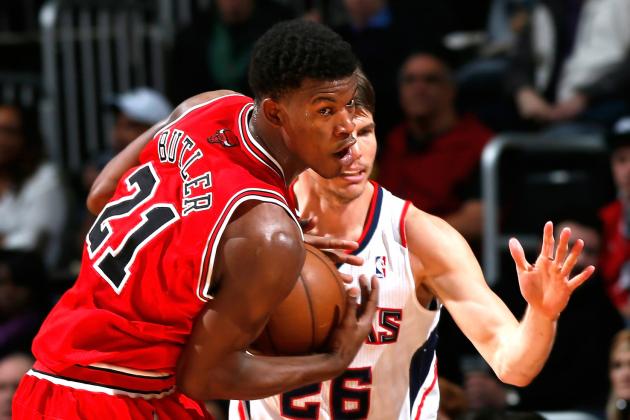 Kevin C. Cox/Getty Images

2012 Stats: 42 GP, 2.6 points, 1.3 rebounds, 0.3 assists, 40.5 FG%, 18.2 3PT%
2013 Stats: 48 GP, 7.3 points, 3.6 rebounds, 1.0 assists, 49..4 FG%, 24.3 3PT%
With the Chicago Bulls, the only way a guy buried deep down on the bench is going to end up getting playing time is if a few guys get injured, and that's just what's happened to get Jimmy Butler on the floor and hitting jumpers.
He's not the long-ball threat that the Bulls desperately need, but he takes shots that he knows he can make, and he's making them at an alarming rate.
Not only that, he's the kind of defender that the Chicago Bulls are always after, and the way he's playing has to be getting him a lot of respect from Tom Thibodeau.
He might lose a few minutes when the Bulls start to get healthy, and if they're not careful, then the trade rumors are going to start flying around.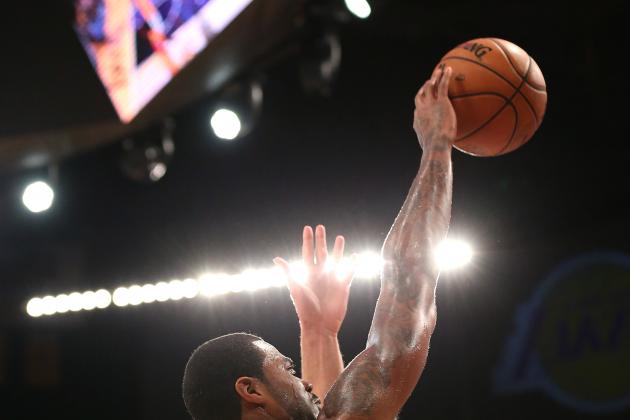 Stephen Dunn/Getty Images

2012 Stats: 2.7 points, 2.8 rebounds, 0.4 assists, 36.7 FG%, no three-pointers
2013 Stats: 7.5 points, 6.0 rebounds, 1.1 assists, 49.1 FG%, 48.3 3PT%
Earl Clark was on track to spend another year on the bench, getting minutes in blowouts and whenever big dudes got injured, but somewhere along the way Mike D'Antoni realized what he had in the jump-shooting big man.
Clark isn't dominant in any facet of his game, but he's acceptable enough to contribute to the Lakers while playing the style of power forward that D'Antoni's teams have always succeeded with.
There's got to be some concern that he's only succeeding as a part of D'Antoni's system, which we've seen in the past. Now all the Lakers need to do is avoid giving out another dumb contract.
GOD I cannot wait for Earl Clark to get an Ariza deal. This is the circle of life. The annual "Laker Deal" is th best part of free agency.

— Hardwood Paroxysm (@HPbasketball) February 7, 2013
He's shot 48 percent for three this year, making 14 of his 29 attempts. It's not a huge number, but when you consider the fact that he's made just two three-pointers in his entire career up to this point, it's downright incredible.
If this continues, the Lakers might just make the playoffs.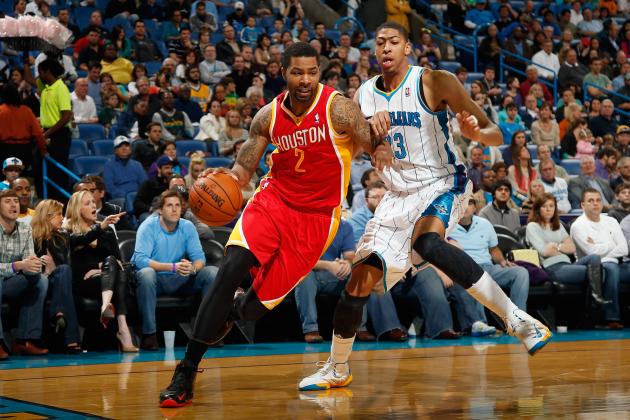 Chris Graythen/Getty Images

2012 Stats: 17 GP, 2.4 points, 0.9 rebounds, 0.2 assists, 29.6 FG%, 11.8 3PT%
2013 Stats: 49 GP, 8.7 points, 4.1 rebounds, 0.9 assists, 43.1 FG%, 38.7 3PT%
The Morris Twins came into the league and Markieff Morris looked like he would make a fine NBA player, while Marcus struggled mightily.
He was in and out of the D-League and saw very little floor time with the Houston Rockets.
Of course, it only makes sense that he would come in this season, battle Patrick Patterson for the starting power forward spot, and start hitting three-pointers like it was his job.
It seems like Morris saw the Rockets stockpiling big men and started to get nervous. Instead of falling apart under pressure, Morris blossomed.
He's still a light rebounder, and like most of the other members of the Rockets, he's got almost no defense to speak of, but there's a promising career as a stretch-four ahead of him.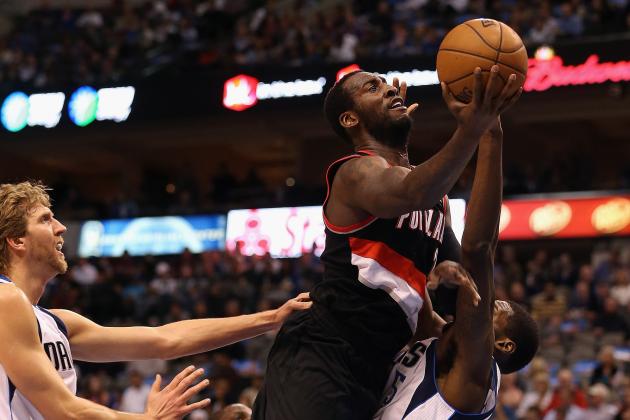 Ronald Martinez/Getty Images

2012 Stats: 8.4 points, 6.2 rebounds, 46.7 FG%
2013 Stats: 12.9 points, 10.7 rebounds, 55.9 FG%
JJ Hickson's career has been incredibly turbulent, and it seems like he was actually hurt by the fact that he started his career playing alongside LeBron James.
When you've got a player as dynamic as LeBron starting beside you, who can pass as well as he can, scoring comes about as easily as possible. All you've got to do is jump and he'll dump the ball in your hands.
For the first two years of his career, Hickson shot 54 percent with LeBron throwing him alley-oops. Over the course of the next two years, Hickson shot 46 percent, and showed no defensive improvement to hang his hat on.
A few months later and he's starting at center for the Trail Blazers, playing modest defense, and is only one of nine centers averaging a double-double, all while having the most efficient scoring season of his career.
I can't say I saw this one coming, even though he did show off well in 19 games with the Blazers at the end of last season.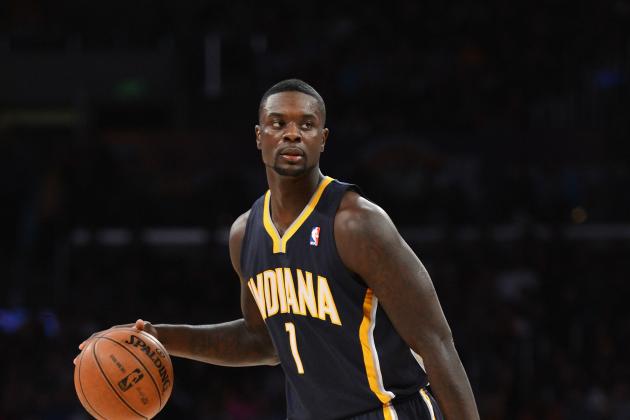 Harry How/Getty Images

2012 Stats: 42 GP, 2.5 points, 1.3 rebounds, 1.1 assists, 0.5 steals, 37.6 FG%, 13.3 3PT%
2013 Stats: 47 GP, 8.3 points, 3.8 rebounds, 2.8 assists, 1.0 steals, 48.5 FG%, 37.0 3PT%
Lance Stephenson spent the majority of the 2010-11 season sitting on the bench for the Indiana Pacers. Just 115 minutes of floor time and 37 total points.
A season later, there was more playing time, but almost no improvement.
Sure, he was scoring more, but he was doing it as inefficiently as ever, and he shot just 47 percent from the free throw line.
News came that Danny Granger would be out for an extended period of time to start the season, eventually meaning that Paul George would be thrust into the small forward spot, leaving the shooting guard spot open for the taking.
Naturally, the second-round pick out of Cincinnati would grab that spot, improve his field-goal percentage by 11 points and his three-point percentage by 24 points.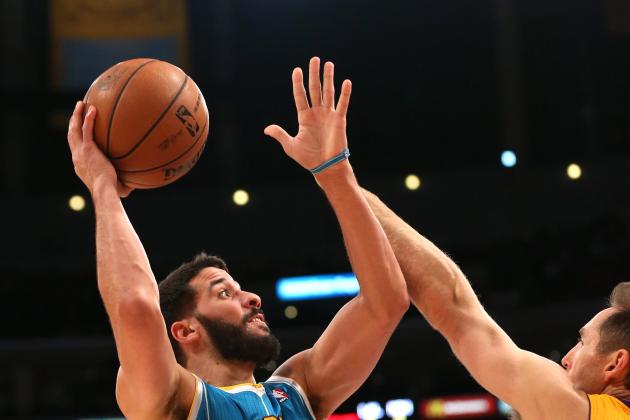 Stephen Dunn/Getty Images

2012 Stats: 8.9 points, 2.5 rebounds, 5.4 assists, 43 FG%, 31.9 3PT%
2013 Stats: 13.8 points, 4.5 rebounds, 9.3 assists, 42.6 FG%, 35.8 3PT%
I suppose there's a case to be made about Greivis Vasquez' improvement being due mostly to the improvement of a young player, but the level of improvement that he's seen is incredibly impressive, even if he is playing for a subpar team.
Most impressive is the fact that Vasquez is currently boasting the third-highest assist average in the NBA.
Not only that, he's bumped up his scoring average, has become one of the league's best rebounding point guards and has shown that he's not a streak shooter but a legitimate long-ball threat when he's got a few feet of space.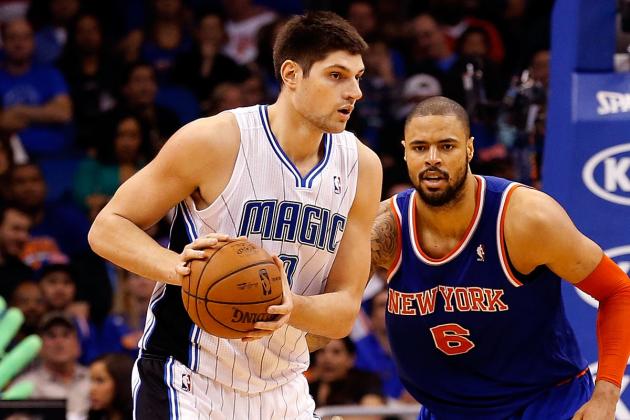 Sam Greenwood/Getty Images

2012 Stats: 5.5 points, 4.8 rebounds, 0.6 assists, 0.7 blocks, 45 FG%
2013 Stats: 12.1 points, 11.3 rebounds, 1.6 assists, 1.2 blocks, 52.4 FG%
Nikola Vucevic got plenty of time to show off what he could do for the Philadelphia 76ers last season, and it looked like he'd be a fine player in three years or so, given work behind a smart big man who could teach him what to do.
Suddenly he's going out and averaging a double-double, shooting the lights out, showing off some impressive low-post skills, and even defending much better than he ever did a season ago.
Some credit has to go to new Orlando Magic coach Jacque Vaughn, who is squeezing every last drop out of his subpar team, but give a lot of credit to Vucevic's hard work as well.
He's had one of the most impressive games of the year, scoring 20 points and pulling down 29 rebounds against the Miami Heat on New Year's Eve. If you would have told me that Vucevic would be putting up one of four 29-rebound games since 2001, I'd have no reason to believe it.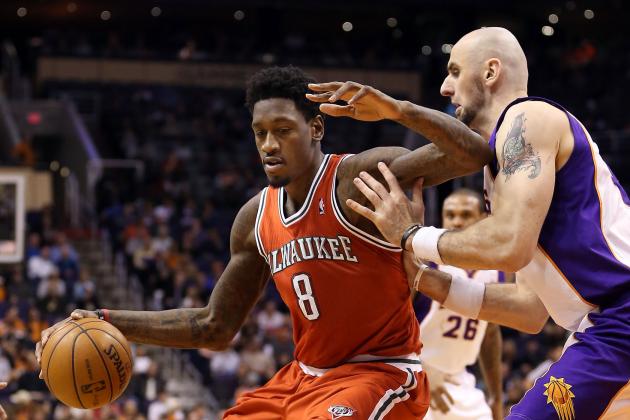 Christian Petersen/Getty Images

2012 Stats: 3.6 points, 3.1 rebounds, 1.5 blocks, 45.7 FG%
2013 Stats: 8.5 points, 8.5 rebounds, 3.2 blocks, 52.5 FG%
It's hard to justify having a stone-hands big man playing in the post while shooting just 45 percent from the floor and committing a foul once every five minutes.
That's why seeing Larry Sanders come out this season and turn into a viable starting center, playing well enough offensively so that we can see just how good he is defensively, is so impressive.
Not only has he completely bumped up his offensive game to the point that he can actually be relied upon to put a bucket in every once in a while, but he's also cut down on his fouling so that he's committing a foul once every seven minutes, instead of five.
Oh, and I suppose it's important to mention here that he's also leading the league in blocks per game. Which one of you saw that coming?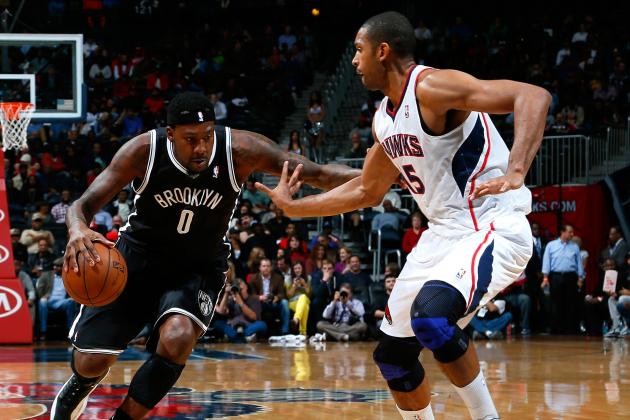 Kevin C. Cox/Getty Images

2012 Stats: Garbage and nothing
2013 Stats: 10.5 points, 5.5 rebounds, 1.1 steals, 0.7 blocks, 49.4 FG%
Andray Blatche spent his final season with the Washington Wizards as a complete bum. He might as well have been shooting one-handed and blindfolded with how sparingly he saw a shot go in.
Blatche had become such a disappointing player that his team's fans openly loathed him and he had worked himself two-thirds of the way out of the league based on reputation alone.
The coming months saw Blatche amnestied by the Wizards and picked up by the Brooklyn Nets for just over $1 million.
Now it's easily argued that he's the best man off the bench for the Nets, and even that he's a formidable defender alongside Reggie Evans.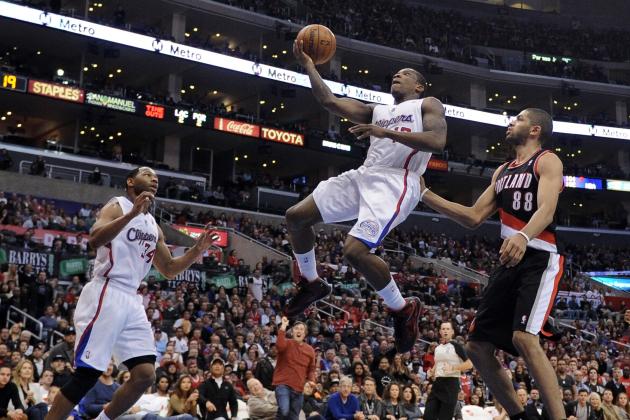 Harry How/Getty Images

2012 Stats: 3.3 points, 1.6 rebounds, 1.7 assists, 38.9 FG%, 20 3PT%
2013 Stats: 9.4 points, 3.1 rebounds, 3.2 assists, 44.9 FG%, 38.3 3PT%
Eric Bledsoe had a decent rookie season, playing nearly every game for the Clippers at the backup point guard spot.
And then Chris Paul and Chauncey Billups came to town.
Bledsoe was marginalized and largely forgotten about. He played in just 40 games and shot terribly from everywhere on the court.
Turn the calendar forward just a few months and he's suddenly one of the most desirable trade targets in the league, he's one of the best backup point guards in the NBA, and he's on the verge of being the best defender under 6'2" in the entire league, averaging a combined 2.4 blocks and steals.