NBA Slam Dunk Contest 2013: Dream Participants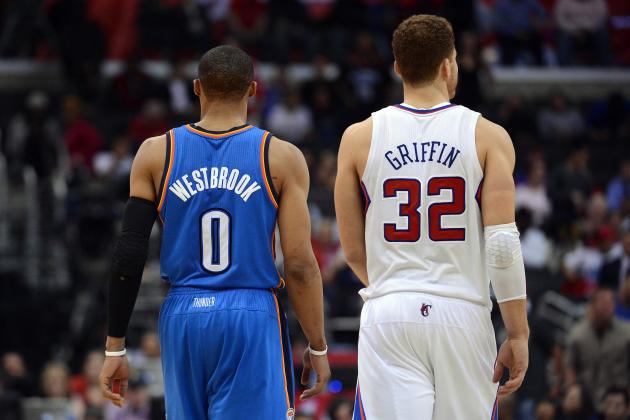 Harry How/Getty Images

When the NBA announces the 2013 Slam Dunk Contest participants, it's very likely that we will be left hoping some other players took part. Whether it's a superstar who refuses to dunk or a high-flyer who will not soar, we're almost always left wishing for more.
The question is, who are today's dunk contest's dream participants?
From past winners to virtual unknowns, there are dunk artists across the league who would tear the roof off of the Toyota Center. Whether or not we will see them throw down on All-Star Weekend is an answer unknown.
So who do we wish was participating in the 2013 Slam Dunk Contest?
Begin Slideshow

»
Dwight Howard won the 2008 Slam Dunk Contest and entertained us every other year he participated.
Unfortunately, Howard has been battling injuries since the beginning of the season. Who wants to see an injury-ridden player involved in a dunk contest?
If anyone could do it, it's D-12. We're just not going to bet on it.
Not only has DeMar DeRozan made unbelievable strides as an all-around player, but he's one of the top dunk artists of our generation.
Why not give him a chance to make up for coming up short in 2010 and 2011?
DeRozan's creativity without props is unparalleled. Whether he adopts a non-ball side-kick or not, DeRozan will entertain.
For a player who has dominated dunk contests since high school, you can bet he'd do whatever it takes to take down the competition in 2013.
So give him the shot.
Spoiler Alert: LeBron James is on this list.
For that reason, why wouldn't we want to write another chapter in the book of our generation's greatest rivalry?
To be fair, Kevin Durant is no slouch when it comes to throwing down dunks. His thin frame may suggest otherwise, but Durant is a powerful finisher.
Just ask any of the countless players he's placed on a poster.
While it's unclear whether or not he possesses the dunk creativity to thrive in this competition, Durant has the length for dunk contest greatness. Perhaps a free-throw-line flush is in order.
Regardless of what he would do, any form of Durant and LeBron in the contest is a good thing.
Gerald Green won the 2007 Slam Dunk Contest.
Well, we want more.
Green had the dunk of the year in 2011-12 when he threw down a windmill alley-oop from MarShon Brooks. During a game.
I will repeat: a windmill alley-oop.
Green is one of the most athletically gifted players in NBA history, and that finish placed it on full display. That's one of many reasons he's a great fit for the Slam Dunk Contest.
Not only can Green rise far above the rim, but he offers up a great deal of creativity.
By the way, when we say Green gets above the rim, we mean it.
Check this video out of Green jumping up and looking down at the rim.
Get this man in the dunk contest. Again.
Why wouldn't you want Blake Griffin to take part in this event?
Griffin leads the league in dunks at 121 so far in 2012-13. He's also missed just five, which is fewer than any other player with at least 100 attempts.
Did we mention that he won the 2011 Slam Dunk Contest?
Griffin may not have a car to jump over, but who says he needs one? Griffin has redefined the "jump over player to dunk" technique.
Just give him some form of impediment and Griffin will make it work.
Maybe this year he can dunk over the kid who plays "young Blake Griffin" in the Kia commercials.
"I'm you from the future. Watch and learn."
Would LeBron James win the 2013 NBA Slam Dunk Contest?
We'll make no guarantees.
Would LeBron's involvement continue a tradition amongst the NBA's elite players? 100 percent guaranteed.
So why does he continue to break our dunk-loving hearts?
According to Brian Windhorst of ESPN New York, Miami Heat shooting guard Dwyane Wade attempted to convince LeBron to participate in the dunk contest.
Unfortunately, LeBron continues to say no.
We can dream.
James has long been one of the most entertaining players in the NBA. Even his most basic dunks send vibrations through your body as the excitement just pours on out.
In a dream world, he'd put those skills to use in what was once the most exciting contest in sports.
Nate Robinson won the NBA Slam Dunk Contest in 2006, 2009 and 2010.
Once more for lucky No. 4?
Robinson has never ceased to amaze us when it comes to dunking. Despite standing just 5'9", Lil' Nate can throw down with the best of 'em.
That is, if you believe Robinson is actually that tall.
One can only imagine that Robinson would pull out all of the stops if matched up against the best dunk artists in the NBA. With that in mind, we may just see Robinson leap over Yao Ming this time around.
Believe.
If you're unfamiliar with Terrence Ross, get familiar.
Not only is this young man going to be a star in this league, but he's as phenomenal a dunker as any in the league. Give the rookie his chance to shine and he'll show just that.
Who's going to say no?
Ross has been dazzling Toronto Raptors fans since his debut game. From his uncanny ability to rise up for a jaw-dropping finish to his beautiful put-back dunks, Ross has done it all.
Give him a stage to shine during All-Star Weekend and Ross will not disappoint.
Not only is Josh Smith one of the most underrated players in the NBA, but he's one of the most ferocious dunkers, as well.
Who wouldn't want to see J-Smoove throw down against the best of them in a dunk contest?
Smith presently ranks 13th in the NBA in dunks during the 2012-13 NBA season. Every one of those finishes has come with power and flash.
Again, who wouldn't want to see J-Smoove attack the rim during a dunk contest?
He may not be Dominique Wilkins, but good things have happened when members of the Hawks participate in this event.
Don't forget, Smith won the event in 2005. Who's to say he can't win again in 2012-13?
We vote for an attempt at a repeat performance.
Russell Westbrook may be a point guard, but he gets up and finishes like he's 6'8".
Love or hate his personality; how could you not want him in your dunk contest?
Westbrook may be the most explosive athlete the NBA has to offer today. At 6'3", Westbrook has an uncanny ability to rise up and throw a dunk down without a running head start.
Westbrook may only have 17 dunks in 2012-13, but we all know how explosive he can be with the ball in his hands.
Why not give him a chance to display his creative edge?
His wardrobe suggests something interesting will come out of it.
If you don't know who James White is, that's perfectly respectable.
If you've ever seen him in a slam dunk contest, however, you know just how special this young man can be with the ball in his hands.
A between-the-legs dunk from the free-throw line proves that.
Should White participate in the 2013 Slam Dunk Contest, he'd likely go from obscure reserve to fan favorite. As YouTube viewers will tell you, he's already the latter for some.
It's time we make him the household name his dunking deserves.
Jeremy Evans, who?