WWE Main Event was back at it on Wednesday night from Jacksonville, and it featured several intriguing matches.
We had a big name who showed off his impression skills, we had former tag-team partners battling individually, we had a tag team that could very soon be "former" and we got to watch some divas close out the night.
Let's take a look at all of the night's action.
Sheamus Defeats Cody Rhodes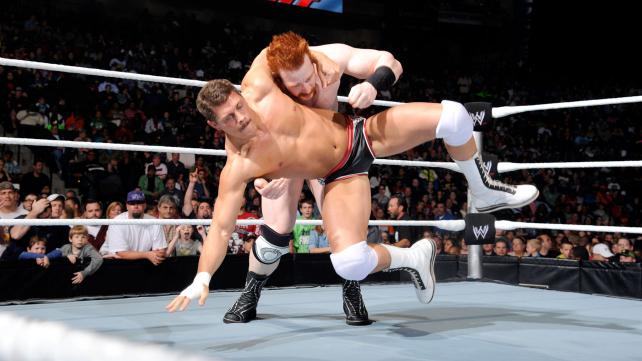 This was just a good ol' fashioned wrasslin' match.
Sheamus and Cody Rhodes won't get you off your seat with much high-flying, wire-to-wire action, but they are good wrestlers with lots of power and an array of several different moves.
Both showcased those skills in an extremely solid opening match.
In the end, Rhodes was setting up for the Cross Rhodes, but Sheamus reversed it into a White Noise before delivering the Brogue Kick and getting the pin.
Damien Sandow Defeats Daniel Bryan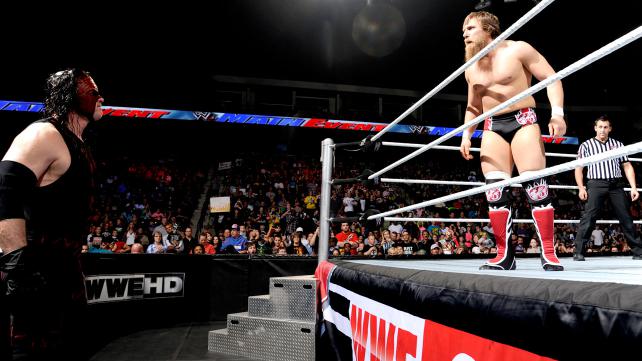 Bryan was in control for the opening minute, but then Kane made his way to the ring.
The Big Red Machine, who was distracted by his partner last week in a loss to Sheamus, set off his pyrotechnics, which startled Bryan and allowed Sandow to connect with a neckbreaker to win it.
What was your favorite match of the night?
Kane proceeded to back away, saying that he was sorry.
Cameron and Naomi Defeat Tamina and Aksana
The WWE divas division doesn't always have a whole lot to offer, but this match actually featured some entertaining action and true wrestling moves.
After some solid back-and-forth action, Naomi landed a big cross body slam on Aksana and proceeded to meet her with a massive boot to the face, which helped scored her the three count.
Twitter Reaction
Before his match with Cody Rhodes, Sheamus set the mood with this pleasant tweet:
Tonight I wanna #Brogue that Princess Bride moustache off the upper lip of @codyrhodeswwe on #MainEvent.

— Sheamus (@WWESheamus) February 6, 2013
I, for one, thought that accomplishing that impressive feat was inconceivable, but the big man followed through on his threat.
Despite his brother taking the loss, Goldust approved of the night's opening match:
These to boys just tore it up! #wwemainevent @codyrhodeswwe and shamwow

— GOLDUST (@DUSTIN_RHODES1) February 7, 2013
This wrestling fan, meanwhile, was happy with the entertainment outside of the ring:
Between sheamus's impressions, & Sandow summoning the goat face .. it's been quite entertaining #MainEvent I must say

— Chris (@twiztidskull) February 7, 2013
It's difficult to argue against a good goat face.
As the divas tag-team match got underway, this fan noted the lack of talent within the entire division:
You got 2 Divas who only know how to dance and you got another who's only move in her arsenal is a Headlock. We need Real Divas in @wwe.

— TJ Ferguson (@AJLee_Kaitlyn) February 7, 2013
Not so fast. Naomi and Cameron were actually fairly impressive, and not everyone was quite as upset with their performance. This fan certainly wasn't:
WINNERS: NAOMI AND CAMERON!If WWE have the Divas Tag Team Titles , Naomi and Cameron would be great for the titles.@wwe #MainEvent

— Keenan Wilson (@KWFlawless) February 7, 2013
It's certainly an intriguing idea, but it's unlikely. Still, the partners leave the night as winners.