Ten Sports Greats Who Defied Father Time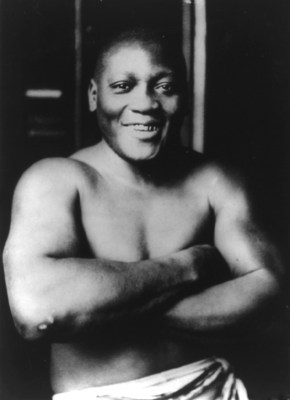 The term "greatness" is often used on a whim. We over indulge in peoples accomplishments and lavish them with adulation, which maybe due on occasion, but not to the extent that they have earned it through longevity in their sport at the highest consistent level of performance.

These 10 sports greats have maintained that level, even through the toughest barrier to face, age, and have still managed to keep climbing that mountain.
Jerry Rice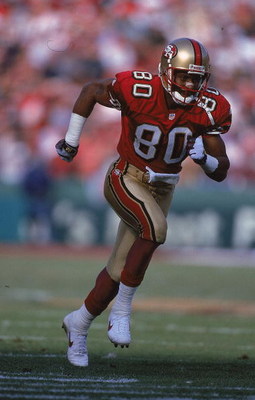 It's a long way to greatness from the son of a brick mason, but no. 80 managed it all the way to his inevitable induction in canton, Ohio.

One half of the record breaking "satellite express" at MVSU, acquiring the nickname"world", because there wasn't a pass in the world he couldn't catch, Rice entered the NFL as a first round pick of the 49ers in 1985.

Overlooked by teams for his lack of 40 speed, Rice would repay the 49ers faith more than they could possibly have imagined, teaming up with firstly Montana, and then Steve Young to lead San Francisco to Superbowl victories in XXIII, XXIV and XXIX.

His production fell away in the '99 and 2000 seasons, missing the 1000yd receiving mark for the first time whilst playing in all 16 regular season games.
For the 2001 season he moved across to bay rivals the Oakland Raiders, where once again he began to excel, making 83 catches for 1,139yds and 9td's, and following it up in '02 with 92 catches for 1,211yds and 7td's, a losing trip to Superbowl XXXVII, and his 13th trip to the pro bowl.

As the Raiders fortunes declined, Rice headed for Seattle 4 games into the '04 season and made the playoffs, his last as the Seahawks were beaten by the Rams, and he was released.
After attempting to make Denver's roster, he signed a one day contract with the 49ers, so he could retire where he started out wearing red and gold.

Rice hung up his cleats at the age of 43, the owner of several NFL receiving records, selected to 13 Pro Bowls, 12 All Pro selections, All Time selections to the Team Of The Decades 80's and 90's, Jerry Rice is the epitome of Greatness with Longevity.
Dino Zoff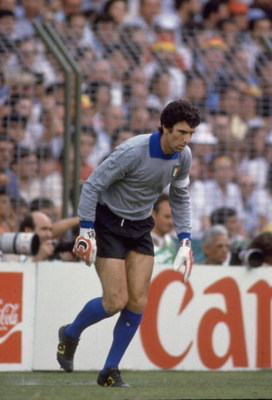 Born February 28th 1942, Dino Zoff was an aspiring young goalkeeper waiting for a chance to shine. At age 14 he was given a trial by both Inter Milan and Juventus, obviously seeing potential in the young 'keeper, but due to a lack of size for his age was let go by both clubs.

In typical determined fashion, he never lost sight of his dream, and aided by mother nature (he grew 33 centimeters in the next 5 years), Udinese signed the young goalkeeper.
Zoff made 40 appearances before moving to Mantova in Serie B, who were a team moving in the right direction and won promotion to Serie A the following season.

At the end of the '66-'67 season, Dino Zoff moved to Napoli, having made 121 appearances for Mantova. His career definitely on the up, he made his debut for the national team in the 1968 European Championship quarter final against Bulgaria, winning 2-0, and Italy would go on to win the tournament and Zoff a winners medal after just 4 appearances.
His career would take a slight down turn in 1970 when he was left out of the starting eleven for the world cup finals in Mexico, Brazil the eventual winners, and would move on again, to the club he would have his greatest hours with, Juventus.

Joining Juve in 1972, his consistency and brilliance would be recognized as he started to re write the record books.
In his first season '72-'73, he went unbeaten in goal for 903 minutes, a record that wasn't touched until 1994, he played in 330 consecutive games from '72 through to '83 and would go unbeaten between the posts for the national team between '72 and '74.

Juventus would go on to win Serie A in the '72-'73 season, and another 5 times between then and 1982, win a Coppa Italia and a UEFA CUP in '78 and '77 respectively.
But the biggest milestone would come in 1982, the world cup in Spain, where at the age of 40, he would captain his country all the way to the final and victory over rivals West Germany 3-1, to make him the oldest winner and captain of a world cup in it's history.

Since has been voted the 3rd greatest goalkeeper of the 20th century.
Dino Zoff, Truly one of the greats.
Sir Steve Redgrave CBE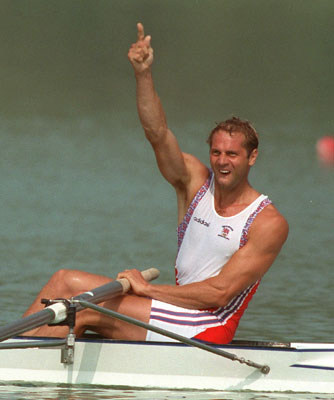 Even by rowing standards, Steve Redgrave was a large man, standing 6ft 5in and weighing well over 100kg.
His primary strength was his sweep oared rowing, where he had the distinction of being one of the few oarsmen to have won Olympic gold rowing both bowside and strokeside (starboard and port).

He made his Olympic debut for Great Britain at the Los Angeles Games in 1984, and won Gold in the coxed fours, he would repeat the success four years later in Seoul, this time in the coxless pairs, then again in Barcelona in '92 and in Atlanta in '96.
In between times, he also managed to win gold in the World Championships 6 times between '86 and '95, This was made all the more remarkable by the fact that he was diagnosed with ulcerative collitis in 1992, and had been training for a considerable time prior to this.

After his Olympic victory in Atlanta, he famously quoted "If anybody sees me near a rowing boat again, they're welcome to shoot me!"
But the lure of achievement was too great, he would go on to win in the coxless fours at the World Championships in 1997, '98 and '99, even though he was also diagnosed with Diabetes in '97, and would make his final swansong at the age of 38 in the 2000 Olympic Games in Sydney, winning Gold in the coxless fours. to make him Great Britains greatest ever Olympian.
George Foreman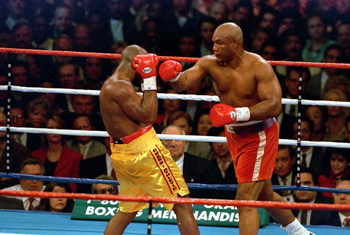 George Foreman was a Brute of a man, a fantastic physical specimen that terrified fighters before the bell had rung for round 1.
Gold medal winner of the heavyweight division at the 1968 Olympic Games, Foreman turned pro in 1969, and immediately started clocking up the wins, practically all by KO.

He fought 12 times in '69 and '70, 11 of those by KO in each year, and slowly worked his way up the rankings. he went unbeaten again in '71 and '72, knocking out opponents almost at will, his last five fights never making it past the end of round 3.

Finally in 1972, after compiling an impressive record of 37-0, 34 by KO, he was recognized as the no.1 challenger to the new heavyweight champion Joe Frazier, and was given a title tilt in "The Sunshine Showdown" in January '73 in Kingston, Jamaica.

Foreman set about Frazier with a savagery, a relentless pursuit of the champion who was floored 6 times, the last, an uppercut that took Frazier off his feet before coming down on one knee.
George Foreman was the Heavyweight Champion of the World at 24 years of age, his sisters voice ringing in his ear after she caught him shooting hooky from school, " you might as well go back to bed, cos you ain't never gonna be nothin, nobody from around here ever does."

Foreman defended his title twice, once against unknown Puerto Rican, Jose Roman, and then against Ken Norton, a man Foreman had later admitted he was scared of, an ex marine and a great looking specimen himself. Foreman set about Norton in the same way as Frazier, and destroyed him in 2 rounds.

Foreman would then fight Ali in the "The Rumble In The Jungle" in Zaire and be counted out, his first professional defeat.
He carried on fighting, facing Ron Lyle in '76 after being inactive in '75, and defeated him in what was said to be the fight of that year, he also beat Joe Frazier in a re-match of there previously one sided clash.
In 1977 he fought Jimmy Young in Puerto Rico, in what was to be a life changing experience.

After losing a 12 round decision, Foreman became Ill in the dressing room, suffering from heatstroke and exhaustion, and claims he found himself in a hellish place of nothingness and despair, he pleaded for god to help him, and sensed he could hear god asking him to change his ways.

Foreman became a born again christian, not boxing until 1987, when he announced a comeback, citing his wish to raise funds for a youth centre he was building as his motivation.
He generally fought journeymen until he was granted a shot at Evander Holyfield's title in 1991, going 12 rounds but losing unanimously.

Then in 1993 the WBO version of the title became vacant, and again he lost unanimously in 12 rounds to Tommy Morrison. But another shot was just around the corner, and George Foreman was not to be denied.
He knocked out Michael Moorer, conqueror of Evander Holyfield in the 10th, with a short right hand, stunning the crowd and boxing lovers around the world.

The ordained minister from Houston, Texas, had just regained his crown at the age of 45, 20 years after first winning it.
Martina Navratilova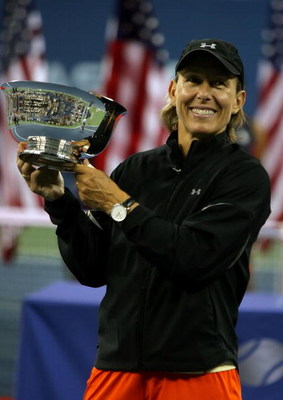 Martina Navratilova caught the eye as a 15 years old, winning the Czech national tennis championships, made her debut on the United States Lawn Tennis Association professional tour in 1973 at 16 and was taken in by actress Frances Dewey Wormser and her tennis enthusiast husband Morton.

She did not turn professional until 1975, making the finals of the Australian and French singles only to be beaten by two Iconic figures of the era, Yvonne Goolagong Cawley and Chris Evert, with whom she have an epic rivalry.

After losing to Chris Evert in the semi-finals of the U.S Open, she approached the Immigration and Naturilisation Board stating she wished to leave her home, communist Czechoslovakia, and set up residence in the U.S, she was duly granted her green card.

In 1978 she won her first Grand Slam Singles Title at Wimbledon, and then returned to retain her crown in '79, Evert again the Runner-Up.
In '81 she won the Australian singles title, Evert again on the receiving end, but would lose on a third set tie break in the U.S Open Final to new kid on the block Tracey Austin.

Navratilova won Wimbledon again in '82, and added the French to her singles titles, this period would become her most dominant, adopting Nancy Lieberman's (basketball player) exercise regime and starting to use graphite racquets, she would go 86-1 in 1983, losing the one solitary match in the fourth round of the French Open, and during the whole of '82, '83 and '84 would lose only 6.

It was also during this time that she had an unbeatable doubles partnership with Pam Shriver, setting a consecutive run of 109 unbeaten matches between '83 and '85, and winning all 4 Doubles Grand Slams in 1984.

From '85 through to '87 Martina Navratilova made all 11 Grand Slam Singles Finals held through those 3 years, winning 6, she'd reached the Wimbledon Final 9 consecutive times from '82 to '90, the U.S Open Final 5 consecutive times from '83 through '87 and the French Open Final 5 out of 6 times from '82 through '87.

With the young and vibrant Steffi Graff emerging on the scene in '87, Navratilovas crown came under pressure, but she still managed to become only the third player of the open era to win the singles, doubles and mixed doubles at the same tournament.
The U.S Open. Graff did manage to take Navratilovas No. 1 ranking, breaking a streak of 156 consecutive weeks, and 331 total weeks as the singles world No. 1.

In '88 and '89 Graff and Navratilova would meet in 3 Grand Slam Singles Finals, Graff the victor in all, Navratilova would win the Wimbledon Singles Title again in 1990, aged 33, for the ninth and last time, and aged 34 met Steffi Graff in the Semi Final of the U.S Open, Navratilova winning the encounter only to lose in the final to new no.1 Monica Seles.

Her final singles bow would be once again at Wimbledon, where she lost in 3 sets to Conchita Martinez , at 37 singles had taken it's toll on Martina and she retired from full time competition.
In 2000 she made her comeback, mainly to play doubles, but did play the odd singles match. She partnered Leander Paes to the Mixed Doubles Titles at Wimbledon and The Australian Open, making her the oldest winner of a Grand Slam at 46 years and 8 months old.

But she wasn't finished yet, in 2006 she partnered Bob Bryan to the Mixed Doubles Title at the U.S Open. At a month under 50 years old, Martina was still proving that age is no barrier.
Phil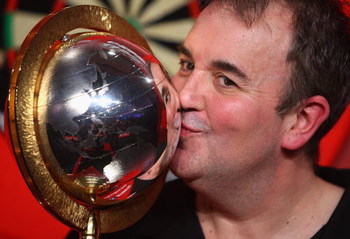 Born in 1960, Phil Taylor left school at 16 and quickly took up work at J.F Sale, making ceramic toilet roll handles, and earning him the princely sum of £52 per week. During periods of unemployment, Phil would indulge in his main hobby, darts, down at the local pubs in Stoke On Trent.

He came under the watchful eye of Eric Bristow, Darts's Iconic figure of the 80's, and Bristow agreed to fund Phil Taylor to the tune of £10,000, for him to practice and enter low ranking tournaments, on the proviso that he paid it back. By 1990, Phil Taylor had qualified for the World Professional, and as a 125-1 outsider, won his way to the final, where he would play his mentor, Eric Bristow.

Taylor demolished Bristow 6 sets to 1, and The Power was turned on. He would lose in the quarter final the following year, but regained his crown in '92 with an epic final against Mike Gregory, which Taylor lists as one of his greatest.
He made an early exit the following year, but made the final again in'94, in the newly formed PDC, losing to close rival Dennis Priestly.
It was from 1995 onwards that the power was turned on fully, as Taylor took the world of darts by storm, winning the World Championship consecutively through to 2002, won the world matchplay on 5 occasions during that period, and the World Grand Prix on 4, along with countless other competitions that were appearing on the circuit as darts started to appeal to a wider audience.

Missing out on the World Crown again in '03 Taylor would come back for more in '04, '05 and '06, win the Matchplay in '03, '04 and '06 and the Grand Prix in '03 '05 and '06, he would also claim the Inaugural Premier League of Darts, played between the worlds top 8 players on a round robin basis in '05 , and every year after that to date.

After 2006 things started to flicker for The Power, slight loss of confidence, in his ability and his darts, but a change in his "arrows" and a renewed zest sent Phil Taylor back to his best, in the year to date, he has won 13 non televised PDC events, won his second U.S Open title, set the highest ever 3 dart average seen on a televised event at the U.K Open (114.53).
In July he won the Las Vegas Desert Classic, the first televised event he had won since '06, later in July he won his 9th World Matchplay.

In October he won the South African Masters, followed by his 8th Grand Prix. In November he won the Inaugural European Darts Championships, setting the second highest 3 dart average ever televised (113.92), then later that month retained his own Grand Slam of Darts crown.

At the age of 48, Phil Taylor regained his World Crown with another devastating exhibition of darts, beating Raymond Van Barneveld 7-1, his 3 dart average the highest ever in a PDC final(110.94).
To date, Phil Taylor is 82-2-2 this year, winning 23 out of 26 tournaments and earning £233,000 in the process, not bad for an old fella!
Nolan Ryan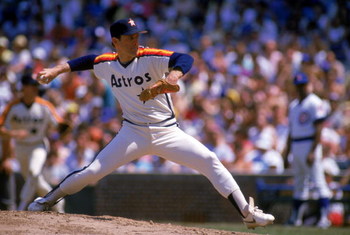 Lynn Nolan Ryan,Jr. Born 1947, was always destined to be a pitcher. As a kid, he had a love for throwing objects at any target, so his father encouraged him to channel it into baseball.

In 1965, after graduating from high school, he signed a professional contract with the New York Mets, but was assigned to the Appalachian minor league to play for the Marion Mets.
He was called up in'66 but would go back to the minors in '67 for his inability to find the strike zone. He would be back in '68, used mainly as a relief pitcher or spot starter, as he was unable to break the Mets outstanding pitching rotation, led by Tom Seaver and Jerry Koosman.

Ryan pitched well in the '69 postseason, completing a sweep by pitching seven Innings of relief in game 3 of the NLCS against the Atlanta Braves, notching his first playoff win (it would take him 12 years to win another), he then pitched in the final 3 Innings of Game 3 of the '69 World Series to give the Mets a 2-1 lead over the Baltimore Orioles, eventually they would win 3-2, Ryan's only ever World Series appearance.

On April 18th 1970, Ryan struck out 15 batters in one game, tying a Mets record, four days later, Tom Seaver struck out 19 against the Padres. Still increasingly becoming frustrated by his lack of opportunity, although he did later acknowledge that the Mets and Tom Seaver's Influence had made him into a pitcher and not just a flamethrower, he requested he be traded.
In Dec 1971, he and 3 other players were dealt to the California Angels, in exchange for all star short stop, Jim Fregosi, who by now was past his best.

Nolan Ryan was now given the chance to pitch more regular as a starter, and set a league leading 329 strikeouts in his first season with the Angels, set a Major League Record allowing only 5.26 hits per 9 Innings and had a 2.28 ERA that year, the second lowest in franchise history.

Although Ryan's winning percentage was a little above .500, his strikeouts and no hitters brought him media attention, labeling him "The Ryan Express" after the film Von Ryan's Express, for his 100mph Fastball. On July 9th he struck out three batters in nine pitches against the Red Sox to become the seventh American League pitcher to do so, but more importantly the first and only pitcher to do it in both leagues as he had duplicated the feat against the St Louis Cardinals in 1968 as a member of the Mets.

In 1973, he struck out 383 batters, beating Sandy Koufax's record by one, and recorded two no hitters, in one, striking out 17 batters. In '74 he had another no hitter, striking out 19 batters, and had another no hitter in '75.

The Angels finally made the playoffs in his final year, but after pitching seven Innings in Game 1 of the ALCS, which they lost in the 10th Inning, he wasn't due to pitch again until Game 5, the Angels lost in 4.

With the season ended, Nolan Ryan became a free agent, he signed a lucrative contract with the Houston Astros, and in 1980, they made the postseason, but would fall one game short of the World Series, beaten by the Phillies 3-2.
In '81, he would pitch another no hitter, his 5th, breaking Koufax's record, and making him only the third pitcher to do this in both leagues, and his 1.69 ERA won him the National League ERA Title that year.

He pitched In Game 1 of the NLDS against the L.A Dodgers, and gave away only two hits in the whole game, recording his second postseason win (and his last), as they were beaten in Game 5, Ryan leaving the game 3-0 down, and taking the loss.

By the end of '82, Ryan and Steve Carlton were chasing Walter Johnson's record of strikeouts, Ryan beating him to it, his 3,509th victim being Brad Mills of the Montreal Expos.
In '86 Ryan would be back in the postseason, but a shaky start in Game 2 of the NLCS against the Mets would cost him , he came back with a great performance in Game 5, but matched by Dwight Gooden pitch for pitch, the Astros would lose in 12 Innings.
In '87 at the age of 40, he led the Major Leagues in ERA, 2.76 and Strikeouts with 270, but still had a record of 8-16. Despite that, he still tied 5th in the Cy Young Voting.

Leaving the Astros after the '88 season due to a contract dispute, he landed with the Texas Rangers, going 16-10 in '89 and leading the league with 301 Strikeouts.
On August 22nd he struck out Ricky Henderson of the Oakland A's to become the first pitcher with 5000 career strikeouts, Henderson quoted" If he ain't struck you out, then you ain't nobody!" In '90, Ryan threw his 6th no hitter against the A's, and got his 300th career win against the Brewers, then on May 1st '91, Nolan Ryan set a record throwing his 7th no hitter at the age of 44, Roberto Alomar, of the Toronto Blue Jays his final out.
Coincidentally, Ryan's second baseman in his first two no hitters, was Sandy Sr, Roberto's father.

Announcing his retirement before the start of the '93 season, for the end of that season, Ryan's arm eventually gave out two starts premature, as he tore a ligament in his throwing arm, he tried one last pitch, measured at 98mph, but had to leave the game.
Nolan Ryan finished his career playing 27 seasons in Major League Baseball, an all time record, was the last remaining active player from the 60's, beating Carlton Frisk by 3 months.
George Blanda
George Blanda, was a unique individual in footballing terms, playing both quarterback and on special teams as a placekicker, certainly unheard of in today's modern game of pro football.
Blanda was the son of a Pittsburgh coal miner, born in Pennsylvania in 1927, he attended The University of Kentucky, playing quarterback and placekicking.

After three successful seasons under the tutelage of Bear Bryant, Blanda was signed by George Halas and the Chicago Bears for $600 in 1949, a fee he demanded back when Blanda made the team. He would play quarterback and placekicker primarily, but also some linebacker, but it wouldn't be until '53 that Blanda became the regular signal caller.

Following an injury the following season, Blanda lost his starting quarterback status, and for the next four years would be used only predominantly as a kicker. Blanda tired of this and announced his retirement from the bears in 1958.

He Joined the Houston Oilers in 1960 upon the formation of the new AFL, and although mocked by the press as an NFL reject, he lead the Oilers to the first two league titles in AFL history, winning All-AFL quarterback and AFL Player of The Year honours in 1961, a season in which he lead in passing yards with 3,300, ad passing TD's with 36, a record for both the NFL and AFL until surpassed by Dan Marino's 48 in 1984, his 42 Interceptions in 1962 is still a record.

In '62 he also had two four hundred yard passing games, 464yds and 4TD's against the Bills, and 414yds and 7TD's against the New York Titans three weeks later.
He would throw 36 more TD's that season, and in one game against the Titans, threw 68 passes, only recently beaten by Vinny Testaverde and Drew Bledsoe.

From '63 to '65 Blanda would rank in the top quarterback in passes and completions, and in the top 10 for seven consecutive seasons in attempts, completions, yards and touchdowns, and a 4 time member of the AFL All Star Team, but Blanda's career looked finished when he was released in 1967 approaching 40 years of age.

The Raiders, with a habit of picking up what others saw as lost causes, took Blanda on, seeing him as a dependable back up passer and reliable kicker. In his first season, he led the league in scoring with 116 points, but in 1970 was released in pre-season, only to be brought back, and make a string of clutch performances.

On Oct 25th he relieved an injured Daryl Lamonica and threw 2 TD's against Pittsburgh, the following week he kicked a game tying 48yd FG with 3 seconds left against the Chiefs to tie the game, then on Nov 8th, came off the bench to throw a game tying TD pass against the Browns, and then as time expired kicked the winning FG From 53yds, he then came off the bench the following week in the fourth quarter and hit Fred Biletnikoff with 2.28 left to win the game 24-19 against Denver, and concluded his streak the next week against San Diego kicking a 16yd FG In the closing seconds.

Blanda would try his heroics again in the AFC Title Game against Baltimore, coming on for an injured Lamonica , throwing 2TD's, kicking a 48yd FG, and 2 extra points, but two fourth quarter interceptions would be his undoing.

He still became the oldest quarterback to play in a championship game at 43, and won the Bert Bell Award for his achievements, Kansas City Chiefs owner Lamar Hunt remarking " Why, this George Blanda is as good as his father, who used to play for Houston!"

George Blanda would play only primarily as a kicker for the Raiders for the next five seasons, playing his last game in Pittsburgh's Three Rivers Stadium in'76, at 48 years old, and a holder of several NFL records, a true legend of the game.
Jack Nicklaus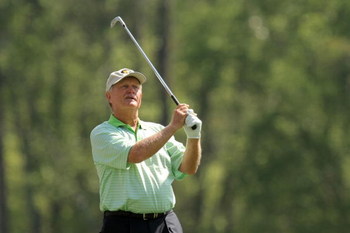 Jack Nicklaus, "The Golden Bear", arguably the finest golfer of a generation, straight hitter, good distance, not by his own admission the greatest putter, although he did make them when he needed to, and boy did he make a few, won his first Major Championship in 1962 at the U.S Open, it was also his first professional win on tour aged just 22.

Beating the heavily favoured Arnold Palmer In a Monday playoff at that first U.S Open victory really set the touch paper alight for their rivalry over the next few years, as they would go at it vying for the Major Championships.
Nicklaus would win his share, winning The Masters in '63, '65 and '66, the first man to win in consecutive years, PGA Championship in '63, The Open in '66 and the U.S Open again in '67, his win at The Open making him the youngest winner of all four Majors at 26.

After the '67 U.S Open win, Nicklaus' game went into decline somewhat, his physical condition suffered as he put on excess weight, which in turn affected his stamina.
The loss of his father shortly before the The Open at St Andrews in 1970 gave him the spur that he'd been looking for, an he duly went onto win at the home of golf and get his career back on track.

He would win the U.S Open again in '72 along with The Masters, the PGA Championship in '73, but would go major less in '74, although he was one of the original inductees into the "World Golf Hall of Fame" which was a nice momento to a disappointing season.
He fired into action in '75, winning the Doral, The Heritage and then The Masters consecutively, winning The PGA Player of The Year Award for his achievements.

He was top of the money list in '76, only competing in 16 events, and not winning a major, playing what he called "hang back and hope golf". He went without a major victory again in '77, coming second to Tom Watson in The Open at Turnberry, after shooting 65-66 in the final two rounds, Watson shooting 65-65.
Nicklaus later remarking that those final two rounds were the most thrilling one on one battle of his career.

Nicklaus would not be denied for long, and won the 1978 Open, making him the only player to have won all four majors 3 times, a feat since equaled by Tiger Woods at the 2008 U.S Open.
He would win another 3 tournaments in this year and be voted Sportsman of The Year by Sports Illustrated.

Nicklaus again hit a baron spell, not winning a tournament in'79, for the first time in his professional career, and having to wait until 1980, when he had 3 Top Ten Finishes, two of them victories in the U.S Open and the PGA Championship.
He would go back in the offseason and work on a problem with his swing, and also his lack of a short game, and would taste victory again only twice on tour between '81 and '85.

In 1986, aged 46, Nicklaus defined his career, with another Major victory at The Masters, taming Augusta for a 6th time, posting a 6 under par 30 in the final round on the back nine for a 7 under 65. This was his 18th Major Win, and the oldest Masters winner in history.

Jack Nicklaus qualified for the Senior Tour in 1990 aged 50, he remarked upon his transition" I'm never satisfied, trouble is I want to play like me-and I can't play like me anymore."
After carrying on his winning ways on the senior tour, Jack Nicklaus would give it one last shot when in 1998 he tied 6th, at 58 years old , four shots back from eventual winner Mark O'Meara, proving that he still can play like him on the odd occasion.
Muhammad Ali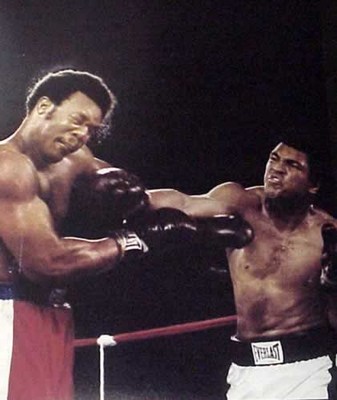 Muhammad Ali, The fastest heavyweight ever to have graced the sport, born Cassius Marcellus Clay in Jan 1942, ended up in a boxing gym as someone had stolen his bike, and found Louisville policeman Joe Martin, also training boxers at the time, to complain to.
Martin said to him, that if you want to go and whoop whoever had stolen his bike, he'd better learn how to fight first.

Clay would take his advice, winning the Gold Medal at Light Heavyweight in the Rome Olympics of 1960, and turning pro later that year, defeating Tunney Hunsaker in his first professional fight. Between '60 and '64, Ali would beat all comers, climbing his way up to become Sonny Liston's number one challenger, but not without a few bumps along the way.

He won a disputed 10 round decision against Doug Jones in what was billed "Fight of The Year" in '63, he would then be floored by "Enry's Ammer" in London when he took on Henry Cooper, Cooper having him on the canvas in the fourth, with a punch that some felt Ali was susceptible to, the left hook.

Clay managed to regain some composure with an alleged cut glove allowing him some extra time, and destroyed Cooper's face to a bloody mess, having him stopped with cuts to the eyes in round 5.

In 1964 "The Louisville Lip" would get his shot at a World Title, taking on the "Big Ugly Bear" Sonny Liston, in Miami Beach,Florida, and he would "Float Like A Butterfly, Sting Like A Bee" all the way to the Heavyweight Championship of the World, self proclaiming "I Am The Greatest", having just turned 22 years old.

For the next three years, Muhammad Ali,as he now called himself, after announcing his conversion to the nation of Islam, dazzled crowds with his blinding speed of punching and footwork, like an artist painting a masterpiece, he adopted a similar style in the ring, gracious, not unlike a ballerina, but with an underlying tenacity, as firstly Cleveland "Big Cat" Williams would find out in '66, possibly Ali's greatest boxing exhibition, and Ernie Terrell, who took the foolish step of calling Ali by his old "slave" name (Cassius Clay), and would find himself on the end of a 15 round mauling, from which many experts posed the question implying that they felt Ali did not knock Terrell down on purpose, thus prolonging his agony.

Ali's Career would come to an abrupt halt in April '67, after refusing to be drafted into the army, saying he had no quarrel with the viet cong, he was subsequently stripped of his boxing license and sent into exile for 3 years.

In 1970 he made his comeback, fighting Jerry Quarry in Georgia, the only state without a boxing commission so they could grant him a license, then the New York State Supreme Court ruled that Ali had been unjustly stripped, and was re-instated, allowing him firstly to fight, and beat Oscar Bonavena at Madison Square Garden, and then pave the way for his first encounter with "Smokin" Joe Frazier, Frazier would knock Ali down in the 15th with that punch, the left hook, and although got up off the canvas, Frazier would win the points decision and hand Ali his first loss.

Ali would then go 10 fights unbeaten, setting up a fight with Ken Norton, who would break Ali's jaw in the first round of a 12 round fight, Ali still fighting on but losing a points decision.
He would get a re-match later that year, and reverse the decision with Norton, Setting up a non title fight rematch with Joe Frazier which Ali also won in 12 rounds.

After that win Ali was again granted a shot at the World Title, this time held by George Foreman, which took place in Zaire, Foreman was destroying all in his path, already with brutal KO's of Frazier and Norton to his name, he was to try and do the same to Ali. But Ali, at 32 , had all the experience he needed, and sucked the life out of the champion with his "Rope A Dope" tactics, and knocked Foreman out for the only time in his career, taking his title and leaving him still in a daze, not remembering how he made it back to his dressing room.

Ali would defend his a further 10 times, a classic encounter with Joe Frazier again among them, "The Thrilla In Manilla", both fighters punching themselves to near exhaustion in the stifling heat, Fraziers corner stopping the fight before the start of the last round, Ali remarked, It was the closest thing to death he had ever experienced.

In 1978, Ali would defend his title against '76 Olympic Champion Leon Spinks, with only a handful of fights under his belt, Spinks stunned Ali by taking his title away, but the champion would not be denied. Ali got himself back in the gym, saying he was going to "Float Like A Butterfly" one more time, and he did, jabbing and moving like the Ali of old, he took the World Heavyweight Title back from the young pretender at age 36, showing that you should never underestimate the power of age and experience.
Keep Reading