2013 Rapping Athlete Hip-Hop Awards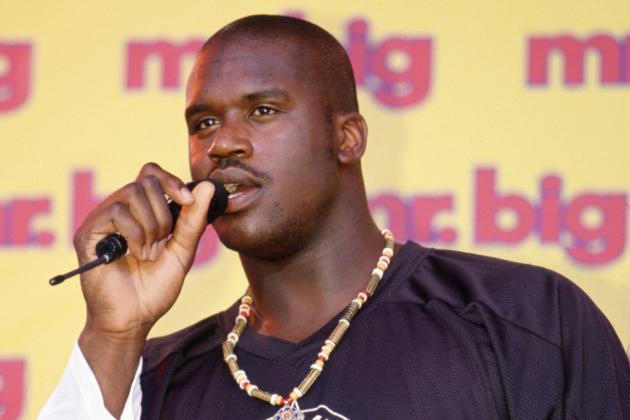 Andy Lyons/Getty Images
Shaq cut records with some of the greatest of all time.
Most articles that address rapping athletes are derisive and condescending, blaspheming those who pursue artistic interests in hip-hop.
While it's safe to say J.J. Redick is no Jay-Z, and many past athletes lacked the necessary skills to succeed in the rap industry, hip-hop has undeservedly become "faux pas" for not only athlete's, but anyone who isn't as skilled as Tupac or Biggie.
Iman Shumpert said it best in a recent interview with ESPN's Sam Alipour:
If an athlete plays the guitar, they say, "That's so cool, he can play the guitar." But if a guy raps, they say, "Please don't be another rapper."
This undue prejudice has probably kept many legitimate "ballers" from aspiring to write rhymes. So, for those who didn't allow league officials and peanut gallery spectators to thwart their dreams, here's a toast.
Furthermore, to honor the players who respect the game both on and off the court, I proudly present the 2013 Rapping Athlete Hip-Hop Awards.
Begin Slideshow

»
Beginning the ceremony with a bang, Shaquille "Shaq" O'Neal takes home the Hip-Hop Icon Award.
This should come as no surprise, as The Other Notorious B.I.G. is the godfather of athlete rap. His success laid the groundwork for all the hip-hop we hear from the sports world today.
Shaq's first album, Shaq Diesel, reached number 25 on the Billboard Top100 and was certified platinum in March of 1994. Few artists ever reach that echelon of success, let alone in their first year with their first album.
Furthermore, he's performed with hip-hop/pop royalty Notorious B.I.G. (video with minor explicit language), Michael Jackson and Ice Cube, and aside from being such an influential rap-athlete, the Diesel is the epitome of an entertainer.
There's more to hip-hop than simply laying tracks, and Shaq's mastered the art of showmanship. Who else could self-impose several hundred nicknames, ask an all-time great "how [his] ass taste" (NSFW) and dance with the Jabbawockeez?
Only Shaq.
His legacy is cemented both on the court and in the booth, and he's the only choice for the Rapping Athlete's Hip-Hop Icon Award.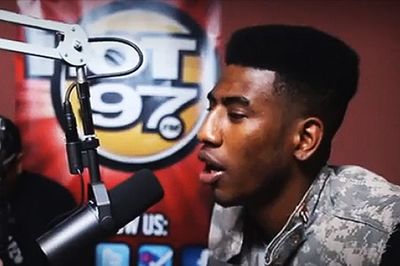 Iman Shumpert rapping on Hot 97, a hip-hop radio network. Via Google Images
Iman Shumpert, the New York Knicks' two-guard, has burst onto the rap scene following an ACL tear in last year's NBA playoffs.
It appears the high-top fade isn't the only homage Shumpert pays to postmodern lyricists, as he is one of, if not the most, talented rapper that's ever played a professional sport.
He recently released his first mixtape, Th3 #Post90s, which includes 21 tracks. Each track represents something different about the rapping athlete, featuring more than just cars, clothes and jewelry, though he certainly touches on material subjects.
His most impressive track lyrically may come in the form of a letter to his deceased aunt titled, "PAIN," but nearly all of his music is worth a listen.
In terms of "2wo 1ne," it's fair to say this athlete could legitimately thrive in the hip-hop industry after his professional career is over, or as it continues. Let's hope for the latter.
The artist formerly known as Ron Artest released "Champion" after the Lakers 2010 championship, receiving positive reviews from industry mogul Master P, but more importantly, from me.
With the help of Dr. Dre's son, Curtis, Artest produced an awesome organ-driven beat to accompany a catchy hook and solid verses from the name-changing "raplete."
Artest's hit reached peak popularity when it was featured on NBA 2K11, an incredible accomplishment from such an unaccomplished artist.
I hope to hear more hip-hop from Artest, albeit under a different name, very soon.
While Chris Webber had a rap career of his own, C-Webb's most impressive hip-hop venture came as a producer.
Webber didn't produce just any song for any artist. He produced the song you see above, "Surviving the Times," by quite possibly the greatest emcee to ever live, Nas.
While that's impressive enough, what's more is that "Surviving the Times" made Nas's Greatest Hits album, meaning it's one of the greatest-rapper-of-all-time's greatest songs.
Damn, C-Webb. Do your thing. You win this award hands down.
The newcomer, Iman Shumpert, takes home another award, this time for Lyricist of the Year.
Iman is definitely the best athlete-lyricist in the game right now, and possibly ever. He reaches deeper than the pop hits we've seen so many athletes strive for in the past, and you can witness his dedication to the craft in his music.
His new mixtape, Th3 #Post90s, features lines such as:
Speak direct when talking to me 'cause my time is minimal /

Won't deal with the bulls***, y'all be on your Thibodeau /
and
I go harder than that 9 to 5 guy that got his degree /

but he's no smarter than me, I'm clean cut cause ari's my barber /

Now I get the four course, ain't no more ordering starters.
Even Shumpert's materialistic musical endeavors showcase his lyricism, as witnessed in "Supaphly" featuring Chrisette Michele.
He's truly an inspiring development in the realm of rap-athletes.
Louis Williams takes the award with his "Imma Boss" freestyle.
Most freestyles aren't truly off the top anymore, and this one no doubt isn't, but Williams' YouTube "free" is still nice.
His flow is as smooth as his three-point stroke, and his voice sounds a lot like the song's original artist, Meek Mill.
As an interesting side note, "Imma Boss" by Meek Mill is featured on NBA 2K13. Maybe that's where Williams' got the idea for a remix.
Regardless, it was a solid effort for the former 76er. Hopefully the hip-hop heads in Atlanta will bring out the artist in him again.
"Ya Don't Stop" featuring AG, Gran Puba and Sadat X gives us two for the price of one with two former NBAers, Cedric Ceballos and Dana Barros.
Both Ceballos and Barros released singles as solo artists before collaborating together, Cedric with "Flow On" featuring Warren G and Dana with "Check It," but this duo makes a pretty good team.
"Ya Don't Stop" features a grimy beat with flashing horns to accompany the basketball-driven lines by each of the rappers.
While there wasn't much competition for 'Dric and Dana, their effort was definitely worthy of this award on it's own merits.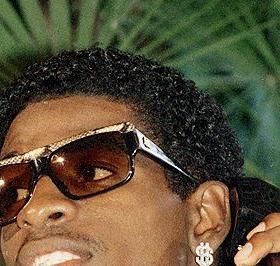 Tell me this guy doesn't have the illest swag in the game. AP Photo
While Deion "Prime Time" Sanders may not have been a fantastic hip-hop artist, he embodied the hip-hop style, rocking a clean haircut, flashy clothes, gold chains and an affection for money.
He is a consummate showman with flair for days as well as an R&B "swag" no one else in the game delivers.
Deion's "Must Be the Money" turned the world of "rapletes" on it's axis, making Prime Time: Deion Sanders the second highest grossing athlete hip-hop album ever behind Shaq Diesel by Shaquille O'Neal.
Deion may have cleaned up his act, but his style is still as smooth as it was in the early 90s, just a bit more refined.
Prime Time reels in back-to-back awards with the People's Champ Award for "Must Be the Money."
The People's Champ Award obviously goes to the most popular song according to the people, leaving little doubt that "Must Be the Money" had to be the winner.
Deion's only radio single pushed Prime Time to number 70 on Billboard's Top R&B and Hip-Hop Albums, and it's fame has only grown as the years have passed.
It may not be the best song by a hip-hop athlete, but the people love it for good reason, earning Sanders the award.
Jewels, also known as Allen Iverson, was infamous for his graphic lyricism.
This comes as a major surprise considering Iverson's album was never released and Shaq Diesel is the only hip-hop album by an athlete to ever receive any major commercial success.
While the Diesel's drop may be the most accredited athlete album of all time, Iverson's Misunderstood made waves for different reasons.
After hearing the album's vulgar lyrics, David Stern threatened action against Iverson before backing off, stating,
Notwithstanding the music's wide popularity, Allen, by even recording his lyrics, has done a disservice to himself, the Philadelphia 76ers, his teammates and perhaps all NBA players. However, I do not believe that the NBA should be in the business of regulating artistic expression, no matter how repugnant.
Stern's strong comments only fueled the fire around Iverson's album, recorded under the moniker "Jewelz," assuring it's exposure to a largely pro-Iverson NBA fanbase.
Despite it's lack of commercial success, Misunderstood wins album of the year for it's graphic nature that challenged the boundaries between being a player and an individual, affecting the sport by nearly provoking action from NBA Commissioner David Stern.
Misunderstood was headlined by "40 Bars" (explicit lyrics), and the album was finally released partially in 2010.
Well, that's all from the 2013 Rapping Athlete Hip-Hop Awards.
Thank you for your support, and remember none of this could be accomplished if it weren't for the multi-talented athletes-turned-artists featured in this presentation.
Support hip-hop and athletes who pursue it, given they can hold their own with the artists mentioned in this ceremony.
Until next time, peace out, people.