Honduras vs. United States: 6 Things We Learned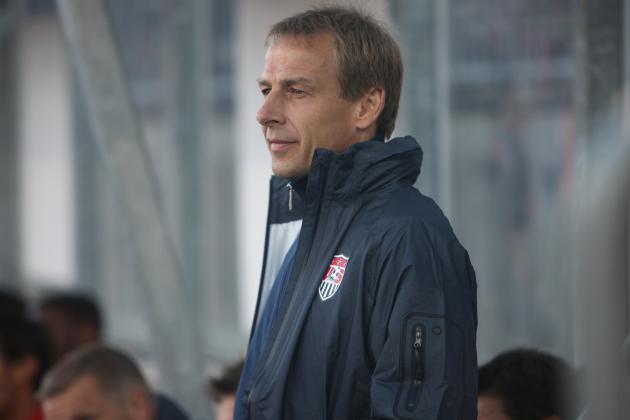 Tom Szczerbowski/Getty Images
United States manager Jurgen Klinsmann will have a lot on his mind following Wednesday's 2-1 loss to Honduras.
There was a lovely Jermaine Jones chip to Clint Dempsey for the opening goal of the match and a spectacular bicycle kick by Juan Carlos Garcia to level the scoreline shortly before the break. Tim Howard had kept the guests competitive through the early going in San Pedro Sula, but in the end it was a mistake by the American goalkeeper that cost his side a point in a 2-1 loss to Honduras Wednesday.
These are the noteworthy items from was a compelling match between the Honduras and United States men's soccer teams to open the fourth round of CONCACAF World Cup qualifying on Wednesday, but they only scratch the surface of what the coaches, players, reporters and fans will take away from the Honduras victory.
The following slides reveal six things we learned from the contest—six talking points that will likely be revisited before the final standings in the Hexagonal are decided in October.
Begin Slideshow

»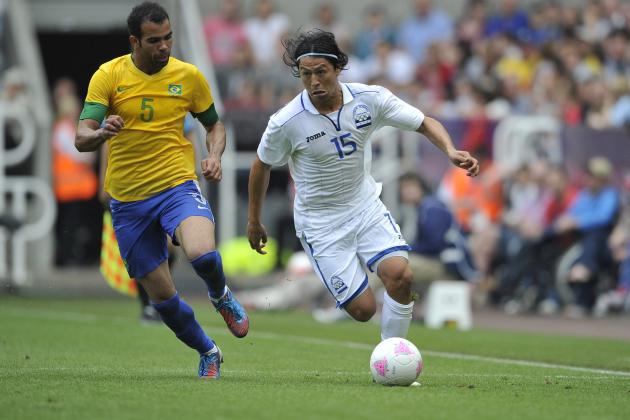 Francis Bompard/Getty Images

Say what you will about the American performance in San Pedro Sula, but it wasn't awful—particularly in light of Canada's 8-1 humiliation there last autumn.
The fact is Honduras are a very good side—one of CONCACAF's best—and should be considered, alongside Mexico, a favourite to get out of the Hexagonal and avoid the qualification playoff as well.
First off, it's unlikely the Bicolor will lose any of their remaining home matches in qualifying. Estadio Olimpico Metropolitano is their fortress.
Second, the six outfield players in front of the defense pose all kinds of threats. Boniek Garcia and Mario Martinez are active, dangerous wingers; Jerry Bengtson is among the top goalscorers remaining in qualifying. Roger Espinoza, who was so impressive at the Olympics, is one of better attacking midfielders to have come out of Central America in recent years and Luis Garrido provides a reliable shield in front of the defense.
Honduras qualified for only their second World Cup finals when they entered the Group Stage Draw for South Africa 2010, but they're an odds-on favorite to book a spot in their third over the next few months.
That's important to remember when assessing Wednesday's American performance.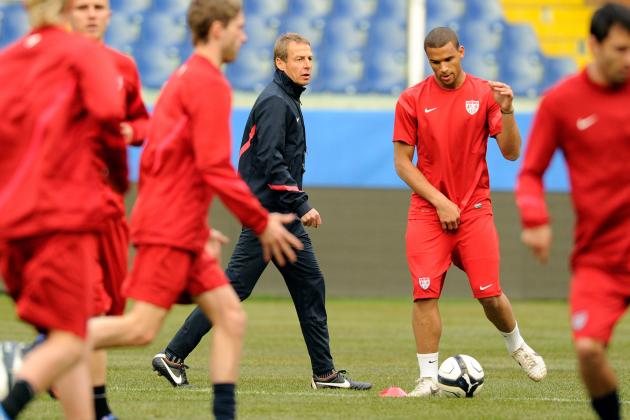 Claudio Villa/Getty Images

United States manager Jurgen Klinsmann rang the changes for Wednesday's match in San Pedro Sula and will likely shake things up once again when his side look to get their first points of the Hexagonal next month against Costa Rica.
There will almost certainly be a new face or two in the centre of defense—or an old face, given that Carlos Bocanegra is 33—and Rosenborg's Mikkel Diskerud—who did so well against Russia in November—will likely be called back up. Given the overall defensive frailty of the side, Maurice Edu could come in to partner Michael Bradley and up top, where so little worked on Wednesday, Herculez Gomez could well be unleashed in Denver.
But no one except Klinsmann will have a realistic idea of the starting XI before the teamsheets are released on March 22. Previous American lineups almost wrote themselves, but these days there is so much confusion surrounding the selections it's hard to believe it doesn't affect the players.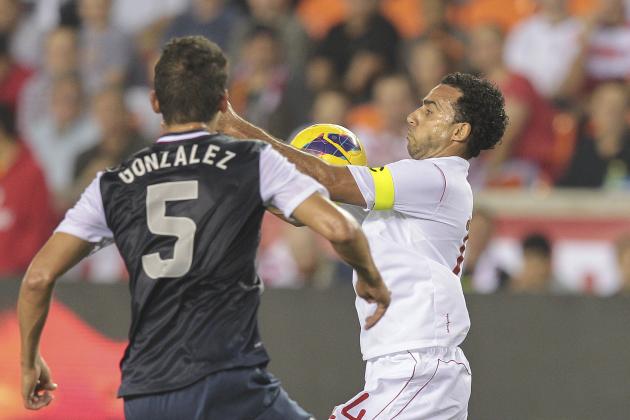 Bob Levey/Getty Images

Omar Gonzalez didn't have a horrible afternoon at centre-back alongside Geoff Cameron, but United States manager Jurgen Klinsmann will almost certainly have to answer why he opted to leave 33-year-old veteran Carlos Bocanegra on the bench against Honduras.
Quite simply, there was no stopping the hosts' first goal. It was the sort of magic you're likely to see only once or twice over the course of the season.
But on Jerry Bengtson's winner neither Gonzalez nor Geoff Cameron were in any sort of position to prevent the goal—not that they were helped by a rare mistake from goalkeeper Tim Howard, who went walkabout.
Similar defensive performances will be punished even more harshly by sides more clinical than Honduras, so adjustments in this area need to be made quickly.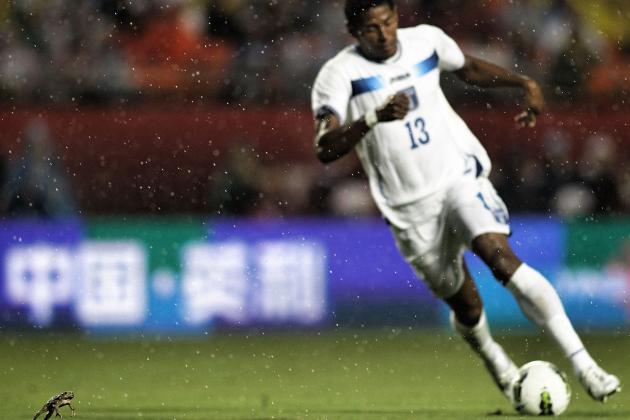 Marc Serota/Getty Images

The American defenders might have better protected their goalmouth in the buildup to Juan Carlos Garcia's 40th-minute equalizer, but when you're dealing with a strike of such enormous quality it's difficult to blame individuals.
After the ball ping-ponged in front of the United States goal following a corner it fell to Garcia, who didn't even look as if he was going to control it until he leaped into the air and pulled off a spectacular bicycle kick that left United States goalkeeper Tim Howard with no chance.
If nothing else the Garcia super-strike will serve as a reminder that if the United States hope to enact some measure of revenge in the return match in June they'll have to significantly increase their concentration levels.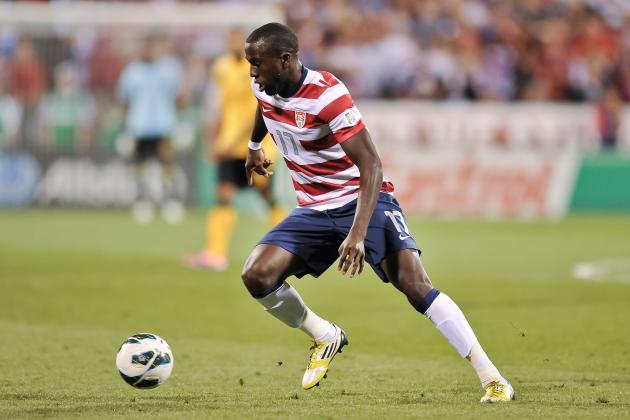 Jamie Sabau/Getty Images

United States manager Jurgan Klinsmann came under significant criticism from much of the country's soccer establishment when he left striker Jozy Altidore out of his squad for a pair of World Cup qualifiers in October.
Poor international performances were seen as the major reason for the then-22-year-old's omission, but instead of sulking Altidore got down to what he does best: scoring goals.
In 11 starts for Eredivisie side AZ Alkmaar so far this season he has tallied 15 times—a total that currently has him second in the league scoring race and 10 goals above the next-highest goal-scorer on his team.
So when it came time for Klinsmann to pick his squad for the first two matches of CONCACAF's Hexagonal section of World Cup qualifying he gladly recalled Altidore, who is the United States' form striker in club football at the moment.
Now, what remains to be seen is if Altidore will be involved in the team that hosts Costa Rica next month. He didn't do all that much against Honduras, but then again the same can be said for many of his teammates.
Miguel Tovar/Getty Images

Jurgen Klinsmann and his coaching staff will take what they will from Wednesday's World Cup qualifier against Honduras, but one thing that won't come up in the post-match discussions is the state of national team's goaltending.
It seems each time Tim Howard puts on the United States jersey he is among his country's best performers, if not its best. And while he was at least partly to blame for Jerry Bengtson's eventual winner, some of the spectacular stops he made in the opening stages of the match kept his side in it and even provided a platform for them to go and take the lead in the 36th minute.
As long as Howard is between the sticks the United States will be a tough out for any team from any region. It's a luxury few international sides have, and one Klinsmann will continue to build around as 2014 qualification continues.