New York Knicks vs. Washington Wizards: Live Score, Results and Game Highlights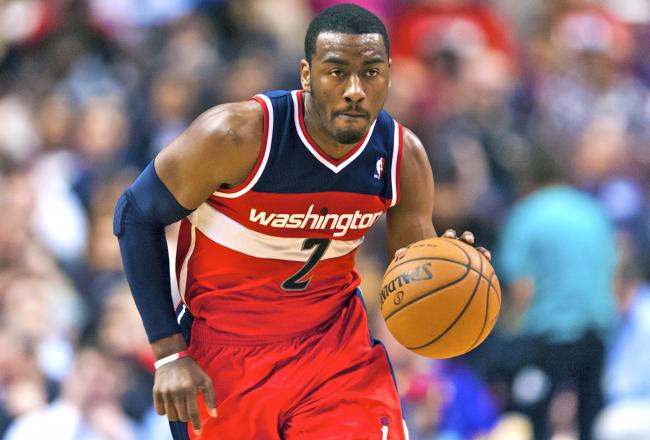 The 31-15 New York Knicks travel to the nation's capital to take on the 12-35 Washington Wizards, squaring off for a battle between the second-best and second-worst teams in the Eastern Conference.
Keep it here for all the action, highlights and analysis along the way.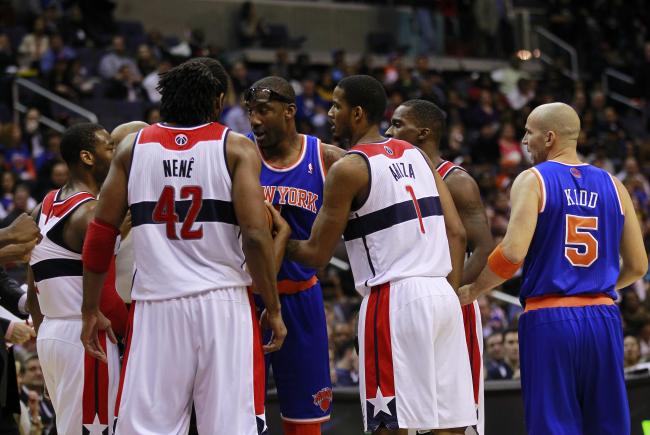 Keys to the Game
What was the turning point of this one? Well there was never really a specific point in which the game turned, although the Wizards did hang on extremely well for the last six minutes of the fourth quarter.
It was back-and-forth all game long, and the Wizards relied on one thing to take this one away from the Knicks. Three-pointers.
Washington sank 10 of 14 three pointers through the firs three quarters of the game before going just 1-6 down the stretch, but when they needed to hold the lead, it was their rebounding and defense that started to take over.
They may have been out-rebounded, but they pulled down some huge boards down the stretch, either leading to clock resets, easy layups, or just avoiding a transition game from the Knicks.
As for the Knicks, they just made a few mistakes down the stretch. A costly turnover here, a front-rimmed free throw there, an airballed three-pointer by J.R. Smith everywhere and suddenly you're fighting to get back into the game.
It wasn't really a bad loss, just a series of unfortunate events, and a night when the likes of Jason Kidd and Iman Shumpert shoot 2-12 from the field.
Wizards 106, Knicks 96, Final.
Let's take a look at the box score from this one. First the Wizards:
And the Knicks:

Wizards 106, Knicks 96, Final.
There you go, the Wizards have now beat the Heat, Knicks and Thunder. What else would you expect?
Wizards 106, Knicks 96, Final.
Carmelo Anthony travels as he runs over John Wall to all but end this one.
Wizards 106, Knicks 96 with 0:24 left in the fourth.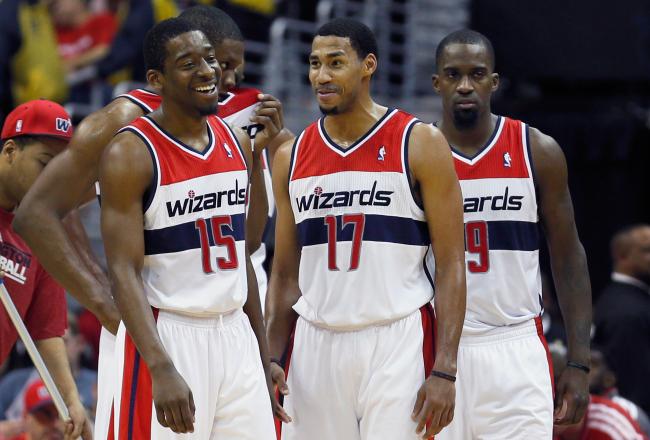 Martell Webster goes 5-7 from downtown with a huge dagger. It's going to take a lot for the Knicks to get back into this one.
Wizards 104, Knicks 96 with 1:16 left in the fourth.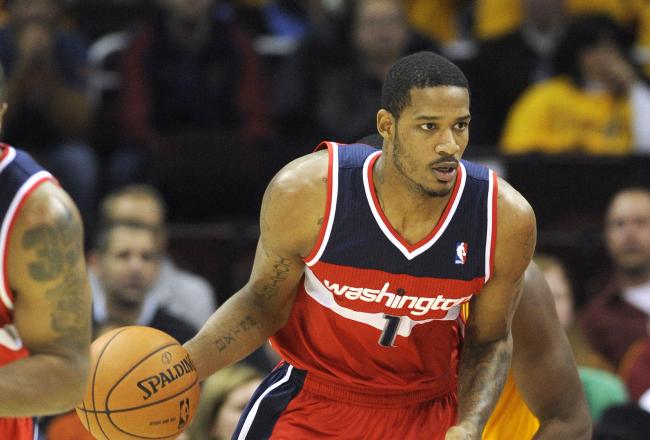 J.R. Smith misses one of two free throws, which isn't something they needed right there.
They probably didn't need to see Trevor Ariza sink a layup off the Singleton airball either.
Wizards 101, Knicks 95 with 1:50 left in the first.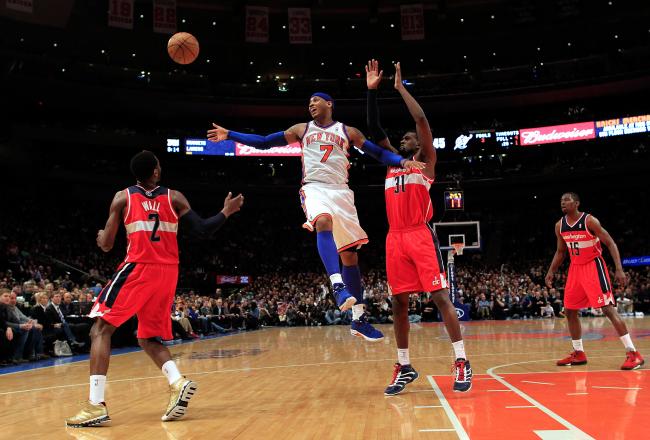 Another jumper falls for Wall, as Anthony matches him on the other end with a triple-teamed layup.
These two are putting on a show right now.
Wizards 99, Knicks 92 with 2:36 left in the fourth.
John Wall is a plus-16 so far #wizards

— Michael Lee (@MrMichaelLee) February 7, 2013
And A.J. Price is minus-11.
Wizards 95, Knicks 90 with 4:15 left in the fourth.
NENE BREAKAWAY SMASH after Melo's failed attempted steal

— Dime Smash! (@DimeSmash) February 7, 2013
Wizards 93, Knicks 88 with 5:23 left in the fourth.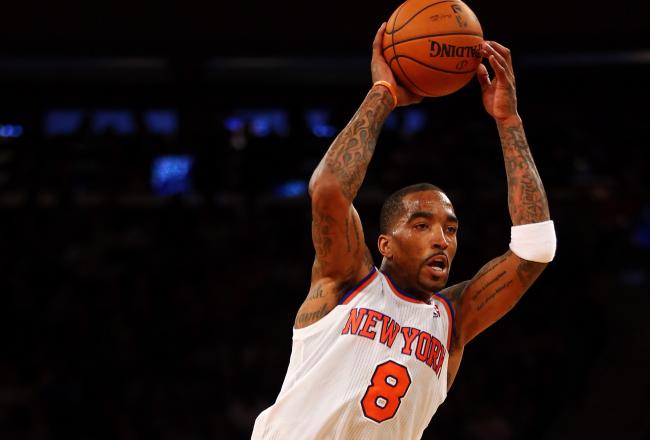 John Wall with a jumper. That might be his first non-layup to fall all game long.
It's answered by the first J.R. Smith three-pointer of the game. That might be his first non-layup to fall all game long.
Wizards 89, Knicks 84 with 6:23 left in the fourth.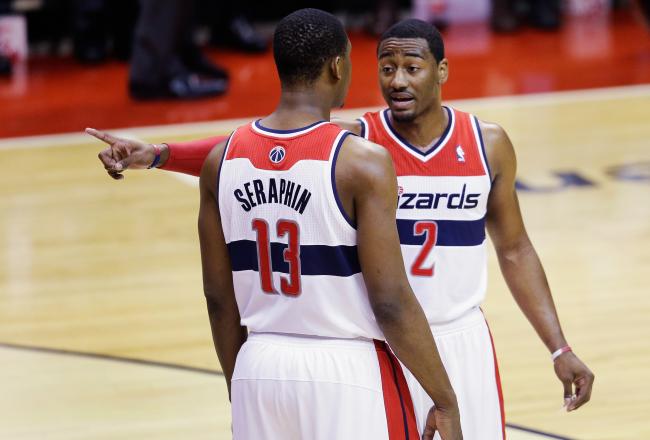 Washington has missed two three-pointers in a row. That's news considering they've only missed six now all night long.
Wizards 88, Knicks 84 with 6:49 left in the fourth.
The Wizards are 10-14 from the three-point line tonight. That's, ummmmm, really good.
WIzards 88, Knicks 80 with 7:44 left in the fourth.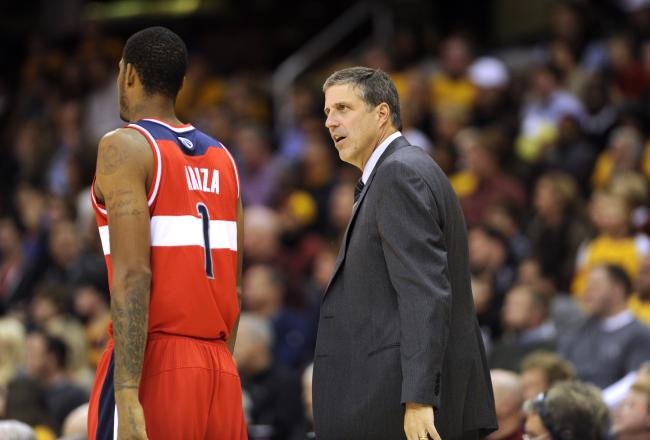 Chris Singleton with the most wide open three-pointer in the history of the NBA, is of course matched by Carmelo Anthony.
But Ariza realized he hadn't shot one in a while, so he puts one of his own in.
Wizards 88, Knicks 80 with 8:18 left in the fourth.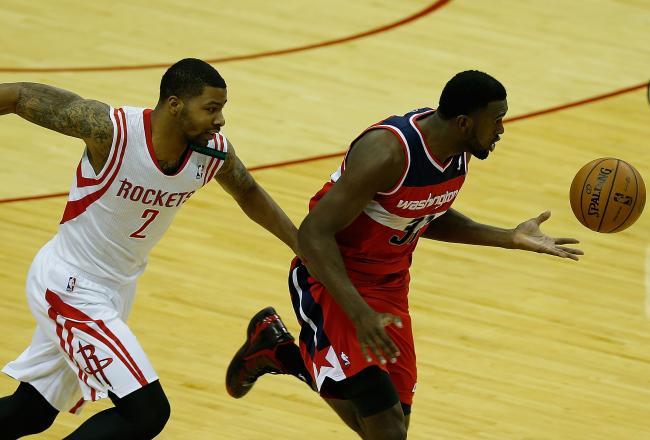 Chris Singleton off the bounce is so unexpectedly pretty. And the finish with the off hand at that.
Wizards 82, Knicks 75 with 9:46 left in the fourth.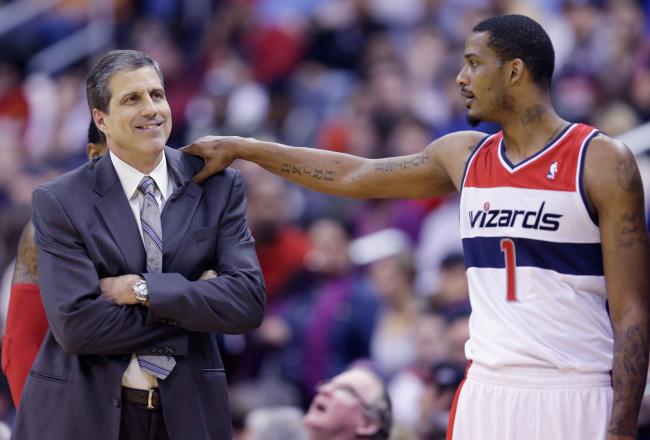 Trevor Ariza hits a hoop with a little bit of harm, completing a four-point play to give the Wizards the lead.
Wall decides to stop settling for jumpers, bursts into the lane and hits a layup. Here we go.
Wizards 76, Knicks 73 with 10:55 left in the fourth.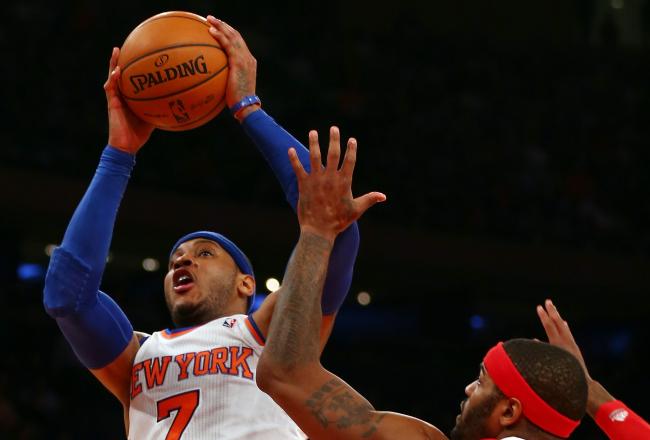 Carmelo Anthony's still out ahead of everybody else with 23 points and eight rebounds through three quarters. Raymond Felton has 17, Amar'e has 11 and Tyson Chandler is up with six points and 10 rebounds.
Martell Webster leads the balanced attack of Washington with 16 points, followed by 12 from Okafor and 11 from Wall and Ariza. Nene has nine points and nine rebounds.
Knicks 73, Wizards 70 at the start of the fourth.
Wall gets the last bucket of the quarter, tipping in his own miss.
Knicks 73, Wizards 70 after the third.
Stoudemire with a huge block on John Wall, which leads to a clanked jumper by Steve Novak. He's had a rough night so far.
Knicks 73, Wizards 68 with 0:33 left in the third.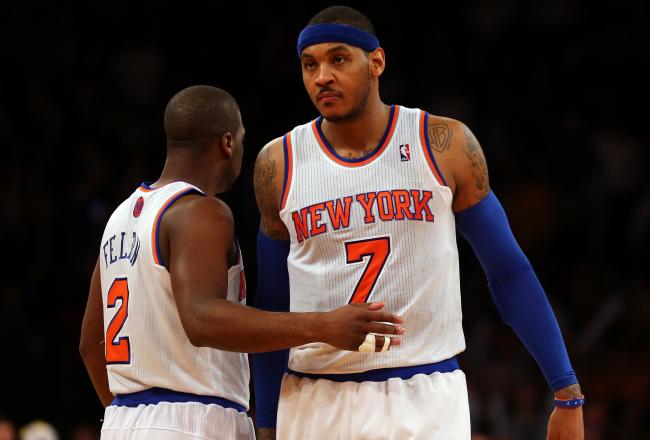 It seems as if every Knicks run happens when A.J. Price is in the game for John Wall. I don't think that's a coincidence.
A Felton three-pointer gives the Knicks the lead, and a Carmelo transition layup extends it.
Knicks 73, Wizards 68 with 1:07 left in the third.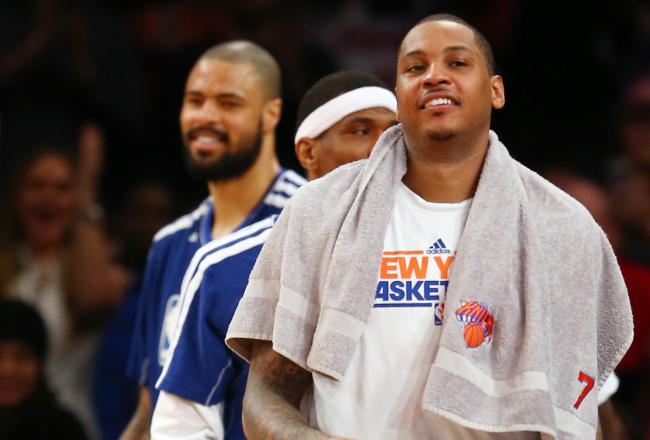 Carmelo shoots from the baseline and hits the front of the rim, at which point the ball bounces up off the rim, hits the glass and goes in. Can you say shooter's touch.
Oh, and then he puts the cherry on top with a straight-away, transition three-pointer.
Wizards 68, Knicks 64 with 2:39 left in the third.
It's been a while, so there goes another Martell Webster three-pointer. He's made four of six long-balls tonight.
Wizards 64, Knicks 59 with 4:09 left in the third.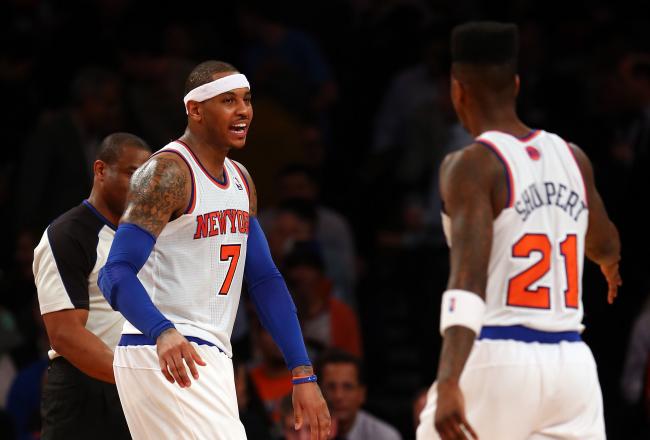 It took three blinks of the eye and four jiffies, but the Knicks are right back within two points thanks to a three-ball from Shumpert and a little Carmelo work.
WIzards 61, Knicks 59 with 5:04 left in the third.
I've been waiting for some high quality look at this. It's Felton's one-handed crossover of Wall from the second quarter.
Wizards 61, Knicks 54 with 6:10 left in the third.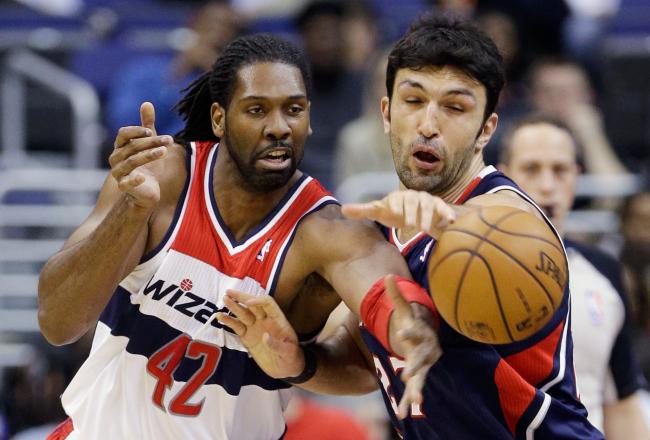 Nene grabs a rebound, goes coast-to-coast, posts up Jason Kidd and spins off of him quickly to the rim. He's having an incredible game so far with nine points and nine boards.
Wizards 59, Knicks 52 with 7:44 left in the third.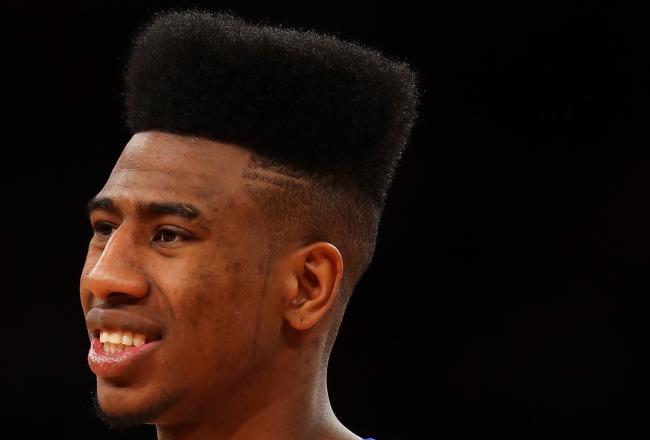 Iman Shumpert bricks a dunk with the open cut to the hoop. He's been rather ineffective tonight, as his perimeter defense has been incredibly lackluster.
Wizards 57, Knicks 52 with 8:42 left in the third.
This article is
What is the duplicate article?
Why is this article offensive?
Where is this article plagiarized from?
Why is this article poorly edited?

Washington Wizards: Like this team?