Boston Celtics vs. Toronto Raptors: Postgame Grades and Analysis for Boston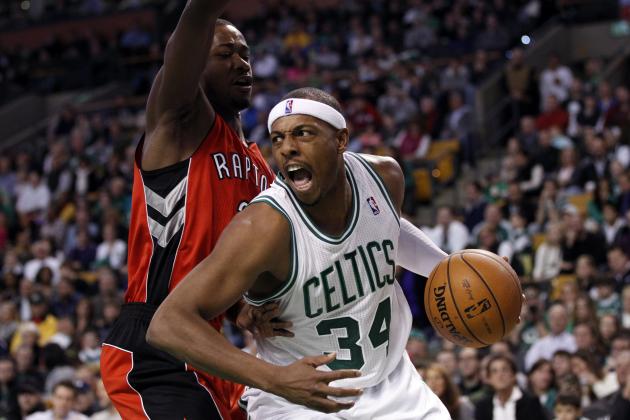 David Butler II-USA TODAY Sports

The Boston Celtics won their fifth straight in a back-and-forth battle—staying undefeated since Rajon Rondo suffered a season-ending knee injury—by defeating the Toronto Raptors by a score of 99-95 Wednesday.
Things got dicey for Boston in the second half when Kevin Garnett picked up his fourth foul midway through the third quarter. He was everything Boston needed, and more, scoring a season-high 27 points. The result of him sitting on the bench was a 17-4 Toronto run and a 10-point deficit heading into the fourth quarter.
When Garnett re-entered the game at the start of the fourth, Boston immediately went on a 9-0 run, eventually tying the game before wrestling away the lead for good.
Begin Slideshow

»
Avery Bradley
Bradley locked down Kyle Lowry early on, holding him to one made basket in the first quarter while showing hints of aggressiveness on the other end. Bradley was quiet in the second half though, as he's yet to prove he can be effective on both ends of the court at the end of a close game.
He finished with 11 points, two assists and three turnovers in 25 minutes of play.
Grade: C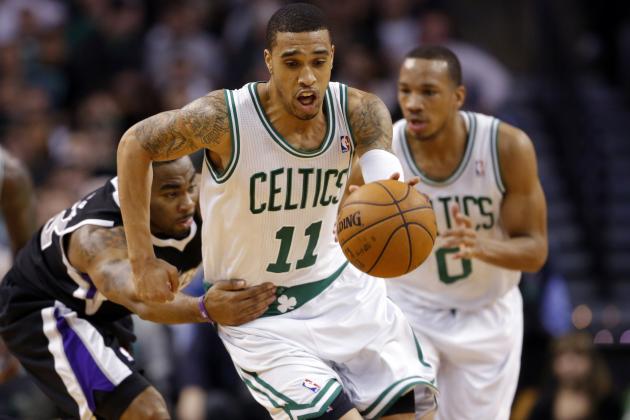 USA TODAY Sports

Courtney Lee
Lee had probably his best first half as a Celtic in this one, aggressively beating his man off the dribble several times and knocking down open mid-range shots whenever they presented themselves. He scored 11 first-half points, missing only two shots.
He cooled off in the second half, only scoring four points, but gave solid defense in all 29 minutes of play, helping hold DeMar DeRozan to a 5-of-16 shooting effort.
Grade: B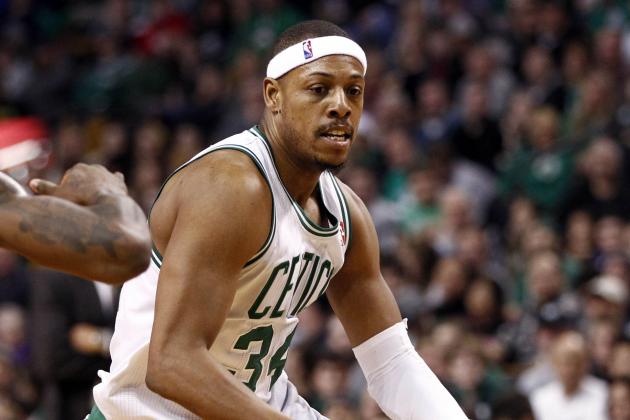 USA TODAY Sports

Pierce didn't make his first basket until there was 2:55 remaining in the second quarter, so that's obviously not good. But he finished the first half with two quick three-pointers, four assists and 10 points. He then went scoreless until a free throw with 4:26 left in the fourth quarter.
He made up for it elsewhere though, grabbing a team-high 11 rebounds and taking a huge charge while defending Rudy Gay with just three minutes to go in a one-possession game. Pierce finished the game with 12 points on a 2-of-11 shooting night. The six assists and solid defense were nice though.
Grade: C+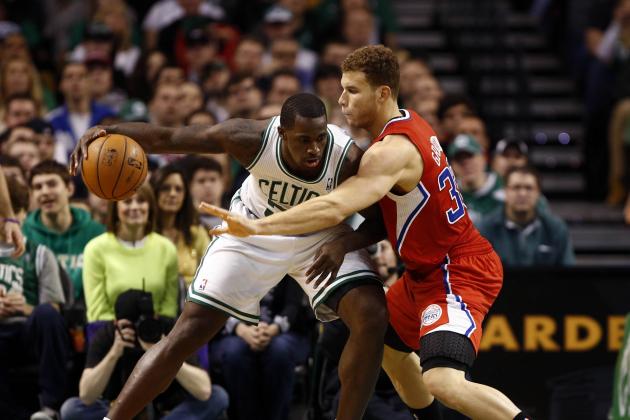 USA TODAY Sports

Brandon Bass
After a quiet first half that yielded just four points on two made mid-range jumpers, Bass started the third quarter with a pretty pull-up shot in the lane off the dribble. In 23 minutes he had 10 points, but managed just three rebounds and three turnovers.
Grade: D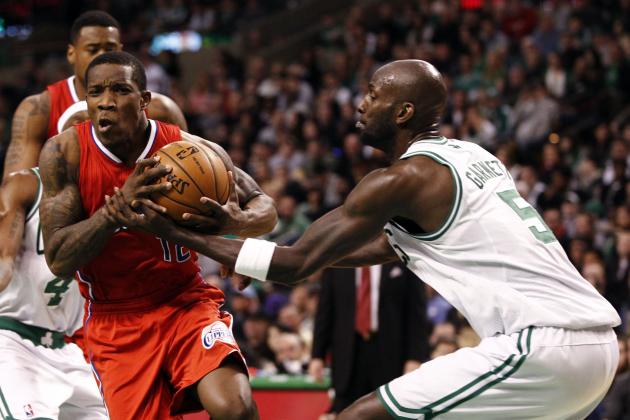 USA TODAY Sports

Kevin Garnett
Garnett started the game 3-of-3 from the field, bailing the Celtics out on a series of long twos that were good. He continued from there as Boston's main offensive threat, but midway through the third quarter he picked up his fourth foul on a questionable call where Aaron Gray just sort of fell over in the lane.
When he returned, the Celtics immediately got back into the game. Early in the fourth quarter he led Boston all the way back, capping things off with an ugly and-one layup that tied the game.
He finished with a season-high 27 points.
Grade: A+
USA TODAY Sports

Jeff Green
With Pierce having an off night offensively, Green wasn't there to pick up the slack. But he did other things, like force a huge turnover with less than three minutes to go in a five-point game. He also grabbed several offensive rebounds in the second half (for four of Boston's six total offensive rebounds.)
Green finished the game 2-of-6 from the floor for just eight points. He also fell for a Kyle Lowry pump fake on the perimeter that led to two huge Raptors free throws.
Grade: C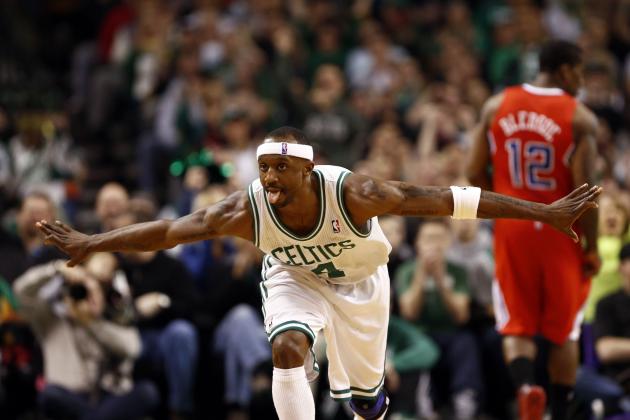 USA TODAY Sports

Bench
Leandro Barbosa was monstrous and amazing in this one, especially in the fourth quarter when he dropped five straight Celtics points to keep them in the game. He finished the game with 14 points and was basically the difference. Doc Rivers trusts him.
Jason Terry had just two points though, his first game since the Rondo injury where he failed to score in double digits. Elsewhere, Chris Wilcox and Jason Collins gave the Celtics about 12 combined minutes, but Rivers mostly opted to go small whenever Garnett hit the bench.
Grade: B-