Burkina Faso vs. Ghana: 6 Things We Learned from AFCON Semifinal
Ian Walton/Getty Images

Following the 4-1 mauling Mali experienced at the hands of a resurgent Nigerian squad, our second semifinal of Wednesday's Africa Cup of Nations action wasn't quite as one-sided.
Burkina Faso and Ghana saw a back-and-forth bout that lasted more than 120 minutes, and it was only through a penalty shootout that a fatigued Burkina Faso side emerged as eventual victors.
With more than two hours of football to consider, both nations will certainly have pointers to take away from their semifinal performance before once again taking to the stage this coming weekend.
With an AFCON final and third place playoff to think of, respectively, Burkina Faso and Ghana certainly showed their share of shortcomings and positives alike, six of which we'll discuss here.
Begin Slideshow

»
Ian Walton/Getty Images

Although age brings with it all the benefits of experience, wisdom and the advantages of playing in one's physical prime, there's a lot to be said for trusting in the stars of tomorrow.
At the club level, players are being bought at increasingly young ages in a bid to prepare them for the prime phases of their career, although they might not spend that time preparing at their parent club.
On the national stage, things are slightly different and the decision to induct younger players at such an elite tier of football despite what risks they might be running by doing so.
Against Burkina Faso, Ghana coach Kwesi Appiah fielded a starting XI showcasing an average age of just 24 years old. A squad that, were it not for John Pantsil's inclusion, would not have had one player over the age of 30 within it.
What's more, the Black Stars' five-man midfield had an aggregate age of only 22 years old, an encouraging decision from the manager considering the engine room is considered the crux of Ghana's game plan.
To see a manager fielding such inexperienced figures at this stage of the competition shows a determination for future success but also that the African nation is growing magnificently in terms of youth development.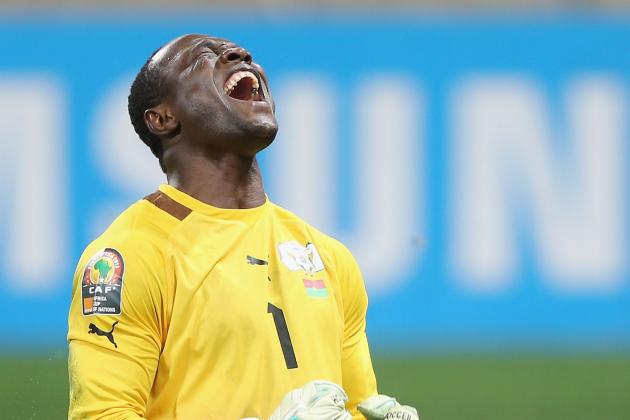 Ian Walton/Getty Images

In 90 minutes, an underdog can often be subject to a very large amount of attacking pressure. In 120 minutes, that pressure can sometimes be increased exponentially and such was the case on Wednesday.
In total, Appiah's Ghana had 21 shots at the Burkina Faso goal, seven of which were on target and only one let in during normal and extra time.
Although Daouda Diakite can be thanked massively for the job he did in restraining the Ghanaian attack, a great deal of the low goal count can also be attributed to the efforts of a non-stop Stallions defence.
Figures such as Paul Koulibaly, Bakari Koné and Mohamed Koffi were prime players in ensuring the Burkina Faso dream didn't end prematurely. However, a massive effort from every Stallion to take to the bouncy Mbombela pitch was ultimately to thank for the result.
Prior to this game, Ghana had scored an average of two goals per game in the tournament and certainly had the talent necessary to ensure that run continued, but it wasn't to be.
More than a few last-gasp tackles to account for, Burkina Faso may have displayed some desperate defending at times but are deservedly in their first AFCON final as a result.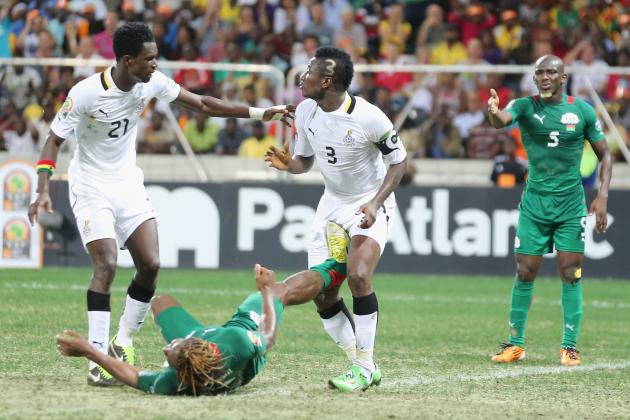 Ian Walton/Getty Images

As with all underdog stories, Ghana took on the role of the party to have more talent, more skill and more weight behind their bid for the title heading into this classic encounter.
Conversely, Burkina Faso's playing staff are far from being as acclaimed as their semifinal opponents but showed that games such as these are decided on more than reputation.
Compared to the stars of Ghana, some of whom playing at the height of Italian, Spanish and French football, there are relatively few worldly talents in the green of Burkina Faso but Wednesday's clash showed that there's an awful lot to be said for grit, willpower and resolve.
Limbs bruised and ligaments tightening, it was undoubtedly Burkina Faso that finished the dying minutes of normal as well as extra time the stronger of the two, and the underdog tale will live on for at least one more match as a result.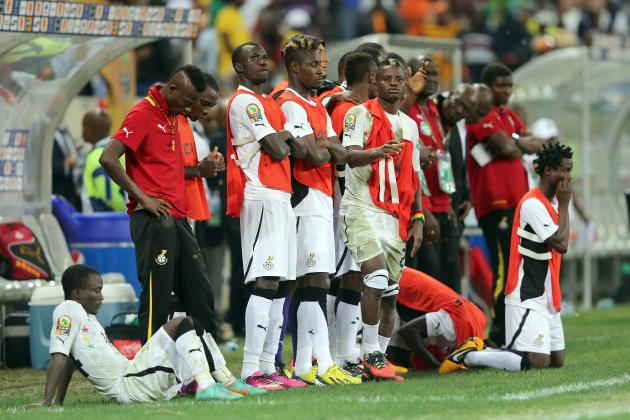 Ian Walton/Getty Images

Having scored just 13 minutes into their meeting with the Stallions, Ghanaian eyes will have been focused as much upon where the second goal was scored as they were the first.
What followed for Kwesi Appiah's outfit wasn't only a scoreless 77 minutes, but more than an hour of complacency, lit into full ignition following the halftime break.
On countless occasion has a side come out following the midway point of a match and looked like a different side but the lack of mental fortitude to let such a lead slip is nevertheless off-putting for one of Africa's strongest nations.
In the final half hour of normal time and also the majority of the extra 30 minutes, Ghana found themselves on the backfoot, with a particularly weakened focus on the defensive midfield areas in losing the pivotal central battle.
With the talent side of things seemingly in good spirits, the serious focus of development would appear to be in training such a young batch of players mentally, and making sure such overconfidence doesn't remain an issue.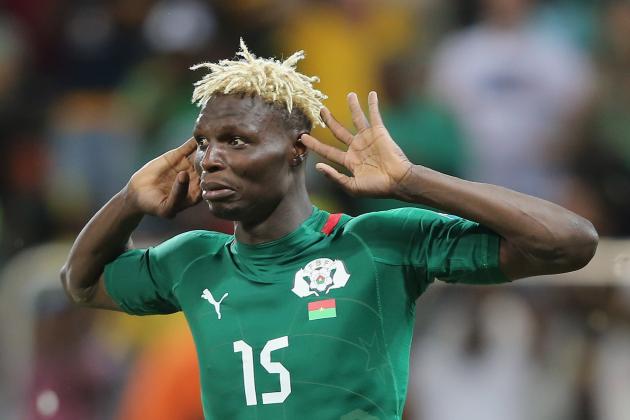 Ian Walton/Getty Images
Aristide Bancé
Although they might have reached the final, one thing Paul Put's side will need to improve upon if they're to succeed in completing this AFCON adventure the way they'd hope to is finishing off scoring opportunities.
Aristide Bancé was the man to lead the Stallions' line against the Black Stars and the 28-year-old accounted for nine of the 22 shots on goal that Burkina Faso had on the evening.
Of those nine efforts, only four managed to find the target and while he might argue that he was unfortunate not to score more than just the one goal against Ghana, one needs to critique even the most positive points in pursuit of true improvement.
The Black Stars' defence and goalkeeper, Fatau Dauda, certainly did their best in repelling Bancé's advances as much as the rest of the Stallions' side but can thank Lady Luck that a great deal of the opposition's shots were off target.
A ratio of one accurate shot for every four shots is far from the average Put's side will be aiming for heading into Sunday's finale and will need to be a focus of their preparation indeed.
In the end, Bancé's coolly finished, Panenka-style penalty will be the contribution he's most remembered for in sending his nation through to their first ever AFCON final, which is slightly fortunate given other shortcomings shown in the match.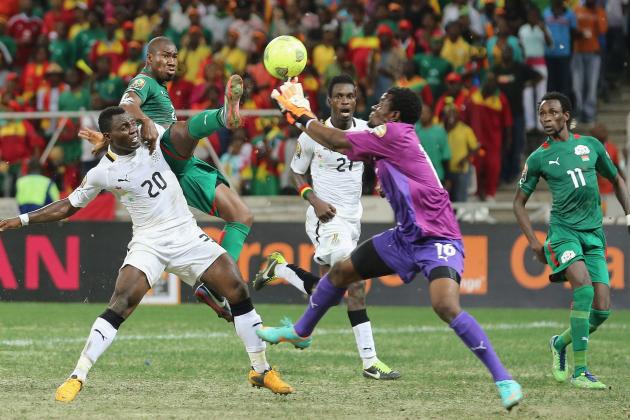 Ian Walton/Getty Images

Given the increasingly high profile of Africa's finest football competition, it's no wonder that the debate of how much influence technology should play in the sport has been raised once more.
Just 13 minutes in, we had our first reason to question a referee's decision after Ghana were wrongfully awarded a penalty just minutes before Burkina Faso's Jonathan Pitroipa went down in the opposition box to be denied the same outcome—again, wrongfully so.
Apart from fouls, there was also a series of goal-line clearances in the match, several of which were at the expense of the shooting Aristide Bancé who saw his efforts dismissed as goals.
On review, these particular decisions would appear to have been correct ones but that does nothing in disproving the notion that such occurrences could be decided much more easily and with more accuracy were some form of goal-line technology in play.
The latest, and perhaps most substantial reason for retrospective decision to be introduced came in the 117th minute when Jonathan Pitroipa was incorrectly judged to have dived in the box, earning a second yellow card for simulation and being sent off.
As a result, the midfielder will have no part to play in his country's first ever Africa Cup of Nations final and is a massive loss to the Burkina Faso squad.
In other sports, the ability to look back at footage and make retrospective calls on certain matters has proven to do nothing but improve the overall accuracy of the game.
While these changes are slowly being introduced in football, there's a lot to be said for how long such changes have taken and the lurching nature of their deployment.